Home | Journals | School | About Me | Arthur
Sri Lanka, previously known as Ceylon, is famous for its tea and tea plantations in the hill country (thus, Ceylon Tea). None of this splendor can be seen on the coast, however, so for the last week of Chris's visit in March 2007 we decided to leave Ocelot in Galle Harbor and travel inland.
Reading back on my Thailand journal, I was rather disappointed at how hurried I seemed to be. I glossed over the traveling, the slow bits, the scenery, and really only wrote about the big things we did each day. Now surely the big things are important, but they're also the parts of a trip that one will likely remember. And why else keep a journal but to remember the parts that you won't remember but dearly wish to, like the look of a tea field with boulders interspersed throughout the green tea plants, or how the clouds slowly rose to engulf Lipton's Seat in hazy whiteness, or how the sides of the train tracks were littered with drying laundry from the shacks alongside? So for this trip I wrote whenever I felt like it, whenever I had time or something to say. The result is a much longer journal for only six days, but a much more right-here, right-now feel to it.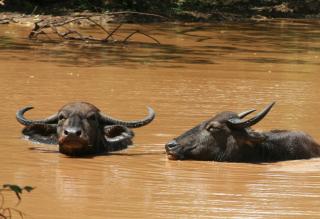 Water Buffalo soaking in a muddy pond in Yala
The first day was spent on the train to Colombo and then to Kandy, with lunch and a bit of exploring in Colombo. The next day we walked Kandy flat, taking pictures of bats, seeing the botanic gardens and local market, eating extremely spicy but inexpensive curries, and seeing some wild, colorful Kandian dancing. From there we drove to Nuwara Eliya, stopping along the way to see a waterfall and a tea factory, have lunch, and refill the coolant in the van we were traveling in (yes, this was a major process). The train-ride to Haputale was cool and beautiful, winding through villages and forest and tea fields. From Haputale we went to another tea plantation, which was started by Thomas Lipton (of Lipton Tea) and actually working, where we got another tour and walked the tea fields talking to the tea-pickers. A terrifying bus ride down the escarpment followed and we wound up in Tissa, where we were able to plan a tour through Yala National Park, where we spent the whole next day. Elephants, water buffalo, birds, lizards, deer, and a leopard were major highlights of that day, though some not-well-maintained roads and our lack of a four-wheel-drive vehicle also added excitement. The last day was spent bussing along the south coast, where evidence of the 2004 tsunami is still plain and in-your-face and quite sad, until we arrived back in Galle.
Sadly, we missed the ancient cities in the north but hopefully there will be a next time!
You can also see my parents' impressions of Sri Lanka in the Destinations section.
[ Home ] [ Up ] [ Shooting Stars ] [ Bali Cremation ] [ Thai Journal ] [ Passage Blues ] [ Sri Lanka Journal ] [ Night Watch ] [ Feydhoo Walk ] [ Madagascar Journal ]
Top Level: Home | Destinations | Cruising Info | Underwater | Boat Guests | Ocelot | Sue | Jon | Amanda | Chris | Site Map | Make a Comment
---
Lifetime
Commodores
of the
Seven Seas
Cruising
Association

If our information is useful,
you can help by making a donation
Copyright © 2000‑ Contact: Jon and Sue Hacking -- HackingFamily.com, svOcelot.com. All rights reserved.