Yacht Ocelot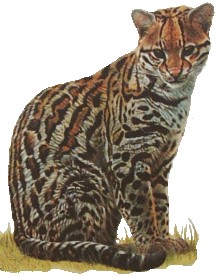 The Ocelot is a small wildcat that likes the water
Ocelot is the name of our 45 foot (14m) sailing catamaran which our family has called home since 2001. For those of you who got to this page expecting to find information on wild Ocelots, we can tell you that, like the tiger, they're one of the few cats that enjoy the water (swimming and fishing), which is why we chose the name. They are the largest of the "small" American cats (about 30 lbs/13 kg, 18"/.5m at the shoulder, 35"/.9m long with a 15"/.4m tail). They're endangered and now live only in coastal Central America and tropical South America. They're nocturnal so they hunt by night on the forest floor, eating whatever they catch. Both parents care for the young, and they become sexually mature in 2 years, after which they leave the nest. Ocelots typically live 7‑10 years in the wild, or up to 20 years in captivity. We enjoy the name Ocelot, even though it also rhymes with cost‑a‑lot. It stands out from the El Tigre's, Catmandu's, and Nauti-Cat's that we often see.

Line drawing of Ocelot, including our modifications
We plan to live aboard Ocelot for several years. We bought her in St. Martin/Sint Maarten, an island at the northern end of the eastern Caribbean island chain. Since she had been in charter for six years, we had a lot of work to turn her into a cruising boat. For more about that work, see our Modifications page. If you just want to look around Ocelot, start with our Layout page.
Ocelot (formerly named Bipede) is the 12th of the 13 Kronos‑45 catamarans ever made. The Kronos was designed by Frenchman Henri Wauquiez, and is the only catamaran model he ever designed. Henri Wauquiez is much better known for his many monohull designs, and the many vessels of those designs. We, however, like the Kronos design quite a lot! For a comprehensive list of equipment and statistics for Ocelot, go to our Kronos 45 Specifications page.
We also have lots of pictures of Ocelot and her sister ships. Since the links are fairly self-explanatory, simply refer to the links to the left of this page. Since we are constantly modifying Ocelot as we turn her from an ex‑charter boat into a proper blue‑water cruising boat, the pictures are not always up to date, but we'll try to keep them reasonably current.
Up | Ocelot Layout | Ocelot's Deck | Cockpit Photos | Inside Ocelot | Kronos 45 Specs | Modifications | Refrigeration | Venezuela Haul Out | Tonga Haul Out | Thai Refit
Top Level: Home | Destinations | Cruising Info | Underwater | Boat Guests | Ocelot | Sue | Jon | Amanda | Chris | Site Map | Make a Comment
---
Lifetime
Commodores
of the
Seven Seas
Cruising
Association

If our information is useful,
you can help by making a donation
Copyright © 2000‑ Contact: Jon and Sue Hacking -- HackingFamily.com, svOcelot.com. All rights reserved.