Modifications
Ocelot was a charter boat when we bought her. While she was very well maintained (the interior woodwork is gorgeous) we thought she needed several modifications to be a proper cruising home. For instance, charterers typically are only on board for a week or two, and during that time they don't mind running the engines for their creature comforts like electricity, refrigeration and hot water. We don't like running our engines if we can help it, so several systems needed to be redesigned. While we haven't gone into all of our modifications, this page covers the following areas: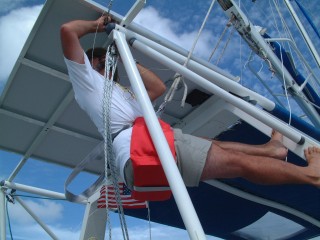 Jon mounting the solar panels above the davits
One of our first modifications was putting up solar panels to remove our dependence on running the engines to charge our batteries. This involved removing the fancy radar arch above the davits (davits are dinghy hoists, the ropes against Jon's torso), adding structural aluminum to support the panels, mounting the panels, and wiring them in. We went with the biggest panels we could, and found that 4 Kyocera 120-watt panels would just fit, giving us about 25 amps of peak power or about 160 amp-hours of electricity on most days. (See Christopher's Energy Budget analysis and report for more information on this.) We also added a 50-amp, temperature-compensated, "maximum power-point tracking" charge controller, to wring the most power from the solar-panels while still protecting the batteries.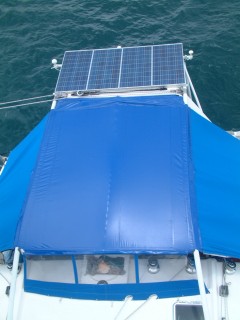 Ocelot cockpit area, with bimini, dodger, side panels, and solar panels
The picture above also shows the additional davit supports (by Jon's right hip) we designed and had built . They're now capable of supporting thousands of pounds, so even if a breaking wave fills the dinghy while we're underway, the davits will continue to support the load. (Most davit systems are cantilevered and not nearly so strong).
The bimini cover over the cockpit (past Jon's legs) was a bit small, so in Venezuela we added zip-on panels to the sides, so it covers the entire cockpit, keeping it cool and dry. We also added a full-width removable dodger (windscreen) to the front of the bimini so the cockpit stays dry even in inclement weather. We usually leave this rolled up on deck so the breeze can come through, but one person can easily deploy it very quickly when needed.
When we bought Ocelot, she had 3 refrigeration systems - 1 cooling a small fridge in the galley and 2 cooling a big freezer down the port hull. The main systems for each were expensive Frigobot systems, but they required running the engines. We decided to expand the galley fridge into a larger, better insulated, and electrically driven fridge/freezer. The engine driven systems were retained and are still functional, but we generally don't need them. Completing this fridge project removed the vast majority of our dependence on engines for other than propulsion.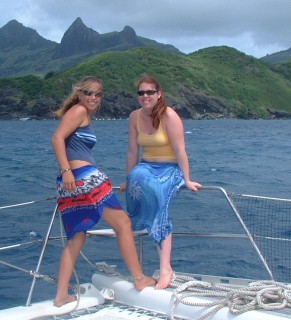 Amanda and cousin Rori on the starboard pulpit, showing the new lifelines, netting, and bollard
When we first bought Ocelot there were no pulpits (under Rori in the photo). The lifelines along the sides just ended at the toe-rails up forward. We thought this was a bit dangerous and wanted to have the entire boat enclosed in lifelines, so we talked to some stainless-steel fabricators. A South-African we found in St. Martin did extremely fine quality stainless-steel work, adding seats on the pulpits at Amanda's suggestion. We replaced the lifelines so they connected to the pulpits, and added new lifelines across the front, between the pulpits. We even added netting (actually black, plastic garden netting, which is almost invisible and has held up remarkably well) to much of our lifelines, as we've had some toddlers on board.
Jon also added bollards up forward (under Amanda's leg in the photo) to handle our bridle and give it a fair lead to the anchor chain. We always use our bridle (made of nice, stretchy ½ inch 3-strand nylon) when anchoring, to keep us pointed into the wind and to reduce snatch on the chain.
Since Jon's an Electrical Engineer, Ocelot's electrical systems got a thorough going over. Jon removed the old 30 amp battery charger and replaced it with a Heart inverter/charger, that gives us 1,500 watts of 115VAC for running power tools, as well as a precision, temperature compensated 75 amp battery charger. Speaking of power, Ocelot came with 2 alternators on each engine, a 55A unit for each engine battery and an 80A alternator for the house batteries. We upgraded both house alternators to 120A and added precision regulators so we can adjust the voltage set-points, as well as switches so we can cross-connect the alternators when necessary.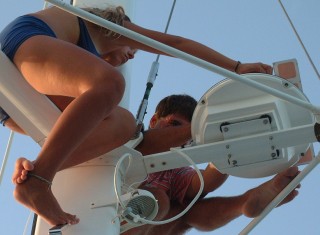 Amanda and Jon install the radar at the first spreaders
Electronics on charter boats are never up to cruising standards, although Ocelot's standard equipment was actually quite good. She had wind-speed and direction gauges, water depth, boat speed, Global Positioning System (GPS), and autopilot, with displays at both the nav-station and the helm, all networked and talking to each other over a proprietary Raytheon/Autohelm (now RayMarine) "Sea-Talk" system. We upgraded the autopilot electronics in Panama and added a second GPS and radar in Grenada. These were also networked together using the more standard NMEA-0182 standard, and Jon wired a plug so the computer could also be networked with the instruments (especially the new GPS), allowing our electronic charting systems to work.
The original VHF radio was a fancy Shipmate system, but it had its antenna just above the cockpit, limiting its range. Jon left that system in place as a backup, but added a newer VHF with a masthead mounted antenna, using good RG-8 cabling. He also added an extremely broadband (1 to 500 MHz!) modified HAM radio (with antenna, coupler, ground-plate, and computer modem) for long-distance and email communications. See Jon's radio email page for more info on this system.
Although Ocelot has 2 huge water-tanks (100 gallons or 400 litres under each forward bed, with redundant pressure pumps) we wanted to be independent of outside water if we could. So we installed a 15 gallon/hour (60 l/hr) Spectra watermaker. While more expensive than many watermakers, this was the most efficient unit we could find, requiring only 1 amp-hour to produce a gallon of water. The water is also very high quality, almost as good as distilled. This is often much better than the domestic water systems of the towns we visit. While this unit has not been trouble free (few of them are), the Spectra folks have been extremely supportive, air-freighting parts out when necessary.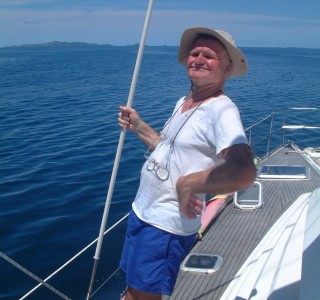 Jon's dad holds a cap shroud which is covered in plastic pipe to prevent sail abrasion.
Charter boats never have proper storm anchors, so we went looking for one on the internet. This got a bit silly, resulting in us buying a 69 lb (31 Kg) aluminum Fortress FX-125 anchor. After all, they have a good reputation, and Jon could handle our 65 lb (29 Kg) storm anchor on Oriental Lady. This one was only a bit heavier and shouldn't be a problem, so we had it shipped down to us in St. Martin. We got the surprise when we opened the box - this thing is HUGE. Jon had to build special teak chocks on the aft-deck to hold it. Although it's all ready to go, with 2 buckets of chain right nearby, we've only deployed it when we've left Ocelot to return to the US. But if we ever really need it, it's nice to know that we can probably hold most of the anchorage with this monster. Lesson learned: there are some things that are probably better bought in person than over the internet!

Under and behind the storm anchor were 3 storage areas but the center one had a badly designed, heavy, ribbed, fiberglass cover, and the 2 outside ones had no covers at all, limiting their usefulness. We removed the central cover and gave it away. Then we made covers for all 3 areas out of a tough, woven plastic cloth, trimmed in Sunbrella and held in place with stainless steel clips. Now we can store our 8-person life-raft in the center compartment, dinghy fuel in the port side, and extra diesel in the starboard side. On the subject of additional storage, the area under the aft seat in the cockpit provides access to some steering gear, but was otherwise somewhat useless. So we made removable shelves just above the steering gear to create a huge, deep storage compartment. We use this to store spare ropes (with hooks and small lines to hold them up) to port and all of our dive gear to stbd.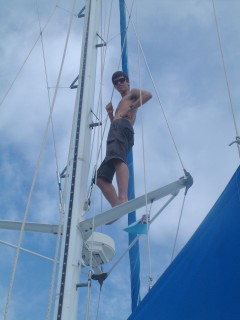 Chris climbs the mast steps to the spreaders to watch for reefs.
Modern catamarans have recently gone to large, fully-battened main sails, and Ocelot is no exception. These sails have too much "roach" for a backstay (the rigging cable that usually goes from the masthead to the aft-deck, to provide tension for the headstay). So the designers have to eliminate the backstay and move the cap-shrouds (which go from the masthead to the sides of the boat, to hold the mast from side to side) back a few feet to provide the necessary support and to give the headstay the correct tension. This takes the mast rigging from a 4-stay to a 3-stay arrangement (triangular, when viewed from above). Unfortunately, when the wind is from behind us and the mainsail is sheeted out to the side, this configuration leaves the mainsail rubbing against the cap-shrouds. This leads to chafe of the sail (especially the stitching and batten pockets) and can also severely damage the fiberglass battens. The old battens that were in the original mainsail when we bought Ocelot were badly splintered and some were almost cut through by charterers allowing the mainsail to rest against the cap-shrouds. We had to think a bit to come up with a solution here, as what we really wanted was a bearing between the (stainless steel) cap-shroud and the (hard, fiberglass) battens that was tough enough to protect both, yet wouldn't damage the soft sail-cloth that covered the battens. We eventually hit on a 2-phase solution. First, we bought some 10 ft (3m) rigid plastic water pipe, slit it down its length with a table saw, spread the ends, and slid it over the cap-shrouds. We put nylon washers between each section of pipe, so the pipe could rotate easily on the cap-shrouds, creating the bearing we wanted. While this might have been sufficient, we also had a sailmaker sew tough webbing-strap over both sides of the batten pockets, to give them additional protection. This has proved quite satisfactory, and our mainsail is still in excellent condition, even after 12,000 miles of sailing!
While on the subject of masts and rigging, charter boats also don't come with mast steps. When we're dodging between reefs, the best place to see into the water is from up the mast, with polarized sunglasses on to cut the surface reflections so we can see into the water. To this end, Jon installed mast steps so anyone can climb up to the spreaders. He measured how far Amanda could step and placed the steps that far apart. This sounds simple but the steps we bought, stainless steel with teak pads, required that we use large Monel rivets and insulating pads between the aluminum mast and the stainless steel steps, to prevent bi-metallic corrosion. We also tied strings from the steps to our rigging, to prevent halyards and such from getting caught behind the steps.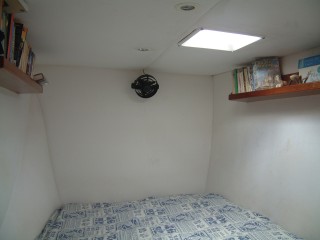 New varnished teak bookshelves built by Chris and Amanda were added to all 4 cabins.
We've also made modifications inside Ocelot. We all read a tremendous amount, and we have lots of paperback books on board. So in Venezuela Jon designed some bookshelves and had a friend cut out the rough pieces in their local teak, to match the rest of Ocelot's interior. He then had Chris and Amanda assemble these bookshelf "kits" as part of their woodworking class, fitting, gluing, screwing, plugging, sanding, and even varnishing all 10 of the 3 ft (1m) long bookshelves, which were then mounted in all of the cabins. The same friend also made a nice storage and spice shelf for the galley, also out of teak. Larger (school) books usually go on the sides of the salon. To keep these in place even in rough seas, Amanda made them some "lee-cloths" that we can put up to hold the books in place. While we're talking about the salon, the corners of the settee were originally rounded. This might be pleasing to the eye (it's certainly difficult to make) but it's actually not as nice to sit at, especially if you want to stretch your legs out. So we squared off the forward corners of the settee and had new cushions made, to provide nice areas to stretch out and relax. You can see pictures of this on our Layout and Inside Photos pages.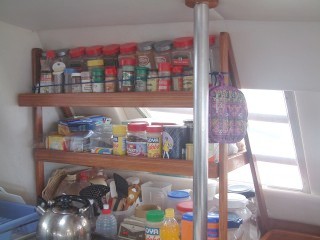 We added this teak super-spice-rack to the galley when we were in Venezuela
Charterers want hanging lockers, but cruisers usually don't, so in the Galapagos (of all places) we had some woodworkers make us several dozen shelves out of Ecuadorian teak. These were used to convert hanging lockers into shelf space, allowing us to use our storage space much more effectively. These same woodworkers also built us teak covers over the forward windows in the salon, allowing us to leave those hatches open for air circulation even when it's raining.
We've made lots of other small modifications to make our lives more comfortable, like converting the interior AC outlets from the French system to US, putting up mosquito netting in all the cabins, repositioning our fans to be more effective, and making foam-and-cloth seat-backs to cover the stainless bar in the cockpit, but there are really too many of these to list them all here. If you're interested, write us and we can go further.
Up | Ocelot Layout | Ocelot's Deck | Cockpit Photos | Inside Ocelot | Kronos 45 Specs | Modifications | Refrigeration | Venezuela Haul Out | Tonga Haul Out | Thai Refit
Top Level: Home | Destinations | Cruising Info | Underwater | Boat Guests | Ocelot | Sue | Jon | Amanda | Chris | Site Map | Make a Comment
---
Lifetime
Commodores
of the
Seven Seas
Cruising
Association

If our information is useful,
you can help by making a donation
Copyright © 2000‑ Contact: Jon and Sue Hacking -- HackingFamily.com, svOcelot.com. All rights reserved.