Angelos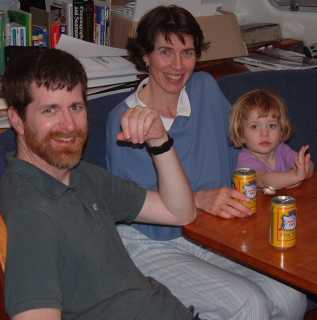 Jerry, Laurie, & Claire Angelo in Ocelot's saloon
February 25 - March 8, 2002
With barely a break between visitors we greeted Laurie and Jerry and two-and-a-half-year-old Claire. Having a toddler on board a boat was not new to us, but Ocelot needed some baby-proofing. So, while we hung in Simpson Lagoon, St. Martin for a couple days, Jerry, Chris, Jon and Amanda lashed netting around the lifelines turning Ocelot into one big playpen. We used plastic garden fencing cut to 2-feet wide. We liked it so much that we left much of it up even after Laurie and Jerry left and it has held up brilliantly!
Jerry also helped line up and rub on the graphics for our boat name. It was nice to give Ocelot an identity.
We provisioned for 10 days, and set out exploring. As usual, we left through the French bridge and Marigot, then headed northeast to Grande Case. The next day we decided to head for St. Barths, often a difficult sail, but the wind was so far in the north we could lay St. Barths on one tack! We had a glorious sail, thundering along at 8 knots with the wind just forward of the beam. Claire was a brave little sailor, curled up in a parent's lap fast asleep in the shade of the cockpit. We spent 4 days in St. Barths trying out different anchorages, playing on the beaches, snorkeling (one parent at a time) and exploring Gustavia on foot. A thrill for Sue and Jon was running into Robin Shepherd, a long-ago cruising friend who we met in the 80's and hadn't seen since 1992. He and his family had just moved to the Virgin Islands, but he still had work in St. Barths and very generously loaned us his truck for a day of sight-seeing, including a delightful lunch in Marigot. (Yes, it seems that every French island has a town named Marigot, which translates roughly to "lagoon".)
| | |
| --- | --- |
| What's that funny noise? Oh, just the muffler falling off... | A delightful French-Creole lunch in a nice beachfront restaurant |
With the islands calling, we took Ocelot on her longest crossing so far -- St. Barths to Nevis, about 50 miles. Laurie had grown up sailing and loved taking the helm as we rode over mature ocean swells of 8 or 9 feet. The wind was strong and at one point the GPS said we went over 12 knots. The anchorage in Nevis was as lovely as we remembered with a long, palm-lined beach stretching for miles.

Sailing past the fort on Brimstone Hill, St. Kitts,
with St. Eustatia in the background


Claire-proofing Ocelot with netting
On Nevis, we explored the capital and then hopped local transport out to an old plantation up in the rainforest. The plantation had been restored into a sort of Bed and Breakfast, and it had nice trails going all the way to the top of Nevis Peak. We walked some of the trails and had lunch there, overlooking the slopes down to the ocean, before hopping the local bus back to town. Jerry aged considerably during this time, so we had to commemorate the occasion.
| | |
| --- | --- |
| Hiking in the Nevis rainforest with Princess Claire | Jerry's birthday party - For He's a Jolly Old Fellow ... |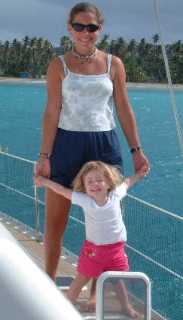 Amanda plays babysitter
as Claire explores Ocelot
This shakedown cruise with the Angelo's turned out to be just that, as 2 important bits shook loose while they were with us. As we approached St. Kitts anchorage, a steering coupling shook loose. And then, on our very wild ride back to St. Martin, close reaching into 35 knots of wind, the port cap-shroud turnbuckle, one of only 3 wires holding up the mast, shook loose. Luckily, we had a surplus of engineers. In both cases, Jon and Jerry were able to effect running repairs. When we got back to port, both systems were stripped, cleaned, inspected, and rebuilt back to factory specs.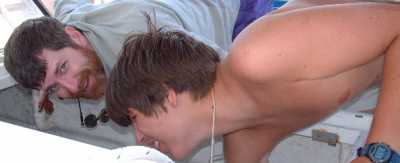 OK, I've found the steering problem.
I'll hold it while you get us into port!
Says Jerry of their adventure, "Our much anticipated Caribbean adventure finally began with an exciting two days anchored in Simpson's Lagoon with no sign of a sail in sight (little did we know of what was to come), and time ashore to explore the air conditioning and grocery stores of St. Martin. This is the boating life. On the 28th, being fully provisioned, we set sail for St. Barths and had a wonderful sail. We even spotted a humpback whale in the distance. St. Barths was fun to explore on foot, underwater, and by car (thanks to Jon and Sue's friend Robin whom we happened to anchor next to on our third night in St. Barths). Jerry got to spend the better part of one day head down in the bilge helping Jon install the water maker. (It doesn't get any better than this!) The weather improved enough on the 4th, (day before Jerry's 45th birthday) to allow us to sail to Nevis. This was a considerably rougher sail than we had from St. Martin, and began with a little more excitement too! Jerry was helping to hoist the mainsail when the halyard got caught on the mast light. After much scrambling by the whole crew, Jon finally got it lose and we were under way. We all had a good time on the crossing and enjoyed seeing the flying fish. The day was capped with a wonderful Birthday cake and dinner (thanks Sue).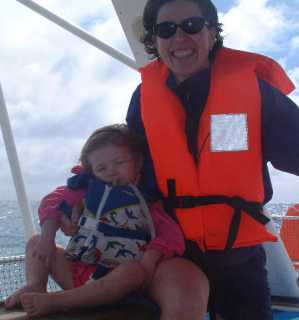 Claire & Laurie on our wild ride back
Actually I think I missed a day in here somewhere, but I guess that means it's been a good vacation. The excitement for the 6th came as we were preparing to anchor off St. Kitts and had the steering fail - oops. Jon quickly found the problem and had the steering shaft back in the U-joint in short order. Our final day, the 7th, topped them all, with the longest sail, the roughest seas, the greenest guests, and to top it off a cap shroud that came apart and was sailing around till Jon was able to corral it and get it get it threaded a couple of turns into the turnbuckle. Jerry again got to help out by handling the pipe wrench while Jon handled the crescent to get the shroud fully reconnected while under sail and taking water over the bow. Now Jerry is truly an Old Salt. Thanks for a great vacation, The Angelos."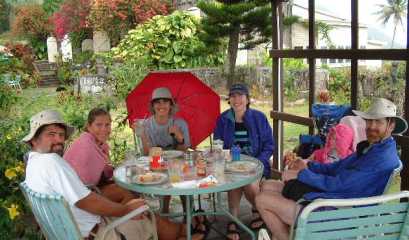 Lunch at the Nevis plantation in the rainforest
Says Laurie: "Thank you for a wonderful time, a time we will never forget! We will have memories of lots of laughing, beautiful sites, great meals, and sailing! Claire had such fun on the 'Say-say boat' with all of you. We are sure she will talk about the many aspects of this trip such as sea turtles, flying fish, Arthur, and all of you for a long time. Thank you again! Happy sailing the remainder of your trip! Lots of love, Laurie, Jerry & Claire"
Sue's addendum: "Jerry's 'missed' day was the 5th - his 45th (of course!) - when we bussed into the Nevis outback, took a short rainforest walk with Chris losing his flip-flop. Good snorkeling in St. Barths ... and in Ballast Bay, St. Kitts. A great time had by all!"
Up | Colin Hacking | Karen and Jon | Harshbargers | Angelos | Carolyn & Lexi | Terry & Gina Cole | Emilie Cobb | John and Becky | Casey & Kenny Quayle | Tony Hacking & Family
What to Bring | 2002 Visitors | 2003 Visitors | 2004 Visitors | 2005 Visitors | 2006-11 Visitors
Top Level: Home | Destinations | Cruising Info | Underwater | Boat Guests | Ocelot | Sue | Jon | Amanda | Chris | Site Map | Make a Comment
---
Lifetime
Commodores
of the
Seven Seas
Cruising
Association

If our information is useful,
you can help by making a donation
Copyright © 2000‑ Contact: Jon and Sue Hacking -- HackingFamily.com, svOcelot.com. All rights reserved.