Emilie Cobb
April 30 - May 13, 2002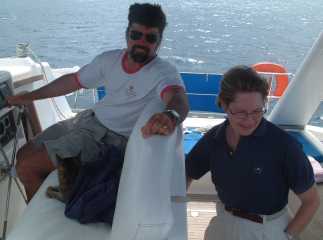 Emily and Jon in the cockpit, underway
After a nice sail from Martinique to St. Lucia we settled into outer Rodney Bay, from which we picked up Emilie Cobb. Sue first met Emilie in 1974 on a trek in the Himalayas, but this was the first time on a boat together! We decided to let her experience a bit of the cruising life -- i.e. no mad rushing from place to place like a charter boat. We planned our two weeks to explore just a few anchorages in St. Lucia and Martinique. We started with a motor across the Bay to the anchorage near Pigeon Point National Park, a beautifully renovated fort and grounds from the 1700's.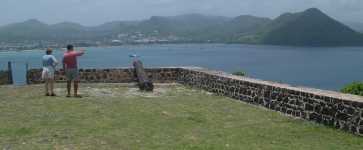 Emily & Jon on Pigeon Point, overlooking Rodney Bay
Emilie joined us provisioning Ocelot before leaving "civilization," with a jaunt on a local St. Lucian bus (loud reggae music pounding into our backbones) into the capital of Castries. We wandered the open air market, but chose to buy fruits and veggies in the grocery stores where the prices were lower(!). Sailing south along the western coast of St. Lucia we stopped at little coves we'd never explored before, and had some good snorkeling. St. Lucia has come a long way towards protecting their reefs since we last visited in 1987. They now have lots of moorings available, so boats anchors don't damage the delicate coral.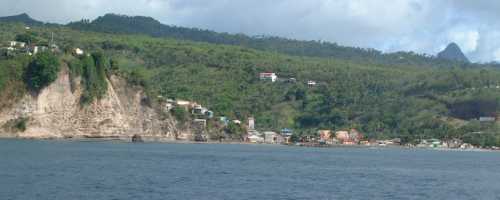 Sailing south along the St. Lucian coast
Arriving at the famous Marigot Bay (where a British fleet in the 1800's supposedly hid from the French by masquerading as palm trees) we had to try some of the rum drinks at the local bars. The piña coladas were wonderful!
We found the best snorkeling at Anse Chastenet, which has had a protected reef since the early 1980's and the sea life abounds. Ashore we walked an old plantation and got a private tour of fruit bats hanging from the old ceilings.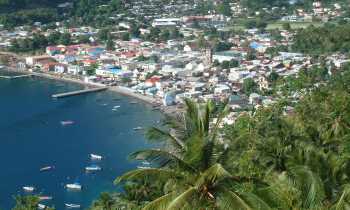 Looking down on Soufriere, St. Lucia
Next stop was the town of Soufriere, the second largest city on St. Lucia, nestled under the magnificent peaks of the Pitons. A jazz (mixed with reggae) festival serenaded us that night, but in the morning we toured the still active volcano, with its Yellowstone-like mud pots and bubbling springs and sulfur smells. We also toured the lovely (and much more pleasantly fragrant) botanical gardens.
We then we headed north to Martinique, and with the wind well into the south, were able to lay St. Anne, in the southeastern corner of the island. This has become a huge cruising hang-out, with many American and Canadian boats. We did a bit of socializing there, but mainly used this as a jump-off for some island tours with Emilie. We drove to the rainforest to visit the Botanical Gardens, then to the northwest coast to see the ruins of St. Pierre.
| | |
| --- | --- |
| Pineapple relative, Botanical Garden, Martinique | Martinique girls on the cannons above the old capital of St. Pierre |
The day before Emily left, we had our first spinnaker sail, heading downwind from Ste. Anne to Grand Anse anchorage on the west coast of Martinique. This sail went past H.M.S. Diamond Rock, an island once registered as a ship at Lloyd's of London, after the British Navy armed it to harass French shipping around 1800. A pod of dolphins escorted us for a grand finale to her visit.
| | |
| --- | --- |
| Chenille Plant. St. Lucia Botanical Gardens | Downwind past Diamond Rock, off Martinique |
Up | Colin Hacking | Karen and Jon | Harshbargers | Angelos | Carolyn & Lexi | Terry & Gina Cole | Emilie Cobb | John and Becky | Casey & Kenny Quayle | Tony Hacking & Family
What to Bring | 2002 Visitors | 2003 Visitors | 2004 Visitors | 2005 Visitors | 2006-11 Visitors
Top Level: Home | Destinations | Cruising Info | Underwater | Boat Guests | Ocelot | Sue | Jon | Amanda | Chris | Site Map | Make a Comment
---
Lifetime
Commodores
of the
Seven Seas
Cruising
Association

If our information is useful,
you can help by making a donation
Copyright © 2000‑ Contact: Jon and Sue Hacking -- HackingFamily.com, svOcelot.com. All rights reserved.