Harshbargers
February 15 - February 22, 2002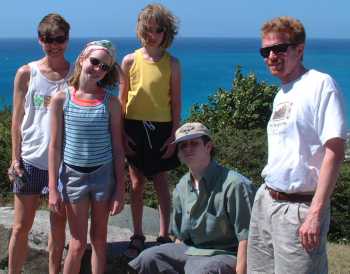 Jeanne, Daryl, Elise, Clinton, & Bob Harshbarger
Our dear Harshbarger friends, Bob, Jeanne, Clinton, Daryl, and Elise, were only with us for six days(!) so we planned to do with them basically what we did with Karen and Jon, only faster. It didn't quite work that way.
The first day most of us rode in the noisy reggae-blaring mini-busses to Phillipsburg to shop in the big Dutch supermarket where we picked up wines, Dutch cheeses, powdered milk and cereals, and all the things 2 families need for a week of traveling away from stores. Laden with provisions, we returned to Ocelot in Simpson Bay, did a quick stowing of food, then motored out of the lagoon through the French Bridge and into Marigot Bay. We went ashore there to clear Customs & Immigration, which you have to do when you fly into Dutch St. Maarten, then get on a sailboat to cruise the French side of the island. Crazy, but true. We also did more provisioning at the French grocery stores (with their great own unique selection of cheeses, breads, and European food items), and then Jon, Jeanne, Amanda, Daryl, and Elise trudged up the hill in the blazing sun to see the 17th century fort. We spent the night off Marigot and our visitors got their first taste of loud Caribbean music that doesn't quit till the wee small hours of the night.
| | |
| --- | --- |
| Walking St. Martin's wild windward coast | Clinton, Chris, Jeanne, Bob, & Jon on Peak Paradise, St. Martin |
We sailed up the coast to Grande Case the next morning and snorkeled at Roche Creole. We were having problems with masks and inexperienced snorkelers so we went back to the boat and decided to go somewhere a bit easier and more protected. We had heard that a northerly blow was coming, so that afternoon we sailed across the channel to Anguilla and tucked into Meads Bay where there is glorious water.
| | |
| --- | --- |
| Snorkeling in fish soup - Thousands of fish! | Swimming in crystal clear water off the back of Ocelot |
We cleared in at Road Bay, and Jeanne went ashore to jog (mad as a hatter in this heat) as the rest of us wandered around, talking to the goats and scaring the birds. (Teenagers, you know...)
Later on we sailed to Crocus Bay and Jon took the kids to the beach for snorkeling lessons. Soon, everyone was comfortable, so we went snorkeling at Pelican Rock, under the beautiful red and yellow cliffs of Crocus Bay, where there wasn't a square foot not filled with little sardines and silversides. It's practically fish soup. Pelicans dove for their fish lunches right in front of us while we snorkeled. Fantastic!
| | |
| --- | --- |
| The ageless past-time of burying the younger sister | Riding the trampolines approaching Sandy Island |
Sue and Jon got a shock the next day when we sailed over to Sandy Island. (This was their destination island everyday from 1984 to 1985 when they ran a day-charter boat out of St. Martin.) Most of the palm trees were gone and the reef had been largely destroyed by hurricanes. Still, it was fun to play in the warm sand and swim in the swimming pool-like lagoon inside the reef. Unfortunately, with Jeanne a blonde and Bob a redhead, and living in the northwest, the kids are darn near transparent, and no amount of sun-block was going to protect them. Jon had to slather them up with fresh-cut aloe that night back at Crocus Bay.
| | |
| --- | --- |
| Chocolate and Strawberry ... | Breakfast on Ocelot - we eat most meals outside |
As the weather forecast had predicted, the next day was very windy from the north. We were planning to head to Tintamarre from Anguilla, and we started off that way, but it was blowing 25-30 knots (our highest winds at that time) and the swells were right on the nose. We had two reefs in the mainsail and everyone was tense. So, as much as we wanted to show them Pinel Island we turned and headed towards Grande Case for lunch. We were stern to the beach and hanging on an old braided (no stretch) rope for our bridle. All of a sudden there was this big jerk and an almighty "pow!" from up forward as the bridle exploded. Luckily, Jon already had a replacement bridle ready to go. On our way back to Marigot we experienced large swells from astern. Jeanne confidently took the helm and seemed to be having a lot of fun, but Sue, feeling nervous with Ocelot surfing for the first time since we'd own the boat, had to ask to take the wheel. Sorry, Jeanne! It wasn't lack of confidence in her, but not knowing the boat yet. Even once we left the big swells behind we had a rather harrowing entrance towards the French-side bridge that leads back into the lagoon -- we had to negotiate breaking waves on the approach! Once we were anchored safely in the lagoon we went ashore and talked Hertz into renting us a brand new huge van (came with its own zip-code) so we could terrorize St. Martin from the land.
| | |
| --- | --- |
| Picnic on a St. Martin beach - fresh French bread, cheese, sausage, beer, chips - YUM | Thank you Jeanne & Bob for this final dinner ashore! |
We drove to the top of the island, and all around the eastern coast, marveling at the white caps on the ocean. Says Daryl, "Well if you want my opinion of my visit to the Humble Hacking's Heaven, it was fantastic! I was overjoyed to see Mandy and Jon and Sue and Chris! The water was really cool and really clear and it was fun watching you guys set up the sails and such and working as a great team and seeing the local islands. I hope we can come visit for Christmas!"
We hope so too! With 9 of us on board for 6 days we lived a bit on top of each other, but the proof of the friendship is that we all couldn't wait for another visit with the Harshbargers!
Up | Colin Hacking | Karen and Jon | Harshbargers | Angelos | Carolyn & Lexi | Terry & Gina Cole | Emilie Cobb | John and Becky | Casey & Kenny Quayle | Tony Hacking & Family
What to Bring | 2002 Visitors | 2003 Visitors | 2004 Visitors | 2005 Visitors | 2006-11 Visitors
Top Level: Home | Destinations | Cruising Info | Underwater | Boat Guests | Ocelot | Sue | Jon | Amanda | Chris | Site Map | Make a Comment
---
Lifetime
Commodores
of the
Seven Seas
Cruising
Association

If our information is useful,
you can help by making a donation
Copyright © 2000‑ Contact: Jon and Sue Hacking -- HackingFamily.com, svOcelot.com. All rights reserved.