2006-11 Visitors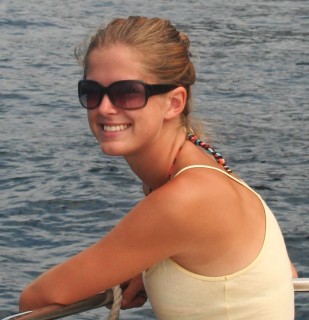 Amanda's best mate, Rachel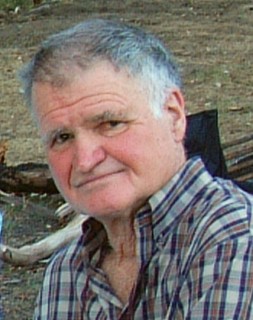 Jon's dad, Colin, in Australia
This page has been horribly neglected. Problem is, when we have guests aboard, we're having WAY too much fun with them to take time writing about it.
By 2006 we'd arrived in Australia, which is pretty far from most of our friends who would like to visit. Nevertheless, Colin (Jon's dad) again joined us for 3 weeks. Cyclone season not being a good time of year for cruising, we chose to travel with Colin inland, not on board Ocelot (which we had left tied to the pilings in the Brisbane River). He was a great participant for several weeks of our Great Australian Road Trip.
When we got back to Singapore in late November 2006 after a month-long visit to family in the States, we had one day to prepare Ocelot for another visitor -- Amanda's good friend Rachel, from Australia. Having already circumnavigated with her own family a few years earlier, Rachel was a great sailing buddy to have aboard. We were thrilled when she chose to extend her visit from 6 weeks to over 10 weeks.
After we arrived in South Africa, Jon's dad came to visit us again. He wanted to visit some of his long ago friends and family, and visit some of his childhood places in Rhodesia (now Zimbabwe). No sooner had we put Colin on a plane home than Rachel arrived. Rach has a thing about Elephants, so we drove immediately from Jo'burg to Kruger Game Park, about 4 hours away. We weren't more than 5 minutes inside the gate when we saw our first elephant, walking across the road. Rachel was ecstatic.
In 2009 we again crossed the Indian Ocean, returning to Malaysia and Thailand. In 2010, 3 generations of the Reed clan (cruisers we knew from the 80s) visited and we got to show them some of the delights of Phang Nga Bay in Thailand. In the Spring we left Ocelot in Malacca to go trekking in the Nepal Himalaya, then continued down to Danga Bay (just across from Singapore) from where we flew home for a few months. No sooner had we returned to Ocelot when Suzette and Sandy, other cruisers we knew from the 80s, left their hubbies to come sail with us to Malaysian Borneo. They sailed with us to Kuching and Miri, and then we all flew up to Kota Kinabalu and Sandakan, where we took a power boat up the Kinabatangan River to an Eco‑lodge deep in the jungle.
2001 started out with our neighbors, Erik & Jules, visiting for a couple of weeks. Neither had ever sailed or even travelled very far, so it was fun showing them some of the delightful Thai scenery and culture we've come to love. No sooner had they left than Laura Jean (who we first met when she was 7 when she was on her circumnavigation with her parents) and her beau Mike came to visit. Mike is a blonde, with the somewhat translucent complexion that we get in the Northwest, and despite our best efforts he went home the color of strawberry ice-cream.
We then sailed immediately for India, starting with the Andaman Islands and continuing across to Chennai (Madras). There we met Shantha, who was anxious to sail with us to the Maldives, Chagos and Madagascar. Unfortunately, the SW monsoon came in early (OK, and we were a bit late) so we couldn't make it to the Maldives and had to turn off to Thailand. Shantha produces the newsletter for the Tamil Nadu Sailing Association, and wrote about her trip with us. We've republished her story here.
Our visitors from 2006 to 2011 have included:
| | | |
| --- | --- | --- |
| Who | 2006 | Where |
| Colin Hacking (3rd time) | February 6 ‑ 27 | Australia, Road Trip |
| | 2006-2007 | |
| Rachel Mather | Nov 29 ‑ Feb 2 | Singapore, Malaysia and Thailand |
| | 2007-2008 | |
| Colin Hacking (4th time) | Dec 18 ‑ Jan 19 | South Africa, Zimbabwe, Zambia |
| | 2008 | |
| Rachel Mather (2nd time) | Jan 22 ‑ May 20 | South Africa, Swaziland, Botswana, Namibia |
| | 2010 | |
| The Reeds | Feb 22 ‑ March 3 | Phang Nga Bay, Thailand |
| Suzette & Sandy | September 14 ‑ 27 | Danga Bay & Borneo, Malaysia |
| | 2011 | |
| Erik & Jules | January 4 ‑ 19 | Phang Nga Bay, Thailand |
| Mike & Laura Jean | January 22 ‑ 31 | Phang Nga Bay, Thailand |
| Shantha Ravikumar | April 17 ‑ May 20 | India to Thailand |
Up | Colin in Oz | Rachel Mather | Shantha Ravikumar
What to Bring | 2002 Visitors | 2003 Visitors | 2004 Visitors | 2005 Visitors | 2006-11 Visitors
Top Level: Home | Destinations | Cruising Info | Underwater | Boat Guests | Ocelot | Sue | Jon | Amanda | Chris | Site Map | Make a Comment
---
Lifetime
Commodores
of the
Seven Seas
Cruising
Association

If our information is useful,
you can help by making a donation
Copyright © 2000‑ Contact: Jon and Sue Hacking -- HackingFamily.com, svOcelot.com. All rights reserved.