Great OZ Road Trip
27 March 2006, Brisbane, Australia
(The letter below is a chronological and more detailed version of what we sent out)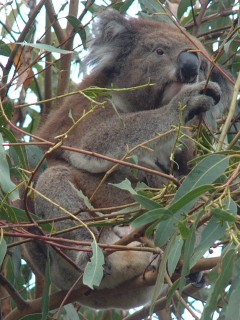 This Koala spent all night
munching leaves above our tent
Dear Friends and Family,
We've just got back from a wonderful 6-week road trip through south-eastern Australia, which explains why we've been a bit incommunicado. Since it's cyclone season in the South Pacific (November through April) we left Ocelot tied up between 2 big pilings on the Brisbane River and bought an '89 Mitsubishi station wagon to go touring in. All our camping gear is back in the US but we were able to buy and borrow enough tents, tarps, sleeping bags, mattresses, stove, cooler, etc. to feel well equipped. The trip covered some 10,000 km or over 6,000 miles, and cost US$1,000 in fuel, 1 pair of brakes, 1 tire, 1 windshield, and 1 door... (about average for a proper Hacking Road Trip).
Sue was our primary navigator and plotted us a sort of figure-8 course through as many National Parks as she could, always on the lookout for dramatic scenery, hiking trails, wildlife, and campgrounds. We left in late January from a very hot Brisbane, heading south towards cooler climes. We could have planned the whole trip for earlier in the year but we waited until the schools started again so all the Aussies would go home and we could get into the campsites. Jon's dad, Colin, joined us for three weeks from Sydney to Melbourne.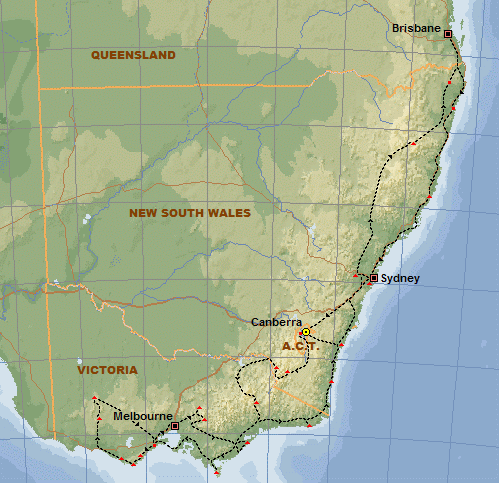 The map on the right shows our track from Brisbane down the coast to Sydney, southwest to Canberra, Kosciusko NP, Alpine NP, Wilson's Promentory, and Melbourne, southwest to the Great Ocean Road, north through the Grampians and back. Black arrows show our direction, and as you can see we crossed our path several times. Red squares are where we stayed with friends, and red triangles indicate our campsites. The newsletter, with more illustrations, continues below.
Our first stop south of Brisbane was the village of Iluka where we stayed with our cruising friends aboard Scud. While Amanda and Warren went off swimming/surfing, the adults took long walks on the beach where we saw dolphins surfing the waves. We also drove with Tina and Peter to the quaint and quiet nearby farming area for a look at rural New South Wales. After two nights on Scud we headed south down the New South Wales coast, finding a campsite near the lovely long beach on Crowdy Bay National Park.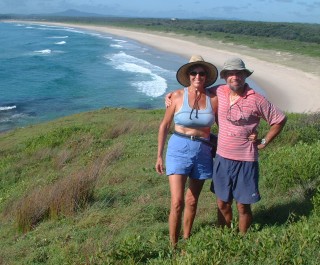 Australia's long beaches like this one
near Iluka, make for great morning walks
With a few detours to see the sights like the Port Macquarie light-house on its rugged, squally coastline, and taking the funky little ferry to Myall Lakes National Park, we took Australia Route 1, the Pacific Highway, all the way into, and south through Sydney. Camping in the city is tough, but be found a tent-sized plot of dirt in a caravan park near the international airport where we poised to pick up Colin. All we had to do was rearrange the car so that he and all his gear would fit - no mean feat! On Colin's first day he and Sue visited old friends of Colin's for lunch while Amanda and Jon joined in an honest-to-goodness Superbowl Party with 3 other cruising boats in a Sydney hotel room. The room survived...

The fantastic cliffs of the Blue Mountains
Outside Sydney the Blue Mountains gave us some respite from the lowland heat in shady eucalypt forest where eastern grey kangaroos hopped about the clearings near our tent. The glory of this park is not so much the mountains, but the deep valleys. The Blue Mountains are actually a sandstone escarpment, pushed up from the coastal plains about 90 million years ago. Rivers and creeks have eroded the sandstone forming fantastic cliffs and gorges with grand views to the flatlands below. We spent 3 days walking the trails, looking at the river-cut canyons, and watching the kangaroos and sulfur-crested cockatoos in the campgrounds. A tour guide told us about the female funnel web spider that lived in a tree near our car: she was over 10 years old and obviously very adept at killing her prey with the lethal venom from her razor-sharp fangs. To mate, the male has to tickle her in just the right way, while holding her fangs and forelegs away. If he doesn't keep tickling her, she wakes up and he becomes her next meal!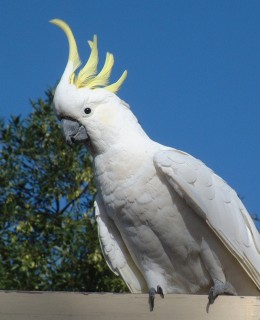 This sulfur-crested cockatoo was
unafraid, and visited us often
We drove south from the mountains to Canberra, the custom laid-out capital of Australia. Here we visited with Margi Bohm, a cruising friend we met in Martinique when Chris was born. Also, Jon's dad organized a visit with the Andersons: a family he hadn't seen since they last visited the Hackings in California 43 years earlier. We spent four days playing tennis and checking out the museums, Parliament House, and Tidbinbilla Deep Space Tracking Station. We had our first fair-dinkum Australian "Barbie" (BBQ) on the Anderson's farm, swimming in the pond and catching up on the many years since we'd last seen (or even heard from) them. Although we love camping we're always happy for some social time, hot showers, laundry and real beds! The bird life was great: parrots and cockatoos everywhere.
South-west of Canberra we went through the Snowy Mountains aka Mt. Kosciusko National Park, camping in country high enough (4100 ft/1250 m) to be cold at night. Australia is geologically very old so all of the "mountains" are very rounded and somewhat worn down from their earlier grandeur, but there are still lofty crags and deep mountain valleys to be seen. We camped high near the tree line where only snow gums (the world's highest growing eucalypt) thrive.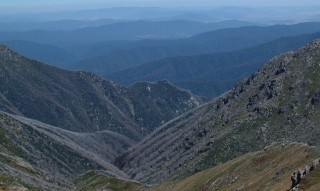 Endless vistas in the Snowy Mountains
Under bright blue skies with superb visibility we hiked 7 miles (12 km) of alpine trail in a treeless, silent world where deep blue lakes dot the folds in the mountains and moss-rimmed streams trickle down rocky hillsides. In the distance was Mt. Kosciusko, highest in the country at 7300 feet or 2230 meters. One of the joys of Australia is that it has fewer than 20 million people spread over an area the size of the US (which has about 15 times as many people) so there's much less pollution. We saw vistas with over 20 visible ridge-lines, disappearing into the blue haze of distance. The Snowies have several small ski resorts and also contain an extensive (and largely invisible) hydro-power scheme - largest in the world when it was finished in the 1950s.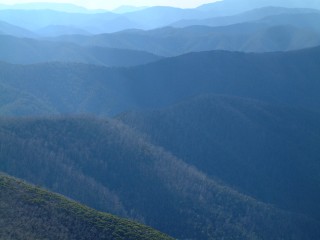 Rugged countryside in Alpine National Park
After a hot drive southwest through farmland, across the Murray River and into the state of Victoria we got to Alpine National Park, home to more ski resorts and the dramatic (but very winding) Alpine Way. Skiing in Australia is both expensive and mediocre, so many skiers prefer to fly to New Zealand for their powder-fix, where skiing is more plentiful, better, and cheaper. It's fun to see ski areas in the summer, trying to visualize them covered in deep white snow. There is apparently some wonderful bushwalking to do in Alpine National Park but we weren't equipped for overnights away from the car. As there were no campgrounds in the park we set up tents in the lowlands just south of the entrance and were treated to an impressive thunder and lightening show that night.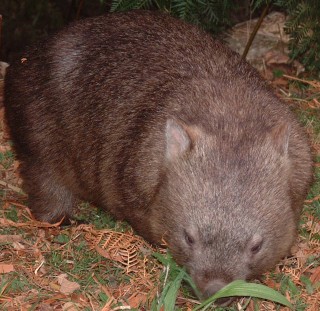 Wombats are cute, but they will destroy
your tent in their relentless search for food
From Alpine National Park we headed south for the coast of Victoria. Wilson's Promontory National Park (fondly called The Prom) is an isolated bio-region of granite outcrops and forest extending into Bass Strait, the southern-most point of mainland Australia. An intentional burn a year earlier had gotten out of control and burned more than intended, but this actually gave us much better visibility as we hiked. Luckily, the gum-trees (eucalyptus) are not killed by that kind of fire. Even if all their leaves are lost they bud-out more right from their trunks. We spent 3 days at the Tidal River campground, hiking to wild beaches and scenic viewpoints over the clear blue-green water. Sue's bird book got lots of check marks including many types of shore birds, parrots, rosellas, cockatoos, honeyeaters, and wedge-tailed eagles. At night possums peered down on the men in the ablution block, and unhurried, furry wombats - very cute nocturnal herbivores that resemble small bears - browsed by the roadside near the campsite. They are apparently very good scavengers and will chew their way into tents in which they smell food. Very bear-like!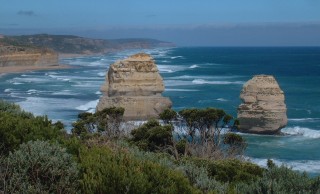 Sandstone structures and impressive ocean
vistas highlight the Great Ocean Road
From Wilson's Prom we went west, taking the ferry across the mouth of the bay to pass well south of Melbourne (pronounced "Melbin") en route to the Great Ocean Road. Built during the depression years, this engineering feat is a memorial to fallen WWI soldiers and includes land protected within Otway and Port Campbell National Parks. Some say The Great Ocean Road rivals California's Route 1, but we think it's not only different but far surpasses the California road with its coastline rimmed with eroded yellow and red buttresses, arches and caves. We spent 4 nights camped by beaches, lagoons or in forest, and by day we took countless short hikes, read the history of a century of shipwrecks, and savored the stunning scenery at umpteen viewpoints with dramatic sandstone cliffs, overhangs, arches, and caves. It was here that we found our first wild koalas, first climbing high up in distant trees and then one that munched its way through the night just above our tent! It was also here that Colin and Jon decided to replace the front brake shoes - can't have a Hacking Road-Trip without a few repairs along the way. At Otway Fly we walked through a eucalypt rain-forest, first on the ground and then over a suspended walkway through the mid-storey, and finally up a spiral walkway to experience the upper storey of the rain-forest.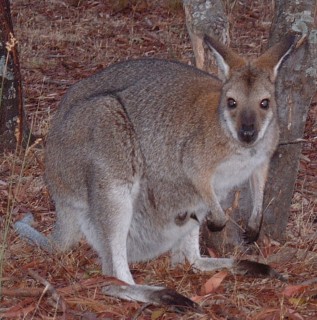 A red-necked wallaby & joey in the Grampians
At the western end of the Great Ocean Road we drove north through flat farmland to the escarpment that makes up Grampians National Park. These tilted, forested, cliffs protrude from the neighboring farmland and offer sanctuary for hundreds of bird species. A fire had raged through 60% of the Grampians only a month before we got there. Eucalypt trees are well adapted to this periodic burning and after only a month we were seeing green shoots emerging from crisp, black trunks. Luckily the fire missed the Aboriginal Cultural Center and several campsites so we got a good dose of culture and bird life. Many of the roads were still closed, but we were able to hike to several view-points where we overlooked a golden brown forest not too unlike a late autumn day in New England. We had our only real rain while in the Grampians, but it just lasted 1 day (much of which we spent in the excellent Aboriginal center) and the nights on each side were dry for camping. The Grampians also gave us our first wild emus, giant ground birds (like ostriches) that poked around our campsite while making a noise in their chest like the beating of a deep drum.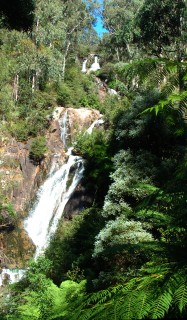 Steavenson Falls in
Yarra Ranges National Park
Our time with Colin was coming to an end so we headed back to Melbourne, stopping in Ballarat to visit the gold museum (no free samples) and spending the night with another Colin Hacking, found when Dad did an ego-search on Google. It seems that a Hacking crewed with Captain Cook to arrive in Australia in the 1770s. There seems to be a resemblance, but neither family had traced their roots back that far. After dropping Colin off at the airport, we were driving into Melbourne when a huge dump-truck didn't see us as he tried to change lanes on the freeway, scaring Amanda as his huge front wheel badly scratched up her driver-side rear door. Nobody was hurt and the driver admitted fault, but it was a scary event. (The trucking company eventually paid to repair the car, which we were grateful for.)
We stayed in Melbourne for only a few hours, walking through the elaborate gardens and along the waterfront, and lunching with some cruising friends. But with nowhere to stay in Melbourne, we headed NE through beautiful rolling farmlands interspersed with deep tropical rainforest. It's not easy to find camping near a metropolis, but 2 hours northeast of the city we pitched out tents by a rushing stream in Murrindindi Scenic Reserve. We spend the next day on a beautiful loop drive with rainforest hikes to waterfalls and rolling farmlands. We found one of our favorite campsites at Yarra Ranges National Park with vast fields of green grass for camping, nice forest walks, hot showers, free electric BBQs, covered picnic tables, and even fridge and freezers - as well as the largest (hand-size) and hairiest spider we've ever seen, hiding under the door to the back of our car.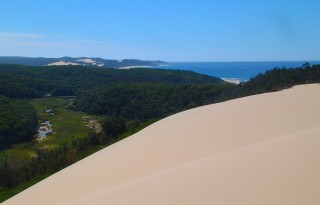 Huge dunes rise above the Victoria coast
Back on the Gippsland, Victoria coast we spent a night on 90-mile Beach, in a tucked away campsite all by ourselves. The sand was amazingly soft, and the beach really did go on almost forever. After driving up more of the scenic east coast, we found ourselves under high sand dunes, nestled into a coastal forest for a night at Croajingolong National Park. In the morning we saw a male lyre bird (like a huge brown turkey with feathers like a peacock, but no so colorful). We took a 2-hour walk up the sand dunes to the other-worldly vistas of golden mountains over blue-green water. We passed hundreds of small green beetles that must have been up there collecting dew -- there was nothing else to eat or drink.
We had one more night on the coast at Mimosa Rocks National Park in New South Wales before heading inland to again stay with our friends in Canberra. As we climbed the winding road up the escarpment, a car going the other way picked up a stone that starred our windshield, but Chinese knock-off windshields are plentiful in Canberra and it only cost US$150 for a guy to come out and replace it.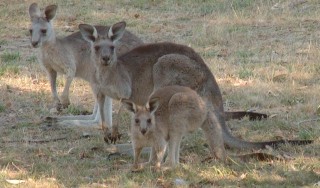 Kangaroos are very social and alert
Leaving Canberra, we again went down to the coast, spending 2 nights at Depot Beach with roos and parrots, long walks down the beach and some great tide-pooling. Being in camping mode we bypassed Sydney and returned to the Blue Mountains that we'd had so much fun in before, camping in glorious isolation with only kangaroos, parrots, cockatoos (OK, and the odd highly poisonous funnel-web spider) around us. The next day we enjoyed the edge of Oxley Wild Rivers National Park, camping at Wollomombi where 2 high waterfalls come together in a deep canyon, a sacred meeting place the aborigines called the "meeting of waters". Just 6 hours out of Brisbane our left rear tire decided to shred itself for no particular reason, requiring us to finish the trip on just the spare.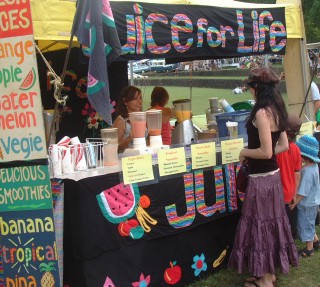 A monthly hippie market comes to The Channon
near our friends' commune, Bodhi Farm
Near the Queensland border we stopped to call a son of our Canberra friends. Now remember, Jon hadn't seen this guy since 1962 (when they were both 7 years old) so we didn't know what to expect. Stu instantly invited us for the weekend (we'd only planned to spend 1 night) and drove down to meet us at a local pub in The Channon. Stu and Michelle live on what amounts to a 1970s era commune up a long dirt road - a couple hundred acres of rainforest coming down the side of a hill to a healthy stream at the bottom. The 17 living structures are half sculptures, using interesting locally hewn woods, and the transition from "inside" to "outside" was frequently blurred (much like a boat). All their energy is both green and locally produced (pelton wheel, stream turbine, solar panels, and an old bio-fueled diesel as an infrequent last resort). Amanda latched onto 1 of the many guitars (she hadn't had a music fix since we'd left Ocelot as we couldn't fit both guitar and grandfather in the car) and an impromptu jam session soon ensued. We slept on a wonderfully funky bed out on the porch, overlooking rain-forest up close and clouds playing with the more distant mountains, with a symphony of birds serenading the arrival of the sun. We enjoyed lots of quiet conversations, skinny-dipping in the roaring stream, communal work parties, a local crafts fair, hikes through the rainforest, and cooking the communal Sunday dinner. Life there was so relaxing that it was a bit of a shock to see our hosts get into their "city" clothes to go to work Monday morning.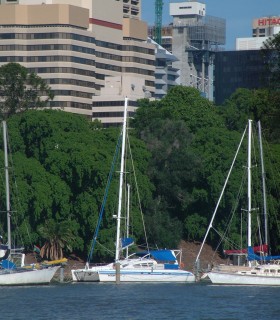 Ocelot in the heart of Brisbane
A few hour's drive north we stopped for lunch at the base of Mt. Warning with its rainforest and huge tree ferns. Mt. Warning is actually the remnant plug of an ancient shield volcano. Hiking to the top of the mountain looked wonderful: lots of forest and then rock scrambling, but we were feeling impatient to return home, so we did a short walk through the forest, had a delightful picnic lunch in the cool shade, and hit the road again. We arrived back in Brisbane in the late afternoon to find Ocelot rocking gently on her pilings. Wow. What a trip. Australia is huge, and although we had traveled only in the southeast corner of the continent - mostly New South Wales and Victoria - the diversity of wildlife and scenery we saw was fabulous!
We now have to sell the car and prepare Ocelot for the journey north. (That's another whole list of Things To Do!) We plan to cruise the Queensland coast for May and June, then hop over to Darwin in July to jump off for Indonesia, Malaysia, and Thailand for Xmas.
Fair winds and calm seas -- Jon, Sue and Amanda
Up | 7 Nov 05 | 8 Nov 05 | 9 Nov 05 | 10 Nov 05 | 11 Nov 05 | 12 Nov 05 | 13 Nov 05 | Ocelot in OZ | Great OZ Road Trip | Back in the Tropics | Great Barrier Reef | Gulf of Carpentaria | Darwin | Cruising Australia
Panama Letters | Ecuador Letters | Galapagos Letters | Marquesas Letters | Tuamotus Letters | Tonga Letters | Fiji Letters | New Caledonia Letters | Australia Letters
Top Level: Home | Destinations | Cruising Info | Underwater | Boat Guests | Ocelot | Sue | Jon | Amanda | Chris | Site Map | Make a Comment
---
Lifetime
Commodores
of the
Seven Seas
Cruising
Association

If our information is useful,
you can help by making a donation
Copyright © 2000‑ Contact: Jon and Sue Hacking -- HackingFamily.com, svOcelot.com. All rights reserved.