8 Nov 05
Day 2 on the Coral Sea, 185 miles from New Caledonia, 575 miles to OZ
Hello all,
It's 3 pm (still on New Caledonia time) and we're scooting along over a deep blue sea topped with a few frilly whitecaps. There are puffy tradewind clouds above and the foaming rush of water sounding beneath us. The sea swells are no more than three feet. Passages don't get a lot better than this.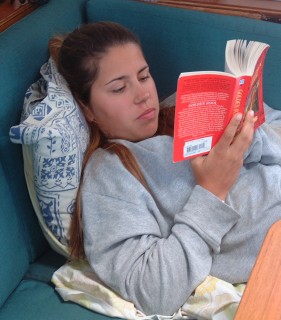 Amanda reads a lot when off watch
We had an uneventful night (the way we like it) with winds backing around behind the boat so that we actually headed more to the south for a few hours to keep the sails from slapping around and making a racket. Orion and the Southern Cross peeked in and out of a partially cloudy sky. Shooting stars often blazed across the sky and the half-moon cast a silver glow to the west.
Morning brought a series of little squalls, nothing with much wind in it but we'd get a drizzle for 10 minutes, a wind shift, then clear skies again. Must have happened 6 or 7 times. We have officially left the tropics now, being south of 23 degrees, and we feel the difference. We stand watch in long pants, socks (Amanda and Sue wear slippers), long-sleeved shirts and a fleece-lined jacket with hood. I can't imagine sailing all the way down to New Zealand. Brrrr. So why do we continue to sail (somewhat) south? (actually, WSW)
Early this morning Jon saw a freighter on a collision course with us (in the middle of this huge ocean) so he called them on the VHF radio and they courteously changed course to avoid us. (This is always a good thing!) On our SSB radio sched with other sailboats we learned that we were about 15 miles from our friends on Peregrinata so we were able to talk to them on the VHF radio as well, which makes the big lonely ocean feel a bit smaller. A "teen net" happens at 8:30 am but it appears all the teenage guys were asleep because only the 4 girls spoke to each other!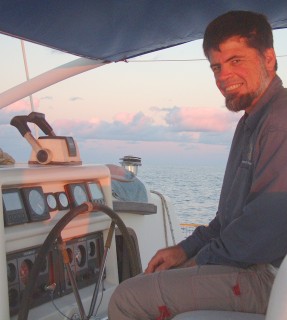 Jon loves the sunrise watch
About noon the wind shifted forward to just off the beam, one of our fastest points of sail. Unfortunately, we don't want to go fast, or we'll arrive on the weekend and have to pay exorbitant overtime rates to officialdom. But even after taking a reef in the main we were still scooting along at about 7 knots. Another reef this evening only lowered our speed by a knot, if that. About noon tomorrow the winds should come around behind us and that will also slow us down.
We've seen no marine mammals, but we have been accompanied by all-gray sea birds (probably flesh-footed shearwaters) and some small terns. The occasional flying fish leaps from the surface and wings its way over the wave tops. This afternoon we were graced by the presence of a wandering albatross, the first we've seen from our own boat. I guess we really are out of the tropics. <*sigh*>
Well, it's time to put on water for afternoon tea. We have more pumpkin cloud cups to eat up. Oz quarantine is very strict so we're trying to arrive with no fresh fruits, veggies or dairy products (all of which they take). We'll eat some of the last chicken from the freezer tonight, then have room for fresh fish (which Oz does not take) if we're lucky enough to catch any in the next few days.
Fair winds and calm seas -- Sue, Jon and Amanda Hacking
Up | 7 Nov 05 | 8 Nov 05 | 9 Nov 05 | 10 Nov 05 | 11 Nov 05 | 12 Nov 05 | 13 Nov 05 | Ocelot in OZ | Great OZ Road Trip | Back in the Tropics | Great Barrier Reef | Gulf of Carpentaria | Darwin | Cruising Australia
Panama Letters | Ecuador Letters | Galapagos Letters | Marquesas Letters | Tuamotus Letters | Tonga Letters | Fiji Letters | New Caledonia Letters | Australia Letters
Top Level: Home | Destinations | Cruising Info | Underwater | Boat Guests | Ocelot | Sue | Jon | Amanda | Chris | Site Map | Make a Comment
---
Lifetime
Commodores
of the
Seven Seas
Cruising
Association

If our information is useful,
you can help by making a donation
Copyright © 2000‑ Contact: Jon and Sue Hacking -- HackingFamily.com, svOcelot.com. All rights reserved.