12 Nov 05
Ocelot heading for OZ, day 6,
26° 29'S, 153° 21'E at noon, 109 miles from Moreton Island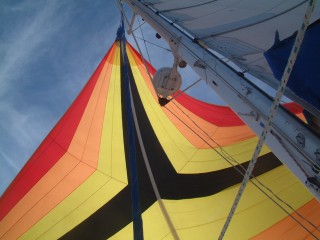 Glorious sailing under our colorful spinnaker
Dear Friends and Family,
What a glorious day! The sun is shining, there's nothing threatening on the horizon, there's a nice 15 knot breeze from well behind us, we have the full main and our colorful spinnaker out, Amanda's serenading us on her guitar, there's a fantastic pizza in the oven for lunch, and life is good.
We left you last night heading WSW with NNW winds, wondering if the forecasted SE winds were ever going to show up. We were a bit worried as these sorts of 180° wind shifts are often accompanied by squalls and other ugliness. Amanda had the midnight to 2am watch and she saw the winds die off to nothing, so she rolled up the jib (usually a 2 person job), centered the main and started the port engine. In the moonlight she noticed a cloud squall-line coming up from the south, so she chose a gap between rain showers and darted through. (Our friends on Scud got drenched.) On the far side of the squall-line she found our SE winds at last. So she moved the main over to stbd, moved the vang/preventer and the outboard jib fair-lead to the stbd side, and unrolled the jib (a job that requires being in 2 places about 15' apart at the same time). After a few minutes the wind came up to 20 knots so she woke Jon up so she could go up to the mast to take a reef in the main (at 2am). That girl rocks!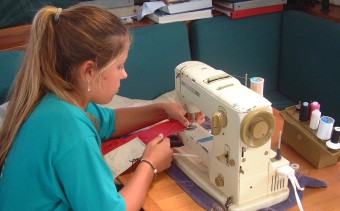 Sewing up the Australian flag before arrival
By mid-morning the wind had weakened and backed around behind us a bit so we shook out the reef in the main. The wind continued to back around so we rolled up the jib and put up the spinnaker. Now we're gently drifting along behind our red-yellow-orange-black chute under a powder-blue sky studded with small puffy white clouds. The ocean is deep navy-blue with gentle swells and the occasional white-cap, there's a new type of shear-water circling around us at wave-top height, and the air is a pleasant 77°F (25°C). Our friends on Scud are just in front of us and well within VHF radio range, so we talk often. The GPS is predicting that we'll arrive off the north point of Moreton Island at about 7am if the wind holds. From there we have about 36 miles to sail in the protected waters of Moreton Bay to get down to our clearance port of Manly. We'll make sure we don't get there before about 4pm Sunday afternoon, as then we'll be allowed to stay on the dock (for free) and go through Customs, Immigration, and Quarantine on Monday morning.
Fair winds and calm seas -- Jon, Sue and Amanda Hacking
Up | 7 Nov 05 | 8 Nov 05 | 9 Nov 05 | 10 Nov 05 | 11 Nov 05 | 12 Nov 05 | 13 Nov 05 | Ocelot in OZ | Great OZ Road Trip | Back in the Tropics | Great Barrier Reef | Gulf of Carpentaria | Darwin | Cruising Australia
Panama Letters | Ecuador Letters | Galapagos Letters | Marquesas Letters | Tuamotus Letters | Tonga Letters | Fiji Letters | New Caledonia Letters | Australia Letters
Top Level: Home | Destinations | Cruising Info | Underwater | Boat Guests | Ocelot | Sue | Jon | Amanda | Chris | Site Map | Make a Comment
---
Lifetime
Commodores
of the
Seven Seas
Cruising
Association

If our information is useful,
you can help by making a donation
Copyright © 2000‑ Contact: Jon and Sue Hacking -- HackingFamily.com, svOcelot.com. All rights reserved.