Boat Guests
Up | Sue | Jon | Chris | Amanda | Rainer Dawn | Boat Guests
Want to join us in Paradise?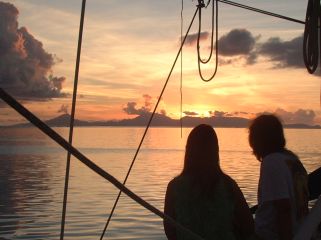 Sunset over Bora-Bora, French Polynesia
These pages are basically designed to make all our friends thoroughly jealous of all our other friends, who have already been down here, so that they will come visit us, too. We've asked the folks who have already visited us to say something about their time on Ocelot, like what they liked, what we did, etc., on the proviso that we were allowed to modify it to say absolutely anything that we want it to.

(If they haven't answered our request, well, they'll just have to grin and bear it!) We even have a What to Bring checklist page for our guests.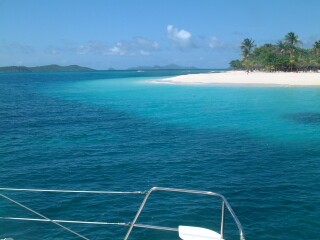 Palm Island, Grenadines, E Caribbean
Some people buy boats with just a perfect number of cabins for the permanent crew. And so did we -- but our definition of perfect means we have a spare full stateroom plus some space in the salon for sleeping kids. This lets us have the pleasure of friends and family coming to visit. Check it out!