Vince Lowney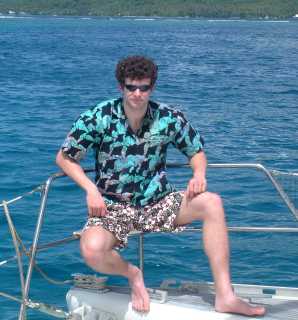 Cool, Bad, Pink Dude on the bow
as we enter Opunohu Bay, Moorea
February 15 - February 21, 2004
Although we only had a week, Vince's long-awaited visit was packed full of excitement and activity. He actually overlapped with Karen & Jon for a few hours, since he arrived in the evening. After introductions all around and some time chatting, he surrendered to the exhaustion of 16 hours of traveling.
That didn't stop him from getting into paradise as soon as possible, though. (This is the guy who sleeps until noon if given his own way.) On his first full day here, Sue, Jon, and Vince went for a dive on Tahiti, and (we arranged it specially for him) got attacked by a fish! Apparently, nesting titan triggerfish are very protective of their territory, and defend it by ramming divers who get too close. Unfortunately, nobody got any photos of the attack.
| | |
| --- | --- |
| Vince diving past a huge wrecked cargo vessel | Touring the street-side markets of Papeete |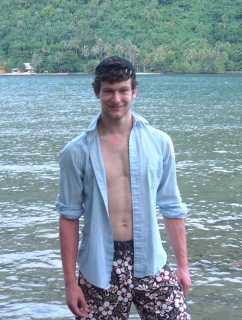 Welcome to lush, beautiful Moorea
That same day, Vince took out our little sailing dinghy Nikka, and went for a trip clear across the anchorage! (I'm not sure how far he meant to go, but he had fun...) He also discovered the local outrigger canoes, or Pirogues, and decided he just had to try one out. We didn't have one handy, but kept the thought in mind.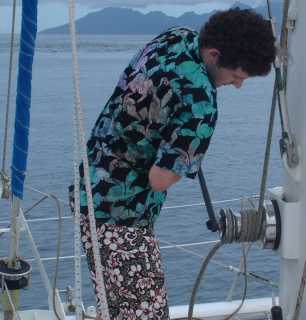 Lets have some muscle now!
The next day we all, minus Chris, went for an expedition to the city of Papeete. After taking Le Truck (the local cheap transportation) in, Vince joined in shopping for various things and exploring the local market. Unfortunately, it started raining on the return trip, and by the time everybody returned to Ocelot, the rain was quite strong. We had hoped to go to Moorea that day, but it would have been a such a horrible trip we decided to stay on the boat in Tahiti. We passed the time talking and playing games games like 13's and Magic. Good activities for tropical paradise, right? This surprises some people, but there is such a thing as a rainy day out here.
Fortunately, the next day was beautiful and we pushed off for nearby Moorea. We were glad to have Vince, who races in crew (rowing) as an additional member of Ocelot's crew, and immediately put him to work on the winches. During the short sail, Vince taught Chris a new strategy/thinking game. After a nice but slightly rough passage, we arrived in Opunohu Bay, which we had just left a few days before!
For the next few days, we got the most we could out of Moorea. We snorkeled over coral and tikis, saw eels and sea cucumbers, chased fish and practiced deep free dives. We explored part of the island on foot, walking through the village and around part of the bay. We saw big coconut crabs and bought coconuts from an open stand. We also saw some amateur dancing practice and walked along a nearly overgrown road to the head of the bay.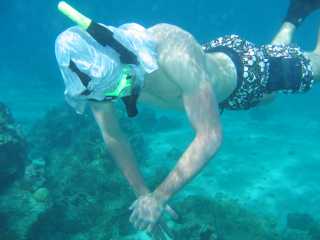 Clear blue water and fish-filled reefs
We also went for a dive on Moorea. Vince comes from the Pacific northwest, and though he has dived before, the water in Puget Sound was so cold he needed a dry-suit! Down here, we don't even bother with wet-suits! Chris wasn't able to dive the first few days due to a very badly sunburned back, but he was eager to dive with his buddy Vince. On Vince's second-to-last day, he, Chris, and Jon went for a dive in the Opunohu canyons. After an exciting dinghy ride out past the pass (and the large swells on the sides of it) we found the mooring buoy. The dive was exciting, with lots of fish and unending gardens of coral.
We had an early (and very nice) sail back to Tahiti for Vince's last day, the start to a full day indeed. After anchoring, time for a trip into the market for some Polynesian treasures. (He eventually decided against a tattoo.) After getting back from Papeete, he finally got a chance try out a pirogue. Not quite the same as a rowing shell! Lots of fun nonetheless, and I think he was getting the hang of it quite well.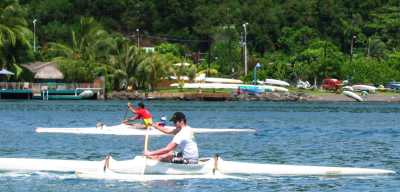 Kind of like home, except with a paddle and a training wheel
After a working on his sunburn in the pirogue, it was time for a swim. One last chance to snorkel over beautiful coral reefs in warm, clear water is not a chance to be missed. There was time for one more taste of paradise before returning to the other life; an Polynesian dance show at a local hotel.
From Vince's writings in our guest book:
Hackings - Well, I finally made it. And boy, what a trip - gigantic attack triggerfish... snorkeling, diving... small cabins and all. Thanks for the awesome time and all the fish.

Chris - good buddy, it had been too long. You never thought I'd actually make it, but we sure had a lot of fun. Thanks for bringing me to paradise and sunburn. I'll be back before you know it!
Up | Karen & Jon Return | Vince Lowney | Bill & Mary Return | Pam & Kathy | Diving Tahiti | Diving Moorea
What to Bring | 2002 Visitors | 2003 Visitors | 2004 Visitors | 2005 Visitors | 2006-11 Visitors
Top Level: Home | Destinations | Cruising Info | Underwater | Boat Guests | Ocelot | Sue | Jon | Amanda | Chris | Site Map | Make a Comment
---
Lifetime
Commodores
of the
Seven Seas
Cruising
Association

If our information is useful,
you can help by making a donation
Copyright © 2000‑ Contact: Jon and Sue Hacking -- HackingFamily.com, svOcelot.com. All rights reserved.