Tahiti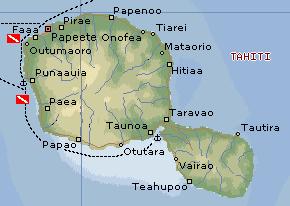 Click the map for a Society Isles overview
Language: French, Tahitian
Population: 150,000, about 60% Polynesian, 15% European, plus Chinese and mixed Polynesian/European
Money: French Polynesian Franc (No, not Euros!) US$1 = 93CFP
Landscape: Lush, volcanic, with peaks to over 6,000 feet.
Visited: August 10 to 31, 2003. Then again January 17, 2004 off and on through March 4.
Read about diving in Tahiti, and our time with visitors Karen and Jon and Vince in Tahiti.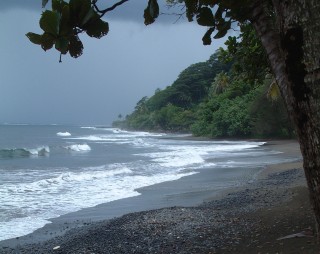 The wild and beautiful north coast of Tahiti
History: The first Europeans to reach Tahiti itself were the British captain Samuel Wallis and his crew on HMS Dolphin. In 1767, they found valleys ruled by different warlike chiefs. Although the natives initially tried to attack, a taste of firearms convinced them to be friendly. They traded with the sailors, bringing pigs, poultry, fruit ... and willing women. Iron was in particularly great demand, and the sailors would pry nails out of the ship to trade for sex. Captain Wallace was forced to ban all trips ashore except for food and water. Wallace left after naming Tahiti King George III island and hoisting the Union Jack. A year later the French explorer Louis-Antoine de Bougainville arrived and claimed the island for France, unaware of Wallace's visit.
Captain Cook was the first man to really describe Tahiti to the Europeans. On his four visits between 1769 and 1777, he mapped much of Polynesia and learned about the area from the locals, such as one high priest who could name and chart dozens of islands. Cook also brought artists who captured some of the beauty of Tahiti and the nearby islands.
The HMS Bounty, under Lt. William Bligh, provided an interesting portion of Tahiti's history with the crew's mutiny after stopping in Tahiti to pick up breadfruit for transport to the West Indies. The actual mutiny occurred in Tongan waters, but the mutineers took the ship back to Tahiti. Some of them left again and settled on Pitcairn island, but others stayed and acted as mercenaries for the warring chiefs, upsetting the long-standing power balance.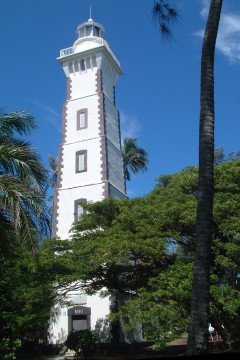 Point Venus lighthouse & monument
In the late 1700s and early 1800s, Protestant missionaries from England tried to convert the islands to Christianity. Although initially unsuccessful, in 1815 the missionaries aided a deposed king, Pomare II, in regaining Tahiti and allowed the defeated tribes to become Christians instead of being punished. When King Pomare II, who was never baptized, died in 1821, and his infant son died a few years later, Queen Pomare IV came to power. Closely allied to the London Missionary Society, Pomare IV ruled much of modern French Polynesia for about half a century. Although Catholic priests from France tried to convert the Polynesians to Catholicism, the Protestant queen expelled them from Tahiti. When French warships arrived and demanded reparations, their demands were met but Queen Pomare wrote to England asking for aid. The French continued to try and gain control of Tahiti and the nearby islands, and while France and England nearly went to war over the issue, no aid arrived for Tahiti. In 1842, Tahiti became a French protectorate while the Queen was away, and she was deported to Raiatea when she returned. Although the Tahitians resisted for several more years, Queen Pomare eventually realized no British aid was coming and reluctantly agreed to the French protectorate.
Through the 1800s and early 1900s, trading ships and whalers from the US and Europe called at Tahiti for supplies and goods such as pearls or mother-of-pearl and sandalwood. They brought diseases such as smallpox and venereal disease that the Polynesians had no resistance to. Combined with firearms and alcohol, the Polynesian population plummeted by about 95%. Meanwhile, overzealous missionaries clothed the Polynesian women from head to toe, forbade dancing, imposed strict sexual morality, and destroyed countless artifacts from Polynesia's former culture. French missionaries attempted to convert the populace to Catholicism, but only succeeded in the Marquesas (the rest of French Polynesia remaining mostly Protestant.)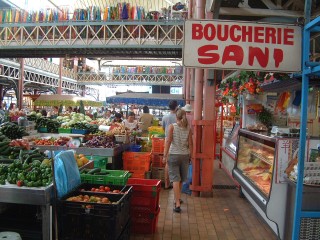 The bustling and colorful Papeete market
Meanwhile, French control over Tahiti and the nearby islands slowly increased until, in 1880, Tahiti became an official French colony. For much of the next century, French Polynesia was ruled by governors appointed in Paris, and French officials decided everything. The only elected official with any authority was the mayor of Papeete. When the colony became an Overseas Territory in 1946, it gained an elected territorial assembly and representation in French parliament. However, the governors were appointed from Paris until the 1970s.
To read more about French Polynesian history, including some about the World Wars and French nuclear testing, read the Tuamotus history.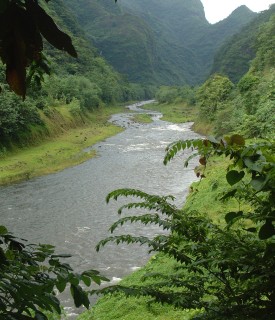 The Papenoo River road provides
access to Tahiti's interior
(Amanda) Interior Tahiti is beautiful. I'll say that right now, no matter what Papeete looks like. And in my opinion, even Papeete is a cute not-so-little town that is a culture experience itself. Sure, it was expensive. But who said you had to eat there? It was good for tourist shopping (though also expensive) and the local market was a definite must-see. But except when we had visitors onboard - and I'll admit, that was rather a lot of our time - we rarely went into Papeete at all. Most of our time was spent anchored out over beautiful, shallow sand with the crash and boom of waves breaking over the reef in our ears. It was the first and biggest place of civilization that we had had in quite a while, and it was a bit of a relief not to have to order ahead the day before to be able to get a baguette for lunch the next day.
As I said, the interior of Tahiti was beautiful. Lush, tropical forests covered her towering hills, which were stunning when they bothered to peek out from their constant cloud-covering. Rugged gravel roads provided the means of getting to the middle of the island, even though it seemed like half the time they went through the river instead of beside it. For many dollars more, you could take the same trip, except pressed into a jeep with a bunch of other people. And then you actually would be traveling up the river!
The diving in Tahiti was pretty good, though maybe that was because we hadn't done it for so long. I'm not even sure if we would have dived there, except that Karen & Jon coming down for a visit gave us a swift kick in the rump into the water.


Many paddle teams practiced in Tahiti's calm lagoon
(Jon) Tahiti was very different from any place we'd been for a long time, mainly by being relatively populated. Its population and physical beauty reminded me of Martinique, but with a huge reef all around it, which made anchoring and diving delightful. This should have been enough for me to really enjoy Tahiti, as I'm very fond of Martinique, but Tahitian prices were nothing short of astronomical which made enjoying it difficult for me. At least there were goods and services available that we hadn't seen for a while. But having to spend over $1,000 to have a couple of minor repairs done to our sails tended to flavor my opinion of the whole place. Perhaps I shouldn't harp on prices, but after South America, where a nice 3-course meal with a glass of fresh fruit juice can be had for about $3, Tahiti, at $20 for a 'plat du jour' and beers at $2 even in a supermarket, was a bit of a shock.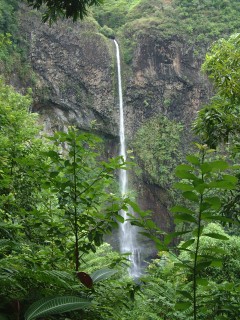 A glorious waterfall in western Tahiti
My opinion of why the prices are so high is because the French feel guilty about their treatment of the French Polynesians much as the US feels guilty of their treatment of the American Indians. The French (& the US) were pretty high-handed in their relocation of islanders so they could carry out their atomic bomb testing, so (in fine American fashion) the French throw $$ at the problem. Money poured in while they were doing their testing, either as aid or in the form of exorbitant "fees" for their tests. Even after the French quit their nuclear testing in '95, the aid money they pour into the area means that the locals don't really have to work. Nobody's going to starve here, as fruits & vegetables grow like weeds. So to get someone to do something, you more-or-less have to bribe them. It will be interesting to see what happens if/when the islanders achieve their dream of independence. Like the US & Puerto Rico (or even Panama), I don't think the common people understand how much aid comes from abroad (in this case, France), but the politicians want the "glory" of independence.
Much of our time in Tahiti was spent working on Ocelot, either preparing to leave her as we went home, or getting her back into cruising trim once we returned (repairing sails, replacing the headstay, replacing much of the roller gear, cleaning the whole interior, servicing the engines, checking that all systems still worked, etc.). But we did have a lot of fun with Tahiti. The scenery itself is magnificent, with high peaks and lush green valleys. With Karen & Jon we took several delightful hikes into the foothills, either to overlooks where we could look down at the colorful coral reefs and Moorea spread out before us, or deep inland through the cool jungles to mighty waterfalls. We also rented cars (>$100/day) to drive around the island, driving well into the interior to see the countless magnificent waterfalls, and all around the rugged coastline. We saw several dance shows, with beautifully graceful women and vibrant 'haka' war dances by the men. But most of what I remember is that Tahiti is where we really started diving in earnest, with our own gear. The huge reef had lots of dive sites, including some interesting wrecks (our first) and several dive shops to provide air fills (at $11/tank).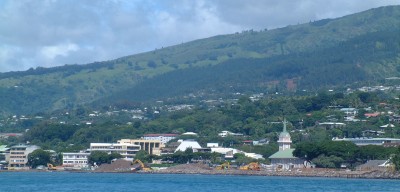 The Papeete waterfront and built-up hills behind it
(Sue) What to say about a place I've dreamed of visiting for 20 years? I think my first impression was that the town of Papeete is a far cry from the small, romantic village that cruisers in the 1960's experienced. Yes, yachts still tie stern-to along the quay, but the waterfront is now overrun with noisy, smoggy traffic, and the reef bordering the pass to the north is a long dock of fuel storage containers. The prices of things are so high that we never even sat at a sidewalk cafe to enjoy a cold beer or a light lunch ... not at $18 for a piece of chicken and a bite if salad!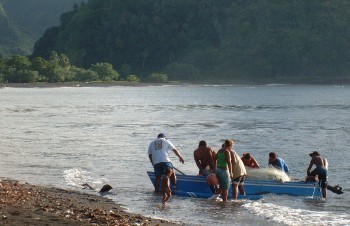 Tautira fishermen return to the beach in Tahiti-Iti
Okay, I'll skip the negatives. Tahiti was great for grocery shopping if you're starved for French food. The best part of the island is the interior (accessible by a very exciting gravel road which fords the river often) and Tahiti-Iti, the small peninsula to the southeast. Here the villages retain a feeling of South Pacific paradise; there are fishing nets drying on the sandy beaches, the yards are manicured and luxuriant, and the people friendly.
After visiting other parts of French Polynesia which I loved, I can accept the reality of Papeete as the commercial and political center, and be glad that its noise and hubbub are concentrated on one island, and not spread throughout them all.
The Tahiti highlights for me were the days spent scuba diving on the wrecks and the outer reef, hiking the interior, and driving deep into the volcanic hills. I also enjoyed seeing the Tahitian dancing at some of the tourist hotels where we were welcome to watch, sitting apart from the restaurant patrons.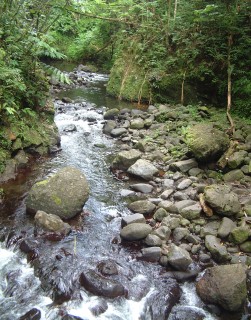 The lush Fautaua River valley is
within walking distance of Papeete
(Chris) Tahiti is a large island, divided into two parts. Tahiti-iti, the smaller part to the southeast, is mostly developed but not very citified. In fact, much of it seemed to be agricultural. Even where not cultivated, Tahiti-iti did not seem jungle-like, the way the interior of Tahiti-nui did.
Tahiti-nui's coastline, especially near Papeete, was quite developed, with roads, hotels, bus stops, supermarkets, and so forth. However, within walking distance of Papeete, the city turns first to small neighborhoods and then to a path leading up a forested mountain. Mosquitoes aside, the path was lovely, with a small river and lush forest. We took a long and lovely hike, first walking past river occasionally large enough to swim in and then up a mountain towards a gorgeous waterfall.
However, I was disappointed by internal Tahiti-nui when we rented a car and drove inland. I was expecting a lush, jungle-like area such as Dominica, Martinique, or the Marquesas. Instead, we were on muddy roads on the sides of cliffs, looking over a wetland area where 4WD trucks with snorkels would occasionally bring groups of tourists. Not a tour I wanted to be on.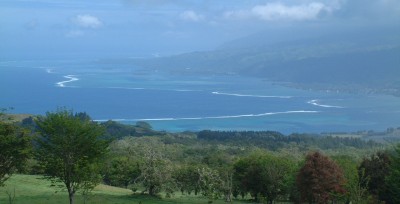 The extensive reefs and lagoons of southwest Tahiti
Of course, my view of Tahiti-nui was probably colored by all the construction we saw. Bridges were being built, dams (hydroelectric?) were under construction, and roads were being laid across the island. This all resulted in ugly holes in the ground, big piles of dirt, and lots of mud. Earthmoving machines and workers aren't what we came to see, but if you sort of ignore them and the products of their work, inland Tahiti is beautiful. In the distance (i.e. across the flooded area) we could see green mountains and clear waterfalls.
I should also point out that Tahiti had some wonderful diving. The fish I saw were very interesting (my first lionfish here!) The wrecks were completely different from any dive I'd done before, and even without going inside (too dangerous) diving around a wrecked plane or ship is a lot of fun. The diving we did in Tahiti was great enough to forgive a lot of construction.
Up | FP Passage | Ua Pou | Nuku Hiva | Makemo | Tahanea | Fakarava | Toau | Tahiti | Moorea | Huahine | Raiatea/Tahaa | Bora Bora | Maupiti
Tahiti Diving | Marquesas Newsletters | Tuamotus Newsletters | FP Flora & Fauna
Ecuador | French Polynesia | Kingdom of Tonga | Fiji | New Caledonia | Australia
Top Level: Home | Destinations | Cruising Info | Underwater | Boat Guests | Ocelot | Sue | Jon | Amanda | Chris | Site Map | Make a Comment
---
Lifetime
Commodores
of the
Seven Seas
Cruising
Association

If our information is useful,
you can help by making a donation
Copyright © 2000‑ Contact: Jon and Sue Hacking -- HackingFamily.com, svOcelot.com. All rights reserved.