French Polynesia
Caribbean Destinations | Pacific Destinations | Indian Ocean Destinations | Pacific Newsletters | Indian Ocean Newsletters | Flora and Fauna
Click on an area of the map to go to that page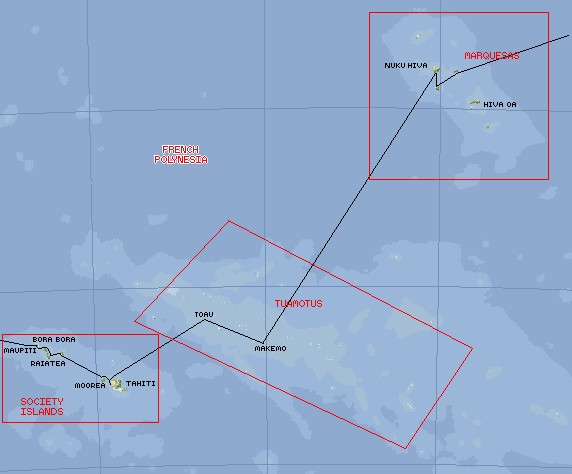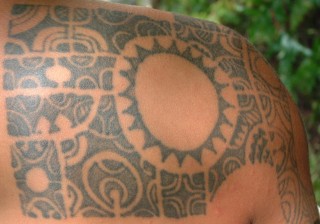 The Marquesas does some excellent tattooing.
Click on the image to see the intricate detail.
Language: French, Marquesian (in the Marquesas) and Tahitian (in the Society Islands)
Population: Polynesian people, and some continental French.
Money: French Polynesian Francs, worth about 1 US cent each
Landscape: The Marquesas and Society islands are high and lush. The Tuamotus are low and dry coral atolls with low brush and coconut palms. The Society Islands are high and lush with extensive barrier reefs.
Visited: Arrived in the Marquesas June 15, 2003. Left the boat in Tahiti Aug 31, 2003 to fly to the States to renew our tourist visas. Came back Jan 17, 2004. Left Maupiti for Tonga May 5, 2004.
The Marquesas Islands of Ua Pou and Nuku Hiva were our first stops in French Polynesia after our 24 day sail from The Galapagos. After a couple weeks in the Marquesas we sailed west to the Tuamotus: Makemo, Tahanea, Fakarava, and Toau. We left the boat in Tahiti for a few months to visit friends and family in the States, then returned in January 2004 to return to the cruising lifestyle. We spent four months exploring Tahiti, Moorea, Huahine, Raiatea and Tahaa, Bora Bora, and Maupiti. At the end of the cyclone season (beginning of May) we set sail to the west towards the Kingdom of Tonga.
FP Passage | Ua Pou | Nuku Hiva | Makemo | Tahanea | Fakarava | Toau | Tahiti | Moorea | Huahine | Raiatea/Tahaa | Bora Bora | Maupiti
Up | Ecuador | French Polynesia | Kingdom of Tonga | Fiji | New Caledonia | Australia
Fr. Polynesia Home | Marquesas Letters | Tuamotus Letters | Diving | Polynesia Flora/Fauna | S Pacific Cruising
Caribbean Destinations | Pacific Destinations | Indian Ocean Destinations | Pacific Newsletters | Indian Ocean Newsletters | Flora and Fauna
Top Level: Home | Destinations | Cruising Info | Underwater | Boat Guests | Ocelot | Sue | Jon | Amanda | Chris | Site Map | Make a Comment
---
Lifetime
Commodores
of the
Seven Seas
Cruising
Association

If our information is useful,
you can help by making a donation
Copyright © 2000‑ Contact: Jon and Sue Hacking -- HackingFamily.com, svOcelot.com. All rights reserved.