Bora Bora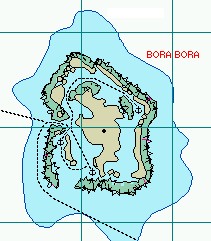 Click on the map to see
all of the Society Islands
Language: Tahitian, French
Population: 6,000
Money: French Polynesian Franc
Landscape: A single dramatic volcanic plug surrounded by many motus and the largest lagoon in the Society Islands
Visited: Twice: March 17 to 25, and April 29, 2004
History: The name we commonly use for this island is, in fact, a European adaptation, as the letter b does not exist in Tahitian. Its name is actually Pora Pora, meaning "first-born," and was, before that, Vava'u. The island is believed to have been inhabited since the year 900, the inhabitants fierce warriors who spent much of their time raiding the neighboring islands.
Bora Bora, easily visible from Raiatea, Tahaa, and even Huahine, was "discovered" by Roggeveen in 1722, and visited twice by Captain Cook. The first European to live ashore, however, was James O'Connor, a British shipwreck survivor. He eventually married into the Pomare family, and ended up living on Bora Bora's Matira Point. His home was originally named after his former ship, Matilda, but the name was corrupted as names often are.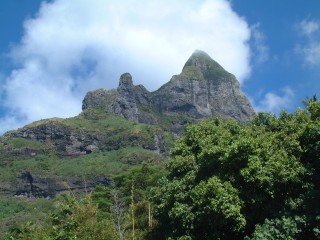 Bora Bora peak rises above the vegetation
Much of the transportation on the island was built by Americans from the years 1942-'46. They had set up a refueling/regrouping base in 1942, and arranged eight huge naval guns on the island to defend the base from a surprise Japanese attack. The attack never came, but some of the guns are still there. The Americans also built a road around the island and constructed the current airfield on Motu Mute. This was the main airfield for all of French Polynesia for many years. Until they finished the Tahiti airport, all visitors to French Polynesia flew into Bora-Bora and then took seaplanes to other islands. The army soldiers themselves left behind about 130 half-Polynesian babies when the base was closed in 1946. Approximately 40% of them died of starvation when they were forced to change from specialized American baby formula to island food.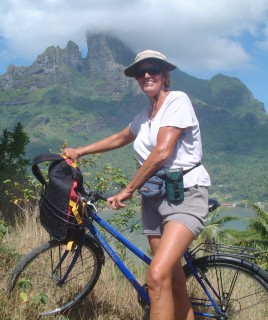 Sue & the central peak of Bora-Bora
(Sue) Magnificent Bora Bora really lives up to its reputation in terms of physical beauty. We enjoyed the island from several anchorages. Our favorite ones being near the pass -- on the west -- and at the southern tip of the island near Matira Point. But it was also great fun to rent bikes and ride around the 15-mile perimeter road with changing views of the peak and lagoon throughout our hot morning ride. Although we had heard that the island is basically a tourist Mecca (and there certainly were a lot of very expensive, fancy hotels with over-water bungalows) we found the island itself to be as simple as parts of Huahine, with small houses and landscaped yards. There was a yacht supply store and two grocery stores in which we found many items we had not expected to see again after leaving Tahiti (important things like muesli cereal, peanut butter and cat food.)


The reef and inner lagoon, with Bora Bora peak
The Bora Bora lagoon is immense, and certainly must be gorgeous from the air. Up close, though, we found the water clarity less than we expected. I think the greed to build more and more resorts, and better and better tourist facilities has led to the demise of this lagoon -- the constant dredging near the airport clouded all the water on the northern half, and the construction of new over-the-water bungalows destroyed the clarity on the eastern side. Officials blame the yachts(!?) and there is talk of prohibiting yachts from anchoring on the eastern side of the lagoon. We were advised to "go there now" if we wanted to see it. Well, we saw it, and I can assure you it wasn't the yachts (all 7 of us) that were destroying the water and coral.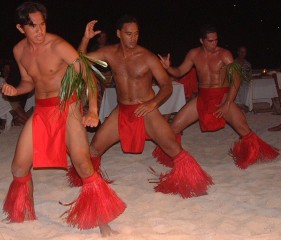 Haka war dances were designed to intimidate opposing warriors
(Amanda) I have to admit that Bora Bora was beautiful, but for all the tourist craze, the main town was rather grubby. The shores were also rather too hotel-covered for me. This meant lots of evenings ashore enjoying some dances, including fire-dances, but the natural shoreline is a more enjoyable sight.
If you ask me now, I'll say that I really enjoyed our 15-mile bike ride around the whole island. However, if you asked me then I would have said that my butt hurt and all I wanted to do was get back to the boat, lie down on my bed, and conk out. In my opinion, bike seats are entirely too hard and definitely the wrong shape. But the ride started out fun, even the main long, steep hill. There was a wonderful view at the top!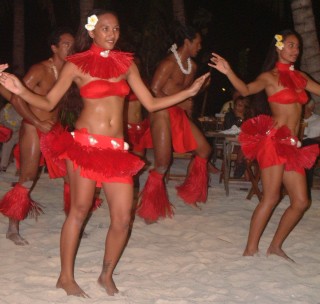 These women moved in amazingly graceful ways
(Jon) I quite enjoyed Bora-Bora. Most people complain that it's too over-run with tourist resorts. I'll agree that it doesn't need all those over-water bungalows, but the physical beauty of the sharp main island, the quiet and protected anchorages of the huge lagoon, and the delightful snorkeling made it all worthwhile.
Most of our time on Bora-Bora was spent with Pam & Kathy. We enjoyed lots of snorkeling, sunsets, conversation, and a delightful bike ride with them. We also had a lot of fun at the Dance shows. This was our answer to the big resorts - to ignore them until they proved useful. Most resorts put on a big (expensive) feast with a dance show, at least once a week. We didn't want to pay for the food, but the resorts didn't mind us watching the dancing, especially if we bought some drinks.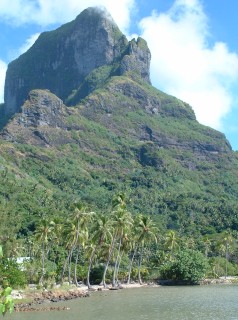 I absolutely LOVED the
bicycle trip around Bora-Bora!
We went to 2 dance shows at different resorts on different nights, but ended up getting the same dance troupe both times (although the second one added 3 fire-dancers). Bora-Bora is small enough that there can't be many dance troupes, especially with so many young, talented and beautiful dancers. The dancing styles of the men and women were very different - the women tending to jiggle in amazing and graceful ways, while the 'haka' war dances of the men were designed to intimidate opposing warriors. Although the men and women often danced at the same time, they rarely danced together. Even when they were dancing right next to each other, they rarely interacted. But they were both delightful to watch, especially on the fine sand with the soft breezes and beautiful stars of the South Pacific.
(Chris) I fond Bora-Bora wonderful. The tourism didn't bother me at all except one area where the water was cloudy because of dredging. My only regret is that we never got a chance to SCUBA dive. That said, I loved Bora-Bora. The bike ride around the island was everything I'd hoped for, beautiful breezes, great weather, stunning views. I kept stopping to take pictures, then have to bike ahead quickly. (I enjoyed this too, as biking is a pleasure I rarely get on the boat.) We swam a few times in Bora-Bora, but the animal I'd most hoped to see (manta rays) I actually only saw from the surface!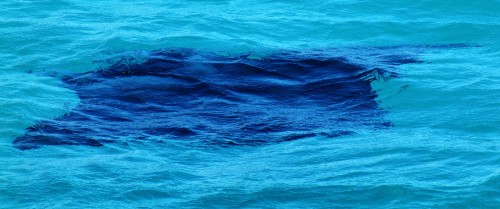 The manta came much closer, but I didn't get the camera in time!
At one of the hotels on Bora-Bora (where we were going to see some superb dancing) there were colored underwater lights along the dock. Many small fish, plankton, and so forth were swarming around the lights. At first we didn't see anything else, but then there was a slight splash over by one of the lights. As we watched, a manta ray came up towards the light, looping around onto its back as its wide mouth scooped up food. The rays looped several times, then dove for a few minutes. There were several of them, coming in one at a time to a given light. It was nearly as cool as seeing them in the water, though the pictures didn't come out very well (too much reflection.) On our second visit to Bora-Bora, just before we left for Maupiti, I saw a manta ray swim right past the boat!
Up | FP Passage | Ua Pou | Nuku Hiva | Makemo | Tahanea | Fakarava | Toau | Tahiti | Moorea | Huahine | Raiatea/Tahaa | Bora Bora | Maupiti
Marquesas Letters | Tuamotus Letters | FP Flora & Fauna | Ecuador | French Polynesia | Kingdom of Tonga | Fiji | New Caledonia | Australia
Top Level: Home | Destinations | Cruising Info | Underwater | Boat Guests | Ocelot | Sue | Jon | Amanda | Chris | Site Map | Make a Comment
---
Lifetime
Commodores
of the
Seven Seas
Cruising
Association

If our information is useful,
you can help by making a donation
Copyright © 2000‑ Contact: Jon and Sue Hacking -- HackingFamily.com, svOcelot.com. All rights reserved.