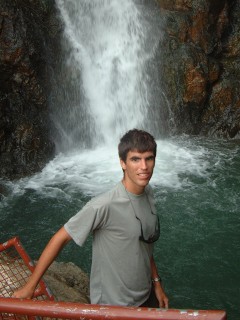 Standing by a waterfall up a river on Viti Levu, Fiji when I was 18.
Welcome to my home page! My name is Christopher Hacking. I am 20 years old and I used to live aboard the cruising catamaran Ocelot, with my dad, Jonathan, my mom, Susan, my sister, Amanda, and the family cat, Arthur. Arthur and I moved off in March 2005 however - Arthur to live with my grandfather, Colin, in California to avoid pesky Australian officials, and me to go to university. I am currently attending the University of Washington as a junior in their excellent Computer Science department.
When I left, Ocelot was in the Mamanuca islands of Fiji, in the South Pacific. We started in the Caribbean in 2001, then went through the Panama Canal, and into the Pacific, generally moving west with the trade winds. Wondering where the boat is are and where we have been? Click here!
Lots of people ask us how my sister and I handled school on the boat. We obviously can't attend a normal school on Ocelot, so we are both boat schooled through The Westbridge Academy. It is basically a distance school for gifted, pre-university students; they arrange a curriculum and transcript for a home schooled student. They only require a progress report every quarter, which is a lot easier than a normal correspondence school. I was also able to do boat-related projects and take classes more connected to the cruising life, such as underwater photography, Oceanography, and Meteorology. Social studies often consist of studying the the history and politics of the places we visit, and we have written about several excursions we have taken ashore. Still wondering what it was like and how we managed? Click here!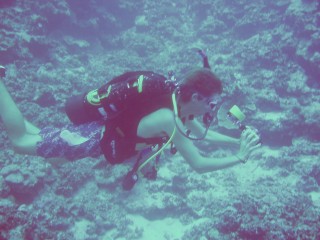 I love scuba diving and underwater photography!
People often ask what life on the boat is like, and how it's different from life on shore. For a complete answer, I have written a series of (mostly short) essays, divided by topic. Are you are a potential (or even current) cruiser yourself, or simply curious? Click here!
Although there is no permanent link to contact the boat, we all try to stay in touch. We each have our own e-mail address through this website, which we can check when we go to Internet cafes. We are also all HAM radio certified. There is a HAM radio on board, and we use it to connect to anywhere in the world and to receive e-mail. If you want to contact us, go ahead; we love to hear from people who have found the web site. Click here!
For those of you who consider the sailing life an easy and comfortable one, or who are just interested in the technical aspects of the cruise, I have put together some information about what we are doing to the boat. It tells about safety gear, structural work, electronics, and more. (I am sorry, it is often somewhat out of date.) Want to know what's on our cruising boat? Click here!
Up | School | Contact Info | Boat Equipment | Cruising Life
Top Level: Home | Destinations | Cruising Info | Underwater | Boat Guests | Ocelot | Sue | Jon | Amanda | Chris | Site Map | Make a Comment

Lifetime
Commodores
of the
Seven Seas
Cruising
Association

If our information is useful,
you can help by making a donation
Copyright © 2000‑ Contact: Jon and Sue Hacking -- HackingFamily.com, svOcelot.com. All rights reserved.