Dominica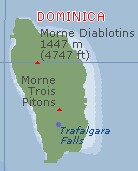 Click map for a
larger version
Language: English
Population: 71,500 of West African descent. 3,000 Carib Indians in a settlement
Money: EC dollar (tied at US $1 to 2.70EC$ or 1EC$=US$ 0.37)
Landscape: Lush, volcanic mountains.
Visited: We visited Dominica April 16, 2002 with Terry & Gina, and again from May 26 through June 21, 2002.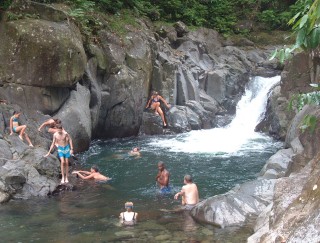 Swimming in Chaudiere Pool
with the family from Sea Eagle
History: As Dominica has no gold, the Spanish took little interest in the island. France laid claim to the island in 1635 and sent some missionaries to the hostile Caribs. The missionaries were driven off (or eaten) and in 1660 France and England signed an agreement to leave the island to the Caribs. However, by the 1700s, French settlers started coffee plantations, and in the 1720s a French governor took formal possession of the island. The island traded hands back and forth a bit after that, until the French left it to the British under the 1763 Treaty of Paris. The French twice attempted to recapture the island, and though they did considerable damage, they were beaten back. In 1978, the island became independent.
Independence did not help Dominica when Hurricane David crashed through the island, and the first prime minister was quite corrupt. In 1980, Mary Eugenia Charles became the Caribbean's first female prime minister. In her first year, she survived two coups, including one involving US Ku Klux Klan mercenaries. She also endorsed the 1983 US "intervention" in Grenada, and sent Dominican troops to participate. Recently, Dominica's politics have been quite turbulent.
| | |
| --- | --- |
| Amanda painting the Dominica flag to fly on Ocelot | Amanda's finished handiwork |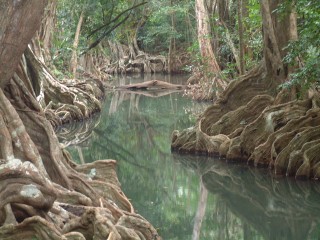 Beautiful buttressed roots on the Indian River
(Jon) Dominica is very lush, but every time it tries to develop some economy, a hurricane or other natural disaster comes along and knocks it down. So the island is extremely poor. Normally, this wouldn't bother us much, but apparently some charter boats came along and offered exorbitant rates for trivial things like a bunch of bananas, or a handful of limes. After that, boat-boys started harassing all yachts, trying to cash in on all this perceived money floating by. I suppose I can't blame them for not being able to tell a cruising boat (with no income) from a charter boat (on vacation, and not caring about how much things cost) but it got a bit annoying as they wouldn't take no for an answer. Now these 'boat boys' have become an organization, and their rules are much easier for us to deal with.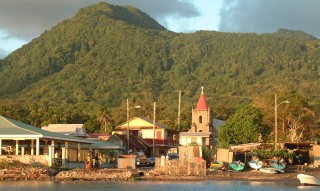 Site of Portsmouth's Saturday veggie market
Some of these 'boat boys' are 30+ years old, and shouldn't really be called 'boys' at all, but that's what they call themselves. The main thing that they try to do is to become your representative for any shore based activity. Once you accept one as 'your' boat boy, the others are supposed to back off, but we don't like to have someone hanging around the boat all the time, so while we use them when we need to, we don't accept any as a permanent office. The main activity they try to sell is a trip up the Indian River that empties into Prince Rupert Bay. The river is well worth seeing, even for the exorbitant prices the boat boys charge (although you can talk them down to more reasonable figures if you're patient). Chris did a good report on the Indian River with several photos, so I won't put more here.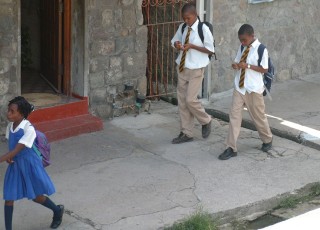 School kids in the capital of Roseau
There is only one real anchorage in Dominica, but it's a beauty. Prince Rupert Bay in the north is several miles across, with beautiful beaches, palm trees, lush jungle, a sprinkling of beach bars to cut the heat, and the sleepy little town of Portsmouth nestled in the center. The rest of the coast is very steep and deep, requiring an anchor plus a line to a palm tree ashore, so we don't usually stop anywhere else. The 8 volcanoes that dot the island are so high that they block the trade winds, so it's very difficult to sail past the island. You usually have to motor, often for several hours.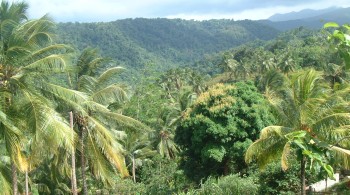 Dominica's lush and gorgeous tropical rainforest
(Sue) Just walking ashore in the village of Portsmouth is like exploring a rain forest. Breadfruit trees with their multi-fingered leaves as big as pillowcases shade the single sea-side street. Little wooden shacks serve as homes for the residents who seem to all have some entrepreneurial sprit as they put out signs for bread, cakes, cool drinks, or hair salons. Banana and papaya trees adorn the yards, and the air is ripe with the scents of rain, greenery, flowers, and fruits. Jon and I took a bus to Roseau, the capital, and later we all sailed there on Sea Eagle for the day. It has some of the best preserved architecture of the Windward Islands -- the characteristic wooden frame houses, brightly painted, with gingerbread facades and borders.
(Chris, age 15) Being in Dominica was like living a dream come true. Ever since I heard about them, I had always wanted to visit tropical rainforests. I still do, but now it cannot be said that I never have before. Dominica, with its rainforest covering lush flatlands and rolling hills, verdant mountainsides, and river valleys both beautiful and serene (including the Indian River). Dominica has only a little that is not rainforest. Although we spent a month there, (longer than any other island but St. Martin so far) and it is a very small island, I feel that we have seen only a tiny portion of it. I heartily wish that we had been able to see the whole of the island, but I'm not sure that any person ever will.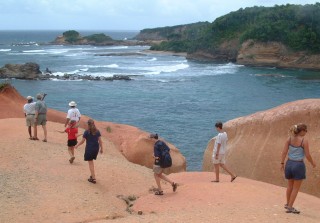 Walking on the clay-like Red Rocks on
Dominica's windward side with Sea Eagle
(Amanda, age 12) This is why I hate being at the end... what else is there to tell? The red rocks, although truly clay, were really cool, and I loved the walks down into the rainforest to go to Chaudiere and Emerald Pools. The Carib reservation was cool, although I felt sort of odd being there. Most of what I liked there was what we did on the boat. We bought our windsurfer, Kitten, there, and that was where I learned a lot of the basics, although I'm not saying I've learned them all. There's only so much you can learn by teaching yourself. We had a little over a month there, so I caught up on a lot of school work, and had a lot of free time to do what I wanted, windsurfing or dinghy sailing, or just sitting down with a book, or even picking up some money by working for our friends on Mariah.

Indian River | Emerald Pool | Red Rocks | Carib Reservation
Up | Anguilla | St. Martin | St. Barths | St. Kitts/Nevis | Montserrat | Guadeloupe | Les Saintes | Dominica
Leeward Islands | Windward Islands | Venezuela | Southwest Caribbean | Caribbean Provisions | West Indies Flora & Fauna
Top Level: Home | Destinations | Cruising Info | Underwater | Boat Guests | Ocelot | Sue | Jon | Amanda | Chris | Site Map | Make a Comment
---
Lifetime
Commodores
of the
Seven Seas
Cruising
Association

If our information is useful,
you can help by making a donation
Copyright © 2000‑ Contact: Jon and Sue Hacking -- HackingFamily.com, svOcelot.com. All rights reserved.