Guadeloupe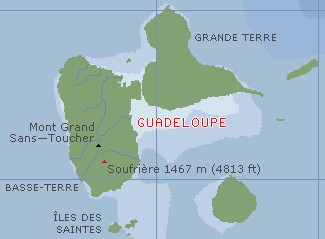 Click the map for an enlarged version with our
anchorages. From there we sailed to Les Saintes.
Language: French
Population: 350,000 West African descent and European
Money: Euro - fluctuating but currently worth about 1 US$.
Landscape: Mountainous, lush, and beautiful on one half, while flat with many sugarcane fields on the other.
Visited: We visited Guadeloupe with Gina & Terry Cole April 10-13, 2002.
History: In 1634, French colonists established the first European settlement on Guadeloupe. The party landed on the southeastern shore, and drove the Caribs off the island. They planted crops and built sugar mills and a slavery-based economy was soon established.
The English invaded Guadeloupe several times, occupying it from 1759-1763. During this time, they developed Point-a-Pitre into a major harbor, opened English and North American markets to Guadeloupean sugar, and imported cheap American lumber and food. Under British rule, many French colonists grew wealthier, and the economy expanded greatly. In 1763, the Treaty of Paris was signed, and the French reclaimed Guadeloupe.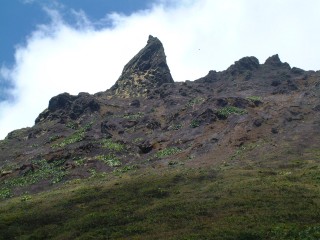 Moonscape at the top of Mt. Soufriere
During the chaos of the French Revolution, the British invaded Guadeloupe again in 1794. The French retaliated by sending a contingent of soldiers led by Victor Hughues, a black nationalist who freed and armed the Guadeloupean slaves. In all, Hughues was responsible for the deaths of over 1,000 colonists, and in response to his attacks on US ships, the USA declared war on France.
In 1802, Napoleon Bonaparte sent General Antoine Richepance (isn't that a great name?) to Guadeloupe. Richepance reestablished the pre-revolutionary government and reinstated slavery.
The British continued to invade Guadeloupe until 1816, when the Treaty of Vienna restored the island to the French, who have owned it continuously since.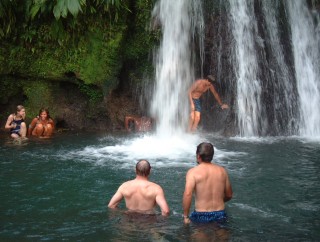 Swimming in forest pools is fun and refreshing
Slavery was abolished in 1848, and plantation owners brought in laborers from Pondicherry, a French colony in India. Since 1946, it has been an overseas department (essentially a state) of France.
(Jon) Guadeloupe resembles a butterfly when viewed from above. The eastern wing is quite flat and agricultural, where they grow sugar cane and pineapples. The western half is very mountainous, with tropical rain forests and semi-active Mt. Soufriere at the southern end. There are lots of streams to swim in, and several waterfalls, some several hundred feet high. In between, there are quaint little fishing villages connected by a narrow winding coast road.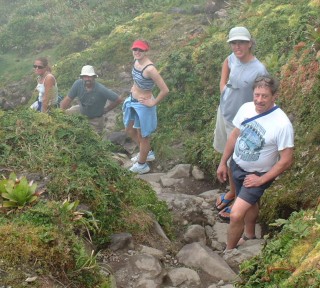 Intrepid hikers on Mount Soufriere
(Sue) I love this lush, volcanic island and its very distinct French Caribbean population (mainly descendants of West Africans, but very Frenchified now). We anchored in the northwest corner of Guadeloupe, in a little restaurant/fishing village called Dehaies. Although Dehaies is nominally a clearance port, the officials are very casual (as in, they're seldom there). In a rented van we drove the whole western part of the island with Amanda's friend Gina and her dad, Terry Cole. The trans-island road, called the Traversee, winds among tree ferns, giant mahogany trees, fern-filled canyons, and verdant hillsides. We stopped for a cool swim in a Tarzan-type pool, and had supper at a seaside cafe that served fresh fish and fresh water crayfish.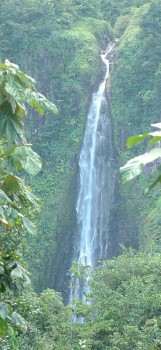 The Carbet Chutes
On Terry & Gina's first full day with us we drove as high up Soufriere Volcano as possible, then in our hiking shoes (thongs and Tevas) we slogged up to the misty, sulphur-y smelling summit, over 3,700 feet (1,200m) high. Late in the afternoon we hiked on a good plank walkway to the Chutes of Carbet, a series of waterfalls coming off the volcano.
Halfway south on the coast is the Jacques Cousteau Underwater Preserve, with some great snorkeling in water with over 80-foot visibility. Not many big fish, though many bright parrot fish, barrel sponges, and SCUBA divers to watch!
(Chris, age 15) Personally, I loved Guadeloupe. I'm not sure whether I like it or Nevis better, but I would guess Guadeloupe because we spent so long there and could see so much of it. They are fairly similar, actually. Both have a large mountain with rainforested slopes and gorgeous vistas. I didn't see any monkeys on Guadeloupe, but I did see a lot more rainforest. We also went swimming in pools in the forest. The underwater preserve is quite possibly the best snorkeling I have ever seen, aside from the Great Barrier Reef.
(Amanda, age 12) I wish we could have stayed in Guadeloupe longer than we did, but I think I enjoyed it a short time with Gina & Terry more than I would have if it were just us. For one thing, we probably wouldn't have gone onto the island, except maybe to hike up Mt. Soufriere, and that was definitely more fun with them than it would have been without them. Swimming in pools, hiking to waterfalls where we couldn't swim (:(), snorkeling (Snorkel snorkel!), it was really fun. I wish that, after we had dropped Gina & Terry off, we had gone up there again and seen more of the anchorages besides two.
Up | Anguilla | St. Martin | St. Barths | St. Kitts/Nevis | Montserrat | Guadeloupe | Les Saintes | Dominica
Guadeloupe Ecoregion | Leeward Islands | Windward Islands | Venezuela | Southwest Caribbean | Caribbean Provisions | West Indies Flora & Fauna
Top Level: Home | Destinations | Cruising Info | Underwater | Boat Guests | Ocelot | Sue | Jon | Amanda | Chris | Site Map | Make a Comment
---
Lifetime
Commodores
of the
Seven Seas
Cruising
Association

If our information is useful,
you can help by making a donation
Copyright © 2000‑ Contact: Jon and Sue Hacking -- HackingFamily.com, svOcelot.com. All rights reserved.