Les Saintes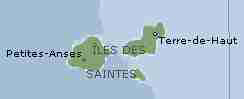 Click map for overall Caribbean view
The Saintes
(Part of Guadeloupe, but worthy of their own page)
Language: French
Population: 3,000 European descent, because this island never had the agricultural base that brought in West Africans as slave labor like on Guadeloupe.
Money: Euro - fluctuating but currently worth about 1 US$.
Landscape: Small but generally rather hilly, with scrubby vegetation. Lots of thorn trees and cacti, but quite pretty.
Visited: We visited Les Saintes in April, 2002 with Terry & Gina.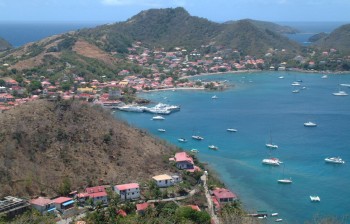 Main anchorage & town - note all the catamarans
History: The waters just south and west of Les Saintes were the site of the famous Battle of the Saints between the French and the British in 1782. The French fleet, based off Ft. Royal in Martinique, wanted to join up with the Spanish Armada in Cap Francois, Haiti, to attack Fort Charles, Jamaica, and thereby dislodge the British from the Caribbean. British Admiral Rodney and his fleet were watching the French fleet from Pigeon Island, St. Lucia (the bay is now called Rodney Bay).
On April 8, Rodney received a message from one of his frigates that the French fleet of over 150 ships and 10,000 men had left Martinique that morning. Rodney immediately sailed north in pursuit with his smaller fleet of just over 100 ships. French Admiral De Grasse didn't want to engage the British until he had met up with the Spanish, but the calm winds in the lee of Dominica allowed the British to catch up and engage some of the slower ships of the French fleet, forcing De Grasse to defend his fleet.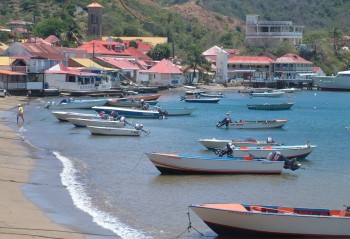 The colorful Saintes fishing fleet at anchor
Naval battles at the time were usually fairly regimented, with opposing fleets lined up and firing murderous broadsides at each other, but Rodney had only 2/3 as many ships as De Grasse so he decided not to play by that book. Instead, he turned his fleet to cut through the French line, inflicting considerable damage to the French fleet. On April 12, the French flagship Ville de Paris struck her colors to Rodney, thereby insuring British domination in the Caribbean.
No small side note here is that Admiral Rodney had been stationed in North America earlier, but the British had decided that he was needed more in the Caribbean. After all, the Caribbean islands had sugar, rum, chocolate and spices. They were much more valuable to the British than the peanuts and tobacco from the American 13 colonies. This became a significant factor in America defeating the powerful British in the American Revolution. Few people realize how much the French (and the Dutch and Spanish) navies helped the fledgling American cause at the time.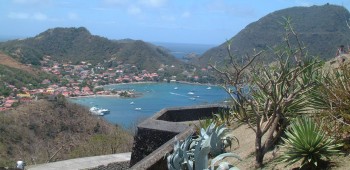 The town and surrounds from Ft. Napoleon
(Jon) I have always liked the Saints - a quiet respite next to the bustling Guadeloupe. There are lots of good walking trails, several forts to explore, and there used to be few cars. Now, there are several ferries that stop in the Saints, disgorging hoards of tourists who naturally want to see the island. So the locals rent them scooters and the prudent walker now carries a stout stick to defend himself from these heinous machines, or waits until after 5pm when the tourists all go home.
The Saintes have always been an excellent fishing community, and there are several delightful restaurants from which to sample the local fare. I once saw a swordfish brought in. They cut it into 3 pieces and each piece needed 2 strong men to lift it. One problem with the Saintes is that they're rather in-bred. The French government noticed this and solved the problem in (what I believe to be) typically French fashion: They sent the French Navy there on R&R, and thereby increased the gene pool!
(Sue) Still a quiet backwater, these islands haven't changed much in 18 years, though evidence of French affluence is visible in all the ferries and tourist shops along the narrow streets. We tried to buy fresh dorado (mahi-mahi) but could only purchase a fresh WHOLE fish, 7kg or over 15 pounds! True, that's the size fish we usually catch when we're so lucky, but to spend $40 on one and not be able to finish it in a week seemed like a waste. To appease our need for seafood we ate at El Dorado where the owner, Guy (pronounced "Gee") sat with us at our invitation and practiced his English and lamented the fact that most Saintes kids leave school at 14 or 15, then go on the French dole. Drugs are a real problem there, though he says the parents all deny it.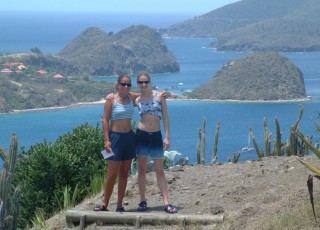 Amanda and Gina launching a navel attack
on Fort Napoleon, Les Saintes
(Amanda, age 12) One day that we were all ashore, we hiked up to Fort Napoleon. Sadly, it was a very HOT day, and we all roasted because there was barely any breeze. Unlike the other forts that we've been to, Fort Napoleon has been preserved and turned into a museum, so we walked through it, where it was nice and cold and in the shade, before going out around the edges, searching for the slightest hint of a breeze...
The view really was amazing from up there. You could see the other Saintes, and even Guadeloupe in the background, and cacti, acacias, and iguanas in the foreground. Looking down into the water, you could see several reefs (well, coral and rock) and lots of yachts, fishing boats, and fish pots (whale eggs ;) dotting the surface.
Walking around the town was fun. Everyone walks everywhere, mostly, and there are lots of little shops along the roads, with pareos and tropical shirts fluttering in the wind. If you walk a little outside the town, then you get into housed areas, where there are little houses, painted in all sorts of different colors. Along the coast, the waves crash onto gently-sloping white-sand beaches. Sea grape grows abundantly along there. The ice cream was delicious!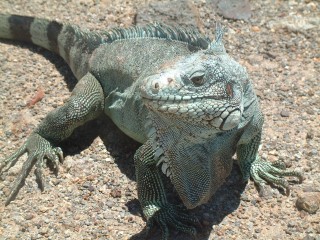 LEEEZZARD (with apologies to Woody Allen)
(Chris, age 15) Les Saintes are an interesting place to visit, with lots of history to them, and yet they seem like they couldn't have changed too much in the past century. Even now, not all the boat have engines, and few enough people drive (though when they do, it is usually on motorized scooters. Cars are rare, and there are some places on the island they would have a hard time going.) Fishermen still come in with their catches, and display them in their little stalls along the road. Local children play in the sand, while their mothers work around the houses (little more than wooden shacks, in some cases,) in dresses and pareos. Up at Fort Napoleon, however, you see cannons and mortars hundreds of years old, and inside the museum there are displays showing ancient ships and the battles they were in. The museum also shows other parts of the area's history, and I find surprisingly interesting, perhaps because it contrasts so sharply with what I see and am used to seeing.
On the other hand, I can't say I need to go back there. Interesting though the were, Les Saintes are also hot, dusty, and dry. I suppose you could say they are simply not my kind of islands. I would, however, recommend them to anybody who is interested in the area or its history, or who is just passing through. Whether or not I want to go back, I learned a lot while I was there.
Up | Anguilla | St. Martin | St. Barths | St. Kitts/Nevis | Montserrat | Guadeloupe | Les Saintes | Dominica
Leeward Islands | Windward Islands | Venezuela | Southwest Caribbean | Caribbean Provisions | West Indies Flora & Fauna
Top Level: Home | Destinations | Cruising Info | Underwater | Boat Guests | Ocelot | Sue | Jon | Amanda | Chris | Site Map | Make a Comment
---
Lifetime
Commodores
of the
Seven Seas
Cruising
Association

If our information is useful,
you can help by making a donation
Copyright © 2000‑ Contact: Jon and Sue Hacking -- HackingFamily.com, svOcelot.com. All rights reserved.