Terry & Gina Cole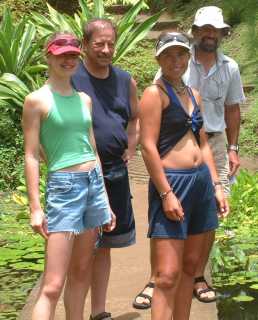 Gina & Terry Cole, with Amanda &
Jon in the Martinique rainforest
April 11 - April 20, 2002
We worked on Ocelot in St. Martin steadily untill April 7th, waiting for the howling SE trades to either calm down or move around a bit to the north. This gave us just 3 days to sail the 150 miles to Guadeloupe (up hill, against the trades) to meet Amanda's buddy, Gina, and her dad, Terry. Ah, what we will do for friends! It was this kind of racing around in our last sailboat that got us dubbed the "Windward Island Express" back in the 1980's.
After a fast and boisterous sail to St. Kitts and a harrowing sail to Montserrat, we finally had a lovely sail (during which we watched the Montserrat volcano erupt) to the little French anchorage at Deshaies (de-HAY) in northwestern Guadeloupe. We found a van to rent and picked up Gina and Terry at the big international airport. Despite a trunk full of duffel bags, we took the scenic route back to the boat on the cross-island highway that runs through the rain forest. Time for a short hike and swim under the Ecrivisse falls.
| | |
| --- | --- |
| Swimming at Ecrivisse Falls | Climbing Mt. Soufriere Volcano on Guadeloupe |
We didn't even let Terry and Gina catch their breath. The next morning (filled with fresh croissants and "pain au chocolat") we tackled the winding road down the west coast and up the side of Mt. Soufriere, Guadeloupe's semi-active volcano. We left the car and climbed to over 3,000 feet or 1,000m. What a view! Great plants, misty calderas and some fun rock scrambling. After a picnic lunch (crusty baguettes, brie, pate, beer - the French have such nice picnic foods) we drove back to sea level and then headed up the eastern flank of the volcano for a rainforest walk to the Chutes de Carbet.
| | |
| --- | --- |
| Vanilla & Chocolate spies on top of Mt. Soufriere volcano | Crossing a suspension bridge to get to the Carbet Chutes (Falls) |
The next morning we did a last provision in a big French supermarket and sailed south along the coast to the Jacques Cousteau Park. The anchorage was off a small village, but the main attraction was the snorkeling around small rocky island just offshore, which we got to by dinghy. It is so great to have a big inflatable dinghy with a 25 horsepower outboard so we can really go places!
Our next stop was 30 miles south at a group of islands called Les Saintes where we anchored amidst the fishing fleet off the little town of Bourg with its zillions of motor scooters and neatly concreted roads. Terry treated us to a scrumptious French dinner ashore, and the restaurant owner spent time sharing his thoughts on life in Les Saintes. The next day we continued to run Terry and Gina hard by hiking them up to Fort Napoleon which houses a museum and botanical garden (mostly cacti), and is home to hoards of Antillean iguanas.
| | |
| --- | --- |
| Gina & Amanda launch a navel attack at Ft. Napoleon, above the Saintes | Apprentice Sun Goddesses hard at work on the trampolines |
Terry decided we lacked appropriate culture, so he brought his backgammon set and taught us all how to play (and sometimes how to win). He later gifted us with a set of our own so it has now become a part of our Ocelot culture. Chris is even writing a computer program to play backgammon!
Our next hop south to Dominica was rougher than we expected and the ropes holding up the front of the dinghy gave way, leading to a mad scramble to recover both the dinghy and its fuel tank, which had fallen out, while we thundered along at 7 knots. We swam in the clear waters of Prince Rupert Bay, explored ashore a bit, and had some local beer at a beachfront bar, but set off the next day for St. Pierre, Martinique.
| | |
| --- | --- |
| Terry teaching Chris how to lose while Jon puts together another fishing rig | Painting the Dominican flag, flown as a courtesy when in their waters |
On Martinique we visited the Volcano Museum and rented a car to tour the interior. We drove through the rain forest and visited the botanical gardens, had lunch high in the hills, and splashed up the Gorge de la Falaise, an exciting series of pools and waterfalls trapped in a narrow gorge high on Mt. Pele. One special occasion was Amanda's 13th birthday, so we now officially have 2 teen-ogres.
| | |
| --- | --- |
| More navels in the Martinique Botanical Gardens | The Bobsey Twins, on Amanda's 13th birthday |
Said Gina of her trip to Paradise, "I had a fantastic time visiting Amanda and the rest of you Hacking folks :o) down there in the sunshine. The boat is really cool! You guys are the greatest, really...not to mention a good excuse to go to the islands (just kidding)! And even though you are all probably having a blast out there, I still can't wait for you to get home. Love, Gina."
Up | Colin Hacking | Karen and Jon | Harshbargers | Angelos | Carolyn & Lexi | Terry & Gina Cole | Emilie Cobb | John and Becky | Casey & Kenny Quayle | Tony Hacking & Family
What to Bring | 2002 Visitors | 2003 Visitors | 2004 Visitors | 2005 Visitors | 2006-11 Visitors
Top Level: Home | Destinations | Cruising Info | Underwater | Boat Guests | Ocelot | Sue | Jon | Amanda | Chris | Site Map | Make a Comment
---
Lifetime
Commodores
of the
Seven Seas
Cruising
Association

If our information is useful,
you can help by making a donation
Copyright © 2000‑ Contact: Jon and Sue Hacking -- HackingFamily.com, svOcelot.com. All rights reserved.