Montserrat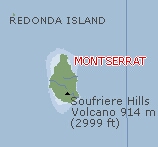 Click map for an overall
Eastern Caribbean view
Language: English
Population: 11,000 (Unknown date, 4,500 now from the volcano)
Money: EC dollar (tied at US $1 to 2.70EC$ or 1EC$ = US$ 0.37)
Landscape: Lush and mountainous. Southern half destroyed by currently-erupting volcano.
Visited: We only spent one night in Montserrat, April 9 2002, as the anchorage was very uncomfortable.
History: The first settlers on Montserrat were Catholics, mainly Irish, who came in 1632. By the mid 17th century, the island was covered with sugarcane fields and plantations. Immigrants had been coming from Ireland and New World colonies ever since a year after the island had been settled, but eventually the need for labor had outstripped the supply of Irish field hands, and many slaves were brought in, creating the same sort of slave-based economy found throughout the rest of the British West Indies. When slavery was abolished in 1834, the plantations slowly declined. Some were divided among farmers, who planted lime trees, but most of them were abandoned.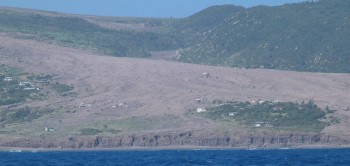 Montserrat village wiped out by the volcano
Montserrat has almost continuously been under British control since 1632. There were several skirmishes with the French, who held it several times, a year or two a time, but the Treaty of Paris, signed in 1783, returned it permanently to the British.
With the breakup of the Federation of the West Indies in 1962, Britain offered self-government to all its Caribbean dependencies. Montserrat, too small to stand alone, didnít want to be lumped with St. Kitts or Antigua in a coalition government; it successfully petitioned with the British to remain a Crown Colony.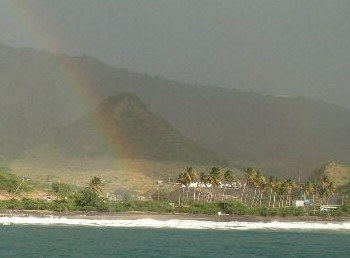 Rainbow over Little Bay, Montserrat
(Amanda, age 12) As we were on our way to Guadeloupe to collect Gina and Terry Cole, we only spent one night in Montserrat, although I doubt we would have spent more otherwise.
Coming from St. Kitts, our attention had slipped somewhat, and we had snagged a fish pot on our starboard prop. Fish pots could be described as a sailor's nemesis, as the fishermen like to "mine" the direct routes between islands, and a moment's inattention could cause your prop to not spin. Luckily for us, the engine was not running at the time, or the situation might have been even worse. As it was, it got tangled up a fair amount before Dad was able to cut the line to the pot free. Unfortunately, we still had the float and a bit of rope wrapped around the prop, preventing us from using that engine until it could be cut away.
We managed to anchor, in the rolliest anchorage I have ever seen, with only our port engine, and then Dad jumped in and cut the rope and float free from the starboard propeller. By this time, the ferry anchored across the anchorage from us started to head to the dock -- and we were right in the way. We moved out of the direct line, and, since it was so rolly and we didn't know where else to go, we dropped a stern anchor to hold us bow-into the swells. Enormous swells. We had to reset it once, but it did hold us more comfortably than before.
(Sue) Ay-yai-yai. Unbelievably big swells, that would have been great for body surfing if they'd broken farther out. Luckily, though, they didn't break until they hit the beach, as we were anchored in 25 feet of water. Whew!!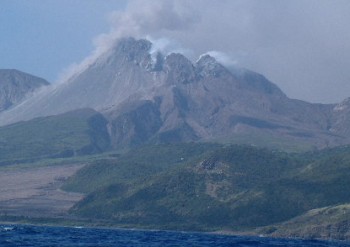 The Montserrat Volcano, still erupting after 7 years
We didn't go ashore at all in Montserrat, and didn't see much of the island until the next day, when we sailed to Guadeloupe. Then, we could see why the southern half of the island is uninhabited. The volcano, having started erupting in 1995, was still at it, belching forth steam from its peak. Impressive brown areas showed the ash flows, and you could see several shapes that looked like buildings still semi-intact inside them. No trees were growing there, although you could see small shrub-like plants growing in less-ashed areas. It was really a very impressive sight.
(Jon) Two interesting stories about Montserrat: When Sue and I visited in the mid-80's, we decided once to hitch-hike from our anchorage in the north end of the island to a geothermal stream in the south. Every car that came along picked us up. Not one passed us by. We decided that these were really friendly folks. On the other hand, the local weather report used to come from Montserrat Radio. One year they started giving tides as well, mentioning tidal ranges of over 10 feet (3m). Since anyone who bothers to walk to the shore in the Caribbean knows that the water level never changes more than about 18 inches (0.5m) over the whole year, we had to wonder about the folks running Montserrat Radio...
(Chris, age 15) I really wish we could have seen more of Montserrat, it looked like it had once been beautiful. Indeed, there may still have been nice portions. However, we didn't have time to explore, and the volcano was a little disturbing even though we were far away. That anchorage was also a completely inappropriate place to leave the boat. For that matter, it was a fairly awful place to be on the boat. I'm not really sure how anybody slept that night. However, it was neat to see the volcano erupting.
Up | Anguilla | St. Martin | St. Barths | St. Kitts/Nevis | Montserrat | Guadeloupe | Les Saintes | Dominica
Leeward Islands | Windward Islands | Venezuela | Southwest Caribbean | Caribbean Provisions | West Indies Flora & Fauna
Top Level: Home | Destinations | Cruising Info | Underwater | Boat Guests | Ocelot | Sue | Jon | Amanda | Chris | Site Map | Make a Comment
---
Lifetime
Commodores
of the
Seven Seas
Cruising
Association

If our information is useful,
you can help by making a donation
Copyright © 2000‑ Contact: Jon and Sue Hacking -- HackingFamily.com, svOcelot.com. All rights reserved.