Caribbean Provisions
Tropical Staples
Throughout the Caribbean Islands we can count on finding onions, christophene (chayote), garlic, and local root veggies like taro, tannia, and sweet potatoes. Salad veggies include tomatoes (in season), avos (ditto), carrots, green pepper, cucumbers and cabbage. The higher priced grocery stores carry lettuce. Cooking pumpkin is considered a vegetable and is always available. Sweet and hot peppers are plentiful.
Fruits include many varieties of eating bananas -- big, short, fat, skinny, thin-skinned, thick-skinned, green, red, yellow -- which means you're never sure which ones are ripe when. (Yes, we make lots of banana bread to salvage over-ripe bananas!) There are also cooking bananas, called plaintains, used either green or ripe. Summer is mango season. In the winter and spring we got excellent grapefruit and pineapples. Year round we can find papayas, limes, passion fruits and coconuts. Starfruit, soursop, custard apples and other more esoteric fruits also abound.

Star fruit, grapefruit, mangos,
soursop, bananas, and papayas

Amanda attacks a mooshy, slippery soursop.
You can get most baking needs here including arrowroot flour (in place of cornstarch) and tapioca. For chocolate we use local Grenadian cocoa when we can find it. Eggs are plentiful but twice the price of the USA and we have to break each one separately to be sure it's not rotten. (You can also put them in water and toss the floaters, or spin them like you do to tell the difference between hard-boiled and raw. The dead ones spin faster than the fresh ones.) We often make bread using a batch for pizza, bread, cinnamon rolls, or foccacio. We make our own corn/wheat tortillas which we use for enchiladas, wraps, and the West Indian curried meat and potato quick meal called a roti.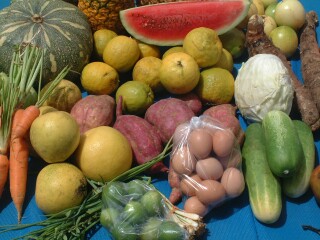 A typical grocery load from a Dominica market:
pumpkin, pineapple, watermelon, passion fruit,
carrots, sweet potatoes, spring onions, eggs,
lemons, limes, grapefruits, dasheen, etc.
The photo at the right is one day's shopping at the Portsmouth, Dominica market: clockwise from upper left: pumpkin, pineapple, watermelon, passion fruit, tannia root, cabbage, cucumbers, eggs (in plastic bag!), sweet potatoes, limes (in plastic), green onions, grapefruits, carrots. Oranges are in the center. Now picture it all carried in a daypack or two.
For breakfast Sue makes "cruising granola" and homemade yogurt. Fruit plays a big role, but we're never sure what we'll have until the morning when we check the ripeness level of the fruits hung in nets over the fridge.
Island Shopping
In the capital city of most islands we can find full grocery stores, but not quite QFC or Larry's. More like supermarkets in the States in the 70s. But in the small towns the stores are about the size of a Starbuck's, if that, with the food either on open shelves or behind a counter (though this is becoming less frequent). Salt, flour, sugar, brown sugar, baking powder and rice are in clear plastic bags re-packed by the store owner from bulk. Eggs may also come in plastic bags, which is why we save egg cartons. Canned and powdered milk can be found everywhere; also French or local butter. Rice, beans and pasta are staples. In the bigger stores you can find frozen meat (including pigs feet, pig snouts, intestines, goat, mutton, chicken "parts", and fish). But the best meat and fish deals are at the meat and fish markets by the harbor (but bring a strong stomach).

Grenada's open-air fish market

Chopping fish steaks with a
machete & a wooden stick

The market had plenty of ice,
but flies were still a problem
| | |
| --- | --- |
| The open-air market in St. Georges, Grenada | Mangos, carrots, cassava root, bananas, you name it |
---
Provisioning Pages: Up | SE Asia Provisions | PNG & Solomons Provisions | Tonga & Fiji Provisions | Fr. Poly Provisions | Caribbean Provisions
Related Pages: Leeward Islands Home | Windward Islands Home
Cruising Info: General Cruising Info | Equipment | Pacific Ocean Cruising | Indian Ocean Cruising | Provisioning Food & Fuel | Cruising Recipes
Top Level: Home | Destinations | Cruising Info | Underwater | Boat Guests | Ocelot | Sue | Jon | Amanda | Chris | Site Map | Make a Comment
---
Lifetime
Commodores
of the
Seven Seas
Cruising
Association

If our information is useful,
you can help by making a donation
Copyright © 2000‑ Contact: Jon and Sue Hacking -- HackingFamily.com, svOcelot.com. All rights reserved.