Breakfast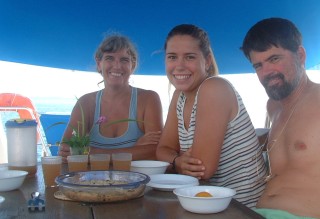 Breakfast in the cockpit - Juice, scones and
canned peaches for Amanda's 15th birthday
Breakfast onboard Ocelot is usually a very informal, do-what-you-want sort of meal, though once or twice a week we usually do something different. Our standard breakfast is granola, either homemade or, when its cheaper than the equivalent amount of rolled oats (such as in French Polynesia), store-bought. Other favorites of ours are cinnamon rolls, pancakes, and French toast. We usually only make French toast when we're in populated areas where we buy bread often, as it works best with a day-old baguette. Whenever we have it, we also add some sort of fruit - usually papaya or pineapple - to round out the meal. On special occasions we make scones, either with chocolate chips or dried cranberries added. Here are the recipes included below:
This Norwegian breakfast treat is reminiscent of the kringeles we had in Seattle for special occasions. And it's pretty quick to make, too.
Melt and remove from heat:
1/2 cup butter
1 c. boiling water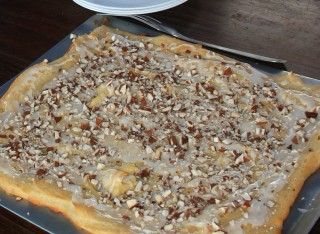 Yummy Kringele, great for festive breakfasts
Slowly add and beat with a wooden spoon
1 cup flour
pinch salt
1 tsp almond extract
3 eggs, one at a time
Spread on a cookie sheet, ungreased. Bake at 425 degree F for 20 to 25 minutes until no longer shiny.
When cool, frost with
1 c. powdered sugar
1Tb milk
1/2 tsp vanilla
1/2 tsp almond extract
Sprinkle with sliced almonds. YUM!!
(If you want to double the recipe, use two cookie sheets.)
---
While in Neiafu, Tonga, Amanda learned that the owner of the local Internet Cafe was craving some real, American-style fat, fluffy pancakes, but he couldn't find dry mix anywhere. AND he was willing to trade Internet time. Well never fear, here comes Amanda to the rescue! The recipe makes 8 cups of mix, or enough for about 40 fluffy pancakes, and can be stored dry and used little by little.
Mix together:
6 c. flour
3/4 c. sugar
1 c. milk powder (enough for about 4 c. milk)
1/8 c. (6 tsp) baking powder
3 tsp. salt
To reconstitute 2 cups of dry mix, add:
2 cups of dry mix, reconstituted, makes about 10 5-inch pancakes.
---
Amanda found this recipe in our recipe box one morning, when she was feeling like making something new and interesting. The muffins are delightfully moist, and the crumble topping is exquisite... probably fattening, too. We use dried berries (Berries & Cherries, Craisins), but the recipe actually calls for fresh (or frozen) blueberries. We seem to have a lack of blueberries in the South Pacific, so we have to make do. The single recipe usually gives the four of us two each for breakfast, with another muffin each for later in the day.
Muffins:
Combine in a bowl:
1 c. flour
3 Tb. granulated sugar
3½ Tb. brown sugar
2 tsp baking powder
¼ tsp salt
cinnamon
allspice
Add, stirring just until dry ingredients are wet:
1 egg
¼ c. melted butter
½ c. milk
Fold in:
Fill lined cupcake (muffin) tins ¾ full. Makes 1 dozen.
Topping:
Combine in a small bowl:
¼ c. chopped pecans
¼ c. brown sugar
2 Tb. flour
1½ Tb. melted butter
Sprinkle evenly over the top of each uncooked muffin.
Bake muffins 20-25 minutes.
---
This is a favorite for special mornings, either with friends aboard, birthdays, or landfall breakfasts. Recently, we've been playing with the possibility of adding chocolate - once the rolls are out of the oven, simply place several chocolate chips on each. Yummy, but occasionally a bit too rich.
Dough: Use 1/4 of the freezer bread recipe on the Bread page. Roll it out to about the size of a cookie tray. (About 1/4 inch thick.)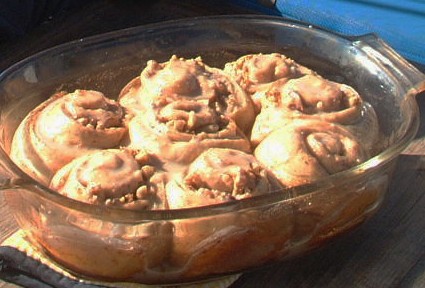 Homemade cinnamon rolls on Ocelot:
Hot, sweet, buttery, and spicy
Soften almost to melting point, but still spreadable:
Spread butter over dough, making sure to get out to the edges. Mix in a small bowl, and spread over dough:
1/3 c. brown sugar
1/3 c. pancake syrup
1 1/2 t. cinnamon
1/2 c. pecans, chopped
Roll dough width-wise, to make a long roll. Cut with a knife into 6-8 even pieces. Cook spiral-up in 6x9 inch pan for 20 minutes or until bread starts to turn golden on top.
Icing/glaze:
2/3 c. powdered sugar
1 t. water
1/4 t. vanilla
(milk)
(cocoa powder)
Sprinkle the mixture over warm cinnamon rolls, allowing to seep between them and into them. The more goop in the bottom of the pan, the better!
---
This recipe comes from my friend, Clare, who often serves these at our writing critique group meetings. Given my fridge space, I've had to modify the method of chilling and baking but they're still yummy! The original recipes calls for unsalted butter which I can't always get, but salted works.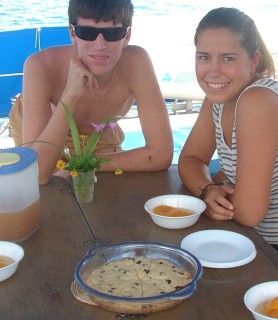 Chocolate chip scones
for a birthday breakfast
Cream together
1/2 c. softened butter
3 T. sugar
Add and beat in
Stir in
1 2/3 c, flour
1 tsp baking powder
Blend in
1 handful chocolate chips or dried cranberries. (We tend to make half and half.)
Form into a ball and press into a glass pie pan. Cut 8 pie-shaped slices, pushing the edges apart slightly to allow them to get crispy when baking. Chill for 30 minutes. Bake for 30 minutes, or until lightly golden at 350F.
---
This is a version of the granola recipe given to me by Maryann Quayle, (I use less condensed milk than her recipe calls for) and I'm sure it will change again as we find (or don't find) certain ingredients. Some recipes call for an hour of baking at 300, but I prefer the hot oven approach, with frequent stirrings, so as to not heat the boat for so long.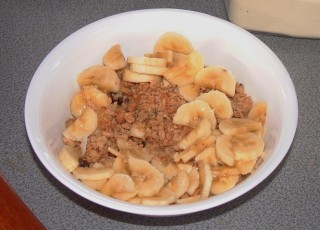 Crispy, crunchy granola with fresh fruit. Yum!
Mix in a large bowl:
4 cups oats (minute or regular)
1 cup coconut (I use fresh grated, when I can)
1 cup chopped walnuts or pecans
1/3 cup oil
1/3 cup pancake syrup or maple syrup
1/4 to 1/3 can of sweetened condensed milk (increased milk gives more big clumps)
Spread on a cookie sheet or 9 X 13 pan. Bake at 375 degrees for ten minutes. Stir. Return to oven and bake another 5 minutes, stir, repeat two more times or until lightly golden brown. Don't let it burn! Cool in pan, and store in an air-tight container.
(Now picture this: To serve, we top with slices of a fresh island banana, maybe a grated apple if we can find one in the store, then spoon on instant full cream milk powder by Nestle, called Nido, then add fridge-chilled water. It takes a bit of stirring to mix the milk powder and water into the cereal, kind of backpacking-like, but boy is it yummy!)
---
Cruising Recipes: Up | Bread | Breakfast | Lunch | Dinner | Dessert
Cruising Info: General Cruising Info | Equipment | Pacific Ocean Cruising | Indian Ocean Cruising | Provisioning Food & Fuel | Cruising Recipes
Top Level: Home | Destinations | Cruising Info | Underwater | Boat Guests | Ocelot | Sue | Jon | Amanda | Chris | Site Map | Make a Comment
---
Lifetime
Commodores
of the
Seven Seas
Cruising
Association

If our information is useful,
you can help by making a donation
Copyright © 2000‑ Contact: Jon and Sue Hacking -- HackingFamily.com, svOcelot.com. All rights reserved.