Dinner
This page is constantly evolving as we find new, interesting dishes. For now, we've included the following dinner dishes:
Sorry, not many pictures. Guess we're too busy eating to photograph the food beforehand!
---
Literally translated as 'raw fish', this is the French Polynesian marinated fish dish. We first had it in Toau in the Tuamotus and loved it, but have only just started making it ourselves. It's preferably made with freshly-caught fish, which we had a lack of through Southeast Asia. We've only made it with white-fleshed fish. The main difference between this and escabeche (the Caribbean equivalent) is the coconut milk.
Serves 4
Combine and marinate for at least 30 minutes:
2 lbs fresh raw fish, sliced thinly
enough lemon or lime juice to almost cover the fish
Stir occasionally. When fish is white and opaque throughout (or nearly so) drain off lime juice. Add:
1 onion, finely chopped
3 cloves garlic
1 thumb-size piece of ginger, finely grated
1-2 tsp hot sauce or Tabasco (to taste)
1 c coconut cream or thick coconut milk
Serve at room temperature or chilled. Can be served with rice or as a side-dish.
---
On Gili Air, near Lombok in Indonesia, we were able to go to a cooking class put on by Karol, the owner of the Gili Air Simple restaurant (where we ate almost every night we were there). The following Indonesian recipes are from her. Many ingredients are only available in Southeast Asia, but I've put suggestions for substitutions where I can. She mixed up the pastes in a large (1 foot or 30cm diameter) stone mortar, but we have to make do with knives, rolling pins, and our small (2 inch diameter) spice mortar. As a result our pastes aren't as finely mixed, but they taste fine all the same.
Olah-olah is a type of vegetable curry, cooked with coconut milk like all Indonesian curries. Basically any stir-fry type of vegetable can go in, and we've cheated a time or two and put meat in as well. Boil the meat in the coconut milk mixture until cooked (as in the Indonesian Curry), then add the boiled veggies. Olah-olah is meant to be richer than the curry, so coconut cream works as well as coconut milk.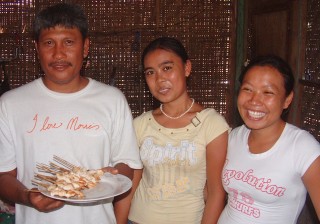 The crew at Gili Air Simple - Karol is on the right
Serves 2
Paste
The olah-olah paste can be made beforehand in large quantities and refrigerated for a month or frozen for longer.
Mash together or blend in a food processor:
4 candlenuts (macadamias or cashews work too)
2 large cloves garlic
4 shallots (or 1 medium-size onion)
1 'cabe besar' (long sweet chilis, 1/4 of a red bell pepper works too)
1 'cabe kecil' (small hot chili, 1 tsp chili powder works too)
1 tsp salt
Preparation
Boil for 5 minutes in water:
Vegetables (eg snow peas, carrots, wing beans, cauliflower, green beans, bell pepper, cabbage, onion)
In large pan or wok, combine and heat:
2 Tb olah-olah paste (fried in 1 Tb oil)
1 c coconut milk (or more)
Boiled vegetables
Salt to taste
Serve over rice.
---
Another recipe from the Gili Air Simple restaurant, and a favorite of ours throughout Southeast Asia. We usually judged restaurants by the cost of their chicken curry: a good restaurant had it for under US$2. US$5 was exorbitant. But now we make it ourselves! It was served to us as a pure chicken dish, but we add vegetables to make it an all-in-one dish and have made it with fish as well. Our rule for curries: add a bit of this and a bit of that, if it works then awesome, if it doesn't, hope you don't have guests for dinner (or that they're very good friends and will understand!)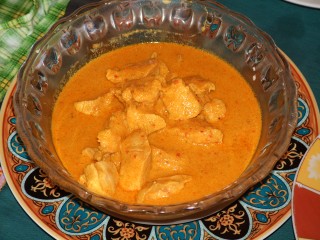 Chicken curry was a favorite of ours
throughout Southeast Asia
Serves 2
Paste
Curry paste can be made beforehand and refrigerated for up to a month or frozen longer.
Mash together or blend in a food processor:
6 candlenuts (or macadamias or cashews)
15 white peppercorns (or 1 tsp pepper)
15 coriander seeds (or 1 tsp ground coriander)
2 thumb-size pieces of ginger (or 2 tsp ground ginger)
1 thumb-size piece of turmeric (or 1 tsp ground turmeric)
2 big cloves garlic
3 shallots (or 1 small onion)
2 'cabe besar' (large sweet chilis - 1/2 red bell pepper works too)
1 'cabe kecil' (small hot chili - 1 tsp chili powder works too)
1 tsp salt
Preparation
In large pan or wok, fry:
1 Tb oil
2 Tb curry paste
Add:
1-2 c coconut milk
2 boneless chicken breasts OR 1 fillet of boneless fish, cut into pieces
Vegetables (eg onion, carrot, bell pepper, cabbage)
Boil 15 minutes, stirring occasionally, until chicken is cooked. (If using fish, cook just until fish is opaque.) Serve over rice.
---
Another Gili Air Simple recipe. We have our own recipe for the peanut sauce, but Karol's is authentic whereas ours relies on peanut butter. If you cheat and use peanut butter too, I won't tell anyone. Grinding up all those peanuts is no treat.
Serves 2

Karol displaying the peanut sauce ingredients
Gado-gado (peanut) sauce
Mash together or blend in a food processor:
2 Tb palm sugar (properly known as jaggery, but brown sugar works too)
1 c roasted peanuts
1 tomato
2 large cloves garlic
1 'cabe besar' (or 1/4 red bell pepper)
1 'cabe kecil' (or 1 tsp chili powder)
1 tsp salt
Add:
Mix together in a separate bowl:
2 raw boneless chicken breasts, cut into small cubes
Salt
Pepper
1 tsp white vinegar
Slide chicken onto skewers, lengthwise. Barbeque 15 minutes or until done. Serve with peanut sauce over rice.
---
Pronounced "chop-chai," this is another nice vegetarian dish from Karol on Gili Air. The mild thin sauce can be spiced up if you want, but we found it a nice break from the spicy-spicy curries.
Serves 2
Sauté:
1 Tb oil
2 cloves garlic
Lots of ginger
1 onion
Add:
Vegetables (eg snow peas, cabbage, kankung (spinach), green beans, bell pepper)
1 Tb tomato ketchup
1 tsp palm sugar (or brown sugar)
1 tsp vinegar
1 chopped tomato
1 tsp salt
Pepper
Add more sauce if desired. Serve over rice.
---
A spicy Indonesian water-spinach dish from Gili Air Simple. Its appeal is largely its spice, though if we make it onboard we'll tune it town a bit. Kankung is mostly stem, with medium-sized leaves at the tips, and is remarkably similar to spinach. The water must be boiling before you cook it, or the kankung will turn black.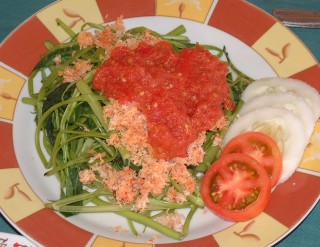 This spicy pelecing kankung looks like fettuccini
but is really made with water spinach
Serves 2
Sauce
Mash together:
1 tomato
3 'cabe kecil' (hot chilis - 2-3 tsp chili powder)
1 tsp salt
1 tsp palm sugar (or brown sugar)
Set aside. In a large pan, boil:
Add:
Boil 5 minutes and drain. Pull each stem into 3 long strips. Serve with sauce and 1/2 c grated or desiccated coconut
---
This recipe is adapted from our cruising friends aboard Ilya, a steel ketch out of New Zealand. With German Christian, and Malaysian Vivian, though, there is not much of New Zealand in their cuisine. Every pot-luck we had with them, Vivian surprised us with her simple, but tasty (sometimes almost too tasty i.e. HOT) dishes. Quantities vary greatly on this. Use your best judgment. In this stir-fry it's the lime that makes the Malaysian taste.
Noodles
Boil to al dente and set aside
Thin noodles for four (very thin spaghetti works fine.)
Sauce
Sauté lightly until translucent
Several cloves garlic, pressed or smashed
1 coarsely chopped onion
Several diced red chillis (seeds removed if you want it less hot)
Add and fry until cooked
1 lb ground beef (This can be omitted for vegetarian dishes. Use more veggies of your choice.)
Add to above and cook very lightly, leaving it crunchy
About 1 cup chopped cabbage or bok choy
Add soy sauce to taste. (This is a fairly dry sauce, so don't drown it.) Toss noodles with sauce, and place on top
2 small limes, cut in half, seeds removed
Cover the stir-fry for several minutes to allow the limes to warm. Just before serving squeeze the limes over the stir-fry, mix, and serve.
---
This is our quick version of enchiladas, placed in a casserole dish for easier transporting to potlucks. It also saves time to not have to individually wrap each tortilla. Now, lest you think we're lazy, consider this: there are no tortillas to be bought outside of the Americas and Australia. I've been making tortillas now for a long time and have it down to a 20 minute event.
Tortillas:
2 cups flour (optional: use 1/2 cup corn meal included)
1-2 TB vegetable oil
2 t salt
water as needed
Mix salt and flour. Add water in small amounts, working dough with your hands until it forms a smooth, but not sticky ball. (If you put in too much water, just add more flour.) Divide into 4 balls. Roll each to size of large frying pan. To cook each tortilla, place 1 TB oil in pan until sizzling. Fry tortilla on each side until golden and bubbly. Place aside on a plate, until needed for the casserole.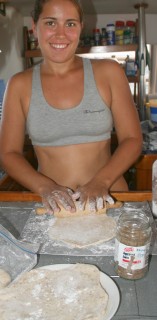 Making tortillas by hand
Filling:
Mix together in a bowl:
1 - 1 1/2 cups yogurt
about same amount of grated cheese (edam or cumin gouda or cheddar)
1 can cooked chicken
chopped green onion (if available)
These quantities are approximate, and can be increased or decreased as desired.
Sauce:
Mix:
1 small can tomato sauce
2-3 cloves garlic, pressed
1 Tb cumin powder
1/2 teas salt (or to taste)
1/4 t black pepper
To assemble: spread a thin layer of sauce in the bottom of a 9x9 pan. Lay on one tortilla (cutting and fitting as needed). Spread on 1/3 of filling; top with a tortilla. Repeat, ending with a tortilla. Top with remaining sauce. Grate cheese on top if desired. Bake at 350 F for about 20-25 minutes, or until bubbly.
---
Make tortillas as above.
Meat Filling:
Sauté:
1˝ to 2 lbs ground beef
salt and pepper to taste
2-3 cloves fresh garlic or more
Bean Filling:
about 2 cups refried or black beans (we use dried, reconstituted beans)
1 Tb cumin powder
Salsa:
Mix:
1 large can whole tomatoes in sauce, cut into fine pieces with scissors right in the can
chopped green peppers
chopped red onion or green onion
1 t red chili peppers
lots of fresh garlic, pressed
To assemble, place a thin layer of salsa in the bottom of a 9x9 pan. Top with a tortilla, then 1/2 of the meat filling and 1/3 of the salsa. Top with a tortilla, then all the bean filling. Top with a tortilla, then remaining meat, and 1/2 remaining salsa. Lay the last tortilla on top; cover it with remaining salsa. Grate cheddar or edam or cumin gouda on top. Bake 350 F for about 20 to 30 minutes, until bubbly and hot.
---
The Focaccio recipe can now be found on the Breads page.
---
About a week into our 3 1/2 week crossing from the Galapagos to the Marquesas, we were struck by the urge to eat a flaky-pastry, hot meat pie like we had found on the street stalls of Central & South America (and Australia, and Africa...). What follows is what we created and feasted on, surrounded by the endlessly blue Pacific Ocean.
Makes 4 large, individual meat pies. Pastry recipe is enough for 1 9-inch, double-crust pie.
Flaky Pastry:
2 1/4 cups flour
1 tsp. salt
3/4 cup butter-flavored Crisco
4-5 tbs. cold water
Using 2 knives, cut the shortening into the flour and salt until particles are about the size of peas. Sprinkle the water, a tablespoon at a time - you may not need all of it - over the flour mixture, stirring lightly and quickly with a fork, until the mixture is moistened. It should be neither dry and crumbly nor wet and sticky. Stir with a fork until the dough almost cleans the sides of the bowl. Divide the dough into eight equal-sized balls. Set aside in the refrigerator until the filling is ready.
Pre-heat oven to 400°F.
Filling:
About 1 - 1 1/2 lbs. stewing beef, cut into bite-size chunks
1 onion, chopped
2 carrots, chopped
2 servings mashed potatoes, either instant or leftovers
Pressure cook 10 minutes or cook the beef until tender. Add onion and carrots, and boil until soft. If using instant mashed potato flakes, add them to the meat and vegetable mixture to thicken (If using leftover mashed potatoes, pour excess water off the meat and vegetables before adding). Season to taste with garlic, salt, and pepper. Cumin, curry, and hot sauce may be added if desired.
For each meat pie, roll out two balls to equal size, and about an eighth of an inch thick. Transfer one to a baking tray, and put a quarter of the filling in the middle of it. Place the second crust on top, and roll the edges of the bottom crust up and over the upper edges. Flute the edge with your fingers to seal. Pierce the top with a fork decoratively about four times to allow the steam to escape. Repeat for the other pies. Bake at 400°F about 45 minutes, until golden brown.
---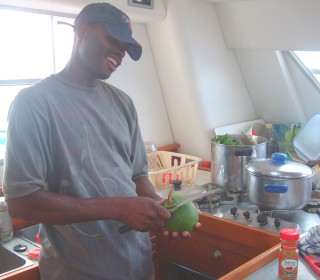 Alexis in Ocelot's galley
This dish was prepared by Alexis, a native Dominican, for two cruising boats. He spent hours catching, cleaning, and cooking the land crabs with herbs and spices. Then he came to Ocelot and spent another two hours cooking the stew. After that Natasha from Sea Eagle and I spent two hours shelling the tiny crab bodies and legs so that the stew was edible. I don't really expect any of you to make this, but the photos are fun!
Boil 30 land crabs in a huge pot with callaloo (Caribbean spinach), 6 plantains, 6 Caribbean sweet potato, 6 onions, a head of garlic, lots of basil, bay leaves and chili peppers, salt and pepper to taste, 4 mangoes, and the milk of 3 coconuts. Serves 10.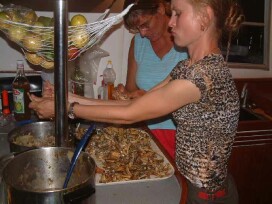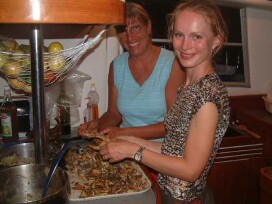 Sue and Natasha (from Sea Eagle) hard at work shelling crab pieces
---
I use the West Indian eating pumpkin for this, and wish there were a North American version, but I think you'd have to try it with canned (unseasoned) pumpkin to achieve the right texture and color. Forget using Halloween pumpkins as they're grown for size and jack-o-lantern properties, not edibility. I have found "retro" pumpkins in health food coops in the NW USA. Cruisers can find delicious edible pumpkins throughout the tropics.
This is a staple supper for us, served with cheese biscuits or fresh bread and cold cuts.
Chop a pumpkin into fist-sized pieces, and cut off skin.
In a pressure cooker, use 2 cups of water, and add the pumpkin, along with one chopped onion and 2 chicken broth cubes. Bring to pressure and cook 8 to 10 minutes. When the steam is released, open the cooker, and ladle the contents into a blender. Blend a few seconds on high to smooth the mixture.
Season with a dash of cinnamon, a teaspoon of curry powder, one pressed garlic clove, and salt to taste. (Sorry, folks. I don't often measure these things.....)
Serve hot, warm, or cool.
(If using canned pumpkin, try this: In a sauce pan, sauté one onion. Add a couple cups of water, and the chicken broth. Add pumpkin, and blend the mixture. If you want it hot, return soup to the stove briefly. Season as above.)
Options: Pressure cook a potato with the pumpkin for a thicker soup. And/or add milk to the final mixture for a creamier texture and taste.
---
Cruising Recipes: Up | Bread | Breakfast | Lunch | Dinner | Dessert
Cruising Info: General Cruising Info | Equipment | Pacific Ocean Cruising | Indian Ocean Cruising | Provisioning Food & Fuel | Cruising Recipes
Top Level: Home | Destinations | Cruising Info | Underwater | Boat Guests | Ocelot | Sue | Jon | Amanda | Chris | Site Map | Make a Comment
---
Lifetime
Commodores
of the
Seven Seas
Cruising
Association

If our information is useful,
you can help by making a donation
Copyright © 2000‑ Contact: Jon and Sue Hacking -- HackingFamily.com, svOcelot.com. All rights reserved.