St. Martin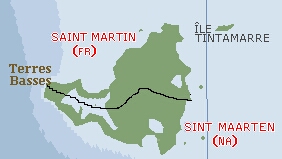 Click map for an overall Caribbean view
Language: French, English, Dutch, Papamiento
Population: 35,000 French, 39,000 Dutch, and perhaps as many as 20,000 illegal immigrants from other Caribbean islands, as this is a Mecca for islanders wishing to work.&nbsp There are also a large number of South African cruisers working here.
Money: US$ are by far the most common but Euros and (to a lesser extent) the Netherlands Antilles Florin (or Guilder) are also used.
Landscape: Semi-arid and hilly, with cacti, acacia trees, and cow pastures. Lots of white, sandy beaches.
Visited: We were in St. Martin from Dec 2001 until April 8, 2002, with short excursions to surrounding islands while entertaining visitors.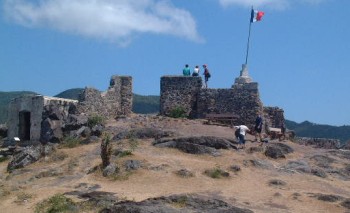 The ruins of Fort Louis, French St. Martin
History: In 1631 two European countries colonized the island: the Dutch in Little Bay and the French in the Orleans area. In 1633, the Spanish, who had claimed the island but not settled it yet, invaded and made all the 128 settlers leave. They fortified the island by reinforcing a Dutch fort and building another. In 1644 the Dutch attempted to retake the island, but failed. The Spanish, however, left the island on their own, four years later.
The French and Dutch returned and agreed to share the island, signing an agreement in 1648. The agreement was promptly violated many times, with the French, Dutch, and even the English, all gaining control of it for several years at a time. The ownership continued to shift until 1817, when the current French/Dutch border was established with peace to both sides.
In the meanwhile, the island had established a plantation-based economy. Plantations were built, and slaves imported to work on them. Major crops were tobacco, indigo, cotton, cocoa, coffee, and sugarcane. The Dutch also mined large quantities of salt, which they shipped to Holland. After slavery was abolished (1848 for the French and 1863 for the Dutch), the plantations declined and St. Martin slipped to a subsistence economy.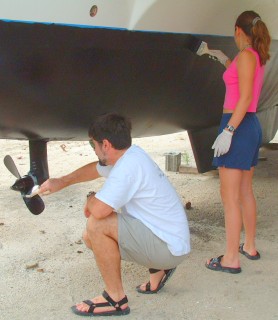 Touching up the bottom
paint just before launching
In WW2, the Nazis occupied the Netherlands in 1940, and the French took "protective control" over the Dutch side of St. Martin until they, too, fell to Nazi domination, at which time the Allies took control of the island. In 1943, the USA built a military airfield, which is now the Princess Juliana Airport. After the war, the new airport, the region's largest, spurred the island's growth as a regional hub and brought in tourism, which replaced agriculture as the island's main economy. The island is entirely duty free, which attracted not only legitimate trade but allowed heavy drug traffic in the 1960's, 70's and 80's.
(Amanda, age 12) We stayed in Simpson Bay Lagoon for about three and a half months, from mid-December 2001, when we first came down, to early-April 2002. The lagoon (aka "The swamp" for the pollution and sewage dumped into it) is several miles long, west to east, and has only two openings to the open sea, those being the Dutch (south) and French (north) bridges. Surrounding the swamp on the east side are high hills that have few houses on them. On the west side, low-lying ground separate the lagoon from the ocean. Beaches along this strip (on the outside) are quite frequent, and usually many people can be found there, lounging on the beautiful white sand under palm trees, or swimming in the wave-tumbled, tropical water. The swimming on the island was good, but, as we found out, it was very French. And that means tops optional everywhere, and several completely clothing-optional beaches. The problem is with nude beaches, everyone you really don't want to see nude is, of course, there.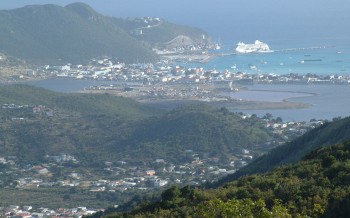 Phillipsburg, as seen from Paradise Peak
We drove around the island a few times, mainly around the edges, but a couple times up to Pic (Peak) Paradise, where we got a terrific view of Phillipsburg and the entire island. At the highest point, St. Martin is about 1300' (400m) high (Mount Caréta), although the hills are widely spread, so you drive through the valleys instead of over everything.
Everywhere you go on the island, you can see many varieties of color, green and otherwise. Palm trees - traveler's, coconut, and royal - acacia trees, cacti, hibiscus, and ixora, are among the many species of plant-life found on this semi-arid, magnificent island.
(Sue) Wow, after having been gone 16 years, it was sort of like coming home again (Jon and I worked here for a year in 1984-85, running a "cattle-maran" day-charter boat). But on the other hand, the island has exploded in new commerce, hotels, and casinos. The traffic is Seattle-horrific because I don't think any new roads have been built in all these years, and cars have at least quadrupled. After many weeks tucked into the Lagoon doing boat work and hemorrhaging money on boat projects, it was great to get out with Karen and Jon to go snorkeling and cruising around the island perimeter. It's only then that I remembered what I DO love about St. Martin -- the white sand beaches, clear water, and (sometimes) quiet anchorages. Yes, day-charter boats do still disrupt one's sense of solitude, but it's only fitting that Jon and I now get a dose of the medicine we used to give out when we worked in the charter trade!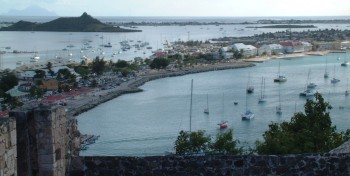 Marigot Bay & lagoon, with Saba in the upper left
(Chris, age 15) St. Martin/Maarten was exciting to get to, but in fact is a rather ugly island. It has some snorkeling and some swimming, plus a few spots that actually qualify as nice to look at, but not many. The main thing I like about it is that it has lots of other cruising boats. It seems like every boat going north or south goes through there, and a lot of boats spend months, or occasionally years, sitting there. I found a lot of other kids about my age, and even more that were younger. It was actually rather fun. Since we hadn't been cruising yet (as far as I could remember) and these kids had, there were lots of interesting stories to swap. The only other thing that St. Martin has going for it is that it has lots of facilities for boats and cruisers. There are three yacht clubs, excellent Internet cafes, two big chandleries, several marinas, and boatyards with haul-out facilities. St. Martin is also very commercial. There is a nice theatre, large (for the islands) shopping centers, and lots of freight companies that use the large main airport. On the other hand, it was not what I imagined a Caribbean island being like... too dry for rainforest, not much in the way of small, native villages, and only a few worthwhile snorkeling areas.
Up | Anguilla | St. Martin | St. Barths | St. Kitts/Nevis | Montserrat | Guadeloupe | Les Saintes | Dominica
St. Martin Ecoregion | Leeward Islands | Windward Islands | Venezuela | Southwest Caribbean | Caribbean Provisions | West Indies Flora & Fauna
Top Level: Home | Destinations | Cruising Info | Underwater | Boat Guests | Ocelot | Sue | Jon | Amanda | Chris | Site Map | Make a Comment
---
Lifetime
Commodores
of the
Seven Seas
Cruising
Association

If our information is useful,
you can help by making a donation
Copyright © 2000‑ Contact: Jon and Sue Hacking -- HackingFamily.com, svOcelot.com. All rights reserved.