Margarita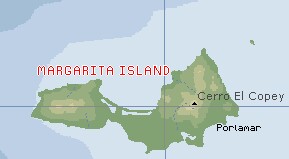 Click the map for a more detailed version
Population: over 90,000. Mostly European descent.
Size: 940 sq. kilometers
Landscape: Semi-arid and very hilly. Lots of white, sandy beaches, and large mangrove lagoons.
Visited: Off and on from Sept 23-December 28, 2002
History: Before the Spanish arrived in Margarita the island was inhabited by native peoples from the mainland of South America. Evidence shows they were fishermen who built small camps on many of the off-shore islands. When the first Spanish explorers found pearls off Cubagua (a few miles west of Margarita) it was natural for them to explore this larger island as well. The town of Porlamar was founded in 1536, just 8 years after the first South American city of Nueva Cadiz on Cubagua. For 60 years the capital was in the center of the island in a lush agricultural area called El Valle. It then moved to another inland valley, Asuncion, which continues as the capital of Nueva Esparta State today. Forts along the coast and inland were built by the Spanish for defense against pirates throughout the 17th and 18th centuries. During the War of Independence in the early 1800's, the citizens of Juan Griego on the north coast (see map blow-up) fought so ferociously that they and the other Margaritenos were named "New Spartans". This gave rise to the current name of the state, Nueva Esparta, that also includes the islands of Coche and Cubagua.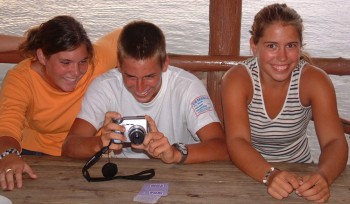 Ashley (Precocious Gale), Bennie (Tween) & Amanda
(Amanda age 13) We spent so long in Margarita, I'm not sure what to write about. Ashore it was low and scrubby, except for up in the two mountainous areas, although Porlamar was a bustling little city where everything was wonderfully cheap. For me, I liked Margarita a lot, because almost all the time there, there were other teens around. It was many an afternoon I helped Ashley on Water Baby, the big boat used to sell water to the cruisers in Porlamar, or in at Jaks restaurant playing cards. When we left, we even buddy-boated with a Dutch boat (Tween) with kids on board.
(Chris age 16) I'm really not sure how I felt about Margarita. We spent so long there it began to feel like, if not home, than at least a sort of 'base camp.' We didn't generally spend a lot of time there in a row, but we always came back to it. Somehow, it got to the point where, like St. Martin, it seemed that we always would come back.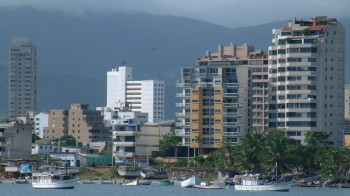 Porlamar skyline and fishing boats
In fact, Margarita strikes me as being much like St. Martin. It is a place to get stuff done, and a place to be with other people. There was always a large community of cruisers in both places, and lots of stores, craftsmen, and a few malls. We went to dinner with other cruisers several times a month, and Amanda and I spent a lot of time with other kids. We even went to movies, and Amanda went mall-crawling a few times. Margarita is larger than St. Martin, so everything was in larger scale, but in many ways they were fundamentally the same. For one thing, both are duty-free, and have many imported goods. In both cases, people seemed to be attracted to the civilized cities, and less interested in exploring the natural beauty.

Mangroves in La Restinga Lagoon
This doesn't mean that Margarita does not have its own natural splendor, however. Although the area around the main city, Porlamar, is fairly boring (all baked red dirt and little greenery, almost Mars-like,) there are forests, mangroves, and green hills on other parts of the island. La Restinga, a area with a large, shallow, salt-water lagoon, is home to many birds as well as beautiful mangroves. In the hills above Porlamar, there are cool forests like those on Martinique or Nevis, and there are 48 nice beaches around the island.
(Jon) Margarita was a strange place for us. Despite the crime rate (an outboard motor was stolen about every week) there were over 80 boats there when we arrived. Venezuela has many beautiful places (like La Restinga Lagoon) but Porlamar really isn't one of them, so why do people stay? Why did we stay? We told ourselves that we could use it as a hub, from which we could visit other places. Although the crime rate was high, it was even worse on the mainland. But I think the real reason we stayed so long was financial. There were folks who could do work for us, and the labor rates were very low. In fact, just about everything was very inexpensive. So we did a lot of boat projects and stocked up on a lot of supplies.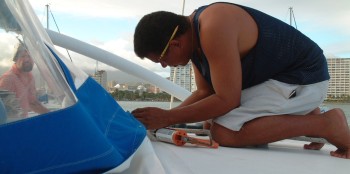 Johnny installing our new dodger in Porlamar
We looked into replacing our fabric bimini (the cloth that covers our cockpit) with a solid one, but the materials would all have to be imported from the states for about $2,000. So we found a good canvas worker on shore (Johnny, pronounced Yonny) and had him make a cover for our dinghy. The inflatable tubes of the dinghy will perish in the sun over time, so a cover can extend the life of a dinghy a lot. When we saw how well that turned out, we had Johnny re-stitch our existing bimini. While it was off, Johnny added zip-off side-flaps to extend our shade area to the whole cockpit. He also made us a dodger to protect the cockpit from spray and rain. We generally leave it down to let the breeze through, but it greatly extends our living area if we put it up when it rains.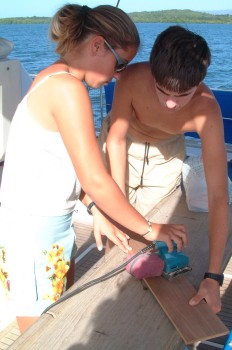 Wood-shop class: Chris and
Amanda sand bookshelf boards
Down below, we added a large spice rack and shelf for the galley, and had all of our salon cushions completely remade, raising the seats slightly to be more comfortable for our long legs. We also squared off some of the settee corners so we could sit comfortably with our feet up. (For some reason, the French seem to love rounded seats.) Since we've been suffering from an explosion of paperbacks (the kids won't trade them, they just re-read them) we had some 30 feet (10m) of bookshelf kits made. Gluing, screwing, sanding and finishing these bookshelves constitutes wood-shop class for Chris and Amanda. Finally, we bought and installed a small washing machine in the port fo'c'sle (th' c'b'n f'rth'st f'rw'rd).
(Sue) Strange to imagine we spent four months here, though we did travel away for 12 days in October to go to the Andes and Los Llanos (the plains), and sailing to other islands in November with Jon's brother Tony and his family. Almost daily we were out and about shopping or trying to shop for something: either food or drink for the boat, or some hardware item or something related to one of the many projects we undertook while there. My Spanish got a real work-out, and I was pleased at how the poor rusty brain finally began to put things together again. Most of my conversations were with my dentist (ouch) or the many taxi drivers who took us hither and yon. The locals speak a very slurred and colloquial "castellano." Once the "paro" (meaning work stoppage) began in early December we had lively discussions with the taxi drivers and shop keepers about whether they were Chavistas (pro-President Chavez) or anti-Chavez. As the "paro" continued, it seemed that more and more people were turning against Chavez, though a few stayed adamantly in support.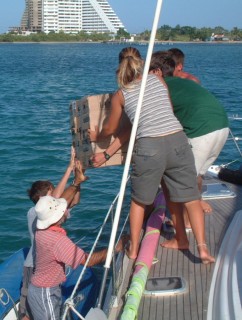 The new washing-machine arrives!
I took advantage of the duty free status of Margarita to provision the boat for many months, at least with staples that I can stow under seat and behind seatback in the salon. Even with three and four weeks of the "paro" the stores were still well stocked until after Christmas, but by then the empty shelves began appearing: especially on the beer, soft drinks and cheese sections. We had hoped to buy many months worth of summer clothing while here, but because of the duty free status, most shops specialize in carrying American name brands, so the prices weren't all that great. We did buy OP sandals, but they may have been fake because they fell apart in a few weeks. The big new purchase here was (on the last day) a compact, top-loading washing machine. It drops down the fo'c'sle hatch where we can crouch and do the wash! The nice thing is the spin cycle which means goodbye to that horrible hand wringing of towels and sheets. YAY! It was also cheap enough that it will pay for itself in about 5 or 6 months (assuming I kept using laundries ashore.)
Up | Margarita | Coche | Merida | Los Llanos | Golfo de Cariaco | Blanquilla | Los Roques | Las Aves
Leeward Islands | Windward Islands | Venezuela | Southwest Caribbean | Venezuela Flora/Fauna
Top Level: Home | Destinations | Cruising Info | Underwater | Boat Guests | Ocelot | Sue | Jon | Amanda | Chris | Site Map | Make a Comment
---
Lifetime
Commodores
of the
Seven Seas
Cruising
Association

If our information is useful,
you can help by making a donation
Copyright © 2000‑ Contact: Jon and Sue Hacking -- HackingFamily.com, svOcelot.com. All rights reserved.