Los Llanos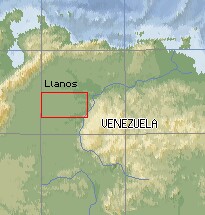 Click the map for larger version
Los Llanos means literally The Plains and is not a political region but a geographical one, extending throughout several states in Venezuela and into south-eastern Columbia. It is the prime wildlife and bird-viewing area of Venezuela, exceeding even the Amazonas region in the south-east.
Population: Los Llaneros (plainsmen) are descended from early Spanish explorers and indigenous peoples. There are only a few towns in Los Llanos, none very large. The population is scattered across thousands of square miles of pasture and river-floodplains.
Landscape: Scattered forests of commercial-grade lumber (such as teak), but mostly flat plains cut by dozens of rivers and their smaller tributaries. In the wet season (May through November) the land is marshy and often impassable. Roads run along natural grass dikes that separate the flood-plains.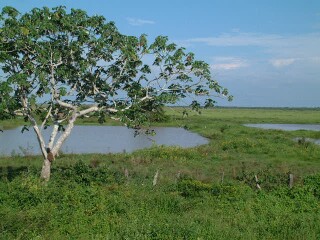 Water and grass-lands, typical of Los Llanos
Visited: Along with another cruising family, October 10 - October 13, 2002. We traveled into Los Llanos from Mérida, and returned there.
History: In the 16th century tales of a king covered in gold enticed explorers into the low-land plains south of the Venezuelan coastal range and east of the Andes. Later, catholic missionaries arrived and settled. Most towns in he Los Llanos have their beginnings as a mission. The Spaniards intermarried with the indigenous peoples who were hardy fold adapted to the harsh life in an area that is either inundated in flood waters or sees not a drop of rain for weeks at a time. The early "llaneros" fought with Bolivar not only in Venezuela but across the mountains in Colombia to win their independence in 1817. Today's llaneros continue their hard life on large ranches, trading canoes in he rainy season (May through November) with horses (and now 4-wheel drives) in the dry season. Forestry and cattle-raising have been the staples of their economy, but now eco-tourism is emerging. Los Llanos boasts one of the greatest population densities of wildlife and birds in South America.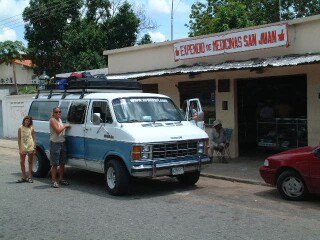 Amanda & Kat next to our van at a snack stop
(Jon) Our trip into the Los Llanos region did not start auspiciously. The first company we went with picked us up on time, but the Spanish driver/guide still needed gas, money from the office, and a new starter for his van! When we found that his 2 year old son was to accompany us, we asked to be taken back for a refund (cheerfully given).
Then we found Alan of Arassari Tours and life got wonderful again. For $35 per person per day, we spent 4 days and 3 nights exploring many different facets of this wonderful region. Alan is from Barbados so he speaks perfect English, and he had a comfortable van (not a stiff 4x4), a separate driver, 2 excellent binoculars, hundreds of jokes and stories, and a cooler with whatever we wanted! We laid out an initial schedule but he met us later that night saying that some of the camps would have other people in them, and asking if we wanted to change our schedule to avoid that. He even took responsibility for the "error" and offered another birding hike in compensation!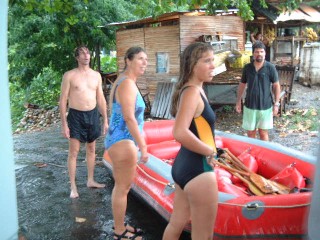 Rafters Alan, Sharon, Amanda, and Jon,
just pulled from the river in a thunder storm
We started by driving SE over the Andes, stopping a few times for birds or butterflies as our guide, Alan, was quite a naturalist. We got some stunning views as we drove the high passes to get to the other side of the Andes. Our first overnight was at a white water rafting camp. This was the most luxurious of the camps, featuring separate cabins for the kids and the adults, as well as a beautiful open dining area. It was raining in the mountains when we put the raft in so we kept a close eye on the water level. The rain soon caught us, bringing thunder and lightning. When we saw a strike just 100 yards upstream, and the water started turning murky, we decided it was time to get off the river. By the time we got back to camp, the river had risen alarmingly.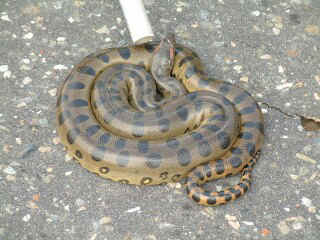 Lovely anaconda curled in the road, Los Llanos
The next day we drove deep into the flatlands, finding umpteen new birds, Anacondas, and lots of Capybara's - the largest rodent in the world (imagine a small hairy hippo). We also stopped at a bridge to fish for piranhas. It was fun. Alan had a 2 big bones with some meat on. We cut off bits of meat, threaded them securely on the hook, threw it in, counted to about 3, and quickly pulled it out. We invariably had a fish on! Piranha's over about 6 inches were "keepers" and we kept them for dinner. Then Alan tied a rope to the bones and threw them in for a minute or so. The water literally boiled. When we pulled the bones out, there wasn't a scrap of meat left on them.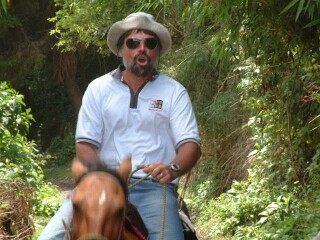 Woo-Hoo, what a ride!!
When we got to our camp on the Apure river, we immediately jumped into a long metal "canoe" with a big spotlight to see the night birds, snakes, and caimans. We'd see their eye's glow in the light and Alan would usually try to catch them. He had to jump right overboard (into quicksand) to catch the caiman (read: crocodile).
Our third morning we again took the boat out, finding more birds and the pink, fresh-water dolphins. In all, we spent about 8 fabulous hours on the water. After lunch we headed up to our final camp - a farmhouse high in the Andes, where the nights were cold but the food was local and excellent. On our final day, Sue went with Alan at 5:30am for our "bonus" hike to see the elusive and magnificently plumed Cock of the Rock. Then we took horses high into the cloud forest, finishing our ride with an exhilarating gallop through the valley. As we wound our way back over the Andes to Mérida we made one final stop - at a high-mountain hot spring. We soaked in the pool, watching the sun set and the pink clouds playing with Pico Bolivar and reliving our wonderful trip.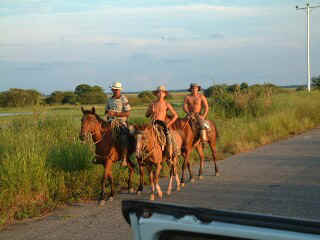 Llaneros riding from one range to another
(Sue) Oh, wow. What to say? Four days of pure wildlife and adventure heaven, all done in an old, but comfy van with a Venezuelan driver ready to stop for any butterfly, bird, anaconda, capybara, or photo, and an English-speaking guide who kept us entertained and informed non-stop. (Go to ) Jon told the day-to-day adventures, but the best way to get a sense of the animals is to look on my birding pages and Venezuelan Fauna pages to see lots more photos. I would take this trip again in a flash, and wish we could have spent more time. We drove many miles, hiked many hours, horse-back rode (too many hours for me), sat in a natural hot-springs not long enough, and basically abused our bodies at a very affordable price. Would you believe, all inclusive guide, driver, transport, meals, lodging, rafting, boating, horseback-riding, birding, etc. (including whatever wine, beer, rum or juices we wanted and snacks whenever) -- $35 per person per day? What made it especially fun was that the van had only our family and another family (good cruising friends) so we really got a customized trip.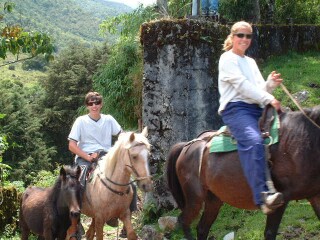 Amanda and Chris ride out!
(Amanda age 13) The tour we took with Alan of Arassari Trek was really cool. I really liked the rafting trip, as freaky as it was. Especially when we got caught in the hydraulic hole, and I didn't have a paddle, or when I actually saw the lightning strike right across the river! The water there was gloriously cold after the ocean.
The river trips on the Apure and Paguey were cool, but I think I would have liked them better if they had been shorter. And the seat-backs on the boats were at just the wrong height for someone my size.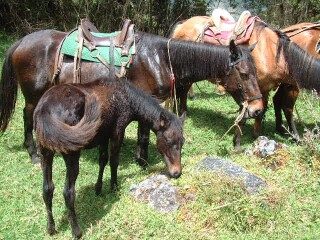 Amanda's horse with her foal,
at a rest stop high in the mountains
I really, really liked the horseback riding. We had done mule riding before, all over Merida, but there's really a difference between a mule and a horse. Mules may be sturdier and they can go farther, but they have a really uncomfortable gait and if you can get them even to a trot, you're lucky. I haven't done much horse riding, so I hadn't gotten faster than a trot. After the little trail ride up (and up and up and UP!) a hill, and then back down, there was a flat section along the river where we could go as fast as we wanted. Or rather, as fast as your horse wanted to. Unfortunately, the strap on my saddle must have loosened, because as soon as my mare hit a trot, the whole thing came off. With me on top of it. Luckily, we were right along a freshly tilled field, so it was a nice soft landing, but I had a few bruises the next day.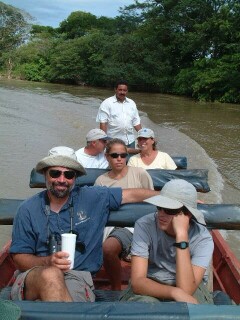 Wildlife viewing on the Apure river
Eventually the caballero came and re-saddled her, and I got back on. I'm happy to say the rest of the ride was extremely fun and exhilarating. We had a bit of a race next to the river, the foal of my mare galloping along beside me - it was so cute! That day became two landmarks of my riding - first time falling off, and first time at a canter. I'm just happy they didn't happen at the same time.
(Chris age 16) I personally thought that the trip to Los Llanos was some of the most fun we had anywhere on the trip so far. The days were just packed with excitement, ranging from whitewater rafting in a thunderstorm to seeing pink river dolphins and capybara to an exhilarating horseback ride along a river. I would really strongly recommend a trip into Los Llanos, and Arassari offers a trip that is not to be missed. I would gladly go on the tour again.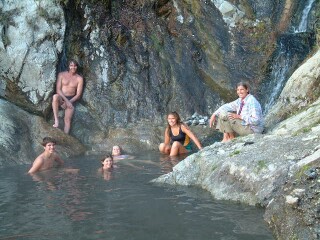 Natural hot-springs in the Andes,
a great end to the 4-day Los Llanos trip.
The easiest way to see Los Llanos, and probably the best way to get as much of the region's beauty in the shortest time, is a tour. However, Los Llanos is more than just a tour destination. It is an amazing ecological region, with lush, beautiful forests and plenty of diverse wildlife. It is the sort of place you see on television or read about in books, and wish you could see it for real. I am very glad that I got that chance
I realize my writing here is much shorter than everybody else's. This is because I have written it all in a separate journal report on our Inland Venezuela trip. Los Llanos is featured on pages 8, 9, 10, and 11.
Up | Margarita | Coche | Merida | Los Llanos | Golfo de Cariaco | Blanquilla | Los Roques | Las Aves
Leeward Islands | Windward Islands | Venezuela | Southwest Caribbean | Los Llanos Ecoregion | Chris's Inland Journal | Venezuela Flora/Fauna
Top Level: Home | Destinations | Cruising Info | Underwater | Boat Guests | Ocelot | Sue | Jon | Amanda | Chris | Site Map | Make a Comment
---
Lifetime
Commodores
of the
Seven Seas
Cruising
Association

If our information is useful,
you can help by making a donation
Copyright © 2000‑ Contact: Jon and Sue Hacking -- HackingFamily.com, svOcelot.com. All rights reserved.