Merida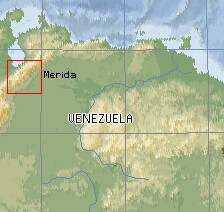 Click on map for a larger version
Population: Over 250,000 in the city. Home of Universite de Los Andes, second oldest university in Venezuela.
Landscape: Rugged mountains with glaciers reaching over 15,000 feet. High passes (8,000 to 11,000 feet) above tree line. Cloud forest from 4,000 to 8,000 feet.
Visited: October 3 - October 9, 2002, along with two other cruising families. Mérida refers to both the State and its capital city. We flew into the capital and traveled throughout the state and into the backcountry.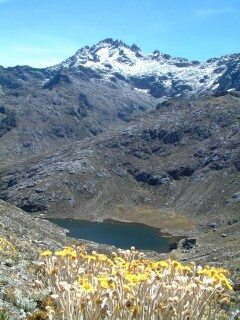 Pico Bolivar, Antojos Lake, and the
Frailejones flowers of the Andes
History: Mérida was first founded on October 9, 1558, by Captain Juan Rodríguez Suárez, an official from Pamplona who did not actually have the authority to found a city. He had set out to search for gold and subdue natives en route to the Sierra Nevada. He was arrested for his rash founding of Mérida and taken to Bogotá for trial. He was found guilty and sentenced to be dragged to death through Bogotá from the tail of his horse, quartered, and separate body parts suck on pikes out in streets to rot. He was, however, rescued by Bishop Fray Juan Carlos de los Barrios and other friends, who helped him escape and flee to the Province of Venezuela. Don Diego García de Paredes defended him from the sentence, making him the first political exile to receive asylum in America.
On November 1, 1558, the settlement Juan Rodríguez Suárez had founded and named was moved because of hostile activities from the local natives. On June 24, 1560, another move was initiated by Juan de Maldonado to Mérida's current location, on a high mesa. At that time, the settlement received the name Santiago de los Caballeros de Mérida and this location is sometimes sited as the true foundation of Mérida.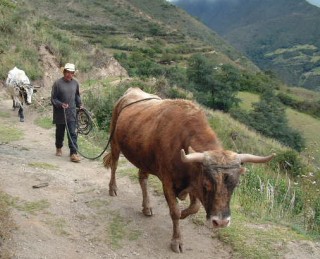 Oxen are the "tractors" of the Andes
Although not officially part of Venezuela until 1777, Mérida was a strong supporter of Venezuelan independence. It was involved in the Revolution of the Comuneros, a failed attempt in 1781. Mérida also supported the republican rebellion in 1810. When the new government was destroyed by Spanish Royalists, the political leaders of Mérida faced either arrest or exile.
Venezuelan independence fighter Simon Bolivar staged a comeback three years later, and Mérida was the first city to salute him as El Libertador. Although the city had been damaged by a major quake the year before (1812) and been sacked by Royalists after the previous revolution, it provided considerable amounts of gold, horses, weapons, and troops to Bolivar's cause. Although Mérida was taken and sacked by Royalists one more time, Bolivar returned in 1820 and was again hailed as El Libertador. After the war, in 1842, Mérida erected the first monument to Bolivar.
During the Venezuelan civil wars known as the Wars of Federation (1859 - 1863) Mérida was hardly touched. However, refugees seeking the isolation of the Andean region caused a massive population boom in Mérida, but good roads were not constructed in Mérida until the 1920s.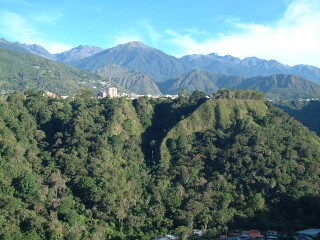 Mérida, at 6,000' (2,000m), but the
bottom of the teleférico into the Andes
(Jon) Mérida was one of our primary Venezuelan destinations. Sue and I had been there several times in the 80's but we hadn't really hiked in the high Andes as much as we'd wanted to. So soon after we arrived in Venezuela, we put Ocelot in a tiny marina near Porlamar and flew to Mérida with 2 other "kid" boats, Pelican and Dream Catcher.
The primary tourist attraction in Mérida is the "teleférico", the longest and highest aerial tramway in the world, reaching up to 15,000 feet or almost 5,000m. We knew that going that high right away would invite altitude sickness, so we first hired a small bus to take us on a tour of the local highlands. The new 20 passenger bus, driver, and separate English speaking guide cost only $80 for the whole day. We walked around some nice high altitude lakes and visited Eagle Pass (12,000 ft or 4,000m), a Condor sanctuary, several old churches, and some local artisans, where we bought our hammock and an air-chair. We crowned the day with a delightful steak dinner at a local restaurant.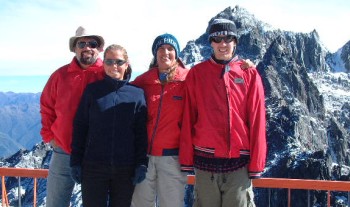 Yachties at 15,000'! Top of the teleférico.
The next day we took the first teleférico car all the way to the top. The day was clear and the views were spectacular. After some photos, snowballs, and sweet hot chocolate, we went down one station for the 10 mile (16 km) trip to Los Nevados. 7 mules (5 for the kids, 1 for baggage, and 1 spare) were only $30! The village was delightful and we spent a few days there, Sue and I hiking some of the local trails (rather slowly as we looked for stray oxygen molecules!) While it's possible to drive out of Los Nevados, everyone who did so was continuously crossing themselves and had looks of sheer terror on their faces at the sharp bends and sheer 1,000 foot drops. So we opted to ride mules to another posada (guest house, or inn) and only drove out from where the road was paved.
When we got back to Mérida, we spent a few days looking around the town and checking tour agencies to see what else would be fun to do. We liked the Mérida area a lot and didn't want to go back yet. Eventually we found a guided trip to Los Llanos (remember, the double L is pronounced like a Y) but that's another story.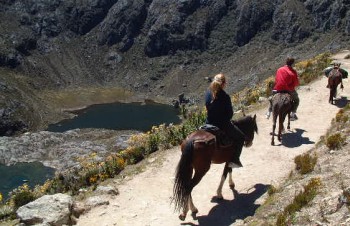 Amanda & Chris at 13,000'. Anteojos lakes below.
(Chris age 16) I rather liked Mérida. In a way, it was like a vacation from a vacation, since our trip inland was the first time since we had moved on board that we slept off Ocelot. In fact, it reminded me somewhat of Canada, with a city on a high, cool mesa that always has snowy mountains in sight. The city of Mérida didn't interest me too much, but the area was fascinating. The tour we took through the rugged countryside, the cable car to the mountain peaks, and the little village of Los Nevados all reminded me of the vacations we used to take from home. To get a really good account of what I did and felt, read my Inland Venezuela journal report.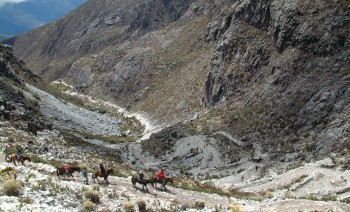 Winding down from 13,500' into the
Andean valleys that lead to Los Nevados
(Sue) This was Jon's and my fourth trip to this beautifully located city high in the Andes. As with the rest of Venezuela, the intervening 15 years have seen a population explosion, more crowding and poverty, and a sense of a country being slowly suffocated. This didn't detract from my pleasure at finding lovely sanctuaries inside the inexpensive posadas ($24 for a room for 4) in the city of Mérida. What looked like average doorways and small signs out on the street opened to spacious courtyards with wooden balconies, hanging plants, rustic Andean furniture and artwork, and friendly staff. It was fun to wander the narrow streets poking into bookstores (Margarita Island was practically devoid of bookstores), clothing shops, mountaineering and rafting shops, and little street-side restaurants. One memorable lunch served batidos (our favorite Venezuelan drinks: fresh fruit blended with ice and sugar) for only 300 B's (21 cents), and empanadas (small meat or cheese pies) and arepas (an Andean specialty of small corn and wheat flour tortillas opened and stuffed with meats, cheeses or chicken) for about the same. After making complete pigs of ourselves our lunch bill for four came to less than $7 US.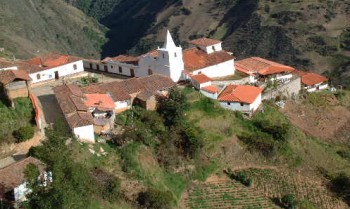 8,500' high Los Nevados, as seen from the trail
I was thrilled to see, however, that the conservation efforts are in place and seem to be thriving. The National Park of Sierra Nevada de Los Andes is spectacular and relatively untouched. It seems most Venezuelan tourist are already well outside their comfort zone to ride the 35-person cable way in 4 stages to the top of Pico Espejo (15,000').
To venture out from there is to enter the true Andean culture, which we did for three days on a mule and hiking trip to the village of Los Nevados. I had heard of this village, and the possibility of walking/riding there back in the 1980's, and we had never been able to go. This time it was a priority and was well worth the blisters, sore mule-riding muscles, and lost toenails from the two 6-hour descents from 13,000 feet to 6,000 feet (4,000m to 1,800m). We went on our own, without any tour company and found it all very manageable. The first trick was to reserve some mules at the third teleférico station before continuing to the top for the views. We returned to the 13,000 foot (4,000m) station only to find no mules! Luckily the National Park Ranger told us that the mules usually do several one-hour round trips to take tourists to the highest point on the Los Nevados trail, which was nearby.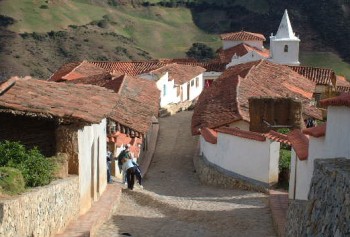 Los Nevados has one street,
paved with stones in 1999.
The trail was spectacular with the glaciers of Pico Bolivar overhead, and steep granite walls surrounding mountain lakes below us. Once over the Las Cruces pass, we settled into a long, long, winding and beautiful descent through fairly arid landscape, punctuated by glorious mountain flowers and streams. In late afternoon we entered an area of criss-crossing trails, pastures, grazing goats, cows, and horses, and finally to the lovely village of Los Nevados.
The posada there was an unbelievable deal at 10,000 B's per person (about $7) for lodging, hot shower, big dinner and big breakfast. It was all so beautiful and such a perfect climate that we stayed a couple nights. There are no stores in the village and no restaurants, so it was lucky we still had arepas and bread and cheese from our hike the day before.

Los Nevados central square.
Our posada was just behind the church.
(Amanda age 13) One thing that I liked a lot about Mérida was that, at 6000 feet (1,800m) above sea level, it was generally cooler than the killer-temperatures in Margarita. It was comfortable to walk around town, although every once and a while we had to go have a cool batido or ice cream. On the hike/ride to Los Nevados, it felt very strange to have a fleece jacket on, but I needed it.
The teleférico was fun, although I wish we had spent a bit more time acclimatizing before we went up it, and then to Los Nevados. Most of the time we were up in the mountains, I had a fairly strong headache, and I would have liked to walk more on the trip to Los Nevados, as my legs kept falling asleep on the mule. But after only about five minutes of walking, I would stand still, look at a hill, and it seemed like it was going away from me. At that point, I decided to get back on the mule. But at least we had done some acclimatization the day before. There was a German woman doing the hike with us, and she had just come in to Mérida and then gone up the cable car, and she got fairly sick. We rescued her by giving her our spare mule.
The sleepy little town of Los Nevados was cool, and there were lots of little trails going all around. Kat, Nat, and I spent an afternoon wandering around, exploring them all. The cloud forest, on the truck-ride back to Mérida, was fascinating, if also cold. See my LA-SS pages for more stories about Mérida.

Mules, horses, & oxen are a way of life in the Andes.
This animal carries its own fodder.

Rio Nuestra Senora,
1,000' (300m) below Los Nevados
Up | Margarita | Coche | Merida | Los Llanos | Golfo de Cariaco | Blanquilla | Los Roques | Las Aves
Leeward Islands | Windward Islands | Venezuela | Southwest Caribbean | Amanda's LA-SS Pages | Chris' Inland Journal | Venezuela Flora/Fauna
Top Level: Home | Destinations | Cruising Info | Underwater | Boat Guests | Ocelot | Sue | Jon | Amanda | Chris | Site Map | Make a Comment
---
Lifetime
Commodores
of the
Seven Seas
Cruising
Association

If our information is useful,
you can help by making a donation
Copyright © 2000‑ Contact: Jon and Sue Hacking -- HackingFamily.com, svOcelot.com. All rights reserved.