Las Aves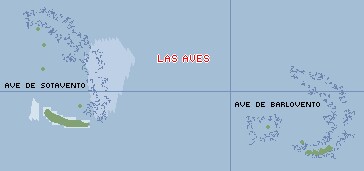 There are actually 2 Aves archipelagos
Click on the map for a Venezuelan overview
Population: About 3 people: the Venezuelan Coast Guard men who are stationed there for a rotation of one month at a time.
Size: Two reef systems, 10 miles apart, each about 5 sq miles.
Landscape: Extensive reefs, very clear water, dotted with a few mangrove-covered islands.
Visited: January 5-9, 2003
(Sue) Oh, I love these islands. Translated literally, they mean "The Birds" and they couldn't be better named. In the branches of the 40-foot high mangrove trees perch and nest thousands of birds. Mainly red-footed boobies, though there are many brown noddys, brown boobies, and magnificent frigate birds. To row along the shore is to enter a world of bird calls and the sort of moldy smell of bird guano.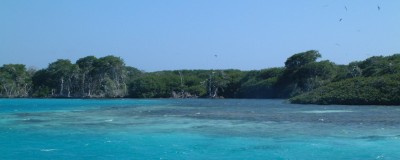 The magnificent reef and birds of Aves de Barlovento
(Jon) The map above does not really do the Aves justice. There are actually 2 islands at Barlovento, 1 on the south side of the main reef, and the other at the reef just to the west. Sotovento has several islands, the one shown on the south side, and several smaller islands directly north of the western tip of land. We anchored for a few nights at the south island of Barlovento, 1 night at the south island of Sotovento, and 2 nights at one of the small islands further north.
Although the birding was excellent, what really impressed me was the snorkeling. At Barlovento we did a couple of dives at 2 of the reefs close to our anchorage, and they were OK, but then we went out to the barrier reef. Just behind the barrier reef we found a reef that started at the surface and dove down to about 50' on one side. This wall had lots of interesting hard and soft corals, as well as lots of varieties of fish. In fact, just as we dove off the side of the dinghy we saw a nice stingray, about 4' across and at least 6' long. We had fed smaller rays years earlier in Grand Cayman, but this was much larger than any of those.


Birds flying over the reefs in Aves de Barlovento
Sailing from Barlovento to Sotovento was delightful, as we put up the spinnaker and had a screaming fast run for 15 miles. At Sotovento, we started by snorkeling about in the middle of the archipelago, but the coral was all pretty shallow. The next day we took the dinghy north to the barrier reef and did a series of dives. The first was right on the barrier reef, which was very jagged but surprisingly, most of the coral was dead. Still, we had fun swimming through channels of broken coral and surprising fish in some of the interior pools. Just inside the barrier reef, the underwater seascape was delightful, and we had fun diving down and swimming through the soft corals. Then we dinghied (to verb a noun) further east and found 2 nice reefs that started at the surface and fell down to about 50 feet. As we swam along we found that we were herding several small schools of fish in front of us. We found 3 nice mature conchs but left them on the reef. All in all, a delightful day of snorkeling. (I just wish we had an underwater camera.)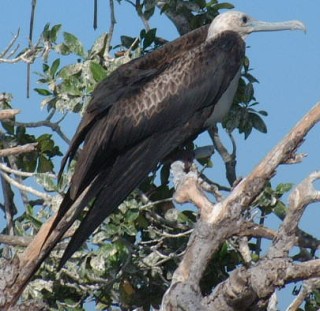 Magnificent Frigate bird - amazing flyers
(Amanda age 13) Geez, aves is right. In Barlovento, we went around in the dinghy and got about fifty beautiful bird pictures, of boobies, pelicans, and frigates. There were so many birds! There weren't all that many kinds, it's just that the numbers were overwhelming. Sotovento doesn't have as many birds, but there are still a fair amount. It's fun, going around in the dinghy and seeing these red feet standing out against the green of the mangroves.
Snorkeling was good everywhere, but in my opinion better at Sotovento. The best places to go were shallow places right on a drop-off. Both of the Aves were open to the sea, though, which means that most of the reefs were pretty pounded by the waves. Inside the barrier reefs, though, it was okay.
(Chris age 16) I was really amazed by all the bird life here, but beyond that, there wasn't much else worth noting above water. That isn't to say that the birds weren't awesome all by themselves. Going out in the dinghy with the digital camera and watching all the birds in the mangroves was a wonderful way to begin the day.
People told me Las Aves also had really nice snorkeling, but sadly, I never found out first hand. A cold and sore throat kept me from snorkeling for those few days while we were there. I must say, I liked Las Aves, especially compared to Los Roques. I feel if I had been able to snorkel there, I would have really enjoyed it.
Up | Margarita | Coche | Merida | Los Llanos | Golfo de Cariaco | Blanquilla | Los Roques | Las Aves
Leeward Islands | Windward Islands | Venezuela | Southwest Caribbean | Venezuela Flora/Fauna
Top Level: Home | Destinations | Cruising Info | Underwater | Boat Guests | Ocelot | Sue | Jon | Amanda | Chris | Site Map | Make a Comment
---
Lifetime
Commodores
of the
Seven Seas
Cruising
Association

If our information is useful,
you can help by making a donation
Copyright © 2000‑ Contact: Jon and Sue Hacking -- HackingFamily.com, svOcelot.com. All rights reserved.