Los Roques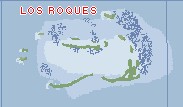 Click image for larger map
Population: Village of Gran Roque may have about 1,000 inhabitants. Otherwise, the islands are left to the cruisers, day-tourists, and birds.
Landscape: An archipelago of some 42 islands covering some 850 sq. miles, protected on the east by a barrier reef. Most islands are mangrove-covered and very low, with the exception of Gran Roque which boasts the only real hills (rocky hills, too) in the archipelago.
Visited: December 31, 2002 to January 5, 2003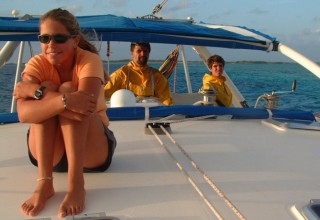 Beautiful sailing in Los Roques by afternoon light
History: The archipelago of Los Roques changed hands many times over the centuries. From pirates, to the Dutch (who tried mining the bird guano for phosphates), to the Venezuelan fishermen. By the 1950's, most of the Dutch had left, and the islands were occupied by people from Margarita Island, the largest island off Venezuela. The area came under the protection of the Federal Government in 1972 when the Parque Naticional de Los Roques was founded. It remains a park, with all wildlife protected.
(Jon) Getting to Los Roques is always a bit of a challenge. It's about 90 miles from Isla Tortuga, which is a bit short for an overnight sail and a bit long for a day sail. But the entrance on the SE corner is a narrow gap through the barrier reef, and it cannot be attempted after dark, so prudence dictated that we sail overnight. Perversely, the winds were wonderful and we were hurtling along at 10 knots, which would have meant a 4am arrival, so we had to reef down the mainsail and roll up much of the jib until our GPS told us we'd arrive at 7am.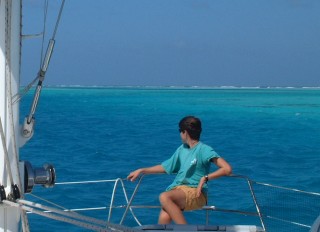 Chris up fwd as we dodge reefs in Los Roques
We spent a few days at our first anchorage near the entrance and opposite an old wrecked cable ship, exploring, snorkeling, and celebrating the new year with fireworks off the back of Ocelot. Then we had a delightful sail north up the inside of the barrier reef. The wind was brisk enough that we only needed our jib, and the sun was bright enough that the deep water glowed a vibrant blue while the shallow water took on the color of a swimming pool, making dodging small reefs easy. It was fun scooting along in the flat water with the ocean pounding on the barrier reef just to our right. We found another nice anchorage just behind the barrier reef and near some nice coral heads for snorkeling. The next day, emboldened by our successful reef dodging, we threaded our way west for 15 miles through water whose color was constantly changing (blue, green, aquamarine, turquoise, and emerald, with brown over the reefs) as the water depth changed. Amanda spent much of the time up the mast, telling the helmsperson which way to steer. We eventually anchored of the island of Sarqui, and again explored the reefs and island. Several Venezuelan powerboats were there when we arrived, but towards the afternoon they all left, accompanied by the grunts and growls of large diesel engines and clouds of smoke. Our final anchorage was off Cayo del Aqua, in a delightful bay with several other boats. Exploring ashore was tricky as the grasses grew these round stickers which got into everything, especially our open-toed Tevas. We soon learned to stick to the beaches for shore-side excursions.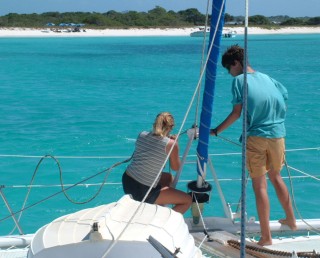 Anchor crew making sure Ocelot is secured
(Amanda age 13) My first thought of Los Roques was that it looked a lot like the Tobago Cays. Several islands, not very high but covered in vegetation, surrounded by reefs. As we got closer, though, I realized that you couldn't really walk on the islands at all. They were covered in mangroves!
I think I liked the Tobago Cays more than Los Roques, on some points. The snorkeling, while okay at Roques, had none of the color or busy bustle of fish that there was up-island. This might be because the Cays have Land's End Reef protecting it from the furies of the open ocean, and Roques doesn't. The heavy pounding of waves over coral is usually enough to destroy most of it.
As we moved from anchorage to anchorage, slowly heading west, the islands became less and less mangrove-covered. At Cayo de Agua, the islands were mostly made up of grass-covered sand dunes, great tourist locations. Where we anchored we were looking for non-choppy snorkeling places, so beach swimming wasn't all that good. There were a couple of beaches, but if you went out to about five feet deep, you started getting big bunches of seaweed.
(Sue) Funny how emotion can color ones memories. When Jon and I sailed through Roques in 1987, we'd had a harrowing night having to reduce sail so as not to arrive too early. Even though the same thing happened this time, we were prepared for it, and we trusted our GPS position lots more than we did our old SatNav position information, because the SatNav used the old Navy Transit satellites and we only got an updated position fix every few hours. Anyway, we arrived at first light to enter the still waters behind a barrier reef, and it was so much more beautiful than I remembered. In the following days, as we sailed (not motored, but sailed) through the reefs, I was having a blast! I'm sure that when we cruised here in the 80s I was a nervous wreck. Nice to know that experience really does give one confidence.

The lighthouse at the entrance to Los Roques.
We turned north (right) to enter the calm waters.

Glorious clear water which we can "read" by its color.
The barrier reef is breaking in the background.
(Chris age 16) Getting to Los Roques was our second overnight passage, but I don't have anything in particular to say about that, except that I did actually sleep fairly well (for a few hours) on this one. Los Roques themselves actually disappointed me a bit. The snorkeling was only average at best, and there was almost nothing on the islands. The most fun we had was one day when we met a bunch of French kids off a few other boats, and spent the day at the beach with them and Tween (a small catamaran with a Dutch family including some kids about our ages). We had a beach barbeque that evening, but had to leave the next morning. I really think that was the most fun we had in Roques. It was really big and had a lot of snorkeling places, but I just wasn't very impressed with the quality of the reefs or water clarity.
Up | Margarita | Coche | Merida | Los Llanos | Golfo de Cariaco | Blanquilla | Los Roques | Las Aves
Leeward Islands | Windward Islands | Venezuela | Southwest Caribbean | Venezuela Flora/Fauna
Top Level: Home | Destinations | Cruising Info | Underwater | Boat Guests | Ocelot | Sue | Jon | Amanda | Chris | Site Map | Make a Comment
---
Lifetime
Commodores
of the
Seven Seas
Cruising
Association

If our information is useful,
you can help by making a donation
Copyright © 2000‑ Contact: Jon and Sue Hacking -- HackingFamily.com, svOcelot.com. All rights reserved.