Blanquilla


Click map for a
Venezuela overview
Population: The only semi-permanent inhabitants of Blanquilla are fishermen and Venezuelan Coast Guard posted here for a month at a time. Otherwise the island belongs to the wildlife.
Landscape: Fairly flat, very arid, covered in prickly pear and thorn trees. Salt flats dot the landscape. Coastline alternates white sand beaches with coral and rock cliffs.
Visited: Along with Jon's brother's family, November 23 - 29, 2002. We anchored just south of the western (leftmost) tip.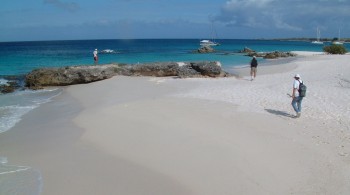 The beautiful western beach of Blanquilla
History: We can't seem to find much on the history of this small island lying about 80 miles offshore mainland Venezuela. Like other off-shore islands these are not part of any state, but federally held lands.
(Jon) We visited Blanquilla for about a week with my brother and his family. It offered miles of beautiful sand beaches for walking, shelling, bird watching, and kid-playing, and even more miles of rocky cliff overlooking the water. We explored some of these cliffs in the dinghy and found caves going back 50' or so. One went back even further, and had broken through at the end, but we thought it was too dangerous to explore. The views from the cliffs were superb, but the rocks were extremely jagged. Exploring inland was a challenge until we learned to keep away from the prickly cactus, because the spikes were barbed, and as soon as you brushed one, that segment fell off so the other spikes could grab you as well. Luckily, the donkeys had discovered this long ago, and their trails tended to avoid these annoying cacti.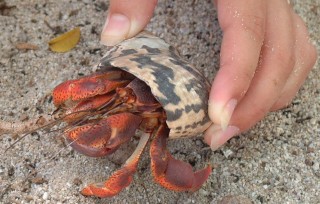 There were LOTS of hermit crabs on Blanquilla
We went snorkeling and exploring almost every day. There were only a few other boats there so we felt nicely alone. When Thanksgiving rolled around there was only one other US boat near us, so we invited them over and we had a big Thanksgiving dinner all together.
(Amanda age 13) At the time that we were in Blanquilla, what I was really aching for was a good swimming beach, and I was so desperate that what the flat, deserty island had to offer was good enough. They looked terrific when we were coming in to anchor, but in reality the good sand was only out fairly deep, and it was all rock in the breakers. It was crystal clear, however.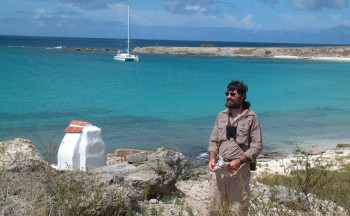 Tony and a fisherman's shrine,
with Ocelot anchored in the background
The snorkeling was okay - for those people who have never seen feather coral and sea fans. Okay, I shouldn't gripe, there were actually lots of things to see, if you went to the right places, out from the rock, not the beaches. I guess after all the snorkeling we've done, it all sort of becomes the same. I will say, however, that every time we've gone out snorkeling, I've seen something new.
The land wasn't all that spectacular, to me at least. Hot, buggy, and covered with acacia trees. The most interesting thing we discovered was that right beyond the beach, there are cracks under roots that are absolutely filled with hermit crabs. Mainly small, though there were some really big ones. The tiny ones couldn't hurt you, but my cousin Sean got one stuck on his finger and couldn't get it off. Later, in Margarita, we went to the Museo del Mar, or the museum of the sea, and saw a huge hermit crab. Its large claw was about four inches long. (Think what that would do to your finger!)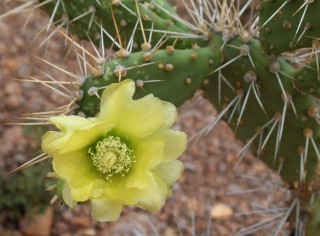 One learned to avoid the cactus when walking
(Sue) My brother-in-law, Tony, and I had a great time birding here. The walking ashore is treacherous, though, with millions of prickly pear bushes with 4" long spikes that go right through rubber sandal soles. We saw indigenous hummingbirds, burrowing owls, and the dramatic crested caracara (a large bird of prey). Along the shore we watched the antics of the Magnificent Frigate birds, the males with their red bulbous pouches attracting the females. I enjoyed the snorkeling because it was the best Tony and his family got to see, so we had fun identifying all the fish that were new to them. The local fishermen brought in a huge (7 feet or 2 meters long) moray eel one day, and that was pretty cool to see. The skin and flesh were surprisingly tough to cut. I'm glad I didn't meet it underwater!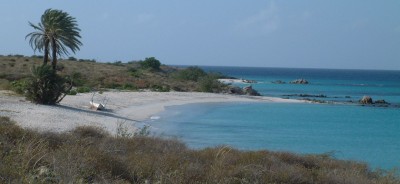 A sweeping Blanquilla beach and bay
(Chris age 16) Well, I can't say I thought much of the surface of Blanquilla. The wildlife was interesting in some places, but for the most part, it was just cactus. Not that I don't like cactus, but a whole lot of prickly pear gets a bit monotonous. The most enjoyable part of Blanquilla was the snorkeling. It wasn't the best in the Caribbean, but we hadn't done any for a few months, so it was really nice to see a reef again. Beyond that, the only other thing about Blanquilla that sticks in my memory is the huge Thanksgiving dinner we had there with another American boat.
Up | Margarita | Coche | Merida | Los Llanos | Golfo de Cariaco | Blanquilla | Los Roques | Las Aves
Leeward Islands | Windward Islands | Venezuela | Southwest Caribbean | Blanquilla Ecoregion | Venezuela Flora/Fauna
Top Level: Home | Destinations | Cruising Info | Underwater | Boat Guests | Ocelot | Sue | Jon | Amanda | Chris | Site Map | Make a Comment
---
Lifetime
Commodores
of the
Seven Seas
Cruising
Association

If our information is useful,
you can help by making a donation
Copyright © 2000‑ Contact: Jon and Sue Hacking -- HackingFamily.com, svOcelot.com. All rights reserved.