Tobago Cays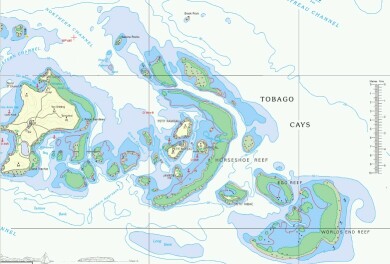 Click on the map to see an enlarged version
The group of small islands sprinkled between St. Vincent and Grenada are collectively called the Grenadines. The Tobago Cays, a group of small, unpopulated islands and beautiful reefs are part of the St. Vincent Grenadines. The largest islands in the SVG include Bequia, Mustique, Canouan, Union, Mayreau, Palm, and Petite St. Vincent. The last two are actually private resort islands. The Tobago Cays are so delightful and we spent so much time there that we decided they needed their own page.
Visited: We visited the Tobago Cays three times in July and August, 2002. First by ourselves, meeting up with cruising friends on Sea Eagle and Fruity Fruits. Then with John & Becky in July (when we spent almost 2 weeks here, just hanging out) and again with Kenny and his dad, Casey, in August.
(Amanda, age 13) The Tobago Cays, although I don't know why they're called that, because the island Tobago is very far south from there, are located in the St. Vincent Grenadines, just east of Mayreau. There are five very small islands, protected from the open ocean by two horseshoe-shaped reefs. The outer one is too far out, too deep, and not protected enough to anchor out there for a night, but inside the inner reef, in and amongst the islands, is protected, clear, and very shallow. Very shallow meaning that there are several parts of the reef barely covered by water, and that we anchored in six feet and fell back to about eight. It's very disconcerting to be snorkeling by your boat and see more of the boat itself than the water below it.
We snorkeled on the shallow part of the reef a bit, but there was a fierce current and it was so shallow that it was hard to stay in one place, and most of the coral heads were bald from people standing on them, that there wasn't much to see. When we went out the dinghy pass to the deeper part of the reef, it was amazing. There was great visibility, and not much current pushing you into the reef. There were lots and lots of fish, and it was truly a real coral reef.
The islands held less interest for me than the water, but you could walk up the highest one in the evening and get a beautiful view of the sunset behind Mayreau. The swimming on the beaches was okay, although you had to watch where the coral was when coming in in the dink. Also, you had to watch out when it rained because there were several manchineel trees (poisonous, like poison oak) spread across the islands.
On the beaches themselves, there were T‑shirt salespeople, selling shirts, mainly saying things like "Sail fast, live slow" or "Sail more, work less." Very good advice, and we're trying the best we can.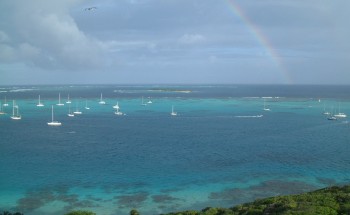 Rainbow over the magnificent Tobago Cays
(Sue) Oh, how horribly diluted one's memory can get. I truly had no visual recollection of the beauty of the Cays. I had been here once in 1963, and about 4 times in the 1980's. Maybe seeing it through the eyes of the kids and then our visitors really helped cement it firmly in place. I love looking over the side of the boat at aqua colored water, like floating on a giant swimming pool with a white sand bottom. We spent a lot of time here snorkeling, either taking the dinghy from the boat to one of many mooring balls placed along the reef edge or swimming right off the boat. It was also a lovely place for dinghy sailing and windsurfing. The boat boys come over from Union Island with fish, veggies, fresh bread, and souvenirs like T‑shirts and bead jewelry. My favorite was Sydney on his boat Mr. Surprise. He had different caps over his dreadlocks every day, and was always happy to chat even if I didn't buy anything. He has 9 children living in Germany, St. Vincent, Union Island, and New Jersey. When he spoke of his German wife and his years living in Europe, he recalled how worried he'd been to move there. "I grew up learning that white people are bad. But when I met all my wife's friends and relatives I realized that what I had learned was wrong. We have to emancipate our minds," he said.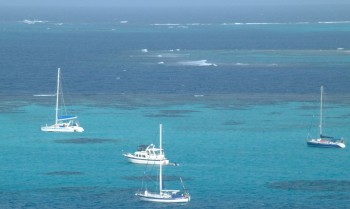 Ocelot (on the left) anchored in Tobago Cays
(Jon) The Tobago Cays are stunningly, amazingly, incredibly beautiful. They are the best of what you think of when someone says "Caribbean" or "South Pacific". Water colors that range from deep navy blue through all shades of aquamarine and turquoise to a pale swimming pool shade over the shallow sand, punctuated by the glistening yellows and browns of the coral reefs. We're anchored in 8' of water and even by the moonlight I can see the anchor chain on the fine, pure white sand. There are inhabited islands 5‑10 miles away (and 4-‑5 uninhabited islands a bit closer) but there are no lights to interfere with the stars at night. We're behind a series of horseshoe shaped coral reefs, but there's no real land in front of us until ... Africa. The snorkeling (we often go twice a day) is breathtaking, with visibility in excess of 100 feet (30m), huge schools of colorful tropical fish, turtles, and an uncountable collection of both hard and soft corals in all colors (we need an underwater digital camera!) When we're not snorkeling we go windsurfing, dinghy sailing (especially the kids and their friends), exploring the islands, and visiting friends. There are usually 30‑40 boats here (it could hold 3x that many) and we know several of them. Truly a paradise.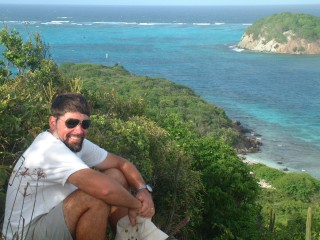 A favorite vantage point, with
part of the reef in the background
(Chris, age 15) The Tobago Cays are, to me at least, the ideal little tropical region. Take a few little sand islands, with a few palm trees and cacti on them, and place them around a bay of transparently clear, pale blue water that you can see through for a hundred feet. The water should range from 4‑5 feet, where somebody can stand, to 15‑20 feet, allowing even large boats plenty of draft for anchoring. The bottom should be white sand, clear and clean, except between the islands. There, place coral reefs of such size, color, and complexity, with so many fish and other reef creatures, that it is so beautiful you only want to float and watch it beneath you. Further out, past the islands, the reef slopes steeply down, going through several kinds of corals and fish, until it is so deep that anywhere else, you would need tanks to explore it. However, the water seems as clear as air, and you can look all the way to the bottom. A true tropical paradise.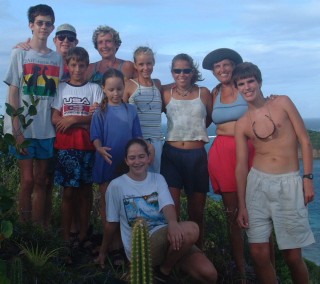 The families from Sea Eagle, Fruity Fruits
and Ocelot in the Tobago Cays
The joy of the Tobago Cays was further enhanced by the company of so many other wonderful people. Many friends on other boats (including the kids on Sea Eagle and Fruity Fruits) were in the Tobago Cays along with us.
Cruisers: We are now publishing Downloadable Track Files in OpenCPN (.gpx) format and in MaxSea (.ptf) format (not all tracks are available in all formats yet - we're still working on it and they take time). You can download the track files either by clicking on the links in the tables below, or by clicking on the track in the Google Map below the table. The MaxSea files are in native format but the OpenCPN files are zipped so they download faster, and they need unzipping after they've been downloaded (which most operating systems do natively). If 2 files are shown, the smaller one has been edited to remove redundant points from straight tracks. This improves the speed of the download as well as performance once the file is loaded. Sometimes MaxSea Track files are separated from the Mark (chart notations) files. Download instructions are provided if you need them.
These files are provided free and we are actively soliciting cruisers to send us your track files so we can post them for others to download. If you would like to to participate, please email us your track files (as attachments to our HackingFamily account, not our Winlink acct) along with your boat name and draft. If you include your website and boat details, we'll link back to you from our Cruising Links page.
Disclaimer: While we always try to provide useful information, we can take no responsibility for its accuracy or usefulness. Prudent mariners will always navigate using all means at their disposal, and will not rely solely on electronic navigation.
Southeast Caribbean Sailing Tracks
| | | | | | |
| --- | --- | --- | --- | --- | --- |
| Boat | Draft | Year | Comments | MaxSea | OpenCPN |
| Taniwani | 6.6' (2m) | 2005 | Grenadines | 12 KB | 6 KB |


See Taniwani's SE Caribbean Sailing Tracks in a larger map
Windwards: Up | Martinique | St. Lucia | St. Vincent | Bequia | Tobago Cays | Carriacou | Grenada
Caribbean: Leeward Islands | Windward Islands | Venezuela | Southwest Caribbean | Tobago Cays Ecoregion | Caribbean Provisions | West Indies Flora & Fauna
Top Level: Home | Destinations | Cruising Info | Underwater | Boat Guests | Ocelot | Sue | Jon | Amanda | Chris | Site Map | Make a Comment
---
Lifetime
Commodores
of the
Seven Seas
Cruising
Association

If our information is useful,
you can help by making a donation
Copyright © 2000‑ Contact: Jon and Sue Hacking -- HackingFamily.com, svOcelot.com. All rights reserved.