Casey & Kenny Quayle
August 18 - August 28, 2002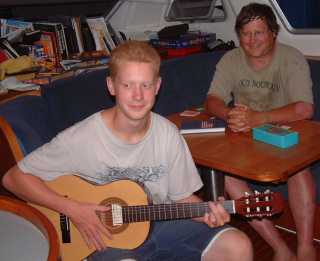 Kenny (with Amanda's guitar) & his dad Casey
Chris had always expected that his friend Kenny would come to visit, and in Grenada, a week after Chris's 16th birthday, he did. We met Kenny and his dad Casey at the airport, with most of their baggage (the remainder arrived the next day) and took them back to Ocelot. They quickly settled in and that evening, while Casey was enjoying the sunset and a tropical rum punch, Jon sent an email back to Casey's wife and family to let them know the guys had arrived safely. When Jon asked Casey if he had any message for his wife, Casey replied, "Maryann who?"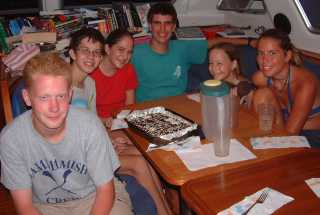 Kenny, Michael, Chrissy, Chris, Asia,
and Amanda at the party
After spending our first full day shopping, playing games, and eating at the famous Nutmeg Restaurant, we sailed off to Carriacou, just NE of Grenada but still in the Grenada Grenadines. Strangely enough, the wind was NE and we had to beat to windward, but we made it and rendezvoused with Sea Eagle for Chris's 'Second 16th Birthday Party.' Cakes, gifts, games, and general fun ensued.
This being hurricane season in the Caribbean, we watched the weather pretty closely, and yet another "Tropical Wave" was passing over us, bringing hard rain and thunderstorms. So we spent the next day snuggled up in Carriacou as well, watching one of the many DVDs Kenny had brought with the kids on Sea Eagle.
After a brief stop at Sandy Island, Carriacou for lunch the next day, we cruised up to the beautiful resort island of Petite Saint Vincent (PSV). Chris and Kenny (who is in track) went for a jog around the island and decided it was much harder than in (cool) Washington State. We had fresh caught barracuda for dinner that night, one of our first caught since we started.
| | |
| --- | --- |
| Kenny with guitar, and Chris with a new game | Casey enjoying the bow pulpit as we sail |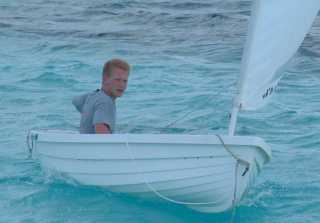 Kenny out for a sail in Nikka
We only stayed at PSV for one day before we cruised off to the paradise of the Tobago Cays. We spent two full days there, enjoying the reef and wondering at the strong winds and frequent rain squalls. We did meet another boat with a boy on it about Chris and Kenny's ages, watched more DVD movies, and tried both sailing and rowing Nikka, our sailing dinghy. The first was scary in that much wind, and the other was a bit futile.
Eventually we had to leave the Tobago Cays, so we sailed (downwind, this time) back to St. Georges, Grenada. In fact, we had such a good wind point that we got out the spinnaker, and while cruising down had the superb luck to catch another barracuda. This was by far the best fishing we'd had. Like the first, it was delicious, and we cooked it slightly differently for more variety.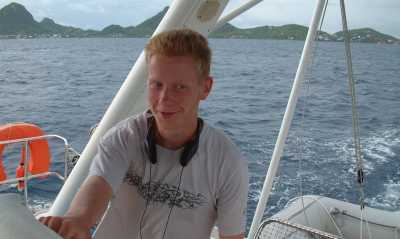 Kenny enjoying a nice sail from the cockpit
On our last full day with Casey and Kenny we had planned from the start to take an island tour, since Grenada is a large and well-developed island with its own culture. Sea Eagle had sailed down from Carriacou, and we all went on a tour with a local driver. We saw a solar-powered chocolate factory that made delicious dark chocolate, and took a tour of their machines as every part of the process was explained to us. We also went to a nutmeg factory, where nutmeg and mace were sorted and processed. Again, we toured the facility, watching the workers and smelling the constant aroma of nutmeg.


Amanda, Chris, and Kenny at Annandale Falls
We also went to Annandale Falls for a bit of swimming and to look at the rainforest plants, having lunch at a nice little restaurant. After the tour, Mike and Chrissy from Sea Eagle came over and we all watched a movie. Very, very early the next morning, Kenny and Casey got up, signed our guest book, and got in the dinghy with their baggage to go to the airport.
Excerpts from Kenny's entry in our guest book, "Well, Ocelot is a very cool boat, and I had a great time. I believe I can speak for my dad on the matter as well. I suspect getting used to life on a boat takes more than 10 days, but at least I could help a little by the end. So sad to be leaving." Casey added, "So long, & thanks for the fish [with apologies to Douglas Adams], a great time, and some wonderful memories."
Up | Colin Hacking | Karen and Jon | Harshbargers | Angelos | Carolyn & Lexi | Terry & Gina Cole | Emilie Cobb | John and Becky | Casey & Kenny Quayle | Tony Hacking & Family
What to Bring | 2002 Visitors | 2003 Visitors | 2004 Visitors | 2005 Visitors | 2006-11 Visitors
Top Level: Home | Destinations | Cruising Info | Underwater | Boat Guests | Ocelot | Sue | Jon | Amanda | Chris | Site Map | Make a Comment
---
Lifetime
Commodores
of the
Seven Seas
Cruising
Association

If our information is useful,
you can help by making a donation
Copyright © 2000‑ Contact: Jon and Sue Hacking -- HackingFamily.com, svOcelot.com. All rights reserved.