John and Becky
July 13 - July 30, 2002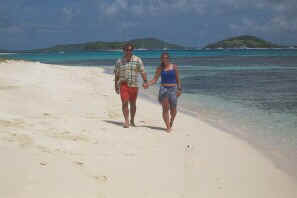 Love-birds in Paradise
When we extended the invitation for any of Amanda's teachers from the Environmental and Adventure School in Kirkland, Washington, to come visit us, we were thrilled to get a response. John Hamilton (Amanda's PE and art teacher) asked if we could put up with him and special friend (now wife) Becky for a week or so. To make a not so long story even less long -- we had so much fun together that they stayed a full 2 weeks with us!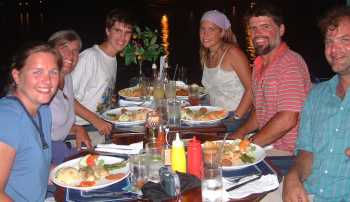 Dinner at the famous Nutmeg Restaurant
Given that it was hurricane season, we gave ourselves a pretty slack itinerary, always ready to change it for weather problems. We met John & Becky in Grenada, and had Sue's birthday anchored in the clear water off St. Georges. It was a day of total cruising fun, trying out the windsurfer and sailing dinghy and having dinner ashore at The Nutmeg on the St. George's waterfront. The next day we had fun walking St. George's fort and markets. Then John & Becky took off on their own bus adventure to Seven Sisters waterfalls as a preview to the next day's full day tour by bus.
| | |
| --- | --- |
| Sue & Becky in the St. Georges market | We joined another cruising family from Colorado with 2 teenage boys and were driven in a minivan around most of the northern part of Grenada. We toured a spice "factory" (processing plant is more like it), had rotis (curry-filled wraps) for lunch in Grenville on the eastern shore, toured a 17th century (but still operating) rum factory with horrid tasting rum (white lightening), and then slid down a long trail through a nutmeg plantation to cool waterfalls and swimming holes in the rainforest. |
| | |
| --- | --- |
| Lunch in Grenville on our Grenada Tour | John (under waterfall) & Becky & Amanda at 7 Sisters waterfall |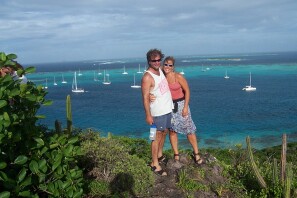 John & Becky overlooking the Tobago Cays
After provisioning for our jaunt north to the Grenadines, we sailed up the west coast of Grenada and out into the passage through the Grenadines, with a landfall in Carriacou. Of course we had to check out "the Old Rum Shop" where Jon and Sue had first met Jack Iron Rum in 1982 and barely lived to tell about it (let alone remember it.) John treated us to Jack Iron rum punches, and they were as good and as wild as way back when.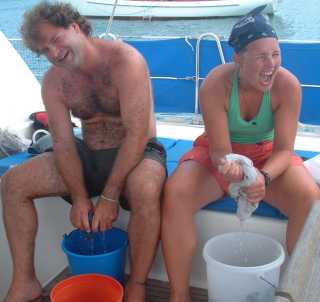 Slave labor in Paradise
The next day we sailed up to the Tobago Cays where we hung out for over a week in that clear pale blue water with white sand and cool snorkeling. Some of the highlights: snorkeling on the outer reef (a drop off of about 60 feet, with the feeling of swimming in a huge aquarium), exploring the Land's End reef far to the east of the anchorage by dinghy, walking the islands and meeting the huge noisy pigeons, and sharing meals with cruising friends.
After we introduced them to the pleasures of laundry on a boat, they hitched a ride on another cruising boat over to Union Island. They say it was to spend a couple nights on their own but we're sure it was the growing pile of Hacking family laundry that sent them away.
We did lots of conch hunts, but came up empty-handed. The conch are found deeper and deeper, and seem to be taken even immature. 'Tis no way to preserve the species. What a crime. We did, however, find one really small one at Windward, and watched it doing its gymnastics on the boat before we tossed it back in the water.
| | |
| --- | --- |
| Immature Queen Conch (was returned to the ocean) | Singing in the cockpit in the evening |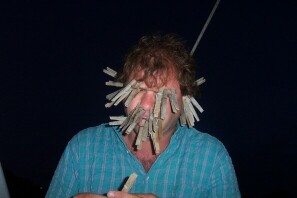 Would you let THIS man teach your kids?
But we weren't always going somewhere and doing something - we had several relaxing nights on board where we would play guitar, read, write in journals or see how many clothes pegs we could stick on our faces.
Just before they left, we sailed back to Carriacou via Mayreau, the private resort island of Petit St. Vincent, Petit Martinique, and a cool isolated anchorage on the windward side of Carriacou called "Windward". On their last day we walked the 3 streets of Hillsborough, had our last beers, and saw them off on the ferry for Grenada. What a great time it had been! Complete with Becky's favorite part of snorkeling: nurse sharks! Right there. Right in front of us. Right underneath her!
Up | Colin Hacking | Karen and Jon | Harshbargers | Angelos | Carolyn & Lexi | Terry & Gina Cole | Emilie Cobb | John and Becky | Casey & Kenny Quayle | Tony Hacking & Family
What to Bring | 2002 Visitors | 2003 Visitors | 2004 Visitors | 2005 Visitors | 2006-11 Visitors
Top Level: Home | Destinations | Cruising Info | Underwater | Boat Guests | Ocelot | Sue | Jon | Amanda | Chris | Site Map | Make a Comment
---
Lifetime
Commodores
of the
Seven Seas
Cruising
Association

If our information is useful,
you can help by making a donation
Copyright © 2000‑ Contact: Jon and Sue Hacking -- HackingFamily.com, svOcelot.com. All rights reserved.