Eleventh Day – Horse Riding and Hot Springs
When I woke up the next morning, none of the owners of the ranch could be found. My mom and Alan had gone on a bird-watching trip early and had not returned yet, but none of the rest of us had any idea where the owners had gone. Even when the birders got back, about ten o'clock, nobody knew where the owners were. When they did finally return, all I heard was that some young woman had run off with a man sometime during the night, and her whole family had gone out to find them. We did get breakfast, then went down and looked at the horses.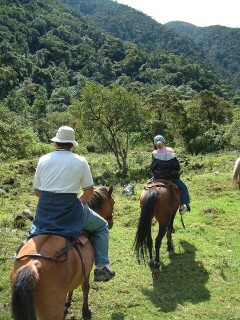 There were several people attending a number of horses and a few mules. We were told that the first ride would be up a steep mountain trail. After that ride, anybody who wanted to would be welcome to go for a much faster ride along a river. The horses were brought out and matched to riders. Once we were all mounted, we rode out to the base of the trail.
Riding a horse is much nicer than riding a mule, though it does have some risks. Horses are more likely to go too fast for you and cause you to fall off, and they are much more likely to hurt themselves. However, they have a much more comfortable gait and are often much taller than mules. The horse I was riding was much better suited to my height than either of the mules I had ridden, and it was eager to go faster than a walk. I restrained it at first, but when I stopped to fix my stirrup, it gladly trotted to catch up.
The ride up the trail was fun on horseback, though I would not have wanted to take it on foot. For one thing, the trail was narrow and muddy. No doubt, hundreds of horses had ridden up this trail, and their hooves had churned the path to a mud so thick that in places the horses hooves would sink entirely in. For another thing, riding gave me a chance to look around, which was nice because I could look around at the lush forest, and look down into the valley when we got high enough. At least as importantly, however, with the horse dealing with the path, I could watch for the amazing number of sticks, branches, cobwebs, etc. that stretched into or across the trail.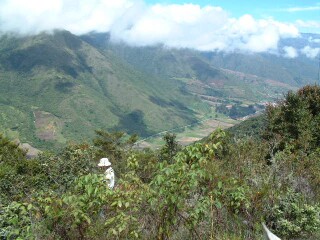 Most of the trail required the horses to go slow, but even though mine had worked up a sweat on the steep path, it still wanted to go faster whenever possible. I found myself wondering how it was going to handle the downhill ride. I have not had much experience on horseback, and this was the first horse I had ever ridden which wanted to go faster whenever possible.
When we reached the top of the trail, we dismounted and looked around the viewpoint. We had clear views into the valley we had ridden up from and another that was partway around the mountain. Something gives a great feeling about being able to look down and see the land stretched out below you like a living map. We were so high above the valleys that individual buildings looked like dots, and the rivers that had carved the valleys looked like little more than shimmering lines of blue. Looking around at the mountain slopes, I saw verdant cloud forest and pristine peaks. The nearest mountains were too small to have snowcaps, but some of the distant Andes had brilliant white peaks. The sun was bright, though the day was not too hot, and the air was perfectly clear.
After the horses had rested and everybody had enjoyed a good look at the view, we remounted and started down the path again. Dan from Pelican and Beatrix (who rode very well) were the first people out, and I was only a little behind them. My horse showed the same wish for speed going downhill as it had uphill, jumping over rocks and trying to trot wherever there was room. It made for a very fast ride, considering how narrow and steep the trail was. I passed Dan and caught up with Beatrix before we got back to the bottom of the valley where we had started up the trail.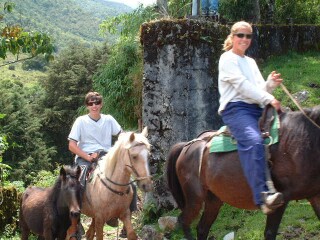 Beatrix and I were at least five minutes ahead of everybody else, so we had a while to run (I use the term very loosely; I mostly trotted or cantered) around the field by the river while we waited for the others. When they arrived, we split into two groups; those of us who wanted a faster ride continued down the river, and everybody else went back to the ranch.
I went for the fast ride along the river. It was superb! We started at a trot, and cantered where we could. My only real regret was that I was not enough off a rider to try a gallop, though my horse was certainly willing. There was only one small mishap, when Amanda's saddle straps came loose, and her whole saddle came off. However, she landed on a soft field, and once one of the ranch workers fixed her saddle, we rode on.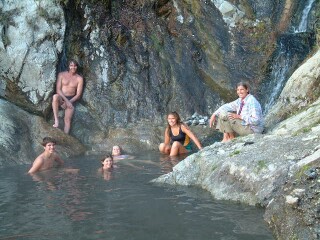 The river ride didn't last very long, but it was incredibly exciting and I enjoyed it immensely. I get to ride extremely rarely, and look forward to every chance I get. This ride was the fastest and most exciting I had ever taken. At over three hours, it was also quite possibly my longest ride (the mules do not count.) When we got back, it was afternoon, and lunch was ready. After a superb meal, which came with a surprisingly tasty mix of carrot and orange juices to drink, we all put our luggage back in the van and began our drive back to Mérida.
We were actually in a bit of a hurry, since we wanted to stop at a hot spring before we got back the city, and there was a long distance to cover. Even so, it was past three o'clock before we reached the trail to the hot spring, and the trail took an hour to get to the spring. All of us except Dan went up, and the effort to get there was worth it. The water was warm and relaxing, and made a good end to an exciting day. There were inlets of both hot and cold water into the pool, so the water was a different temperature depending on where you sat. We stayed in the pool until some workers came and told us they had to drain it and clean it out, so we watched them open a drain I had not noticed as we got out. It was past five o'clock when we got back to the car, and we immediately started back into Mérida. Even so, it was fully dark when we got back. Alan dropped us off at our posada, and we had a small dinner before quickly falling asleep.
[ Home ] [ Energy Budget ] [ Spice Factory ] [ Indian River ] [ Carnival History ] [ Emerald Pool ] [ Inland Venezuela ] [ Panama Canal ]
[ Day 1 ] [ Day 2 ] [ Day 3 ] [ Day 4 ] [ Day 5 ] [ Day 6 ] [ Day 7 ] [ Day 8 ] [ Day 9 ] [ Day 10 ] [ Day 11 ] [ Day 12 ]
Top Level: Home | Destinations | Cruising Info | Underwater | Boat Guests | Ocelot | Sue | Jon | Amanda | Chris | Site Map | Make a Comment
---
Lifetime
Commodores
of the
Seven Seas
Cruising
Association

If our information is useful,
you can help by making a donation
Copyright © 2000‑ Contact: Jon and Sue Hacking -- HackingFamily.com, svOcelot.com. All rights reserved.