Karen and Jon
February 8 - February 15, 2002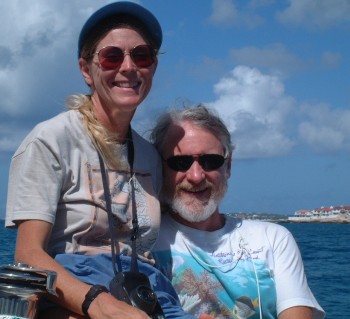 Karen and Jon, sailing off Anguilla
Like many of our first visitors, Karen and Jon came down while we were still in St. Martin working on Ocelot. Since they were our first sailing visitors, they got to be the guinea pigs to see if we could actually sail our new boat. Even motoring out through the (narrow) bridge on the French side of the lagoon was exciting for us then. Karen and Jon have been close friends of ours for many years and had visited us on our first boat, Oriental Lady, back in the 1980's. It was wonderful to have them on board once again -- this time with Chris and Amanda with us!
Karen and Jon are quite the divers and had already done several dives off Saba before they came aboard Ocelot. Since we didn't carry dive gear at the time, we took them to what we remembered as some of our favorite snorkeling spots around St. Maarten. We started with the rocks off Grande Case, St. Martin, and then went north to Anguilla and Crocus Bay.
Anguilla is a favorite old stomping ground for us - in the '80s we ran a day-charter catamaran for a year, doing a picnic/snorkeling trip from Marigot Bay, St. Martin to little reef enclosed Sandy Island off the NW coast of Anguilla. It was a delightful trip with good coral, ample beaches, nice shade, and swimming pool quality water inside the protected reef. Unfortunately, several hurricanes have hit the area since we worked there, uprooting all the trees and destroying the reef, so we avoided it this time and anchored instead in beautiful Crocus Bay on the western Anguillan coast.