Bonaire
| | |
| --- | --- |
| Language: | Papiamentu, Dutch, and English |
| Population: | Unknown, but not many |
| Money: | As of 2010, the official currency of Bonaire is the US Dollar. Previously it used the Netherlands Antilles Guilder (also called the Florin), at about FL1.81/US$ in 2003 |
| Landscape: | Arid, with cacti and thorn trees. Highest elevation about 1200 feet. Wild donkeys roam the countryside. |
| Visited: | January 10-22, 2003 |
| Cruising Tracks: | Pretty simple, but available at the bottom of this page |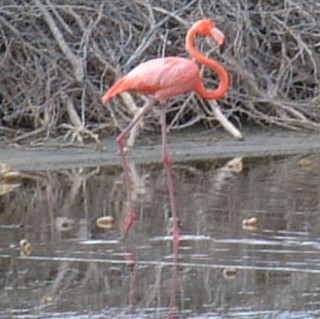 Hundreds of American Flamingos live in Bonaire
History: Bonaire's history is very similar to that of Curacao. It was first colonized by the Spanish, and then the Dutch took over. It changed between Dutch and British hands for a while before the Dutch finally gained full control. Unlike Curacao, however, Bonaire has never had a large population. Slaves were brought in to harvest the huge salt works, but Bonaire has no oil refineries, and fuels bring the Netherlands Antilles some 95% of their exports.
However, Bonaire has excellent reefs around it, and takes great efforts to maintain the underwater ecology. For instance, you are allowed to carry firearms on your boat, but if you have a spear-gun, Customs will seize it until you leave the island. Tourism, mostly the absolutely superb diving, is the major contributor to Bonaire's economy.
(Amanda age 13) Kralendijk was a cute little town, safe and spiffy. Road signs, though, or things in the little supermarket, were either in Dutch or Papiamentu, which is a mix between English, Spanish, French, and Dutch. It's actually a very smart language. For example, instead of writing "calle," (Spanish for street) they spelled it "kaya," which is something anyone can pronounce. They also changed many French words to be spelled reasonably, without so many silent or swallowed letters.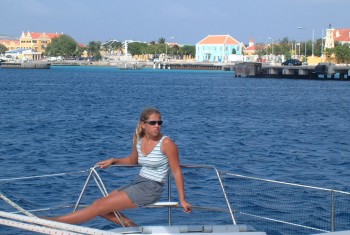 Sailing fast and flat into Kralendjk, Bonaire
Chris was much more enthusiastic about it than I, but we also spent a lot of time in the water in Bonaire. Not just swimming, though, or snorkeling, which we did do a bit, but SCUBA diving. Dad, Chris, and I all got certified (Mom has been for years), although I'm only a "Junior" Open Water Diver, meaning that I'm younger than 15 and have to dive with an adult at all times. Oh well... I hadn't planned to do it by myself anyhow.
We did 4 dives for the course, and man, that was like getting a whiff of the cake fresh out of the oven and then not getting any. Since then, we've been meaning to look for used equipment to buy - renting is just too expensive over and over - but somehow we didn't get around to it until Tahiti. The diving is wonderful in the South Pacific, or so we're told, but you can't really enjoy it out in the deserted little islands if you don't have any equipment, or even a wetsuit. The South Pacific water is cold, at least compared to the Caribbean. I would hate to only be able to go swimming for ten minutes before I have to get out. What's the point?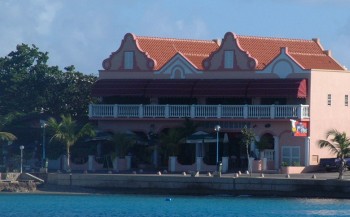 Dutch facades give the town a
unique look in the Caribbean
(Chris age 16) I really liked Bonaire. It had almost everything I look for in a cruising destination: lots of boats and other kids, easy access to shore, nice landscape (though I prefer lush forest to arid coastline) superb reefs, and access to both supplies and the internet.
The thing I liked most about Bonaire, however, was that although the best of Bonaire's reefs are at forty feet or deeper, we were able to explore them from perhaps four feet above the coral. My dad, sister, and I all took PADI SCUBA classes and got certified for open water diving! This is something I have wanted to do since I was twelve, and while we haven't actually used our cards yet, the course included four practice dives with our instructor where we went out into the clear water and down to what is perhaps the best-protected reef in the whole Caribbean. What a sight! Any direction I looked, including up, fish of all sorts swarmed all over the place. We saw eels, flounders, more types of coral than seemed possible, and lots of other amazing things. For our last certification dive, we took our dinghy and the four of us (counting the instructor) went out to a very nice reef where we went down to 65' (20m) and stayed more than half an hour. It was wonderfully fun, and now that we have our cards, we are looking for other places where we might go diving or might buy cheap equipment.


Exploring the rugged east coast of Bonaire
(Jon) Bonaire really is a cute island, as expensive as most tourist destinations are, but I guess you get what you pay for. For instance, the reefs are all protected so they didn't allow us to anchor. Instead, they provide very nice moorings - for $6/day. But the diving is superb. Visibility underwater (sometimes measured in inches in Puget Sound) often exceeds 200' (60m). Both Bonaire and Klein Bonaire are fairly steep to, but they're surrounded by the most amazing coral and sea-life. I'm not sure why Bonaire gets both the clear water and the abundant sea life, but I'm glad it does. Even short dives can be visually overwhelming.
Ashore, the town of Kralendijk is also cute but expensive. Nice little stores for shopping and a delightful promenade along the waterfront, but prices such that we didn't eat ashore unless we had to. Outside the town the island is low, dry and scrubby, with a (windmill powered!) salt evaporation operation taking up the southern quarter of the island. We rented a car with Bill & Mary and drove all over the island, but aside from some vistas and flamingos, there wasn't much worth mentioning. I'd have to say Bonaire's beauty is mostly below the water.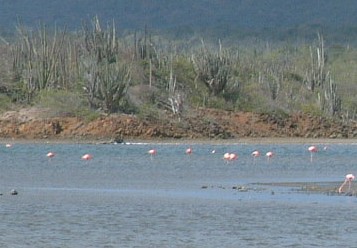 The pink dots in the water are all flamingos
Strangely enough, while Bonaire works hard to protect its coral, it doesn't seem to be as diligent with its animals. Yes, they make you give up your spear guns, but on the eastern side of the island we found mounds of conch shells. This is not too unusual, but what bothered us is that the new shells were all immature. A Queen Conch normally reaches maturity in 5-6 years, and the female will then lay 500,000 eggs a month, but taking the babies will quickly kill off the species. Strange that an otherwise ecologically sensitive island would miss that.
(Sue) Bonaire was every bit as lovely as I remember it from 1987 -- the water a gorgeous clear aqua, the town neatly Dutch and small enough to explore on foot. Unfortunately I was still dealing with my back/hip problem so I spent most of my time here going back and forth to the doctor/hospital/physical therapist offices. With Mary Crane here to visit, I felt like I had a personal nurse on board!
I was especially thrilled that Jon, Chris and Amanda were able to get their SCUBA certification here, so now we're a family of 4 divers! I did get out on one car excursion to see the resident flamingoes which was a real treat.
I had great fun with the Papiamentu language pulling bits of Spanish, Portuguese, and Dutch/German from each word. The spelling was wonderful: using "k" for the hard "c" of Spanish, and "y" for the "ll" (making calle into kaya.)
Cruisers: We are now publishing Downloadable Track Files in OpenCPN (.gpx) format and in MaxSea (.ptf) format (not all tracks are available in all formats yet - we're still working on it and they take time). You can download the track files either by clicking on the links in the tables below, or by clicking on the track in the Google Map below the table. The MaxSea files are in native format but the OpenCPN files are zipped so they download faster, and they need unzipping after they've been downloaded (which most operating systems do natively). If 2 files are shown, the smaller one has been edited to remove redundant points from straight tracks. This improves the speed of the download as well as performance once the file is loaded. Sometimes MaxSea Track files are separated from the Mark (chart notations) files. Download instructions are provided if you need them.
These files are provided free and we are actively soliciting cruisers to send us your track files so we can post them for others to download. If you would like to to participate, please email us your track files (as attachments to our HackingFamily account, not our Winlink acct) along with your boat name and draft. If you include your website and boat details, we'll link back to you from our Cruising Links page.
Disclaimer: While we always try to provide useful information, we can take no responsibility for its accuracy or usefulness. Prudent mariners will always navigate using all means at their disposal, and will not rely solely on electronic navigation.
Bonaire Tracks
| | | | | | |
| --- | --- | --- | --- | --- | --- |
| Boat | Draft | Year | Comments | MaxSea | OpenCPN |
| Taniwani | 6.6' (2m) | 2005 | Great Diving | 2 KB | 2 KB |


See Taniwani's Bonaire Tracks in a larger map.
Up | Bonaire | Curacao | Passage | San Blas | Portobelo | Chagres River | Canal Transit | Transit Cruising Info
Leeward Islands | Windward Islands | Venezuela | Southwest Caribbean | Panama Newsletters | Bonaire Diving | SW Carib Flora/Fauna
Top Level: Home | Destinations | Cruising Info | Underwater | Boat Guests | Ocelot | Sue | Jon | Amanda | Chris | Site Map | Make a Comment
---
Lifetime
Commodores
of the
Seven Seas
Cruising
Association

If our information is useful,
you can help by making a donation
Copyright © 2000‑ Contact: Jon and Sue Hacking -- HackingFamily.com, svOcelot.com. All rights reserved.