Singapore
Caribbean Destinations | Pacific Destinations | Indian Ocean Destinations | Pacific Newsletters | Indian Ocean Newsletters | Flora and Fauna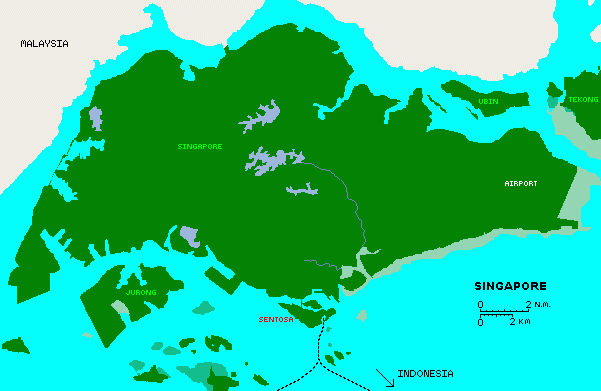 Language: English, Bahasa Malay, Mandarin, Tamil
Population: About 3.5 million, with 77% ethnic Chinese, 14% Malays, 8% Indian plus others. The main religions are Taoism, Islam and Hinduism. Second highest national population density in the world (Monaco is first).
Money: The Singapore dollar, worth about 1.75 to US$1 in 2006
Landscape: Located at the southern tip of the Malay Peninsula, Singapore is flat, with several adjoining islands, all surrounded by water and mangroves. The "landscape" is mainly high-rise buildings, but there are some lovely parks. There are active land reclamation projects.
Visited: 26 October to 3 December 2006.
Accommodation: For good quality accommodation in Singapore, check out the excellent Singapore Hotels website.
Brief History: Located at the southern tip of the Malay Peninsula, Singapore has long been a shipping/trading center. Even in the 11th to 14th centuries it was considered part of both Malay and Javanese kingdoms, but it fell from importance and the settlement was destroyed in the 13th century when the town of Malacca (Melaka) on the Malay Peninsula supplanted it as a trading center. For hundreds of years the area was occupied only by fishermen in small settlements.

Singapore street scene 1800's
In 1819 Stamford Raffles, the British lieutenant-governor of Java, received permission from the British government to build a city on Singapore island, knowing that all ships sailing between the Far East and Europe had to pass this point. By playing clever politics with an older sultan against his son, Raffles soon had a treaty that allowed British rule alongside the sultan. Singapore became a magnet for workers from SE Asia and China in particular, and a major trading center. A fort was built on the coast of Singapore, trade flourished and the East India Company raked in profits from all the ships that passed through. Raffles built the city to a grand plan with botanical gardens, covered walkways, shopping districts, and the population divided "neatly" into ethnic districts. Much of his original city plan is still in evidence today.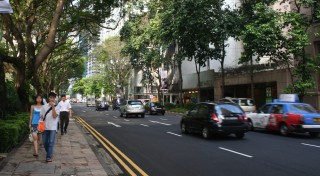 Street scene in modern-day Singapore
The British maintained an extensive military presence in the area during the 1800's and early 1900's. During WW II the British were forced to surrender to the Japanese who had marched down the Malay Peninsula into Singapore in huge numbers. The city lived under harsh Japanese rule from early 1942 to late 1945 and was returned to the British at the end of the war. By 1959 Singapore became an independent member of the British commonwealth. Lee Kuan Yew ruled as Prime Minister from 1959 to 1990, seeing the small nation through a disastrous two-year joining with Malaysia when there were major ethnic struggles (1963 to 1965) after which it became an independent state. Lee Kuan Yew ruled with heavy-handed social and political policies, but overall the small country has enjoyed a booming economy, now based on services and technology more than maritime trade.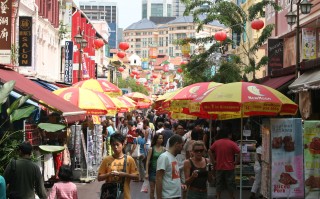 A street scene in Singapore's Chinatown 2006
(Amanda) It was extremely bizarre to sit in a marina in first-world Singapore and look out across the shipping lanes at Indonesia. Our cell phone still got Indonesian coverage. So close together, and yet centuries apart. They'd just built a new mall at Harbor Front, right by the causeway to Sentosa Island. It's massive - 5 stories (or more, I'm not sure we got to all of them!) with shops so upscale it hurts your wallet just to look at them, though we did find some 'affordable' coffee shops, handicraft stalls, and clothing shops. If anything else can still be considered 'affordable' after going through delightfully cheap Indonesia.
The malls were air conditioned, but it was more fun to hop on the Mass Rapid Transit (MRT, also air conditioned) and zoom off to Little India and Chinatown. Man were they ever hustle-bustle. Lots of people, lots of motorbikes, extremely colorful shops with flowers and wonderful cloth, local market stalls with fruits and veggies, spice shops I could hardly walk into without sneezing. Then back to the MRT and zip! - off to some other new wonder. We spent all of one day going across to the other side of Singapore to the Raffles Marina, where lots of other friends had their boats. We went for a swim in the pool, stayed for dinner, got to see all our yachtie friends before they headed up the Malay coast and left us in their ... bubbles?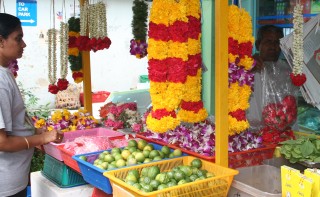 Fruit and flower stall in Little India
Of course it wasn't all fun and games, though I enjoyed the Sentosa luge and our day of museum hopping, and my friend Rachel and I spent too much time crawling the malls. We also had business we needed to do 'in the city,' as it were, though Singapore is truly one big city. The MRT, along with our cheap tap-and-go MRT pass card, got us to within blocks of all the places we needed to go - such as the US consulate, the Indian consulate, the harbormaster's office, the custom's office, the harbormaster's again... And if it was too much trouble to walk up and down the MANY flights of stairs to most of the MRT stations (or ride the escalator) many taxis were always willing to take us where we needed to go. This method was perhaps easier and more comfortable, but it was frequently more expensive and took longer. Singapore was a bit of a wake up call after lazy Indonesia, but we sure got into the swing of it quickly.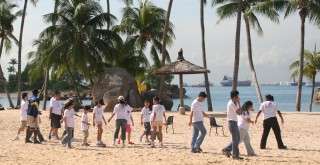 Kids on a Singapore beach. The harbor behind.
(Sue) Wow. Culture shock. Coming from Indonesia, Singapore is a blast of the "Modern World". Of course I enjoyed the opportunity to buy anything and everything we could want at the big supermarkets and malls, and I loved wandering the streets (once we'd gotten somewhere by MRT -- subway) especially in the older parts of the city. We had put Ocelot in the new (and not yet finished as of Nov 2006) One°15' Marina on Sentosa Island. Sentosa is a sort of theme park with shuttle busses that run every 20 minutes from the MRT near the waterfront. Being at the marina meant we had access whenever we wanted, and for free. (There was still a charge for entry to museums, activities, etc, but we got discounts.) There were beautiful gardens, lovely walks, evening fireworks, and (somewhat artificial) beaches.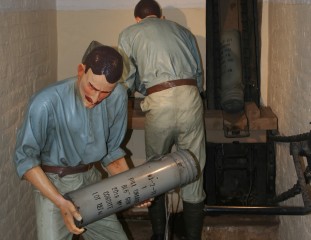 Accurate wax figures brought history to life
What I really loved were the museums. Being a product of the American school system, my familiarity with the history of SE Asia, and Singapore in particular, was pitifully small. We spent hours on the grounds of Fort Siloso (now a museum) where they take you through the military history of the area, from before the 1800's through World War II. The museum is not just empty concrete rooms bearing the names "Laundry", "Kitchen", "Look-out", etc., but each area is filled with furniture, wax "people" (even dogs!), taped sounds, and relics of that era through which you get a very authentic look at what life was like in the fort. It concentrates on the tumultuous years before and during WW II, with the Japanese invasion of Malaysia and Singapore in late 1941. The fort, built years earlier, was designed to protect Singapore from a naval attack, and could do little to defend from the Japanese land attack except to blow up the Singapore fuel depot. Although the British were on the defensive behind a large water barrier, they were overwhelmed and surrendered to the Japanese a few months later.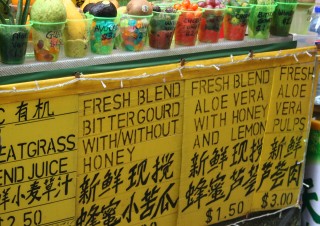 Yummy fresh fruit juice stand in Chinatown!
The Images of Singapore Museum (another of the stops on the free shuttle bus that takes you around Sentosa Island) takes a different slant, showing the settlement of Singapore from the earliest traders, the influx of Chinese, Malays, British and Tamils. It highlights the mixture of cultures, the festivals, weddings, and holidays for each. Like in Fort Siloso, beautifully fashioned wax figures bring it all to life. Learning about the history of the country helped me appreciate all the diverse people, products, signs (languages in the subway are in English, Malay, Chinese and Tamil) and religious shrines throughout the modern city. We came upon tiny Indian temples on back streets, large Chinese temples, mosques and churches. Did I mention the food? Fruit juice stands, small Chinese restaurants, Indian restaurants, Starbucks, Ben & Jerry's. Yum. What an amazing place!
(Jon) After 3 months of slow, laid-back cruising in Indonesia, Singapore was a fun blast into fast-paced modern life. All the frenetic rushing around and cars and people was actually refreshing. But it was very strange to realize that Indonesia was less than 7 miles across the narrow Singapore straits. The two countries are different enough that you'd expect them to be on different planets, not next-door neighbors, although I suppose the same could be said of the USA and Mexico.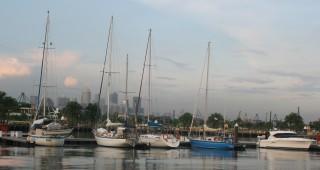 Yachts at One°15' Marina, near downtown
In some ways, Singapore could be a model of how a country should be started. It has no natural resources at all, yet it now has by far the most vibrant economy in the area, and the per-capita GNP is staggering. It's only "natural resource" if it can be called that, is its location and the forward thinking of Stamford Raffles in 1819. Like others, Raffles noticed that all ships transiting between the Far East and the Mediterranean/Middle East went past Singapore. So he proposed making Singapore a duty-free port for transshipment of goods. Almost overnight, this tiny, low, swampy lump of island became a bustling metropolis. Malacca (Melaka) just a few miles away had the same opportunity but not the guiding vision.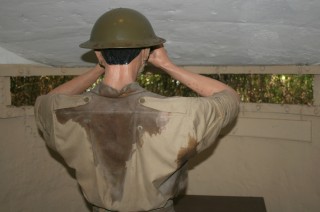 The British built Fort Siloso as defense from a
sea invasion. Note the mannequin's "sweat".
The British fortified Singapore and based some impressive military ships there, calling it the "Gibraltar of the East", but they were unprepared for the modern, synchronized air-land-sea fighting style of the Japanese in WW II. When the Japanese started moving south through Malaysia in December 1941, the British dispatched their 2 biggest cruisers, one of which had been part of the successful sinking of the German battleship Bismark - then the most feared in the world. But they were unsupported by air-cover, so the Japanese simply bombed them until they sank, accomplishing in a few hours what the Germans had been trying to do for years. Although Singapore is a relatively easily defended island, and the fort's guns had ample range to fire well into Malaysia, the Japanese were still able to cross the intervening water and take Singapore quickly. Given the number of blunders the British committed in the unsuccessful defense of Singapore, I'm surprised the commanders weren't relieved of active duty.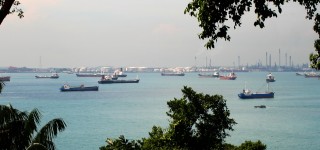 The busy quarantine anchorage in Singapore.
Our time in Singapore was actually fairly brief, as we were only there for a few days before Sue organized tickets and we flew back the the USA for a couple of months. My brother, Tony, had been diagnosed with an aggressive cancer, and my sister had organized a complete Hacking family get-together for Thanksgiving (perhaps my favorite holiday) at her new ranch. (Tony succumbed to the cancer in March, so it was good that we went back). When we returned to Singapore in early December, we realized that the entire fleet we'd been traveling with was now in Thailand, and we wanted to be with our cruising friends for Christmas.
So we quickly cleaned Ocelot up from her tropical storage (Amanda's friend Rachel was wonderful help) and charged around Singapore to see all the sights we could. Mostly this involved crawling the malls, wandering through Chinatown and the other ethnic areas, and visiting all the museums we could find. The museums were quite impressive - well thought out, well funded, and well executed. Delightful!
Up | Indonesia | Singapore | Malaysia | Thailand | Nepal | India | Sri Lanka | Maldives | Chagos | Seychelles | Madagascar | Mayotte
Caribbean Destinations | Pacific Destinations | Indian Ocean Destinations | Pacific Newsletters | Indian Ocean Newsletters | Flora and Fauna
Top Level: Home | Destinations | Cruising Info | Underwater | Boat Guests | Ocelot | Sue | Jon | Amanda | Chris | Site Map | Make a Comment
---
Lifetime
Commodores
of the
Seven Seas
Cruising
Association

If our information is useful,
you can help by making a donation
Copyright © 2000‑ Contact: Jon and Sue Hacking -- HackingFamily.com, svOcelot.com. All rights reserved.