Seychelles
Caribbean Destinations | Pacific Destinations | Indian Ocean Destinations | Pacific Newsletters | Indian Ocean Newsletters | Flora and Fauna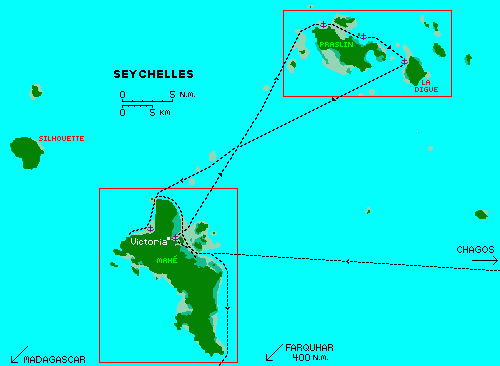 Our tracks through the Seychelles - click on the map to go to that area
Language: Creole, English and French.
Population: About 85,000, most of whom live on the island of Mahé. Most are Roman Catholic, with some Hindus and Muslims.
Money: Seychelles Rupee, officially about RS5 to US$1 in 2007.
Landscape: With over 100 islands, this country is more water territory than land. The 3 main "inner islands" are granitic, with lush forested hills, rocky outcroppings, and boulder-edged white sand beaches. The "outer islands" are low sand islands or atolls.
Visited: 5 July to 27 September, 2007.
Be sure to check out our Seychelles Newsletters for more of our stories and photos! Cruisers, see our Seychelles Cruising Info page for the practical bits.
History: Isolated by over 1,300 miles of Indian Ocean, the Seychelles have no true indigenous population. The first seafarers to pass the islands were probably the Portuguese or Arab traders. For many years the islands housed pirates who plundered the passing ships. In the mid-18th century the French claimed the islands, by declaring "Long Live the King" and putting up a French flag. It was almost 20 years later before the first settlers arrived: farmers who planted maize, spices and sugar cane with the aid of slave labor. For protein they feasted on the indigenous giant land tortoises. But the British couldn't let the French have any territory undisputed, and the islands changed hands more than a dozen times until they became British in 1814. One French governor was called "The Capitulator" because he ran down the French flag whenever he saw British ships approaching, only to raise it again upon their departure.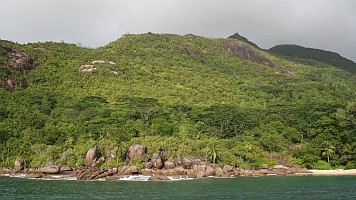 Just as wild now as when the pirates came here.
The British did little more with the islands than the French had until after abolition of slavery in 1835. Then they began bringing freed slaves to the islands, where the children were housed and educated. It became a crown colony in 1903, and languished as a backwater of the Indian Ocean until politics heated up in the late 1960's with the formation of 2 political parties and a move for independence. James Mancham, a wealthy playboy-type won the first election after independence but while he was off in Europe promoting the Seychelles as a fancy tourist destination his rival Albert René orchestrated a bloodless coup. René has held power since the late 1970's, at times declaring a one-party rule, and being subjected to numerous coup attempts. His record for improvements to the lives of the Seychellois is significant: during his years in power the islanders' standards of health and education have greatly improved, and the annual per capita income is the highest in Africa, at over US$7,000 per year at the official rate (although more like US$3,000/year at the "real" black market rate). René kept the artificially high exchange rate so he could point to the high per-capita income, thereby getting more foreign aid money. René stepped down in 2004 to the new president, James Michel. The islands are still known for their upscale tourism with some very exclusive resorts on isolated atolls. Bird life is prolific with many endemic species and huge colonies of sea birds such as terns and noddies. The far-flung atoll of Aldabra, the most Southwesterly land in Seychelles, is a World Heritage Site, as is the lush, primeval forest of Vallee du Mai on Praslin.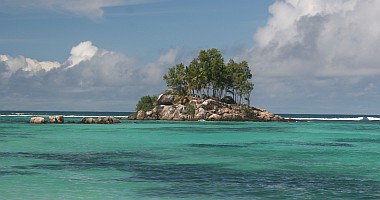 Granitic islands in a tropical sea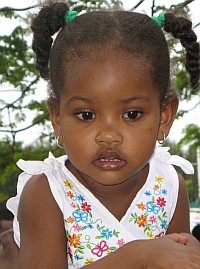 Little Seychelles beauty
Ocelot Overview:
The Seychelles have long held an appeal as a cruising destination but we had not expected to actually get here on this trip with the family. How beautiful they are! And what a pleasant surprise to find the standard of living so high while retaining a sense of tradition. If we had any disappointment is was to do with the underwater world -- the reefs around Mahé suffered from coral bleaching in the late 1990's and effects of the tsunami in 2004 and have barely begun to recuperate. Also, the season we were there was not known for its water clarity. Ah well. There was plenty of wonderful stuff to do on shore, and some great sailing. For those lucky enough to spend many months there (or to return over and over) there are 2 distinct seasons -- one with the winds from the SE and one with the winds from the NW. That means that anchorages which are untenable in one season are perfect in another. And no matter what the season, the hiking is superb!
Mahe Island | Praslin & La Digue | Farquhar Atoll | Seychelles Newsletters | Seychelles Cruising Info
Indonesia | Singapore | Malaysia | Thailand | Nepal | India | Sri Lanka | Maldives | Chagos | Seychelles | Madagascar | Mayotte
Caribbean Destinations | Pacific Destinations | Indian Ocean Destinations | Pacific Newsletters | Indian Ocean Newsletters | Flora and Fauna
Top Level: Home | Destinations | Cruising Info | Underwater | Boat Guests | Ocelot | Sue | Jon | Amanda | Chris | Site Map | Make a Comment
---
Lifetime
Commodores
of the
Seven Seas
Cruising
Association

If our information is useful,
you can help by making a donation
Copyright © 2000‑ Contact: Jon and Sue Hacking -- HackingFamily.com, svOcelot.com. All rights reserved.