Praslin & La Digue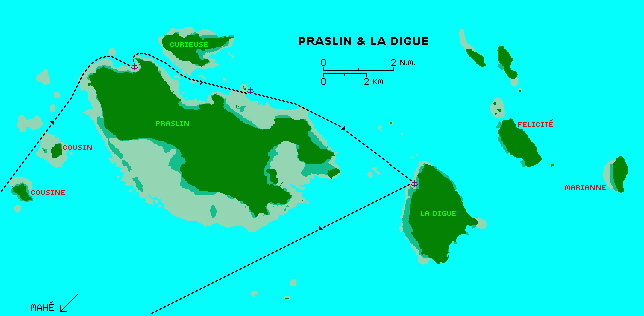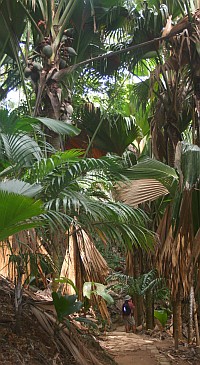 Jon deep in Vallee du Mai
Landscape: Praslin (French pronunciation) and La Digue, the second and third largest of the Inner Islands of Seychelles, are granitic islands with dense rainforest, wild white beaches with granite boulders and high hills.
Visited: 1 September to 14 September 2007
Be sure to check out our Seychelles Newsletters for more of our stories and photos, and the Cruising Info page for more cruiser-relevant info.
(Sue) If I had the Seychelles to do over, I'd spend a lot more time exploring Praslin and its many anchorages. La Digue offers only one anchorage but it was such a fun island we could have spent many more days there. Whereas Mahé is the bustling capital island, Praslin and La Digue are the sleepy country cousins, perfect for relaxing and getting away from it all. They also have some interesting birds like the long-tailed Seychelles Paradise Flycatcher which we were lucky enough to see in La Digue.
The main attraction on Praslin is the Vallee du Mai, a World Heritage Site and primeval rainforest of strange plants endemic to the Seychelles. The most written about (in fact it is the official symbol of the Seychelles) is the unique Coco de Mer tree with its immense (non-edible) nut. But Vallee du Mai isn't just about Coco de Mer trees, it is also home to wondrous ancient looking ferns and bizarre palm tree species found no where else. We spent several glorious hours wandering the miles of trails through the ancient green forest where sunlight barely penetrated. Getting there and back to the boat is almost half the fun. We rode local buses, hiked dirt tracks over open meadows and through small villages where the people all greeted us with a warm "Bonjour!"
(Jon) Praslin was certainly interesting, and I could have spent much more time there. While we were there the SE monsoon was blowing, so we could only anchor on the west sides of the islands. This meant that there was really only 1 good anchorage in Praslin. Anse Lazio was delightful, with a lovely beach backed by lush vegetation and surrounded by granite boulders. There were even some good hiking trails nearby. But the snorkeling was disappointing (no coral) and getting to town required a long, hot hike and an uncertain bus ride, so we only stayed a week or so. There were some other anchorages, but they charged us quite a bit to use them, so we didn't.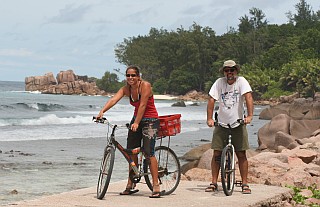 Fantastic bike riding on the coast of La Digue
La Digue was also quite charming. Since it's much smaller than Praslin, we decided to rent bicycles to tour the island. The whole island could be toured easily in a day. The middle is too steep even to push the bicycles, but it afforded stunning views for lunch. Otherwise, the ride around La Digue was delightful. The road on the far eastern side of the island was especially remote, and kept threatening to vanish completely, but it gave us nice views of the ocean and surrounding islands.
While we were anchored at La Digue we had a bit of a fright. The radio announced that Sumatra had another large earthquake and they were calling a tsunami watch. I quickly called my buddy Dr. Bruce Jaffe of the USCGS in California. Bruce did some quick research and assured us that no tsunami would be forthcoming from the earthquake, and that early reports from tide gauges on Sumatera were only showing half a meter above normal. Still, if there was going to be a tsunami, it would arrive about 11pm. I broadcast this information to the rest of the fleet and we watched a movie that night so we'd be awake if anything happened, but thankfully it didn't.
As always, we dragged a couple of fishing lines as we sailed between the islands. On our way to Praslin first the one line and then, almost immediately after, the other line caught something big. But when we pulled the lines in, both were missing their lures (and one was missing most of its leader as well). Since the fish were able to easily break 100lb fishing line, I think we hooked into some huge fish, and I'm just as glad that we didn't try to land them.
(Amanda) It took us a long time to get to the northern islands of the main Seychelles group. I don't mean sailing time, I mean get-up-off-our-lazy-rear-ends-and-see-some-more-of-this-country time. Though I suppose we were busy with boat repairs for quite a while.
Our sail to Praslin was lovely, despite losing both fishing lures in a bang just off St Anne Island, hardly four miles out of Victoria. And the relative isolation of Anse Lazio was wonderful after the bustle of Victoria and the resorts of Beau Vallon. We took one bus trip around the island, and saw the Vallee du Mai, but I was happy to sit on the boat and enjoy the clearish water and the beach. Lara Pinta joined us there after a few days, and the girls and I had an awesome squid-catching afternoon which ended up with all four of us and most of Ocelot covered in ink. Delicious dinner, though.
On the way around to La Digue we stopped for lunch and a snorkel at St Pierre, which is on the edge of Curieuse National Marine Park. Unfortunately the season and/or tide was wrong, so while there were plenty of fish on the reef, there were also lots of stingers in the water. So that was a bit of a short-lived swim.
La Digue was a bit too touristy for me, but the bike-ride we took was lots of fun. Most of the island was forested and shady, except for the peak in the middle, which provided a great view for those insane few who pushed their bikes to the top. The north-east coast road was nearly deserted and completely flat, a relief after said insane peak. It took us to several lovely remote beaches before dissolving into the rocky coastline.
Up | Mahe Island | Praslin & La Digue | Farquhar Atoll | Seychelles Newsletters | Seychelles Cruising Info
Indonesia | Singapore | Malaysia | Thailand | Nepal | India | Sri Lanka | Maldives | Chagos | Seychelles | Madagascar | Mayotte
Top Level: Home | Destinations | Cruising Info | Underwater | Boat Guests | Ocelot | Sue | Jon | Amanda | Chris | Site Map | Make a Comment
---
Lifetime
Commodores
of the
Seven Seas
Cruising
Association

If our information is useful,
you can help by making a donation
Copyright © 2000‑ Contact: Jon and Sue Hacking -- HackingFamily.com, svOcelot.com. All rights reserved.