India
Caribbean Destinations | Pacific Destinations | Indian Ocean Destinations | Pacific Newsletters | Indian Ocean Newsletters | Flora and Fauna
| | |
| --- | --- |
| Language: | India has 18 official languages with Hindi being the dominant one, spoken by 20% of the population. English is widely spoken. |
| Population: | About 1.2 billion |
| Money: | Rupees, with about Rs45 to US$1 in 2011. |
| Landscape: | You name it - Coastal plains, desert, forest, fields, hills, long beaches, the Himalayas, ... |
| Visited: | 3 months, from February through mid-April 2011 |
| Infrastructure: | Pretty good and getting better - extensive road system, phone and 3G internet access were available almost everywhere, even into the foothills of the Himalaya. Commerce Minister Kamal Nath has done a lot to improve the nation's infrastructure. |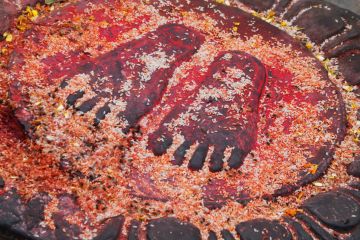 Puja (blessing/prayer) on a doorstep
History: Thousands of years in a nutshell? A bit tough. But there are some striking civilizations and events that illustrate the vast amazing culture that is India today. From about 3,500 BC for over 2,000 years the Indus Valley was the cradle of civilization in the Indian subcontinent. Harappan culture traded with Mesopotamia, and we have unearthed remnants of its civilization in the form of bronze and clay figurines and jewelry. Aryan-Vedic tribes arrived from the northwest, and gradually the culture changed as Hinduism was formed. The caste system began about 1,500 BC and the sacred Hindu texts were written about then. The original inhabitants, the Dravidians, were pushed further south. South India was isolated enough from the north that it had its own series of empires, all of which remained devoutly Hindu. Buddhism and Jainism both arose in the north about 500 BC.
In the north, many rulers rose and fell, but one outstanding one in the 3rd century BC, Ashoka, was noted for his embracing of Buddhism, increasing trade and the arts, and a commitment to peace. His standard (4 lions and the inscription "truth alone triumphs" which topped many ancient pillars) is still used today as the emblem of modern India. After Ashoka's reign, other rulers predominated and Buddhism faded to a lesser religion, with Hinduism again in the forefront.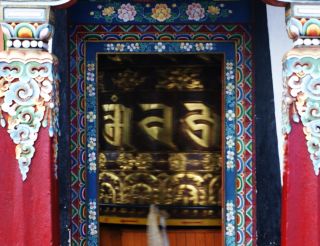 Buddhism is one of the religions of India
By the 11th century, waves of invaders from the west had sacked the north, killing Hindus by the tens of thousands and plundering the areas' wealth. One of the first invaders to stay was Mohammed of Ghur who established a Muslim empire around Delhi and Bengal. His successor defended the region against invasions of Mongols and expanded the Muslim empire ever southwards. Fast forward through invasions, rampaging armies, and many rulers. The Ghur empire ended in 1398 with the arrival of Tamerlane from the west, who again sacked the region. It was a descendant of both Genghis Khan and Tamerlane, Babur, who became the first Mughal emperor in 1526.
Other nations had had their eyes and hearts set on India and its riches, and the first Europeans to arrive (and the last to leave!) were the Portuguese. Vasco de Gama sailed around the Cape of Good Hope and arrived on the shores of Kerala (southwestern India) in 1498. Seeking trading centers, the Portuguese captured Goa, which they held until 1961. In 1613 the British established the first trading post of the East India Company in Gujarat, with more posts set up over the years in Calcutta, Bombay and Madras. Through both peaceful trade and bloodshed the British insinuated themselves into the commercial and political life of India and for 250 years it was this commercial concern, the East India Company, that "ruled" India, and not the government of Britain. The French had a post in Pondicherry, south of Madras, but they were never a competing power in the economic push for control in India.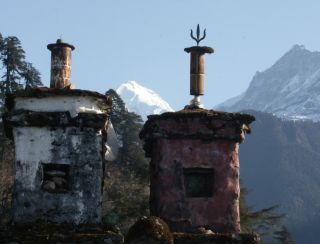 India is bordered by the Himalaya in the north
Meanwhile, many Hindu rulers in the north (notably the Rajputs of Rajasthan, and the Marathas) were fighting to oust the Mughal leaders, with varying levels of success. They, like the rest of India, eventually fell to the rule of the British. The India rulers did not relinquish power to the British easily, and much blood was shed over the centuries of British rule. Beginning in the early 19th century the British Raj (British rule) left local government to the maharajas, but most of these rulers spoke English and many served the British interests. Railroads and systems of banking, business, law, civil service and the tenants of central government were established. In 1857 there was a major uprising against the British, which in European history books is called the Indian Mutiny, but in India it's called a war of independence.
A true push for independence began at the turn of the 20th century, led by the Indian National Congress political party. Later, British-educated leader Mahatma Gandhi lead the nation in a movement for independence using non‑violent means. He won the enmity of the British due to his vast number of followers and was several times imprisoned. After WWII (in which India participated on the side of the British and allies) the movement for independence reached its height. One of the major issues was the unification or partition of India in two countries: one Muslim, one Hindu. Gandhi was strongly in favor of remaining unified, and was assassinated by a Hindu fanatic in 1948. Independence began in 1947 with partition. With each state having the right to declare its allegiance to either Hindu (actually multi-religious) India or Muslim Pakistan, massive migration of populations occurred, especially in the far west and east where the border states lay. In the Punjab alone, over half a million people were killed in the riots and over 10 million had moved from one side of the new border to the other. East Pakistan, isolated on the far eastern side of India from its other "half" of Pakistan, later fought for its own independence as Bangladesh. One state, Kashmir, has remained a hotbed of border wars and struggles, and brought the two nations to the brink of nuclear war in the late 1990's. Both India and Pakistan, to this day, claim the beautiful Himalayan state of Kashmir as their own.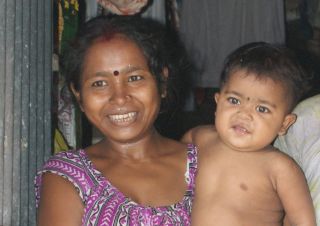 Mother & son, part of India's 1.2 billion people
The Republic of India began in 1950 with the new constitution making India a democratic, secular state. In the intervening 60 years the country has seen massive economic growth (most recently in the high tech industry), and its inclusion in the world's nuclear powers. Internally though, it has dealt with separatism, terrorism and assassinations of leaders. External conflicts continue with China and Pakistan over border disputes. For the best (brief) information on the history of India, check out Wikipedia.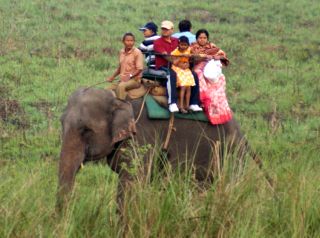 Elephant safaris are good for wildlife sighting
Our Overview: We first took Ocelot to India in February 2011, when we arrived after 3 days at sea from Thailand to Port Blair, Andaman Islands. The Andamans are, for India, relatively under-populated, but the small capital of Port Blair is truly India, from the car horns blaring to the unbelievable bureaucracy of formal entry to the country. Sailing in, the cool earth smells of the early morning were accompanied by a bit of smoke from burning trash and loud (somewhat discordant) music blaring from shop stalls, presumably to encourage (non‑western) customers. Although we arrived in the early morning, it was late afternoon before the officials deigned to come out to clear us into the country - a sign of bureaucracy that we had to deal with frequently. We chose to spend a few days in Port Blair to get to know the town a bit, and to visit some of the historical sites. At the museums we learned more about the indigenous people who inhabit many of the islands of both the Nicobars and Andamans. Some are still so isolationist that they sometimes shoot at visitors with crude bows and arrows! We took a couple weeks to take Ocelot in a big loop around Middle Andaman Island, stopping at anchorages both on shore and on small, off-lying islands. We were sad to learn that the coral, for which the islands have been famous, bleached in a massive ocean warming event in April 2010. Fishing was fantastic, though, as there is no commercial fishing allowed!
After 2 weeks in the islands we sailed west to the city of Chennai (previously Madras) where we came face to face with mainland India in a city of over 6 million, and for us, an introduction to the fantastic hospitality of the Tamil people of southern India. We were taken out for meals, tiffen, coffees, sightseeing, bird‑watching, and given tickets to sports events like World Cup Cricket! We walked the streets and rode around in endless tuk-tuk rides. The city boasts world-class medical facilities, great book stores like Higgenbothams, unbelievably good restaurants, and miles of white sand beach. The down side for us was that we had to leave Ocelot in the commercial harbor which is a coal facility, and, well, we've never had such a filthy boat! But boats clean up, as did we, and we loved our visit to Chennai.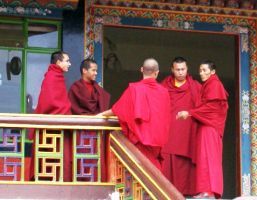 Young monks at Rumtek Monastery
Chennai was also our gateway to further inland travel on this vast subcontinent. Sue grew up with images of India, her father having served in the China‑Burma‑India Theater of World War II. He came home with tales and pictures of India, the people, temples, beaches, and mountains. Sue's first trip to India was in 1974 and as soon as she set foot on the busy roads of Delhi, where cows lounged and bicycle rickshaws wove between lorries and pedestrians, it was as though she had come home. Sue's been back 3 times and each time her love of the country and its people grows. It was with some trepidation that she introduced Jon to India in 2011 as people tend to either love it or hate it. There is not much indifference towards India! But maybe she needn't have worried, for he loves Nepal, enjoyed Sri Lanka, and is a good-hearted, enthusiastic traveler. India embraced us, and we, it!
We flew from Chennai to the small airstrip near Siliguri, called Bagdogra, from where we took share jeeps to Jaldhapara Wildlife Park, then into the West Bengal Hills and Darjeeling. From Darjeeling we traveled by road (the only way!) to Gangtok to organize 9 days of trekking in Kanchendzonga National Park. It was awesome! The park has one Tibetan settlement in it (Tsokha), but otherwise is all wilderness. Trekking here is not a tea-house trek like in the more popular parts of Nepal. This is really wilderness, and the scenery, under the flanks of Mt. Kanchendzonga, is amazing!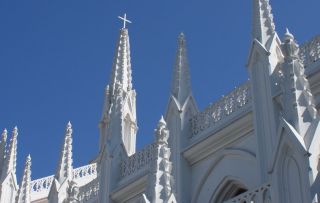 St Thomas Basilica, Chennai
CHENNAI: Capital to the state of Tamil Nadu, on the southeastern coast of India. Chennai may be better known by its former British name of Madras. We chose this as our landfall as it is conveniently located due west of the Andaman Islands, and meant we could have the boat on the subcontinent with out having to sail all the way around Sri Lanka to the southwestern port of Cochin, Kerala. What we didn't count on was that Chennai harbor is a major coal unloading facility and the black oily grit of coal dust fills the air, ones lungs, ones clothes and covers the streets, walkways and our boat with black grit. There is a promise to move the coal handling to a port north of the city by November 2011 and build a marina. If that happens it may become a wonderful port for yachties. Until then...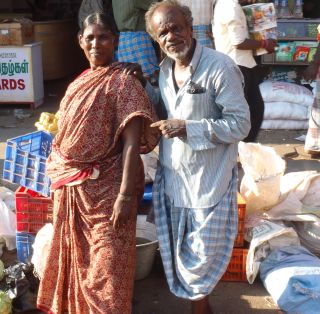 Fruit vendors, Parrys, Chennai
When we arrived in March 2011, we were one of the first 3 boats to ever voluntarily arrive in Chennai. (A Frenchman with a broken leg had sought medical attention just weeks earlier.) The beauty of Chennai is its people. The members of the Tamil Nadu Sailing Association (with whom we had corresponded before our arrival) took us all under wing from the moment our sails appeared near the outer harbor. They escorted us in, helped us tie up alongside the survey boats near the club house, and smoothed all the bureaucracy to the point that we never even had to go to a government office. Then we were taken on provisioning runs, sightseeing tours, invited into private home for meals, brought lunch (and sometimes even breakfast) and given passes to ease access in and out of the secured port. The commodore of the club, Ashok Thakkar, helped organize the repair parts we needed for our engine and smoothed the paperwork to allow us to haul Ocelot to repair the sail‑drive seal. He and others have become very good friends. One new friend, Shantha Ravikumar, joined us on our sail from Chennai to Thailand (although we were supposed to be going to Chagos)! The generosity, warmth and hospitality of these folks in Chennai have far surpassed the welcome we have experienced anywhere else in the world, in all of our 16 years of cruising.
Provisioning in Chennai is easily accomplished at several very large supermarkets. Since we anticipated leaving India for the south Indian Ocean and a passage/stay of several months out of civilization we sought out everything from flour, sugar, eggs, veggies and fruits to chicken, canned goods, powdered milk , tea and coffee. Only the meat was difficult to find (which we had anticipated, so we brought what we wanted from Thailand). Fruits and veg we found in abundance, unrefrigerated, at the open air street market in Parrys, an old shopping district very near the harbor. For about $1 we could take a 3‑wheel tuk‑tuk just about anywhere in the city, and although the Chennai tuk‑tuk drivers are notorious for trying to get more for the fare, we came to know several drivers who lived near our Harbor Gate 7, and they came around to giving us fair prices once they realized we were there for long term and weren't cruise ship passengers.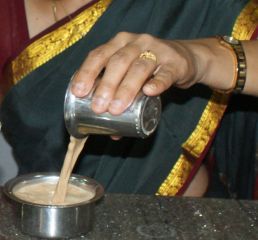 S. Indian filter coffee for tiffen
People: Chennai is home to several universities and technical colleges and some of the best medical centers in the country. English is widely spoken (the home language here is Tamil, not Hindi) and we found people very friendly and willing to help. We did not feel hassled or pushed, or in danger at anytime. This is somewhat in contrast to reports from visitors to Delhi, Jaipur and Agra in the north. Ancient Dravidian temples are scattered throughout the city, and Chennai is home to St. Thomas Basilica, one of just three cathedrals in the world to be built on the tomb of an Apostle of Christ. The coast of Chennai boasts miles of sandy beaches. Marina Beach just south of the harbor was alive with strolling people, horseback riders, and local fishermen. At sunset it undulated with the crowds seeking relief from the heat. Although Chennai competes with nearby Bangalore as a high-tech center, it is in some ways a city caught between two centuries. The people are basically conservative and you see bullock carts in the streets under glass-fronted skyscrapers. Men in white longis walk with women in bright saris, while a younger crowd don less traditional garb. Many women dress in jeans and T-shirts, a fashion that would have been unheard of a few decades ago. But arranged marriages are still common.
Food: The tradition of "tiffen" is a very Indian/British custom that we were introduced to on our first day in Chennai, and which we enjoyed as often as possible. It's basically a late afternoon tea. But in Tamil Nadu "tea" is usually coffee, for they make a fabulous filtered coffee available throughout the city in small cafes. At tiffen one might sit or stand to enjoy savory treats which help ward off hunger until the appropriately late dining hour of 9, 10 or even 11 pm. Food in Tamil Nadu is different from what we expected of "Indian" food. (There are so many cuisines in India it is a travesty to speak of "Indian food" as a single tradition or cuisine.) Rice is the staple grain here (as is wheat in the north of India). Idlis are white, bland rice cakes eaten with any meal, but most often for breakfast in the Tamil Nadu household. Dosas are large savory crepes which come with a variety of fillings. Uttappams are rice‑flour and coconut milk pancakes. Dahl served with sambars and coconut chatni is also very common. Most of the population of Tami Nadu are Hindu so most meals are vegetarian, although we were often served fish and shell fish. The curries are hot and rich, but cooled with large servings of fresh dahi (yogurt).
For those arriving by private boat to Chennai, India (TNSA dock 13°05.37N 80°17.62E)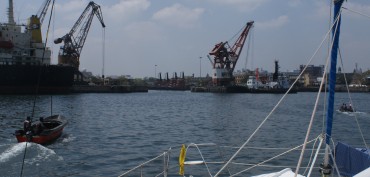 We were escorted into the inner harbor, Chennai
We prepared for our arrival in Chennai by corresponding (months ahead of time) with the very helpful folks at the Tamil Nadu Sailing Association (TNSA) which is located deep in the commercial harbor. Much as one does for the Andaman islands, we sent them our boat particulars, crew list, passport and visa copies and approximate date of arrival. It goes to say we had our India visa already in hand!
The TNSA folks eased both our arrival and departure clearances, and we never had to set foot in an office! The down side to sailing into Chennai is the coal dust which permeates everything -- it blows from the ships to the harbor, roads, and boats. Apparently, the coal terminal is due to be moved to another harbor to the north of the city about November 2011. We shall see. Another downside is that the harbor master and other officials are not used to cruising yachts, so they tried to levy commercial rates on us for harbor usage. They need to take a look at the fees levied by the Andamans, which are more reasonable (although still higher than we're used to paying). A third problem is that there is currently no good anchorage, and we were shuttled around from wall to wall.
The BEST part of Chennai is the people -- we made more lasting friendships with local people here tan we have anywhere else we have ever sailed! They were friendly, hospitable, very well educated and very interesting to meet. Being members of the Sailing Association, they were also very interested in our lives aboard our sailboats!
India Pages: Up | Andaman Islands | West Bengal Hills | Sikkim | Sikkim Trekking
Related Pages: India Newsletters | Sri Lanka Flora & Fauna | Cruising Andamans
Indian Ocean: Indonesia | Singapore | Malaysia | Thailand | Nepal | India | Sri Lanka | Maldives | Chagos | Seychelles | Madagascar | Mayotte
Destinations: Caribbean Destinations | Pacific Destinations | Indian Ocean Destinations | Pacific Newsletters | Indian Ocean Newsletters | Flora and Fauna
Top Level: Home | Destinations | Cruising Info | Underwater | Boat Guests | Ocelot | Sue | Jon | Amanda | Chris | Site Map | Make a Comment
---
Lifetime
Commodores
of the
Seven Seas
Cruising
Association

If our information is useful,
you can help by making a donation
Copyright © 2000‑ Contact: Jon and Sue Hacking -- HackingFamily.com, svOcelot.com. All rights reserved.