West Bengal Hills
WEST BENGAL HILLS -- From the lowlands to Darjeeling
| | |
| --- | --- |
| Landscape: | Hot lowlands with rubber plantations, rice and tea. Himalayan foothills to over 7000' (2100m) in Darjeeling. Wide rivers flowing from the Himalayan foothills to lowlands. |
| Language: | Predominantly Bengali and Nepali. English is widely spoken. |
| Visited: | May 1974, and March, April 2011 |
| Best Visiting Time: | October, November: skies are generally clear. April, May: skies may not be as clear but the flowers are out. All good trekking months. |
| Cost of a Meal: | $2‑4 with non-alcoholic drink. NOTE: West Bengal adds 12.5% VAT to meals & accommodation. |
| Accommodation: | Basic rooms for under $17/night, but comfortable rooms with hot water (only needed in Darjeeling) about $30 and up |
| Guide Books: | Lonely Planet's India and Lonely Planet's Trekking in the Indian Himalaya are probably the best choices. For nature enthusiasts, we used: Photographic Guide to Birds of India and Nepal(+) by Bikram Grewal and Birds of India, Pakistan, Nepal(+) by Richard Grimmett. |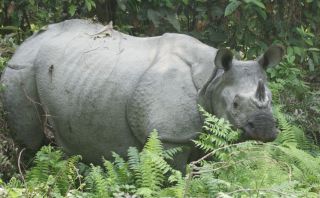 Asian one-horned rhinoceros, Jaldapara
Traveling to/in the hill country of West Bengal:
The city of Kolkata (Calcutta) is the capital of West Bengal and a very important transportation hub. To get to the hill district of the state you can either travel by train (about 12 hours) or fly from Kolkata to Bagdogra, which is the airstrip near the town of Siliguri. Booking on line in India is easy. TIP: We found the best prices were on the newer small airlines like Spice, Jet, GoAir, Indigo and Kingfisher. Travelocity (India) has shut down now but Make My Trip and Clear Trip were other popular sites. We used these services to book flights, but some folks have used them for train tickets. TIP: Go to the train station yourself and book right there at the window for foreigners to avoid getting ripped off. Don't book outside the station.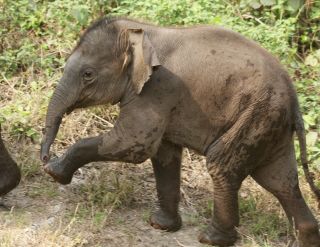 Wait for me! Baby elephant at Jaldapara
Once in Bagdogra/Siliguri the best way to get around is by share jeep, where you buy a seat in a jeep going to your destination, or hiring a full jeep and driver yourself. Trips of 4‑5 hours in this region cost about Rs150 ($3). Be advised that they pack these share jeeps with 2 passengers in the front seat and 4 passengers in each of the other seats! TIP for Share Jeep Trips: Since we have long legs and wide shoulders, we organized buying both front seats next to the driver, and 2 seats in the middle row (one being a window, always!). That way one of us had the front seat/window, and the other had the middle seta with only 2 other passengers, instead of the normal 3 others. This can only be done if you talk to the driver before the start of the journey. They are good about not trying to sell "your" seats out from under you! If you want your own jeep, or have a large group, you might want to hire the whole jeep, which will cost you the nominal fare times the number of seats the driver can sell. If you want to travel outside normal times (i.e. early morning) the cost might be more than 10 times the per-seat cost, as the driver might have to dead-head back without passengers. A 5‑hour trip might then cost Rs3000 ($67) but if you have folks to share with and want to make photo stops or snack stops it can be worth it.

Bicycle rickshaws are common in lowlands
Things to See and Do:
On the eastern border of West Bengal and about 3 hours drive from Siliguri lies a small and somewhat under-utilized wildlife preserve called Jaldapara. Always on the lookout for wildlife, nature preserves, and birds, we contacted the West Bengal Tourism office. Accommodation is in either the state-run Hollong Forest Lodge, or the private Jaldapara Tourist Lodge. The advantage of staying at the former is that you sleep inside the park, but it was fully booked, so we stayed at the latter. Since you have to book in person at the West Bengal Tourism office they suggested we organize our visit on the internet through Nature Beyond. By doing this we could book ahead and pay through PayPal. The cost was at US$40/couple for a nice double room with en suite and 3 meals at the spacious Jaldapara Tourist Lodge.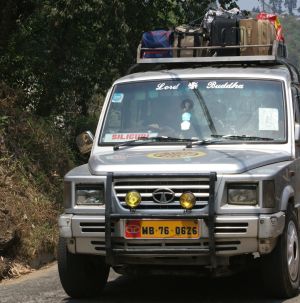 Share jeeps load up to the hilt
We arrived in the late afternoon by private jeep from Siliguri (Rs2500 or $56 for the 5 of us) and had time to book our park activities for the next morning. We really jammed it in, doing a 2.5 hour jeep safari at 5:30am (Rs840 or $19 for the 2 of us), then a 1.5 hour elephant safari at 9am (Rs940 or $21 each, including camera fee, entrance fee, and private car/jeep entrance fee) somehow squeezing breakfast in between the two. It's always great to get out into the forest or grasslands, and this place didn't disappoint in that way. It was, however, about a 3 out of 10 for seeing wildlife. We got up close and personal with a one-horned rhinoceros, many peacocks (in the trees and on the dirt road), macaques monkeys with short cropped tails, and barking deer with a white v-shape on their tails. We caught a glimpse of mongoose, hog deer, wild hogs, a cobra(!) and the back end of a Sambar Deer (Asia's largest deer). From afar we saw a herd wild buffalo, and though we begged the ranger to let us go down the dirt road towards them, he insisted that area of the park was strictly off-limits. We saw lots of fabulous butterflies. On the bird front we saw peacocks and peahens, racket-tailed drongos, an eagle (no ID), black ibis, little grebe, Alexandrine parrots, white-throated kingfishers, Indian roller, and oriental pied hornbills. The food at the lodge was quite good, the staff were friendly, and the grounds were fun to wander as a really fine sculptor was creating life-size fiberglass replicas of the region's wildlife, complete with information signs about each animal.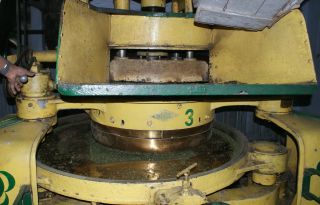 Rolling leaves, Makaibari Organic Tea factory
Five of us hired a jeep for the next day to take us from Jaldapara, past Siliguri again, and up into the tea-growing hill country. It was a 6‑hour trip for which we paid Rs3000 or $67 total. TIP: When in a jeep, even one you hire, there aren't many scheduled stops. Hiring our own jeep meant we could request stops for photos or buying things along the way. We were glad to have water bottles and salty snacks at hand, plus the all-important toilet paper for those road-side stops. On the way we passed miles and miles of lowland tea plantations (where the dark Assam tea comes from) and the wide, muddy Teesta River. From the river the road rises up an incredible number of switchbacks, with no side railings, and a steep drop to the valleys. If you get car-sick or have acrophobia it's not a recommended trip. We, of course, loved it!
We arrived in the late afternoon at Makaibari Organic Tea Estate in Kurseong where we had pre-booked an overnight "home stay". Our friends were put up in a small house on the hillside just above ours, where their hosts were a young couple with a small child. Our hosts were an extended family with 2 men, 3 sisters/wives, and a couple mothers/mother-in-laws. We never did get everyone straightened out. They were delightful and it was great that several of the younger women spoke quite good English! They cooked for us and organized a tour of the tea factory and fields for the following morning. The accommodation was very basic -- a room with a double bed and a door. The bath room and toilet were outside, accessed through the dirt courtyard. TIP: Bring a flashlight/torch with you when you travel in India! Headlamps work very well. We enjoyed the walk through the tea factory, seeing the leaves on the drying racks and in the rollers and ovens. Then we had a couple hours of walking the hillsides through the low-cut tea bushes (a species of camellia) where we got to watch the men and women at work in the fields. The home stay, including room, dinner, breakfast and lunch, factory tour, and fields tour came to Rs600 or $13 each.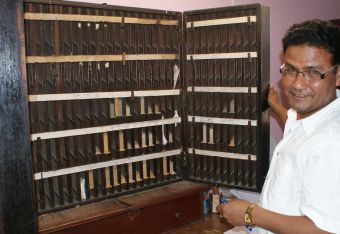 Cardboard train ticket cabinet. 150 years old!
When our hosts heard that we wanted to take the Darjeeling Toy Train (so-called because of its very narrow gauge) they drove us up the winding streets of Kurseong to the train station. The tourist steam engine trip runs every day from Darjeeling to the nearby town of Ghoom and back, but we were on the long-haul trip, the one that originates in the lowlands. If you start in Siliguri the trip takes 9 hours! TIP: For second class, you can get a last-minute ticket right there in Kurseong. Down in Siliguri it is suggested you buy ahead, but probably not necessary for second class. This train has been running on and off for over a hundred years, taking goods and passengers from the lowlands of West Bengal into the British hill station of Darjeeling. Both diesel and steam engines use the tracks.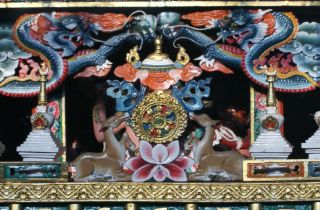 Buddhist Monastery Detail. Lotus & Deer
Due to our afternoon departure we were on a diesel train but we passed the (cute!) little steam engine on the way. Tickets for this 3‑hour Kurseong‑Darjeeling ride cost us Rs11 or only 25¢. The station master/ticket office looks like something from a 1940's movie -- lots of little box slots for each ticket. The train was crowded in second class but the windows opened so we had fresh air (thank goodness, as the toilet was rather pungent). TIP: Get seats on the left side of the train, but find out which direction the train will be traveling, as it's not obvious. First class is totally affordable, but often booked up. First class has airline-type seats and it's harder to move around, and the seats are often pointing backwards (they don't turn the cars around). In second class you can stand in the open doorway for views and photos. The tracks run right along the side of the mountain road that goes to Darjeeling, sometimes making huge sweeping turns as the hills get steeper. In those 3 hours we gained 2,200 vertical feet or 674 vertical meters! Along the way we passed small shops, school kids in bright uniforms, monasteries on the hillsides, more tea plantations, and hazy views of the steep West Bengal hills.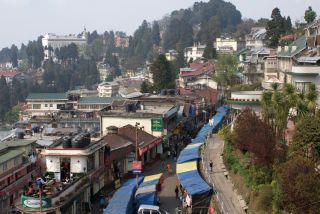 View towards Chowrasta from Dekeling Hotel
Between Kurseong and Darjeeling the train reaches its highest point at the town of Ghoom. You can get here by hiking from Darjeeling to see the Gurkha War memorial, though downhill is probably a better way to go if you're not used to the altitude. Nearby are several Buddhist Monasteries, all worth a visit if you've not seen one before. In Darjeeling itself are more gompas and a Peace Pagoda erected by the Japanese.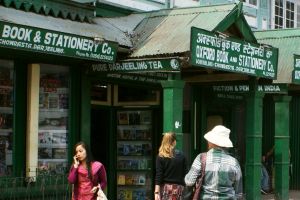 Oxford Bookstore, on Chowrasta Darjeeling
Darjeeling is a vibrant hill town of just over 100,000 people situated in the steep hills of West Bengal at an elevation of 7000' (2100m). Established in 1835 as a hill station for the British (a place to escape the heat of the India plains) it has kept a unique flavor over all these decades. On clear days it has a fantastic backdrop of Mt. Kanchendzonga and other awesome snowy Himalayan peaks. The town exists on many levels, and sometimes it's confusing as to how to get from one level to the next. The road makes its way in a snake-like fashion up and down the hills, and in between you can often find narrow staircases that act as short-cuts between levels.
On the recommendation of a local friend from Sikkim we booked into the mid‑range Dekeling Hotel (not the Dekeling Resort, which is much more expensive. It's right at the base of the walking street and very accessible to the fun part of town. What a great choice! You can pay more for a room with a view (well, a view is only as good as the weather...) but your room isn't where you hang out. This Tibetan-owned hotel is several stories high, and all three levels have sitting areas. The mid-level boasts heaters, a wall of windows for mountain views, internet computers, and lots of couches and comfy seats. The dining area is here as well -- several long tables where breakfast is served, or afternoon tea whenever you want it. The upstairs sitting area is smaller and more intimate, but also with a lovely view out over the hills and town. WiFi is provided for free and computers are available for a nominal charge. Laundry service is also available.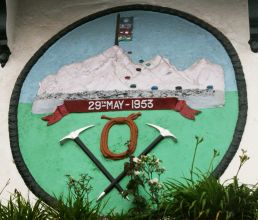 Plaque on home of late Tenzing Norgay
The owners, Mr and Mrs Norbu, hire only the friendliest staff and they are warm and welcoming. Guests are honored upon departure by receiving the Tibetan ceremonial kata scarf. For travelers coming from the hassles of Delhi or Agra, Darjeeling and the Dekeling Hotel make a welcome relaxing place to just chill out, read a book, chat with the other travelers, or take long walks. Room rates were about Rs1500‑1800 ($34‑41) and there is an option to have breakfast included for $3 (eggs, porridge, toast, tea, juice, etc). TIP: Save money on a non-view room and plan to get up early to enjoy the mountains from the sitting rooms! Our favorite restaurant was the Tibetan one just downstairs (street level) from Dekeling and also owned by the Norbus, called Dekeva. Their soups, momos (Tibetan dumplings), Tibetan noodle dishes and fresh lime drinks are great. Mains are about $2‑3. If you want great vegetarian meal (South Indian) try the Hotel Lunar which is up the flight of stairs from the street, but one floor below Dekeling Hotel. Prices are a bit higher than at Dekeva but the food is tasty and different. Try the masala dosa -- a huge pancake stuffed with potatoes and vegetables.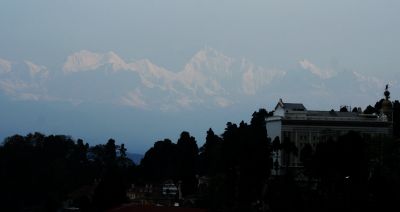 Kanchendzonga & Himalaya from Darjeeling. Early morning
The most visited (i.e. touristy) part of town revolves around the Chowrasta which is a central square from which streets and walking lanes radiate. Observatory Hill is a favorite place for a stroll, and if the mountains are out it has unbeatable views. Beware of the monkeys -- keep food and drink hidden! At the north end of the loop trail around Observatory Hill is the impressive St. Andrew's Church, built in 1843 and rebuilt 30 years later, but now looking quite unused. A 1.5 mile (2.5 km) walk north from Chowrasta takes you to the fascinating Himalayan Mountaineering Institute (Rs50 or $2 for foreigners, includes entrance to both HMI and the Zoo). The Mountaineering Institute was founded by Tenzing Norgay, who, along with Sir Edmond Hillary was the first person to stand atop Mt. Everest. There is a small museum and, if you've got the mountain-bug, you can sign up for multi-day mountaineering courses offered throughout the year.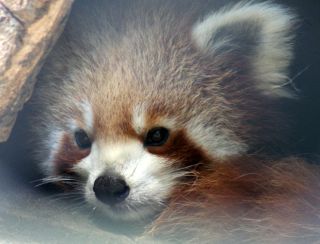 Endangered Red Panda of the Himalayan forest
Also on the site of the Institute is the Darjeeling zoo, which is NOT your average zoo. Established in 1958 to protect and breed eastern Himalayan animals in captivity, it houses only 30 targeted species that can survive at this altitude and climate. It claims to be the world's highest altitude zoo and its breeding programs have been very successful, with many animals being released into the wild. Some of the unusual animals you'll see (in very nice-sized enclosures, by the way) are the clouded leopard, marbled cat, leopard cat, Tibetan wolf, Himalayan black bear, Himalayan tahr, serow, goral, snow leopard, Indian tiger, golden cat, red panda and some Himalayan pheasant species. The red panda and snow leopard breeding programs have been especially successful.
South from Chowrasta (towards the clock tower and many hotels) the streets are lined with small stalls selling clothes for cold weather (even in late spring there's a chill in the air!) and larger shops and restaurants, including the historic Glenary's restaurant/bakery and the Das Photo Studio where you can browse pictures of Darjeeling as it was a hundred years ago. Drop down any flight of steep stairs to find yourself in the wild bustle of Chowk Bazaar, the non-tourist part of town where the locals come to browse, haggle, shop, and sell.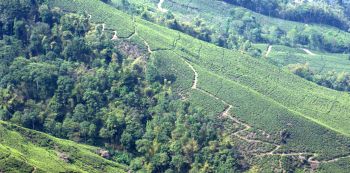 Tea fields below Darjeeling
Don't forget the Darjeeling tea! Happy Valley Tea Estates is but one of many tea estates in the district, (including Makaibari Organic Estate which we stayed at) but it is the closest to town. You can take a taxi, or get some exercise by walking from the Chowk Bazaar bus stop along Lochnager Road. You can tour the factory and see it in action if you're there between April and November when they're plucking the tea. Darjeeling district provides 25% of all of India's tea exports. Unlike low altitude tea (Assam, for instance) Darjeeling tea is picked from the very tenderest tips of the tea plant. It is pale in color and high in caffeine, and most often drunk "black" without milk or sugar. It's not how we normally take our tea, but when it's brewed properly and you're in the high Himalaya, it tastes perfect just as is, golden and clear in a white tea cup! Local teas are for sale in Darjeeling, including the organic Makaibari.
You can also take high tea at Glenary's or splurge and go to the Windamere Hotel for high tea. It was at the Windamere Hotel in the early 1960's that Hope Cook, a young college girl from the States met the crown prince of Sikkim. They fell in love, and Hope became first a princess and then a queen. The royal wedding (Sikkim at the time was its own kingdom, and not part of India) made big news in National Geographic and put that small Himalayan Kingdom of Sikkim on the map for many westerners! The Chogyal (King) died a few years after India annexed Sikkim in 1975. Sue stayed at the Windamere with her parents in 1974 before travelling to Sikkim where they were honored with a dinner at the palace with the Chogyal.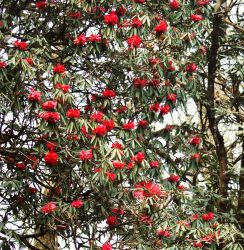 Himalayan Rhododendrons
Darjeeling is the jumping off point for multi-day treks along the Singalila Ridge, a magnificent forested ridge that separates West Bengal from Nepal and boasts great mountain views. Sue was all poised to do this trek in 1974 when she came down with a horrible case of Delhi-belly and had to sit out the trek in Darjeeling. Her father (at 65) did the trek so she can attest to the magnificence of the scenery! Although the trail does not lead as deeply into the heart of the mountains as do those farther north in Sikkim, there is less bureaucratic red-tape. If you are equipped, you can trek on your own, camping and cooking for yourself. The only requirement is that you hire a certified guide (Rs300‑400 or ~$8 per day) to accompany you. NOTE: Guides are not porters. You will need to hire porters, separate from the guide, if you don't want to schlep your own gear. Guides can be hired through private agencies in Darjeeling or at the trail head.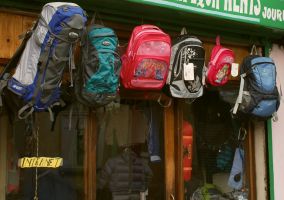 You can buy your trekking gear in town
If you need to gear‑up with tent, warm clothing, stove, food, etc, you can buy it all in Darjeeling either on the streets near the Chowrasta, or perhaps cheaper (with some good bargaining) down in the local market, Chowk Bazaar. We picked up a big feather jacket (Rs700 or $16) and vest (Rs300 or $7) plus snow gloves (Rs200 or $4.50) and warm socks, hats and a scarf. TIP: If you need hiking boots and wear anything like a size 11 (44) or bigger then bring your own. Smaller sized boots are available for purchase, but you won't find those big sizes. A share jeep is probably the best way to get to the trail head at Manebhanjang. Finishing the trek at either Rimbik or Phalut at the northern end, you can get a share jeep or bus back to Darjeeling. If you have the funds, you can also arrange an all-found trek (equipment, guide, porters, cook, food) for about Rs2000 or $45 per day, with a lot of variation in what you pay for. Shop around or ask other trekkers who've done the trip.
Darjeeling is a great place to visit on its own, and it's also very convenient for arranging the needed permits to enter Sikkim, just 5 hours north. Across the street from Glenary's is the Sikkim Tourism Board, and if you have a few days in Darjeeling you can arrange the permit, usually in 1 business day. Take your passport and a passport photo. By getting your permit here, you can go directly to western Sikkim (to the towns of Pelling and Yuksam are closest to the mountains) without having to go though Gangtok. We wanted to visit Gangtok, so we planned on taking a jeep to the border at Rangpo (near Kalimpong) where permits are issued 7 days/week, right at the border in just a few minutes. Permits are free and are issued for 14 days with the possibility to extend.
India Pages: Up | Andaman Islands | West Bengal Hills | Sikkim | Sikkim Trekking
Related Pages: India Newsletters | Sri Lanka Flora & Fauna | Cruising Andamans
Indian Ocean: Indonesia | Singapore | Malaysia | Thailand | Nepal | India | Sri Lanka | Maldives | Chagos | Seychelles | Madagascar | Mayotte
Top Level: Home | Destinations | Cruising Info | Underwater | Boat Guests | Ocelot | Sue | Jon | Amanda | Chris | Site Map | Make a Comment
---
Lifetime
Commodores
of the
Seven Seas
Cruising
Association

If our information is useful,
you can help by making a donation
Copyright © 2000‑ Contact: Jon and Sue Hacking -- HackingFamily.com, svOcelot.com. All rights reserved.