Sikkim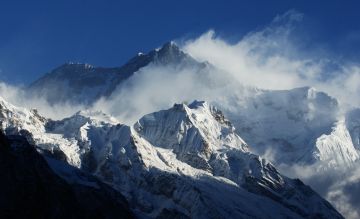 Mt. Kanchendzonga, 28,373' or 8598m Sikkim
SIKKIM is a small Indian state in the Himalayas, known for its orchids, rhododendrons, and mountains. The world's third highest mountain, Kanchendzonga lies within Sikkim, and one can trek deep into the mountains. If you want to trek, be sure to read our Trekking in Sikkim page.
Landscape:
The terrain climbs steeply from the wide, fast flowing Teesta River at near sea level to the snowy Himalaya and the world's third highest peak, Mt. Kanchendzonga (Kanchenjunga, 28,373' or 8598m). Cardamom, buckwheat and tea plantations in the middle hills. The whole state is too steep for an airport.
Environment:
The most environmentally aware state in India. Plastic bags are banned. People littering/polluting streams are fined. Much land is set aside for national park and forest preserve.
Language:
Nepali and Hindi. Many people speak English
Visited:
May1974, May 1992, and March, April 2011
Best
Visiting Times:
October and November: cool with almost guaranteed clear skies. April and May: maybe not as clear, but orchids and rhododendrons are in bloom. Both seasons are good times to trek.
Cost of meal:
About $2-3 if you want (Exchange in 2011: Rs44/$1).
Accommodation:
Basic rooms for under $17/night, but comfortable rooms with hot water (you need it!) about $30 and up
Guide Books:
Lonely Planet's India and Lonely Planet's Trekking in the Indian Himalaya are probably the best choices. For nature enthusiasts, we used: Photographic Guide to Birds of India and Nepal(+) by Bikram Grewal and Birds of India, Pakistan, Nepal(+) by Richard Grimmett.

Road sign en route to Sikkim. How true.
Traveling to/in Sikkim Perched at the top end of West Bengal (India's state that includes well-known Kolkota and the hill town of Darjeeling), Sikkim is only accessed via road from West Bengal. First step: get yourself to the West Bengals Hills. The city of Kolkata (Calcutta) is the capital of West Bengal and a very important transportation hub. To get to the hill district of the state you can either travel by train (about 12 hours) or fly from Kolkata to Bagdogra, which is the airstrip near the town of Siliguri. Booking on line in India is easy. TIP: We found the best prices were on the newer small airlines like Spice, Jet, GoAir, Indigo and Kingfisher. Travelocity (India) has now shut down, but Make My Trip and Clear Trip were other popular sites. We used these services to book flights, but some folks have used them for train tickets. TIP: Go to the train station yourself and book right there at the window for foreigners to avoid getting ripped off. Don't book outside the station.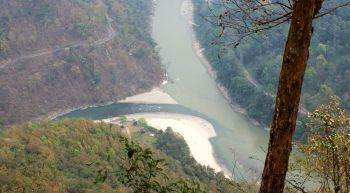 Winding roads along Ranjit and Teesta Rivers
The train arrives in the town of Siliguri, which is just minutes from Bagdogra, where the flights arrive. Share jeeps leave from either town for Gangtok, the capital of Sikkim. It will be about a 5‑6 hour ride, with seats in the jeep costing about Rs150 ($3). Be advised that they pack these share jeeps with 2 passengers in the front seat and 4 passengers in each of the other seats! TIP for Share Jeep Trips: Since we have long legs and wide shoulders, we organized buying both front seats next to the driver, and 2 seats in the middle row (one being a window, always!). That way one of us had the front seat/window, and the other had the middle seta with only 2 other passengers, instead of the normal 3 others. This can only be done if you talk to the driver before the start of the journey. They are good about not trying to sell "your" seats out from under you! If you want your own jeep, or have a large group, you might want to hire the whole jeep, which will cost you the nominal fare times the number of seats the driver can sell. We hired a much more luxurious 4WD for about Rs3,000 ($60) for the trip up to Gangtok as there were 5 of us.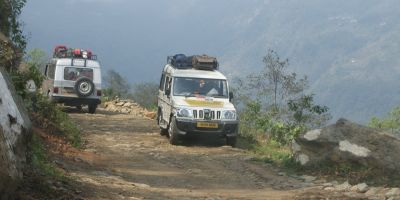 Share jeeps pass on a road in Sikkim
There are 2 main border crossings into Sikkim. Yes, its another state of India, but it has restricted entry, so you can't just cross the border from West Bengal). You need an Inner Line Permit (ILP) which is valid for 14 days, extendable for an additional 14 days in Gangtok. If you travel from Bagdogra/Siliguri or even from Darjeeling you can go straight to the border town of Rangpo and obtain a (free) Permit for Sikkim at the border, 7 days a week. Once at the border, you tell them you need a permit, and they let you walk up the road about 1 block to the Rangpo Tourist Lodge on the left which houses the Permit Office. Have a bite of lunch while you wait for the processing. If you're in a share jeep, you may have to leave the jeep there, and get another one to continue the journey if the permit takes too long. Check with your driver about this. A private jeep will, of course, wait for you, and they figure in the permit/lunch time when they calculate the travel time for the trip. TIP: Do not give the driver any money for the Permit. Permits are free, and you can do them yourself. The other border crossing, at Jorethang does not issue permits on arrival. You must arrange your Sikkim Permit in advance in either Siliguri at the Sikkim Tourism Center, or in Darjeeling (across the street from Glenary's Bakery on the walking street up to the Chowrasta). When applying for an Indian visa you can get a Permit for Sikkim, but there is a fee.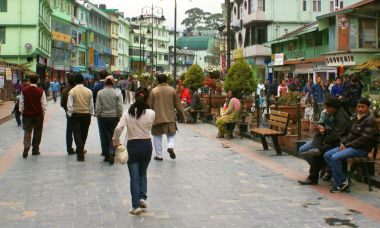 Gangtok's MG Marg walking street is always bustling
Things to See and Do: Many travelers by-pass Gangtok and head straight for western Sikkim, which is a shame as Gangtok is 1/3 the size of Darjeeling and therefore much less hectic and very walking-friendly. We really enjoyed our time in Gangtok. The trip by jeep from the lowlands to the capital takes about 5 hours (either from Siliguri or from Darjeeling) and has dramatic scenery of the Himalayan foothills. In clear weather you get tantalizing views of the snowy mountains themselves. Terraced rice fields, cardamom plantations under trees, tea estates, waterfalls careening off steep hillsides, sharp switch-backing roads, and beautiful monasteries and prayer flags make the trip very picturesque.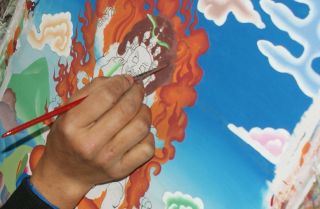 Thanka painting at Cottage Industries, Gangtok
In Gangtok we stayed at the low key Dho Tapu Guest House which is owned by a nephew of the late Chogyal (King) of Sikkim. The small guest house (beds for about 20 or so) has an open-air dining area which looks out over the Himalaya and the rolling hills below Gangtok. There's a good restaurant downstairs that serves up all manner of Tibetan meals and snacks and has photos of "the days of the King." If you don't know much about the history of this Himalayan Kingdom, your host, Jigme Namgyal himself is often at the guest house in the evenings and is happy to converse. In a nutshell, Sikkim was an independent Kingdom until 1975 when an unscrupulous Indian politician gathered support from the uneducated population outside Gangtok and essentially voted the king out of power. The late king was married to an American, Hope Cook. Their daughter returned to Sikkim after her education in the States, and she runs a trekking company there now.
From the Guest House it's a short walk (or a Rs10 taxi ride) up to MG Marg, the spacious new walking mall in the center of Gangtok. Here you'll find travel agents, restaurants, yummy coffee shops, fabric stores, shoe/clothing stores, and probably anything else you might want. Overhead signs lead you uphill to the Cottage Industries, officially called Directorate of Handicrafts and Handloom. The sign says it's 0.1 km but it's more like a 20‑minute walk! This complex of buildings houses a small museum of the handicrafts of Sikkim, classrooms for artists and weavers, and exhibition areas where the crafts people are at work painting thankas, making wood carvings, and weaving carpets and fabric. It was there when Sue first visited in 1974, and hasn't changed much! It's still a great place to buy handicrafts, especially after you've just seen how they're made.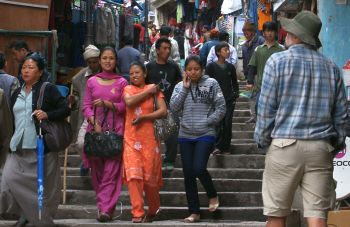 Walking is a way of life in hilly Gangtok
If walking uphill at 5,600' (1700m) elevation is not your idea of fun, then you can ride the Tramway from the lower end of town to the upper reaches, near the old Palace and government offices. The views of the tea plantations and terraced fields are fabulous. In clear weather you can see the towering Himalayas. It's an almost-level walk from the top station of the tramway to MG Marg and that much needed cup of java at Cacao Coffee Shop! Below MG Marg the Lall Bazaar market is worth a stop with its several floors of market stalls selling everything from local fresh fruit and veg to plastics, clothes and handicrafts. In 1974 it was an outside market with wandering sadhus, snake charmers, and fortune tellers. One thing hasn't changed, though - the local women still plunk their little children in baskets back behind the vegetables!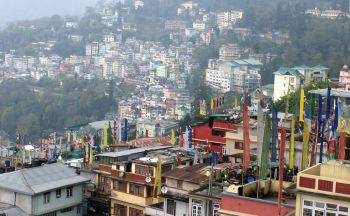 Prayer flags & roof-top view of Gangtok, Sikkim
One of the most famous sights of the area is Rumtek Monastery, just a 45‑minute jeep ride from the city. About 3 times a year Rumtek hosts the fascinating Cham masked dances which are probably very much like Nepal's Sherpa's Mani Rimdu. Visiting at other times, you may be lucky to arrive while the monks are chanting, but otherwise just walking the grounds and through the several smaller gompas gives a sense of Tibetan Buddhism as practiced in Sikkim. To enter the Monastery you need to present your passport and Sikkim permit. There is an insignificant entrance fee (Rs10), and a similar camera fee.
For those with a botanical interest, springtime brings a huge Flower Show to Gangtok, and the Botanical Garden and nearby nurseries are all bright with color. Sikkim is world-famous for its orchids and rhododendrons. April/May is when the Himalayan rhododendrons bloom. The first to arrive are the Rhododendron arboreum, with bright red trusses that adorn trees from Darjeeling well into the mountains above Gangtok. With an extra permit, you can arrange a road trip into northern Sikkim, up to the Yumthang Valley where there are fields of primula and stands of rhododendron shrubs and trees on the hillsides. Trekking towards Mt. Kanchendzonga in May is particularly rewarding all the way to the highest pastures where dwarf rhododendron brighten the landscape and the pungent fragrance of Rhododendron anthopogon fills the air. Wild orchids can be found at many elevations, including in the forests on the trekking routes.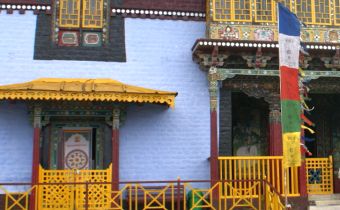 Pemayangtze Monastery, Pelling
Western Sikkim: If you're interested in seeing the rural life head to northern or western Sikkim. No extra permits are required to visit the small towns that dot the hillsides of southwestern Sikkim and the town of Pelling is queen. We happened to go there after our trek from Yuksam, but you can get there directly from Gangtok in about 5 hours, Rs3,000 for a private jeep or considerably less for a share jeep. From Darjeeling, you must have gotten your Inner Line Permit for Sikkim ahead of time. Pelling offers not only great mountain views, but is a great jumping off point for hill trekking or monastery trekking in southwestern Sikkim. These sorts of treks can be undertaken on your own and without permits other than the ILP for Sikkim itself. The town extends up a hill, with many switch-backs to the road. We stayed in Upper Pelling at the Hotel Kabur for $9 per night. The Kabur has a nice indoor restaurant with view, and a great terrace where you can hang out, talk to other travelers, or just read a book and contemplate the view. The office staff are very knowledgeable about treks and can give you a hand-drawn map of the area. A 20‑minute walk up the hill takes you to the beautiful Pemayangtse Monastery, built in 1760. Visitors are welcome during daylight hours. A small entrance fee applies. Between Gangtok and Pelling lies Sikkim's only commercial tea estate, so if you missed visiting a tea estate in Darjeeling, you can still get a tour of a processing plant and walk the beautifully plucked hillsides at Temi Tea Estates.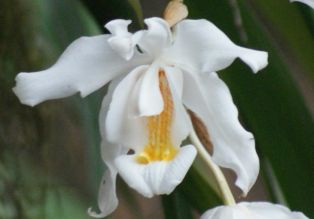 Fragrant orchids brighten the Sikkim forest
Expense Summary (in US$) for our 21‑day inland trip for 2 people in 2011, including 9 days of trekking ($65/person/day, average):
Item
US$
Avg/day
(2 people)
Plane tickets (from Chennai RT):
$ 605
Ground transport:
$ 182
$ 15
Meals:
$ 218
$ 18
Accommodation:
$ 384
$ 32
9 day Trek:
$ 1,105
$ 123
Safaris:
$ 81
Misc. and extra food/snacks:
$ 150
$ 7
Approximate 21 day Total:
$ 2,725
$ 130
India Pages: Up | Andaman Islands | West Bengal Hills | Sikkim | Sikkim Trekking
Related Pages: India Newsletters | Sri Lanka Flora & Fauna | Cruising Andamans
Indian Ocean: Indonesia | Singapore | Malaysia | Thailand | Nepal | India | Sri Lanka | Maldives | Chagos | Seychelles | Madagascar | Mayotte
Top Level: Home | Destinations | Cruising Info | Underwater | Boat Guests | Ocelot | Sue | Jon | Amanda | Chris | Site Map | Make a Comment
---
Lifetime
Commodores
of the
Seven Seas
Cruising
Association

If our information is useful,
you can help by making a donation
Copyright © 2000‑ Contact: Jon and Sue Hacking -- HackingFamily.com, svOcelot.com. All rights reserved.