Sikkim Trekking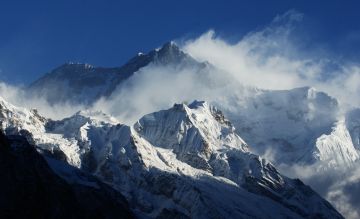 Mt. Kanchendzonga, 28,373' or 8598m
TREKKING in SIKKIM
Mt. Kanchendzonga, the world's 3rd highest mountain, sits on the western border of Sikkim, with its base in both Nepal and Sikkim. Forests of rhododendron, silver fir and magnolia line the lower elevation trails, and bright birds and langur monkeys frolic in the branches. With so much to offer, Sikkim is a magic place to trek!
Where to Trek: There are several treks open to foreigners in Sikkim. Without a permit you can do a "Monastery Walk" in western Sikkim up and down the steep hills in the region of Pelling and Yuksum. This is not easy terrain (see photo below) but it does take you through many small towns, terraced fields, and monasteries. It also provides an up‑close experience with the people and culture of Sikkim. This trek can be done almost any time of the year, but June though September is likely to be wet. Alternatively, with lots of paperwork, no guarantee of a permit, plus money and time you can try for a trek to the newly opened Green Lake north of Mt. Kanchendzonga. There is also a new trek in wilderness north of Gangtok, but it too, requires extra permits and expense. For more on how to get to Sikkim, the permits needed, and transport see our Sikkim page.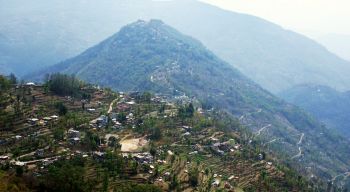 Hill trekking in Sikkim means lots of up & down!
The classic and most popular trek is the Yuksum‑Dzongri Trek, which can be done in 5 days from the village of Yuksum. Sue did this trek in 6 days in 1992, adding a hike up to the valley of Thangsing, one day past Dzongri. Now it's possible to go a day and a half past Thangsing to the Goecha La (La means Pass), a high pass beneath Mt. Kanchendzonga. This is the trek we did in the spring of 2011. Eight days is recommended for this trek, not for distance covered, but for acclimatization. At this time it is not permitted to go beyond Goecha La to the north. This trek is entirely within the limits of the Kanchendzonga National Park and it is NOT a hut‑to‑hut or guest‑house trek like you find in Nepal. While there are a couple of extremely rustic "lodges" and basic food to be bought at the first stop of Tsokha, beyond that you find a basic trekkers hut in Dzongri, another one at Kokchruong, and then nothing. It is all wilderness, beautiful windswept valleys under towering snowy Himalayas. Magnificent! But not a "walk in the park." The trek is also brutally steep, especially at the lower elevations, more so than most days you might undertake in Nepal. TIP: If you like a good map, buy a European topographic map before you leave home. They are not available in India for security reasons (the Indian government apparently hasn't heard of Google Earth).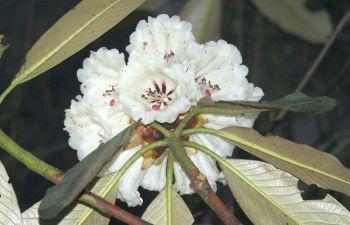 Spring blooming rhododendron on the trail
When to Trek: For clear skies and high mountain views, plan on a fall trek from October through December. For flowers and warmer weather, go in May and June before the monsoon rains. You can still get clear skies.
A lot has been written on the Internet about trekking in Sikkim and a lot of it, particularly from sites like IndiaMike.com are accurate only for Indian nationals. In 2011 we did the Yuksum to Goecha La Trek to near the base of Mt. Kanchendzonga. Here's the deal: Foreigners are required to employ the services of a registered trekking company to make your arrangements for trekking. You must enter and leave the Kanchendzonga National Park in the company of a guide on a fully‑found trek. This means that you may not just rock up in Yuksum (the village from which the Dzongri trek starts), hire a guide or porter and head for the hills, much as you might like to. There is no place in the law for you to show your competence as a backpacker or mountaineer and bypass these regulations. Indian national ARE allowed to head for the mountains without so much as a tent, if they are that crazy. Foreigners may NOT join a group of Indian nationals doing the trek, so don't think you can secretly just tag along. You will be stopped at the check posts, fined, and escorted back out. It's not worth it, and anyone sneaking in and getting caught raises the hassles (and permit fees) for other foreigners following.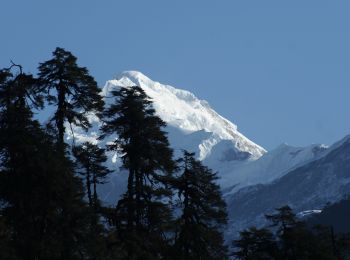 Clear skies are the norm for fall trekking in Sikkim
So, what's the story with fully‑found treks? There are many registered trekking companies in Sikkim, and their fees, along with the quality of their services, vary a lot. We met some trekkers who had paid about US$25‑30/day/person, but they were eating rice and lentils at most meals, their guides were not attentive, and their equipment was low quality. Groups that try and go "on the cheap" can get very disappointed because beyond Kokchurong (1 day past Dzongri and in a valley) you MUST have sleeping tents, a cook tent, and pack animals. There used to be a viable trekkers hut at Thangsing, but until it is repaired it is too dangerous to sleep in. A day's walk north of there is the Lamuni campsite which is on a windswept plain. Camping/sleeping at the hut at Samiti Lake is now prohibited as it is a holy site. Also beware of joining a group that is planning on splitting up. Be sure the group staying longer will be equipped with tents, food, and pack animals. The two worst trekking companies we heard of (with repeated complaints) were Red Panda (which is the most accessible one, right in Yuksum) and Altitude out of Gangtok. Given what we heard, we recommend you stay away from both of these companies.
We met a young woman who had joined a group doing a 5‑day trek to Dzongri and back. Bianca wanted to go on to Goecha La, and paid for the extra 3 days. But when the group split in Dzongri they sent her off to the higher valleys with only a porter (no English), Rs200 ($4) to buy food (there is nothing to buy up there), and no tent. Luckily for her, we were doing what she wanted to do and we organized with our guide that she be allowed to share our hot meals and sleep in the cook tent. Had she gone on with just that porter, no provisions, and no shelter she could have been in big trouble as the weather can be quite nasty, and we had several blizzards. We like to save money as much as the next guy, but don't cheat yourself out of getting as far and as high into the mountains as you want by hiring a company that can't provide you with what you need!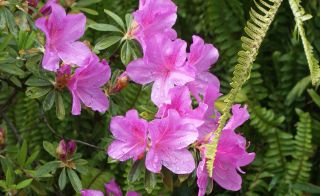 Rhododendron in bloom, Yuksum, Sikkim
OK, that's the bad news. The good news is that reliable trekking companies can give you an awesome experience you'll remember for your whole life. Our own experience suggests the following as reliable and first‑class trekking companies to work with: Sikkim Adventure (with whom we trekked in both 1992 and 2011), Blue Sky (which fellow trekkers had good experiences with), and (based in Darjeeling) Tenzing Norgay Adventures (yes, the son of the Tenzing Norgay who climbed Everest with Sir Edmond Hillary in 1954). There are several more. If you're in Gangtok you can ask around for advice.
What to look for: Here are some questions to ask your prospective trekking company:
How long have they been in business?
Can they supply references?
What size group will you travel with?
Does the guide speak your language?
What is the itinerary?
What camping supplies are provided? (and if you don't have some things, can they get them?)
Will they provide a cook tent?
What are the typical meals? (our hearty soups at both lunch and dinner were wonderful!)
Will the whole group be together?
What if some of the group need to turn back early? What are the contingency plans?
Will they supply sleeping mats? Sleeping bags?
What pack animals will they provide? (Horses are actually more reliable than Yaks early in the season)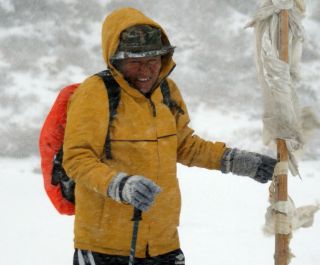 Thupten, our incorrigible guide, still smiling!
A reliable company will charge anywhere from US$55 to over US$100 per day per person. It might be $10‑15 less if there are more than 4 of you, as the expensive Environmental Fee (over $300) can be shared. TIP: It will cost less per day, perhaps, if you chose to trek only as far as the trekkers hut at Kokchurong. This means you might not need tents or cook tent and perhaps you can get away with one less pack animal, although if a trekkers hut is full (like it was for us at Dzongri) you will need that tent! The down side is you don't get to the high pastures and the best views. Booking on line can be frustrating because the companies don't always publish rates so you have to email them. But you should do this anyway, as there are many things to consider. The internet treks may assume a starting point of Delhi, so if you tell them you're traveling to Gangtok on your own, you should be able to negotiate a discount for the "trek only" portion. If you organize things ahead of time your trekking permit can be ready when you get to Gangtok, or you could also meet your guide in Yuksum, if time is short. You need to send scans of your passport main page and Indian visa to get your permit.
TIPS on Tips: Your "employees" only earn a few dollars a day. They count on a tip at the end, and although you are not obligated it would be a gross insult to refuse to tip. Of course, if someone deserts you, ignores you, or does something totally awful, you needn't tip! The staff of the reliable trekking companies are pros, and they do a great job making your life comfortable and safe! Figure on about 1 day's wage for each staff member for a week of trekking as a tip. For us this came to Rs2000 for our guide, Rs1000 for the cook, Rs700 each for the horseman and main cook helper and Rs500 for the extra cook helper.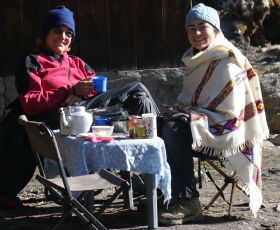 Happily spoiled on a sunny morning
A word on the Culture of Trekking and the Environment: Sikkim is the most environmentally advanced state in India. There are no plastic bags in the state. Grocery, fruits, vegetables, and any products bought in shops will be wrapped in either paper or wonderful, thin cloth bags. So if you want zip‑locking bags on your trek, bring them with you! There are forest preserves and wildlife sanctuaries throughout the state and areas are still being set aside for protection. Kanchendzonga National Park is huge, and the forests and wildlife are loved and protected. You are not allowed to have wood fires on the trek; your staff will cook on kerosene stoves. It's hard to keep an area pristine with hundreds of trekkers, but we all can help. Be sure to carry out what you carry in, or pick up any trash you find, and carry it out, too! Our trekking team was meticulous about leaving camp clean. Their jobs depend on the income from trekking, and if the area is degraded or trashed out everyone loses out. Unfortunately, it's often the Indians themselves who are the worst litterers. We found a French group who were so disgusted that they were cleaning up the trail on their way out, so we gave them one of our plastic bags.
Does hiring a guide and cook team make you feel like you're exploiting people? Do you feel strange having people carry your gear? Cook for you? Well, GET OVER IT or don't trek here! Have you never eaten in a restaurant? Been waited on by an airline attendant? The trekking teams are hard working, conscientious, and usually fun‑loving people. You are their employer for the duration of the trek and they depend on you. Without you, they have NO work. They like their work and are proud to be part of a good team. In Nepal, porters transport most of the goods up and down the mountains. In Sikkim, a cook's assistant may carry a doku (woven basket) with cooking pots, but YOUR gear will be on the back of a hearty, high‑altitude pack animal. Embrace this culture. Talk to your guide, a lot! Joke with your cook team. Show the horseman or yak‑man that you appreciate his animals. Trekking in Sikkim is NOT just about mountains and good exercise and fresh air. It's also about a culture, and a way of life. Make the most of it!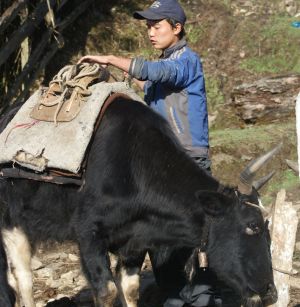 Young yak man saddles his tzo
What to Take:
Day pack for yourself with waterproof cover
Bigger pack to be carried by pack animals
Big plastic bags to keep things dry. Note: There are NO plastic bags in Sikkim but you can buy plastic sheet in a roll & tie off the ends
Clothes:

Good hiking boots & 4 pair socks (Double are best, not cotton. Liners work well & dry quickly)
Wind/rainproof jacket & rain pants
Fleece jacket/vest
Hat and gloves for cold weather
3 day's change of underwear: 1 to wear, 1 that's wet, 1 that isn't dry yet!
Long pants - quick dry, not jeans!
Shorts for the warm sunny days (Jon always hikes in shorts, even in the snow)
2 long sleeve shirts, 2 short sleeve. Quick dry nylon or polypro is best

Cosmetics (minimal)

Personal items. Maybe you can share a small toothpaste? etc
Sunscreen
RX for stomach, headache, blisters, altitude
Toilet paper (aka "mountain money")
Bandana, soap & small towel for sponge baths (baby wipes also work)

Water bottle, high energy snacks, rehydration powder (your cook will provide boiled water)
Camera plus spare batteries and lots of memory cards
Flashlight (torch). An LED headlight is highly recommended.
Sleeping bag (may be rentable). Sleeping bag liner (especially if you rent a bag).
Rupees for tips, & maybe snack purchase at Tsokha (the only place to spend money)
Umbrella, big &/or folding. Much nicer than hiking in a waterproof poncho.
Optional Equipment:
Camp shoes - sandals, crocs or down booties
Long underwear if you get cold easily. Fleece pants, ditto
Trekking poles (not optional for Sue!)
Cards, paperback book, Sudoku, journal & pen
Knife, altimeter, etc (not optional for Jon!)
Your hotel in Yuksum will hold your passports, valuables and extra clothes for you free of charge. We even left a small computer and cell phone, no problem.
---
Our Dzongri‑Goecha La Trek
29 March to 6 April, 2011 Excerpts and comments from Sue's Journal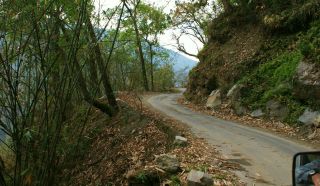 Narrow roads on steep hillsides lead to Yuksum
Day 0: Gangtok
Today we finalized our arrangements with Sailesh Pradhan of Sikkim Adventure and met with Thupten, our guide (who Sue knew from 1992!). We did not have sleeping bags with us, so we rented them from the company. We shopped in town for Vitamin C, rehydration drink powder, band‑aids (plasters) for blisters, and more warm socks. We had bought a feather‑filled jacket and vest in Darjeeling for $12 each, and some socks. Our hiking boots we'd had shipped in from the States, and we were happy to see that they had arrived safely. In the evening we hit a small grocery store for more snacks for the trail -- peanuts, chocolate bars, and raisins. We were really glad we had them! Not that we weren't fed enough, but when the trail is long and steep and when you're tired and cold it's nice to reach into a pocket for a quick snack to have with the water. Because the packing and organizing took so long we had beer and momos in our room delivered from the downstairs restaurant.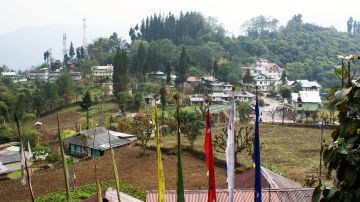 View from Tashigang to "hotel row" Yuksum, Sikkim
Day 1: Gangtok to Yuksum, 5 hour drive
We, along with our guide Thupten, took a "share jeep" from Gangtok to Yuksum. He had organized this the day before so that we paid for 2 seats in the front, and 2 of the 4 in the middle seat (each seat was ~$3.50), giving us much‑needed leg room. Lots of our provisions and our duffels went on the roof, wrapped in heavy plastic tarps.
This 5‑hour drive passes through some of the nicest scenery of western Sikkim. It's a rough road, and a bit of a worrisome drive as the jeep had really tread‑bare retread tires. The village of Yuksum had been almost nonexistent in 1992 -- a small gompa, a few houses, and a rest‑house in a field for trekking groups. There are now over 10 small hotels (some not so small), a large village, school and a few small restaurants. We stayed 1 night at the big Tashi Gang Hotel (chosen by the trekking company) which was virtually empty because March is very early in the season for trekking. It's up on a hill at the far end of town, with a large lobby with comfy sofas and a TV showing the NZ vs. India World Cup cricket match. Our room was large, but the shower only supported hot water for 1 short shower before needing to reheat for the next. We could get internet and do email with our 3G modem if we took everything up the stairs in line of sight of the cell towers at the entrance to town.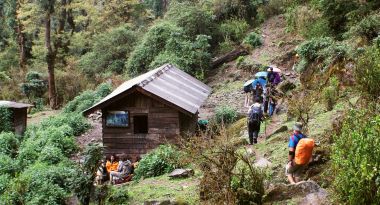 Lunch stop in the forest 4 hours above Yuksum
We had lunch in the tourist end of town at Gupta Restaurant -- fried noodles for Sue, "fajitas" (salad and chicken on fried bread) for Jon. All very yummy and only $4 total. We spent the afternoon strolling the town, looking for more warm clothes: a fleece shirt for Sue, and more warm socks. Dinner we had at Tashi Gang's restaurant. Then all evening we packed and repacked our duffels, adding the sleeping bags, taking out things we didn't need in the mountains. We packed our own daypacks with water bottles, snacks, money, camera gear, rain gear (including umbrellas), and extra jackets for warmth. Thupten visited while we packed and answered questions as they arose.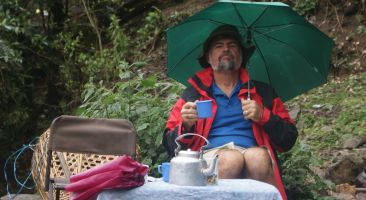 I say, tea anyone? Our first lunch stop
Day 2: Yuksum to Tsokha, 10 miles, 5,800‑10,000', 4250' ascent (17km, 1760‑3050m, 1290m ascent)
We tried to get email in the morning, which slowed things down a bit, then tried to have breakfast. They were well‑meaning, but obviously not up to snuff with the cooking yet. Apparently the hotel had recently changed hands. Most things on the menu were not available, so we settled on boiled eggs for Sue and fried for Jon. His came so well done we swapped plates! Then we settled our bills at the hotel ($20 for the night, $10 for dinner and breakfast) and were met outside by Thupten and several of our staff who took our plastic‑wrapped duffels and loaded them on ponies. Off we went! It was great to be in hiking boots, day pack, walking sticks deployed, and camera hanging on the shoulder! Sue wore a long rayon skirt which was comfy on the hot day, and allowed easy leg movement, but it did look a bit 1880's‑ish!
The first part of the walk was through the village and past the checkpoint for the National Park. It was a misty morning, so we had no views of Mt. Kabur which can stand white and tall above the village. We set off ahead of our party of Thupten, Lakpa the cook, Phu Tsering and Lakpa the cook assistants, and Bhuchung the horseman with 3 ponies. The trail was much as Sue remembered it from 1992 -- a stone‑lined track leading out from the houses and into dense forest. We climbed gradually for the first 4 hours, crossing streams on sturdy concrete bridges, unchanged in 19 years. Soon our entourage passed us, and by the time we arrived at Sharchen, a small clearing below the left side of the trail, our cook team was all setup and we didn't have long to wait for lunch. Several other trekking groups were also there, so some people sat on rocks, and others got to sit under the narrow eaves of the cook "house" while we were set up with folding chairs and a small plastic table. We got over our embarrassment in about 2 seconds and enjoyed the comfort, deploying umbrellas to stay dry. Luckily it was only a sprinkle, not a full tropical downpour - what we call "Seattle Sunshine".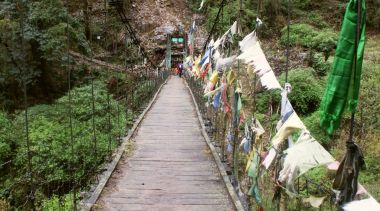 Suspension bridge over the PrekChu, way below Tsokha
Lunch was clear vegetable soup, potato curry with big cinnamon leaves, and roti (flat bread) and bananas for dessert. Of course, it started with the requisite tea (Thupten tended to serve it black with lemon and sugar, rather than with milk and sugar as the Sherpas do in Nepal. The trail after lunch changes character from gently climbing to steeply climbing. Just when you think, "Good, now we're really gaining altitude" you drop down 700' (200m) to the Prek Chu ("chu" means river) which you cross on a big suspension bridge. Then you regain what you lost and climb a final 2400' (800m) up through blooming white Rhododendron grande, past the huts at Bakhim, and up through blooming magnolia forest to the small Tibetan settlement (20 permanent residents) at Tsokha. We arrived at 5:15pm after 8 hours of hiking.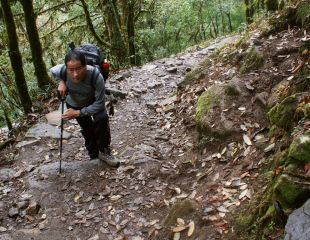 Thupten on the switchback trail below Tsokha
The government hut Sue had stayed in in 1992 was filled with several groups, but we had a private room (with lock!) at Thupten's brother's Mountain Lodge. The room had 4 wooden slat beds with pretty grubby mattresses, which we piled up to give us more cushioning for our old bones. Shortly after we arrived we were served tea in the room, along with orange‑filled cookies (biscuits). While we waited for dinner we used basins of warm water to take sponge baths and get into non‑sweaty clothes for the cold evening ahead. We knew we would have a lay‑day the next day to acclimatize, so we also washed our socks, uns, and quick‑dry T‑shirts. We carried all these wet things to the other hut where the family fire was burning and hung them on the rafters and lay them on our knees hoping the fire heat would start them drying. We sat on a low bench just feet from the open fire, which was legal in that this was the family hearth for the fulltime residents and not usually a trekkers' lodge. Our own food was cooked in a separate building over a kerosene stove. We had a great meal (everything tastes great after a long hike!) of onion soup, chicken curry, eggplant/hot veg with rice, and fresh apple for dessert. Back in the room we did some minor sewing on our new silk sleeping bag liners to let them open fully and tie together. We fell into bed exhausted, but didn't sleep well, probably due to exhaustion and the elevation. BTW, that first day is the toughest in terms of elevation gain in one day! Luckily the elevation is not yet very high.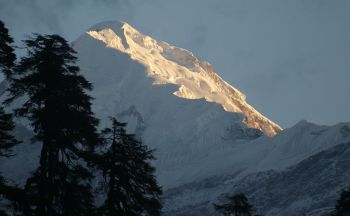 Mt. Pandim 22080' (6691m) seen from Tsokha
Day 3: Acclimatization day at Tsokha. 2 mile (3km) walk, up 500' (150m) and back
We were awakened at 6am by Thupten telling us the mountains were out! We slipped on our clothes and headed out to see the glorious sight of Mt. Pandim, a huge snowy triangle, illuminated in pink morning light. To the right of Pandim was Tikchinhung and Jopponu Ridge. Yellow billed blue magpies flitted about, their long tail streamers flashing in the morning light. Tzos contentedly chewed their grass feed, the horses got groomed, and white collared blackbirds rustled in the branches of the daphne bushes. The clouds rose with the sun, but the upper sky stayed blue for long enough to let us hang our clothes outside on the balcony of the lodge. We took breakfast under the little pergola outside the family home and near the cook building. It was very fortifying: small omelets, porridge with nuts and raisins, then heavy pancakes with honey. And of course, tea, more tea, and then tea again.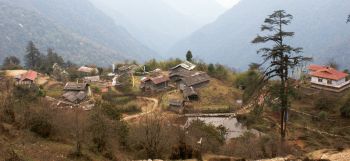 Settlement at Tsokha, 10,065' (3050m)
By 8am the fog had risen and drizzle came and went all day. Despite the damp weather we took a walk with Thupten around the small lake and over a plank bridge to the monastery (now vacant) and up the old mountaineering trail, now rarely used. There were lots of flowering bushes and trees: pink, fragrant Daphne, Primula edgeworthii, Rhododendron falconerii with big leaves and some buds, and blooming Rhododendron arboreum and Rhododendron barbatum. Huge silver firs (Abies spectablilis) towered over us, and Thupten estimated their age at 200+ years. Draped on the branches were epiphytic Rhododendron pendulum, though not in bloom. Sikkim is home to about 36 species of rhododendron. We were just a few weeks too early in the season (and it was a late, cold season!) to see more than a few species in bloom.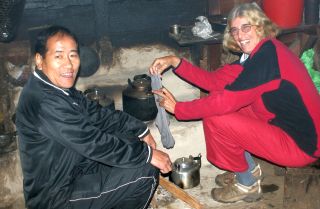 Thupten & Sue by family hearth, drying socks!
We returned on the main trail making a loop, had more tea, then a rest before lunch of thick soup, potato curry and potato bread. We took afternoon naps and sat by the fire. We had brought no games to play, so we visited and chatted. The reports from folks coming down was that it was snowing quite hard higher up. In the government hut just below us was a Polish group with 10 people. The leader was in a quandary because 7 of the 9 trekkers wanted to return to Yuksum due to the cold, wet weather. She was annoyed, because they were all supposed to be well equipped for the weather. They really didn't have any excuse, coming from Poland! Man, we would have been annoyed if we'd been with a group that was allowed to vote on what to do, and we lost out on the experience just by being in the minority! We felt sorry for the 2 that wanted to carry on. The leader was so conflicted she swore it would be her last trip. By the way, in general, if you book a trek and cut it short for whatever reason, including illness, you don't get a refund. This is because the guide and all the staff have had to provision and perhaps pay to rent gear, and they depend on the income from trekking a certain number of days.
We had a great dinner (even though we didn't really get any exercise to warrant it!) of soup, rice, potato finger chips, veggies, dal, and green beans, followed by fresh orange slices, warmed, with hot chocolate. There was some minor cheering when the radio brought word that India had beat Pakistan by 20 runs. They were off to Sri Lanka to finish the Cricket World Cup. After our sponge baths (warm water, chilly air) we lay in our sleeping bags on the hard bed reading with the help of our handy headlights, then fell into a deep sleep.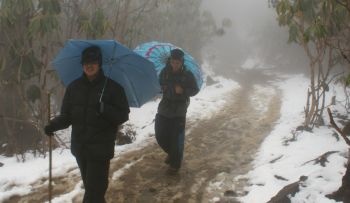 Trekkers on the slushy Tsokha to Dzongri trail
Day 4: Tsokha to Dzongri, 7 miles 10,000‑13,200' 3,200' ascent (12 km, 3050‑4020m, 970m ascent)
No mountain views this morning, and the Polish group decided to bail. Despite being provided with a list of gear to bring, many were unprepared for the snowy conditions higher up. We went to see them before they left to see if anyone had gaiters to sell us, as they wouldn't be needing them. This is when the leader was shocked to learn that no one but herself had brought gaiters, even though they had been clearly on the Things To Bring list. Two of the women gave us woolen blanket/shawls they had just bought to try and augment their skimpy wardrobe. We were grateful to them, as these made great wrap‑ups on cold evenings inside the cook tent or in our own tent over our sleeping bags. Back at our camp, Thupten produced an old pair of gaiters which he loaned us, as he had a second pair. Jon's rain‑pants were long enough to act as gaiters if the snow didn't get too high.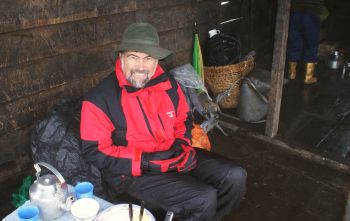 Lunch stop in leaky Phedong hut at 12000'/3650m
We set off in the drizzle, umbrellas open, cameras tucked safely away. The big rhododendron leaves drip, drip, dripped on us as the mist swirled around us. We did see some nice birds, though: a black pheasant near the garbage tip at the camp, several white collared blackbirds, and higher up, a beautiful little laughing‑thrush. For 3 hours we climbed on planked walkways, probably the same planks Sue walked on in 1992! In some places they were built like a staircase, and in others, more like a raised bridge over boggy areas. The rain turned to snow at about 11,500' (3500m) which was actually nicer, as it tended to bounce off us.
At noon we arrived at the top of a well remembered STEEP stretch, to exit into the open meadow of Phedong at 12,000' (3650m). Here we were lucky to be one day behind the crowds that had been with us on the first day -- they were already up at Dzongri and that left the small, leaky cook hut to our group. The poor ponies had to hang out in the rain. Nestled into a non‑dripping corner we enjoyed a lunch of ginger tea, soup and pasta primavera. Outside (or rather next to us, as there were no walls to speak of) were many patches of snow -- remnants of the previous night's snowfall. We were indeed at high altitude.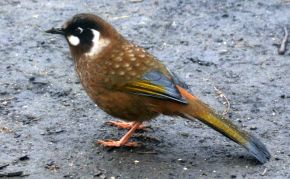 Blackfaced laughing‑thrush 12000'/3650m
After lunch it was 3 more hours of climbing up through another 1,200' (370m) of slush and puddles and snow. We passed midsized rhododendron bushes all curled up tight for the winter. Near Dzongri the vegetation was much lower to the ground, and was mainly dwarf rhododendrons with their characteristic small leaves. Definitely no blooms. We rounded the corner to find the hut at Dzongri, much as it had been in 1992, but now filled to the brim with trekkers -- probably more than 30. Each room was filled with sleeping bags placed on mattresses on the floor, and most were filled with cigarette smoke. An Indian family was there with their dog -- how they got it past the National Park check point we don't know. Pets are DEFINITELY not allowed in the Park!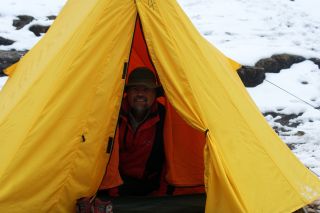 Jon in our tent at Dzongri 13,200' (4020m)
We dropped our day packs in our nice private tent, then went back to socialize with Bianca, a young American we had met on the trail, and 2 Israeli couples. We had tea and all shared snacks together, talking about religion, travel, education, and all manner of things until sundown when the Israelis lit Sabbath candles. They invited us to join them and stay for their evening meal but our own dinner was ready so we braved the cold snow back to our cook tent where we had soup, momos, sweet corn, chow mien, crispy chicken slices on salad and a cheese/chili/cilantro sauce. Dessert was deliciously warmed fruit salad. Man, were we spoiled! And loving it! We finished the evening in the company of the Israelis and Bianca, with more discussion of religion and Bianca's plans to get her MA in transpersonal psychology.
We had a good night's sleep on insulite pads topped with foam mattresses, sleeping bags, silk liners, and covered by the new blankets we'd been given. We were dry and cozy in the tent that had only been used once or twice. Those in the trekkers' hut didn't fare so well, what with cigarette smoke, coughing, snoring and drafty walls.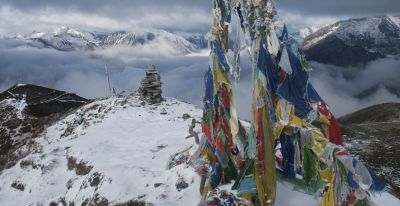 Frozen prayer flags on Dzongri Peak, 14,250' or 4320m
Day 5: Morning climb to Dzongri Peak at 14,250' (4320m) & back (1000'/300m ascent/descent)
Then Dzongri to Thangsing, 7 miles or 11km, mostly around 13,000' or 4000m.
Thupten woke us at 5am to say we might see the mountains. By 5:15 (after queuing at the busy long‑drop) we were on our way up the frost‑covered trail to Dzongri Peak, 1000' (300m) above the campsite. Dwarf Rhododendron anthopogon and the larger Rhododendron camplyocarpum were all closed up, frozen and looking quite dormant. Can't say we blame them! We had hints of sun, a peek‑a‑boo view of Mt. Pandim, the Thangsing Valley and the slopes to the north under Mt. Kabru. Prayer flags marked the top of the climb, and they were beautifully frozen into colorful ice sculptures, an indication that winter had not yet loosed it grip on the mountains. The clouds rose and swirled, and we got a glimpse of the sheer icy walls of Mt. Kanchendzonga before we were shrouded again in white.
We returned to camp for a hearty breakfast of porridge, omelet, French fries and toast. We made a decision, which in hind sight we regret. We could have stayed one more day in Dzongri, doing a day hike into the Rathong Valley, but at the time the weather looked so bad we probably wouldn't have seen anything unless we had camped up the Rathong and waited for morning views. That would have set us one day behind schedule if we wanted to reach Goecha La. But Goecha La was not accessible, which we didn't yet know, so we COULD have taken the extra day. So many choices! We'll just have to go back!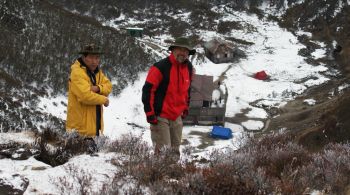 Cold morning on the hill above Dzongri campsite
By now we were aware of the plight of Bianca, the young woman who had paid Altitude Treks for 8 days but was put with a group who were only trekking for 5 days. This was the split‑up day, and we were happy to have her and her 1 porter trek along with us. She talked at length with Thupten who confirmed that she could not go beyond Thangsing as there are no huts to sleep in. She was disappointed, but determined to get as much out of the experience as she could. We feel SOOO spoiled!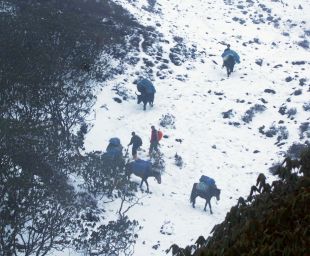 Tzo & ponies on steep trail from Dzongri
It's a long hike (in fog) around the base of Dzongri Peak, then up over a pass at 13,500' (4100m) on a ridge (oh, the views we are missing!) and a long traverse through open highlands before beginning the very steep 1000' (300m) descent to the river. The trail was very tricky here, as the sun had not melted the snow of the past few days, and we were on frozen slush, ice and wet rock. Hooray for trekking poles! In some places we measured over a foot (30cm) of new snow. The ponies slipped and slid but we were grateful to have them and not tzo (a cross between a yak and a cow). Tzo sort of hibernate in the winter, and this early in the season they are not fully recovered in strength or stamina. The better companies will not use tzo until they have had a few weeks of new green grass to munch. We had already passed 1 dead tzo near Dzongri.
At the base of the hill we come to the flood plain of the Prek Chu (Chu means River). In 1992 this was little more than a rock‑strewn valley with many rivulets to jump, boulders to hop and the occasional log bridge to navigate. Now it has a name: Kokchurong, and there is a very welcome trekkers hut (ok, some floor boards were missing in a few places and the windows were a bit drafty). There were 2 large sleeping rooms and a long center room which served as a cooking space where our porters and those of another group setup their kerosene stoves and cooked our lunch. Outside is a meadow surrounded by rhododendron bushes, the gurgling of clear water, and a reasonable outhouse. To the side of the steep trail we came down is another trail -- the shortcut back to Phedong, not negotiable by pack animals due to the narrow hillsides, landslides and steep drop‑offs. Sue took it in 1992 or her way down from Thangsing, and the pack animals had to climb the trail back towards Dzongri and go the long way around.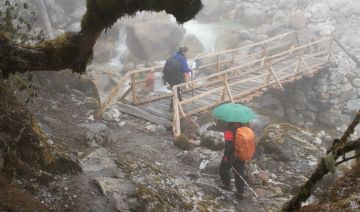 Crossing the Prek Chu in mist & snow
We stopped for lunch at Kokshurong, eating inside as the corn snow pattered down on the roof. Lunch was a wonderfully warming noodle and vegetable soup, "tea momos" (small, bready steamed rolls), a potato curry, and baked beans. Can you say carb‑loading? The drink of the day was now hot lemon, more refreshing and sustaining than black tea. There was an Australian couple there who were with Blue Sky treks. They also had a good lunch, but they, like us, looked a bit weather‑worn, as they had just come down from the far end of the Thangsing valley in a day of rain and snow.
After lunch we gingerly crossed the many tributaries of the Prek Chu on log or plank bridges then walked through the devastation of the 1991 flood. Huge trees still blocked the old trail, but we wound our way through to the new (2008) bridge which spans the Prek Chu twice. On the far side is a beautiful boulder garden, then the trail leaves the river to enter dense, moss‑draped rhododendron forest. Inside the forest there was less snow on the ground, so the walking was easier, though we had tree roots to negotiate. There was birdsong in the air, and we were lucky to see a male and female black pheasant scavenging in the leaf litter. The trail climbed gently to regain the lost altitude and finally we were out of the trees and above tree line. The snow continued, and Sue followed a colorful husband with green umbrella, orange pack and red jacket, dotted with new snow. TIP: Don't forget your umbrella! Keeping the rain and snow off your face and shoulders keeps you warmer than just a Gore‑Tex jacket. Of course, holding an umbrella and 2 walking sticks is not possible, so Sue either had to put one away or relinquish one to the care of someone else!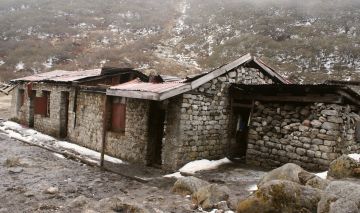 Thangsing hut ravaged by wind, rock and snow
At 3pm we arrived at the dilapidated Thangsing hut with its roof caved in and stone walls falling down. Sue was hard‑pressed to recall the shelter her trekking group took here in 1992, with a fire inside and everyone all cozily wrapped in sleeping bags around the perimeter of the room to stay warm. The 3 of us dropped our packs in the one sort‑of‑standing room while our team set up the cook tent and the toilet tent (a darn good idea, actually, as it minimizes the use of surrounding bushes for nasty business, and provides much appreciated shelter for bare bums when it's raining and snowing and blowing like crazy!) The snow continued to fall. Bianca was given a tiny dry hut (the caretaker's hut?) all to herself, complete with a small fire pit. She and Sue sat around drying jackets, socks, and boots. We and Thupten all agreed that Bianca could share meals with us (thanks to Thupten's planning we had ample food to feed one more!) and her porter could buy rice and lentils from our team. There was nothing else to buy and no one to buy from. What was Bianca's trekking company thinking? By dark, the snow was in small piles around the tents, but we dined in the spacious cook tent (so warm that Sue's glasses fogged up!) on popcorn, soup, black mushrooms, fresh yak stew (from the yak that died 3 days before) rice and pizza! Dessert was our favorite, warm fruit and hot chocolate. We were truly blessed!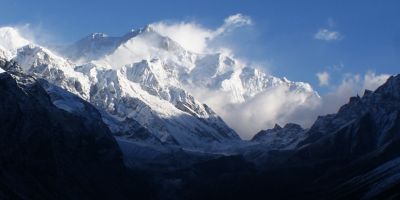 Mt. Kanchendzonga & Goecha La from Thangsing
Day 6: Early morning climb up & down 1,300' (400m) of Thangsing Ridge
Then Thangsing to Lamuni, 800' (250m) ascent to 13,700' (4200m)
We had no bed tea this morning, but a call to awaken at 4:30. It was pitch dark with snow on the ground. It seemed to take forever to get out of our warm sleeping bags and into clothes. Then we wrestled with the cold boots, jackets, hats, mittens, and camera (batteries in pockets to keep warm). By 5am we, plus Bianca, her porter Bentzu, and Thupten were all trudging up a steep, narrow trail on the ridge above the campsite. Dawn broke and the sky was BLUE! Oh gloriousness! There was blue ice on the Rhododendron anthopogon at our feet. Mt. Pandim loomed above us, as did Thikchung where 2 Indian climbers died last year when they fell into a crevasse. An expedition went this year, expecting to find them, but never did. Very sad, and the mountains claim 2 more.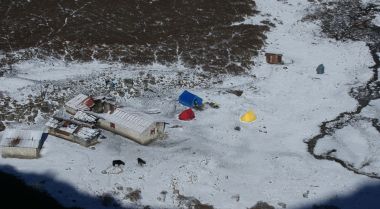 Thangsing camp from the hill, early morning
We reached the frozen prayer flags and could see the ridge trail leading up, up, up to the very top of Thikchung. Sue teased Jon that if the trail was there, he'd just HAVE to follow it, wouldn't he? Of course! But no, we later found it gets far too narrow. The sun struck the clouds that adorned the top of Kanchendzonga, turning them pink against the blue sky and creating the whitest of white on the snowy flanks. Higher we climbed, taking more and more photos. To the west Mt. Kabru, Kabru North, Kabru South, Kabru Dome and the Fingers gleamed with morning light. Higher still we saw a peak with a saddle‑like glacier called Tholong. Then all of Kanchendzonga itself came into view. FABULOUS! We were still battling with a broken autofocus mechanism on our wide‑angle lens. What bad timing. At least it was digital so we could take lots of shots of the same view and play with the manual focus.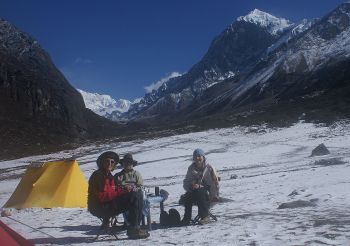 Outdoor breakfast at Thangsing on a clear morning
Back down in camp the sun was on the valley and we had breakfast outside at a table on the snowy meadow under the mountains. Omelet, French toast and porridge. YUM! Then, because it had been 5 days since a chance to shampoo, the 3 of us each took turns with a basin of warm water (thanks to the cook!) and scrubbed the sweat and dust from our hair. Thupten clicked his tongue and shook his head. "Washing your hair up here will give you a cold," he said. We laughed. (Ha! Two days later he got the last laugh, but of course no one was laughing. A cold in high altitude/snowy trekking is NOT fun!)
We broke camp and started up the wide, sloping meadow to the north. Mt. Pandim on our right, Mt. Kanchendzonga ahead, Mt. Kabru to the left. It was a glorious walk in the sun. We passed the first (and only) mani walls. These are Buddhist prayer walls made from carved rock, which one must walk around clockwise, or at least pass to the left of on the way up and to the left of on the way down, thereby completing the circle to send the prayers out. Mani walls are very common in Nepal, but not so much in Sikkim. The goal for the day was a tent site called Lamuni, which Thupten says probably comes from the word "Mani". Afternoon brought the "normal" cloud and fog, but not before we got a good look at a herd of wild blue sheep with their gracefully curving horns.


Herd of Blue Sheep, Thangsing Valley
We arrived at Lamuni, which was no more than a hollow in the meadow in which our team had put up the bright blue cook tent, with our bright yellow sleeping tent nearby. The wind brought the temperature to a nasty low and we crawled under the flap into the cook tent for a much appreciated cup of tea and biscuits. All socked in, there was not much to do but sit and talk all afternoon. These sorts of hang‑out afternoons are common during monsoon season, and we were not bothered. We had met some new trekkers who were impatient to always be on the go, something you just can't do in bad weather. It helps to bring along a book, playing cards or other lightweight games for the many afternoons you might be in your tent! We had dinner in the cozy cook tent, then after the washing up was done, Bianca was made welcome to spread her mattress and sleeping bag on the ground next to Thupten and the porters.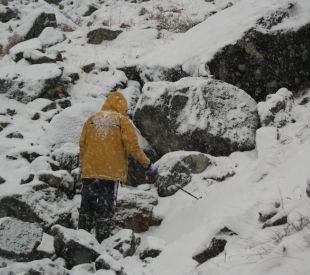 Are we nuts? Thupten leads the way!
Day 7: Morning hike past Samiti Lake to 15,000' (4550m) (twice!)
Afternoon hike down to Kokchurong at 12,100' or 3700m
After a 5am tea call, we dressed in our warmest clothes and joined Bianca in the cook tent for a hearty breakfast of egg, toast, jam, porridge and tea. There was a light snow falling when we got to the cook tent. By the time we had finished breakfast Jon poked his head out and said, "Hey guys, we have a full‑on blizzard out here!" The snow was being driven horizontally from the south, which would be behind us if we went higher.
What the heck! We had walked for 6 days to get here, and maybe it would clear! Plus, walking in the snow can be fun (although dangerous if the snow covers the trail and your tracks)! We bundled up and followed Thupten with Bianca's porter in the rear, trudging up 600' (200m) to sacred Samiti Lake. There is a broken down shelter there, no longer a place that trekkers can stay. By now we could barely see our feet and the snow was piling up fast. We decided that this was as far as we could go, but we were worried about the trip back, as the wind and snow would be directly in our faces. At the edge of the lake Thupten unrolled a string of prayer flags, and as lightning flashed and thunder boomed, the flags unfurled.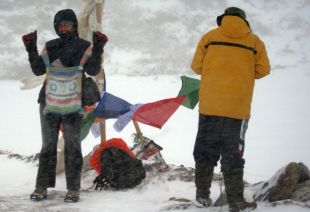 Bianca & Thupten set prayer flags, Samiti Lk
Almost immediately, the wind started veering, coming more from the side. It was still snowing and the trail down was difficult to find as our tracks were filling up, but it wasn't blowing in our faces anymore, and Thupten found our way back down to camp. Those were some excellent prayer flags! We shook off the snow and huddled in the cook tent with our hands wrapped around mugs of hot chocolate. Although we hadn't had breakfast too long ago, hot popcorn hit the spot as a midmorning snack!
We were just warming up when a strange light came through the tent wall. We looked out. Blue sky?!? Hey, it was only 7:30 so there was still time to get up towards Goecha La. We waited a bit to be sure it was really clearing, then headed off again, quickly passing the rim of Samiti Lake now that we had the motivation of potentially gorgeous views. Ahead of us was the magnificent wall of Kanchendzonga, and behind we could see all the way to the hills above Dzongri, at the far end of the Thangsing valley. After a strenuous 2‑hour hike we were perched high on a glacial moraine at the foot of Kanchendzonga. We could see Goecha La ahead, but the route led over a very steep traverse above the glacier, and with all the new snow we decided not to risk the traverse without ropes or crampons. Picture time! We later learned that no one had been to the pass yet this season, despite some of the (less scrupulous) guides telling their clients that the viewpoint where we stood was actually Goecha La. We found shelter from the wind behind some large boulders, shared chocolate bars and snacks, and savored the hot lemon drink that Bianca's porter had brought up in thermos flasks. And took lots of pictures!
| | |
| --- | --- |
| Lamuni tents & Thangsing valley. Storm coming! | Sunshine! Skirting the edge of frozen Samiti Lake |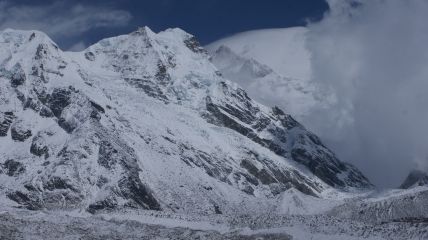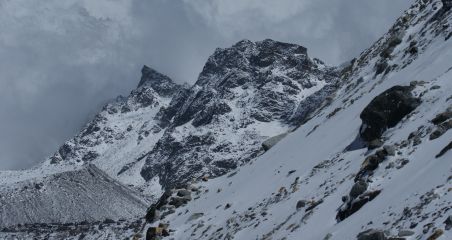 Goecha Peak, Tholong, Kanchendzonga, Goecha La, the Ridge, & our steep traverse to Goecha La. Not in this snow!
| | |
| --- | --- |
| Climbing up to our ridge viewpoint | Mt. Kanchendzonga, world's 3rd highest mountain, 28,373'/8598m |
| | |
| --- | --- |
| Jon, Sue, & Bianca with Kabru Peaks & moraine 15,200'/4600m | Jon & Bianca at our snack/viewpoint. It just doesn't get any better |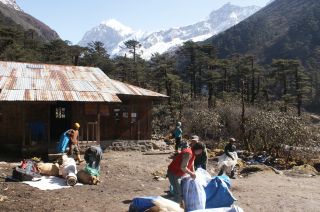 Breaking camp at Kokchurong. Sunny AM
We had been blessed with a window of clear skies, but the afternoon promised to be not so nice. Another large black cloud was working its way up the valley, and we had to walk right into it. Back at camp we packed up, had lunch, and headed south just in time to meet the afternoon snow. So once again we walked through the rhododendron forest in the wet and increasing darkness. After 3 hours of sloshing though snow and muddy trails we arrived back at Kokchurong, where we were glad to find a half‑empty trekker's hut waiting for us. The 3 of us took one empty room, and our cook team set up making dinner in the center room. Sue had a miserable night with a massive head cold. Was Thupten right about washing hair at high altitude? We'll never know!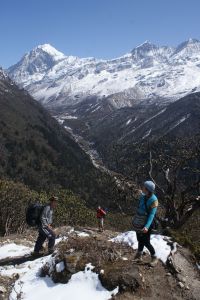 Above the Thangsing valley.
Mt. Pandim on far left.
Day 8: Kokchurong up to Dzongri Hill and down to Tsokha, 11 miles, 12,100'‑13,500‑10,000' (17km, 3700‑4090‑3050m)
Blue skies in the morning make a great tonic for a head cold, at least psychologically! The bad part was that it was bitterly cold -- our breath making white vapor clouds in front of our faces. Although we had paid for two more nights in the mountains Sue couldn't bear the thought of sleeping at altitude (like at Dzongri) with her head all plugged up. Originally we were going to take the shortcut back to Phedong, but there are no views that way. We talked to Thupten about how we were so sorry to have missed the great mountain views from the high traverse past Dzongri and asked if it was worthwhile to go back that way. He said we could (with lots of effort!) climb back to Dzongri ridge, have lunch, then drop down to sleep at the lower elevation of Tsokha. It meant that the cook team also had to go that way instead of the shorter trail straight back to Phedong and Tsokha but they were OK with that.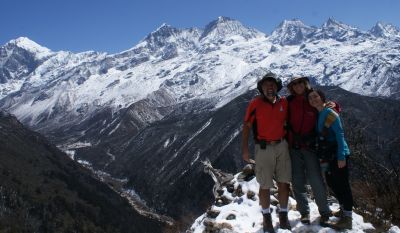 We had breakfast down there? Overlooking the Prek Chu
and Thangsing valley with Pandim on the far left.
We enjoyed a hearty breakfast in the warming sun then packed up for the last great slog of the trip. From Kokchurong to the Dzongri meadows meant a vertical climb of over 1,300' (400m) and we were starting at an already high altitude (12,100' or 3700m).
What a climb it was! It would have been much harder if the sky hadn't stayed clear, luring us on with the promise of Himalayan views. The trail switch‑backed up the hill and where the overhanging trees created heavy shadows the new snow was frozen into slippery icy patches. We kicked and cut our way up and more than once Sue's trekking poles prevented a slide. Once we got to the "meadows" the trail got much more gentle and the views were spectacular. When we'd come this way on the way up, the clouds and snow had prevented us from seeing the mountains at all. Now we hiked in glorious splendor, with sunshine warming the Rhododendron anthopogon and causing it to let off its rich aroma that always reminds us of the high Himalaya. We arrived at the ridge to a 360 degree view of awesome scenery. Mt. Kanchendzonga, Mt. Pandim, all the Kabrus and Kabur were out. Our cook team had set up a lunch spot for us in a little depression, protected from the afternoon breeze but still with a view. It was a picnic‑supreme!
The afternoon hike took us down the trail from Dzongri through the dwarf rhododendrons to the tall Rhododendron falconerii and the newly blooming Rhododendron barbatum with their brilliant red trusses. Bird calls reminded us that spring was in the air here, despite our past 4 days at high altitude. The other reminder of spring was not so nice -- a second dead tzo (yak) lay by the trail, a poor animal that had been taken too early in the season into the high country. We did learn from Thupten that it is not only the lack of nutrition and strength that kills the tzo in early spring but that they eat young rhododendron shoots which are poisonous. Ponies, on the other hand, can smell these plants and avoid them. Back in Tsokha we tucked back into our room at the Mountain Lodge and then enjoyed a tasty cup (or 2!) of tea by the fire. A good night's sleep had us ready for the long day out.
| | |
| --- | --- |
| Our wonderful high traverse above Dzongri, through rhododendron | Our cook team relaxes. Lunch is ready on the high traverse above Dzongri |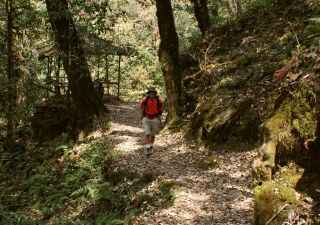 Back in the forest! Warm, no leeches!
Day 9: Tsokha to Yuksam, 10 miles (17km), 4,250' (1290m) descent
We had a last clear morning in the mountains. Mt. Pandim stood white and glistening above 2 ancient chortens on a hill by the huts and we took lots of pictures. By 9am we were heading down. We were sad, but Sue's head cold dictated the necessity of leaving the mountains. We had a last Pandim view just below Tsokha, than a beautiful garden/forest walk past Bakim and out. The hills were bright with blooming white magnolias, red Rhododendron arboreum, and bright purple primulas near the ground. We passed the place we had lunch on our way up, and then sought shelter from an afternoon drizzle under an overhanging rock for lunch. From there the trees got bigger, the orchids more profuse, and the philodendron more prolific in their climbs up huge tropical trees.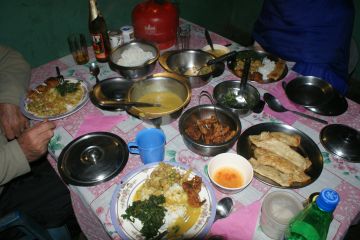 Jon's fabulous Birthday Dinner
It was a long day with a bit of rain, but at least it was too early in the season for leeches! Thupten and Sue kept recalling the horrific walk out in 1992 when their botanical group was inundated in a May downpour and everyone suffered numerous leech bites! Arriving in Yuksum in the late afternoon, we declined the offer of a trekker's hut for the night, choosing instead to have a real hotel room with hot shower, double bed, carpet and a view. Thupten bargained a great price for us at the Pemathang Hotel. An hour later he sent a car for us and Bianca (who was at a less expensive hotel) to take us back into the Yuksum village area for a farewell dinner. The cook outdid himself with beers, candlelight, hot lemon for Sue (the sickie one), soup, green vegetables (a kind of spinach), chicken, dhal, and rice. Dinner ended with a decorated chocolate cake for Jon's birthday (the frosting read "Happy Borday to you") with the whole crew singing for Jon! We gave out tips to the team and gave them our extra blankets from the Polish group, Sue's big black feather parka, and Jon's new vest, none of which would be needed for our life on the tropical oceans!
India Pages: Up | Andaman Islands | West Bengal Hills | Sikkim | Sikkim Trekking
Related Pages: India Newsletters | Sri Lanka Flora & Fauna | Cruising Andamans
Indian Ocean: Indonesia | Singapore | Malaysia | Thailand | Nepal | India | Sri Lanka | Maldives | Chagos | Seychelles | Madagascar | Mayotte
Top Level: Home | Destinations | Cruising Info | Underwater | Boat Guests | Ocelot | Sue | Jon | Amanda | Chris | Site Map | Make a Comment
---
Lifetime
Commodores
of the
Seven Seas
Cruising
Association

If our information is useful,
you can help by making a donation
Copyright © 2000‑ Contact: Jon and Sue Hacking -- HackingFamily.com, svOcelot.com. All rights reserved.