Nepal
Caribbean Destinations | Pacific Destinations | Indian Ocean Destinations | Pacific Newsletters | Indian Ocean Newsletters | Flora and Fauna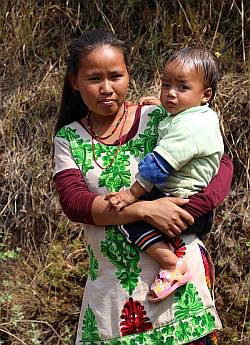 Nepal woman and child
Language: Nepali, and possibly 100 other languages including Sherpa and Tibetan
Population: Central and southern Nepal is predominantly Hindu, with people of many ethnic groups. In the mountains the people are Buddhist and of Sherpa or Tibetan origin. There are dozens of different tribes in this Himalayan country.
Money: Nepal Rupees. About 102Rs to US$1 in 2018.
Landscape: The world's highest mountains to the north, and lowland tropical forest in the south.
Visited: Long ago, plus 2010, 2016. Our total time so far in Nepal is a combined 15 months, mostly trekking.
Climate: Kathmandu lies at a comfortable 4600ft/1400m altitude and in the tropics, so the climate is comfortable year-round. Summer is the wet season, and not a great time to go trekking, if that's your goal. Fall and winter see clearer, cleaner air with good mountain views even from the city. Spring is pleasant in town, but the air in Kathmandu and Pokhara can be very dusty.
Ocelot's Overview: No, you can't sail here! But we love both the tropical oceans and the high mountains! Flights from within SE Asia are super cheap (like on Malindo, Air Asia, etc) so leaving the boat in Malaysia or Thailand and flying to Kathmandu is very affordable.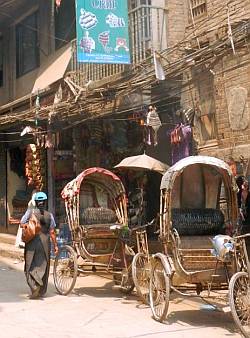 Street scene, Thamel, KTM
Visas are available On Arrival at the Kathmandu airport. You have a choice of 15 days for US$25, 30 days for $40 (both extendable in town, at immigration) or 90 days for US$100. Unless you know you'll be in country less than 15 or 30 days, it pays to buy the 90 day visa so that you don't have to hassle with a day of immigration in town. Visas can only be paid for in US$ cash. There is a currency exchange booth in the arrivals hall if you need to change Euros or other common currency to dollars.
What to Do in Nepal? Like many people we equate "Nepal" with high mountain trekking, which has always been a loadstar for us. We've climbed a trekking peak, traversed countless high (over 16,000ft/5000m) passes, and muddied our boots on at least 6 different treks, with more to come in 2018. But for the less able or more gentile traveler: you can take shorter treks on lowland trails through foothill villages not far from Kathmandu or Pokhara. You can spend days exploring the ancient cities in the Kathmandu Valley. Or you can travel to the southern border area, the Terai, and visit wildlife refuges where elephants, crocodiles, deer and even tigers live.
Best times to go: High mountain trekking: late September through early December the air is the clearest, but the higher you go the colder it gets. Late March through early June is flower season with whole forests abloom with rhododendrons and ground flowers, but the monsoon comes in more and more strongly so expect clouds in the afternoons and rain or snow up high. It's very cold and snowy in winter (many tea houses and passes are closed) and very wet and rainy in summer.
Dangers and Annoyances: For trekkers, the #1 danger is high altitude sickness. Read up about it, don't overestimate your abilities (it can strike anyone, of any age and is not related to your fitness level!) and GO DOWN if you have symptoms. It can kill. On the trails be careful when crossing rock slides, or log bridges. Sudden snow storms have left trekkers isolated and in grave danger. Always get advise of the local guides about avalanche danger or route changes. Leeches can be an annoyance in mid‑elevations in the wet season. Don't trek alone, ever.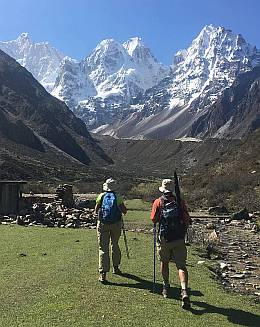 Awesome mountain scenery
Kathmandu is in a bit of a bowl with too many trucks, so air pollution is a problem if you have allergies or asthma. Walking though traffic is always a risk in the chaos of the towns. Although hygiene has improved greatly in the past decades, beware of raw salads/veggies both in town and while trekking. Drug stores in Kathmandu sell every type of medicine you could need for GI problems.
Where to Stay/Eat in Nepal? Most visitors come first to Kathmandu, and here the accommodations range from 1 to 5 star. Thamel is the "tourist mecca" of the city with hundreds of inns and lodges in the price range of $12‑$30/night. In Thamel you can shop for anything you need for trekking. The town of Pokhara, at the foothills of Annapurna is another destination with hundreds of lodges. Advance reservations are rarely needed unless it's high season (October) and you have a specific place in mind. Restaurants serve tasty, affordable meals with Tibetan, Nepali, Indian and western cuisine, and are too numerous to count.
In the mountains, there are tea houses all along the major trails, and in the Everest and Annapurna regions you'll get varied menus, soft drinks, beer, showers, electricity for charging, internet occasionally, and beds with soft mattresses and air‑tight lodges. On less traveled routes expect chillier lodges, basic menus of lentils and rice, no hot showers, and very little if any electricity.
Cost of travel or trekking in Nepal? In general, the cost of living in Nepal is much like the rest of SE Asia. In other words, you can get meals for under US$5, a bed in town for $20 or less, and on the trail for $5. If you carry your own gear and sleep in tea houses you can probably trek for about US$15/day. If you take the more traditional route, employing a guide and porters (whose fees can be spread amongst the trekking party) plan on $30/day for a guide, and $20 per day for each porter (who can carry for 2 trekkers). If you go the hassle free, full service deal and sign up with a trekking agency, be prepared to pay upwards of $100‑$200/day per person.
Enjoy! It's all an adventure!
Nepal Pages: Up | Kanchenjunga | Chitwan
Related Pages: Overview Map | Chitwan Map | Langtang Map | Khumbu Map | Destination Nepal | Nepal Newsletters | SE Asia Flora & Fauna
Indian Ocean: Indonesia | Singapore | Malaysia | Thailand | Nepal | India | Sri Lanka | Maldives | Chagos | Seychelles | Madagascar | Mayotte
Destinations: Caribbean Destinations | Pacific Destinations | Indian Ocean Destinations | Pacific Newsletters | Indian Ocean Newsletters | Flora and Fauna
Top Level: Home | Destinations | Cruising Info | Underwater | Boat Guests | Ocelot | Sue | Jon | Amanda | Chris | Site Map | Make a Comment
---
Lifetime
Commodores
of the
Seven Seas
Cruising
Association

If our information is useful,
you can help by making a donation
Copyright © 2000‑ Contact: Jon and Sue Hacking -- HackingFamily.com, svOcelot.com. All rights reserved.