Kanchenjunga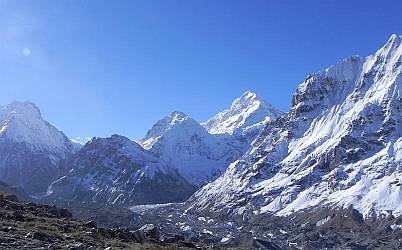 Kanchenjunga, from the north trail

The world's third highest mountain lies on the eastern edge of Nepal, where it forms the border with India's state of Sikkim. This region has been relatively untouched by trekkers, and still offers an experience of what Nepal was like decades ago. But it's not a trek for the faint of heart, for it's isolated, wild, and unsophisticated. The elevation changes can be brutal, the trails are often narrow and rough, and the tea houses are quite rustic compared to those of the Everest or Annapurna areas.

But here you'll find awesome mountain scenery, glorious rhododendron and fir forests, friendly people, and a chance to experience some really off‑the‑beaten‑track trekking.

Kanchenjunga was Sue's 10th trek in the Himalayas (spanning some 40 years!). Having trekked twice to the eastern flanks of Kanchenjunga in Sikkim, she had long dreamed of approaching this mountain massif from the west. In May 2016 we, and our son Chris, were able to put it together. Joining us was a young Scottish lass, Hiliory, who had never trekked before. We ranged in age from 23 to 66. We lost track of how many times, in our 23 trekking days, we said to ourselves "Wow! This is amazing! We're so lucky to be here. So lucky to be fit enough to get here!"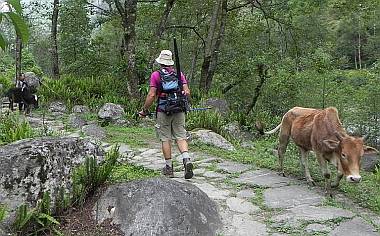 Stone trail through cardamom plantations!
Getting from Kathmandu to the trailhead is a multi‑day adventure, beginning with a flight to the Terai city of Brahdapur. There in the lowland heat we hired a jeep to take us into the undulating green foothills where tea plantations fill the landscape all the way to the Indian border. In Ilam we hired another jeep for the 8 of us (4 trekkers, 1 guide, and 3 porters) and all our gear. The road to Taplejung is a long and winding journey over increasingly steep hills with tantalizing views of snowcapped Himalayas to the northeast. Taplejung is a district capital with banks and we were able to change large rupees notes to the smaller ones needed for the tea house expenses we would encounter. Some trekkers begin here, but we wanted to maximize our time at elevation, so we choose to take the newly opened jeep track to Chiruwa. After 4 hours of bone jarring jeep track, some of which was being bulldozed as we waited, we stopped above the rushing Ghunsa Khola, whose headwaters are formed from the Kanchenjunga Glacier. From here we walked just 2 hours to the first tea houses.
Eastern Nepal has a much wetter climate than the more well‑known areas of the Khumbu or Annapurna. The Kanchenjunga Massif traps moisture rising from the Bay of Bengal and this nourishes dense forests under which the long, dark-leafed cardamom plants thrive. Farmers in this district are wealthy compared to their compatriots to the west, with a lucrative trade in the expensive spice. The trails are often built of slabs of slate or granite to ease the way for the caravans of ponies that carry the spice. Following the Ghunsa Khola upstream the trail climbs and descends in agonizing frequency. Often the "trail" is no more than steep rocks and roots which you have to clamber up. This was a far cry from the well‑trod paths of the more popular treks, and is part of what makes the Kanchenjunga trek rated as "hard."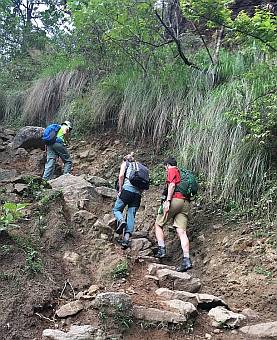 Rough trails make slow going
The biggest surprise was that many of the villages where we stopped for the night amounted to no more than a cluster of 2‑3 houses, and maybe only 1 tea house. No choices, no luxury. No inside toilets let alone shower stalls. We were soon glad to have brought our full cold weather kit: really good sleeping bags, liners, down booties, down vests, hats, and gloves. It was often chilly enough inside the tea houses to warrant wearing layers while eating dinner. Hello Nepal of the 1980's! Room prices ranged from $3‑7/night, and meal prices rose rapidly the higher we climbed, with dal‑baht (lentils and rice) costing $10 near the high camps.
After 4 days of trekking we arrived at 11,000ft/3300m and entered glorious glens of rhododendron blooming red, white and pink. Whole hillsides were adorned. At the village of Gyabla we encountered the first settlement of Tibetans. Prayer flags fluttered above the houses, a small monastery welcomed us, and we attended an afternoon blessing of Padmasambhava, the patron saint. Morning light showed us the first view of snow‑covered cliffs above. The valley we followed became more and more steep and narrow. We often had to cross boulders and rock falls with treacherous footing. Once we crossed a new landslide with the threat of rocks coming down at us from above. A flock of blue sheep were knocking rocks down the slope at us as they grazed. Since the sheep were almost 1,000ft/300m above us, the rocks came shooting down at us like missiles.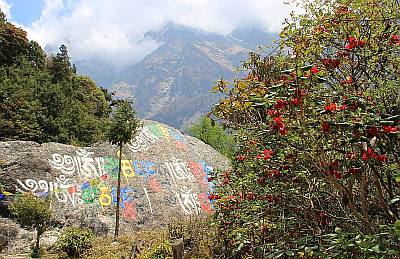 Rhododendrons and carved mani rocks!
Communication on the Kanchenjunga trek is spotty, at best. There are a couple villages with land telephone lines, and we were able to communicate with our Sherpa hostess in Kathmandu to let her know all was well. Hiliory even called Scotland! But otherwise, there was no cell coverage, let alone internet! Pradeep from Magical Nepal carried a nifty device that allowed satellite communication for short texts or a weather report. Electricity for charging devices was available at only a couple of the villages once we left the foothills.
We were 15 days into our 23 day trek when we woke up to pouring rain at 11,300ft/3400m. Now that was COLD. The snow level was just above the village of Ghunsa, and mist lowered to obscure the rhododendron forest on the hills above us. Sue grabbed her umbrella, stuffed feet in boots and made a dash for the outhouse, avoiding puddles of cold water and wet, huddled tso calves. Later, in the tea house kitchen, we decided with our Sherpa guide that we'd take a lay‑day.
Kanchenjunga in May can dish up some mighty strong pre‑monsoon weather, and we got a taste of it. Pradeep, from Magical Nepal, who had organized permits for our trek, was leaving today for the Sele La, the high pass that connects the North Base Camp trail to the South Base Camp trail ("La" simply means Pass). His weather report showed a system over eastern Nepal that was due to bring rain and snow for the next three days. He and his 3 Taiwanese guests decided to push on. Meeting up later, we learned that we had both had pretty snowy, cloudy weather over the passes.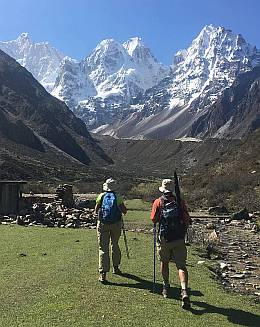 Leave Kambachen for KNBC
On a long trek (23 days on foot) it's best to have time in hand, built into the schedule. Kanchenjunga is not a trek to be done on a tight schedule. Another group (one of only 4 groups we saw during our May trek) decided that they didn't have time to cross the Sele La, and were headed back down the way they had come in, on the North Base Camp trail. We felt sorry for them. We didn't want to miss a thing. It was all about time, and being willing to wait.
Time was also a deterrent to a couple who we passed on our way towards Kambachen, a yak pasture village at 13,680ft/4200m. They had the dogged, disappointed faces of folks who were forced to retreat. They had not acclimatized sufficiently, and given their tight schedule, they'd had to return by the same route without getting into the high mountains.
Due to the long approaches to the 2 base camps, you can trek for many days, gaining confidence and strength, but without gaining much in terms of acclimatization. Although everyone reacts to altitude differently, the rule of thumb when above 10,000ft/3000m is to sleep no more than 1,000ft/300m higher than the previous night. If that's not possible, then take lay‑days at the higher altitude to gain acclimatization, taking day‑hikes to even higher elevations but sleeping at the same elevation. Approaching the Kanchenjunga base camps, or Sele La, requires several such acclimatization days (unless you're camping) as the tea houses are too far apart.
And herein lies a challenge of Kanchenjunga: If you do a full tea house trek, you need to be doubly careful with altitude. In the North Base Camp area there are days where the tea houses lie more than 2500ft/750m higher than the ones the night before, two and a half times the recommended altitude gain when over 12,000ft/3600m. The only safe way to prepare for the ascent to Lhonak and North Base Camp is to spend at least 2 nights at Kambachen, taking day hikes to higher elevations, then returning to sleep at Kambachen. Walk high, sleep low.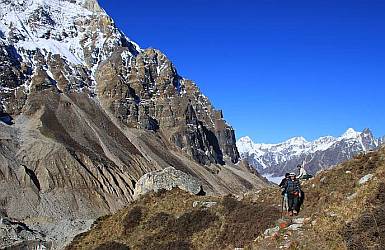 Above 15,000', early AM trek to KNBC
If you're lucky enough to have come to the east after a month in the Khumbu or the Annapurnas, you will probably have already acclimatized. But Kanchenjunga is not your "run of the mill" trek, as you may have gathered. There's still plenty that's different and unique to this area.
First of all, this is not a do‑it‑yourself budget trek. Being in a Restricted Area, you need a Restricted Area Permit, which was $10/week/person in 2018, obtainable only in Kathmandu by a registered trekking agency, and only once you've arrived. The long flights ($190 to Brahdapur) and jeep rides (up to $400 round‑trip) deep into the hills to the trail heads add to the cost. Being in a restricted area, you're required to hire a registered guide, whose services can run up to $30/day. Also, solo trekkers, even with a guide, are not allowed. Kanchenjunga is isolated, and the services along the trails are akin to those in the Khumbu 35 years ago. Backpacking without a guide is not allowed.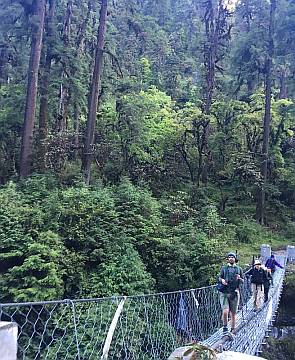 Dense forest in eastern Nepal
You'll still find the villagers hospitable, smiling and happy to open their doors and share their hearth. But don't expect the versatile cooking skills of tea house owners near Everest or Annapurna. Your menu will consist of dal baht (the ubiquitous lentils and rice, sometimes with some vegetables) unless your guide is interested in cooking. In the Tibetan villages you'll find Tibetan bread, noodles and maybe mo‑mos. On a lay‑day our Sherpa guide from the Khumbu cooked up some fried rice and spring rolls for a treat, but the tea house cooks/owners did not have these foods in their repertoire.
As for beverages, dudh chiya, milk tea, is always available, as is the more broth‑like Tibetan tea. There's no bottled water for sale (thank goodness) so you need to drink boiled water or use a filter or Steri‑Pen to make your own. No Cokes or beers for sale. But if you want a relaxing kick after a long day trekking, you can sip tongba from a small wooden cask thru a bamboo or silver straw. This alcoholic barley beer is drunk hot, with endless refills of boiling water over the fermented grains. It's an acquired taste, and some acquire it faster than others!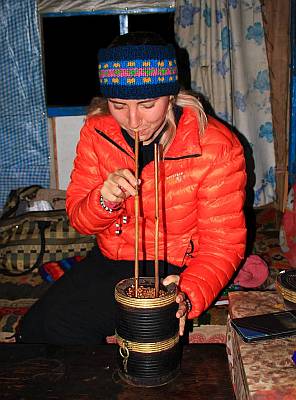 Hiliory enjoying tongba
In addition to the beautiful rhododendron forests, picturesque villages and steep gorges over Ghunsa and Simbuwa rivers, there are three areas with spectacular mountain views on the trek. Going from North to South (a safer bet for acclimatization) there are several days of hiking over glacial moraine and high elevation meadows near Lhonak and towards North Base Camp. Joining the north and south trails, the high altitudes passes (3 or 4 of them -- we lost track) including Sele La can have outstanding views, which we missed due to early monsoon weather with snow on the rugged rocky trails. The third area is above Ramche near the South Base Camp. In late May the final tea houses at Pangpema in the north and Ramche in the south were closed for the season, making those day hikes from Lhonak and Tseram very long, and we arrived at the highest points late in the morning when the clouds were rolling in. But still, Kanchenjunga and its neighboring peaks loomed over us, bright white in the morning sun. A new favorite peak (like Ama Dablam in the Khumbu) is steeply rising, elegant Mt. Jannu, visible from the Kambachen area, the Sele La, and even from the jeep road to Taplejung!
If you like the idea of getting off the beaten track, hiking challenging trails with the promise of forests and awesome mountain scenery, then Kanchenjunga should be on your to‑do list for Nepal trekking!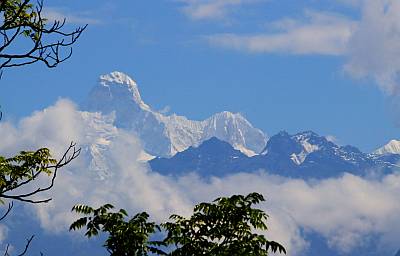 Mt. Jannu, little neighbor of Kanchenjunga
A word on logistics: it's possible to trek just the South Base Camp Trail or the North Base Camp Trail, or combine them using a high pass connecting trail over the Sele La. The full trek needs at least 23 days, Kathmandu to Kathmandu. The full loop is best done from north to south as the South Base Camp Trek involves some viscous altitude gains and should be approached with caution if you're not already acclimatized from recent high altitude activity.
The high altitude tea houses at Pangpema, Lhonak, Sele La and Ramche close from late May to late September and again in late October or November until late March. Your trekking company will be able to advise you.
How we did it: Magical Nepal arranged our permits and were great with pre- and post trek logistics and information. We hired our own guide, who hired porters for us. We paid for our own tea houses and meals along the way.
Just go do it! It's awesome!
Nepal Pages: Up | Kanchenjunga | Chitwan
Related Pages: Overview Map | Chitwan Map | Langtang Map | Khumbu Map | Destination Nepal | Nepal Newsletters | SE Asia Flora & Fauna
Indian Ocean: Indonesia | Singapore | Malaysia | Thailand | Nepal | India | Sri Lanka | Maldives | Chagos | Seychelles | Madagascar | Mayotte
Top Level: Home | Destinations | Cruising Info | Underwater | Boat Guests | Ocelot | Sue | Jon | Amanda | Chris | Site Map | Make a Comment
---
Lifetime
Commodores
of the
Seven Seas
Cruising
Association

If our information is useful,
you can help by making a donation
Copyright © 2000‑ Contact: Jon and Sue Hacking -- HackingFamily.com, svOcelot.com. All rights reserved.