Chitwan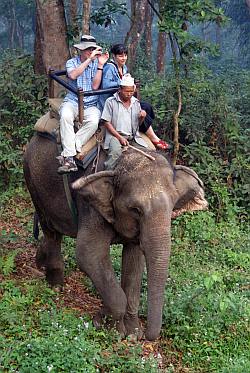 Chitwan elephant safari
Welcome to "The Other Nepal", the extensive lowland hills and forest that lie along Nepal's southern border with India. Just as one ventures into the Himalayas for the mountain views, one goes to the Terai, and Chitwan in particular, for the wildlife.
The Terai, which lies between the Ganges River and the foothills of the Himalayas, is the birthplace of Buddha, and the hunting grounds of tigers. Hindi is more commonly spoken here than Nepali, and the Tharu people near Chitwan National Park have their own rich and ancient customs, dances and traditions. Shimmering rice paddies and fields of corn create a soft landscape, and the air gets thicker with the scent of river water, goats, and cattle as you travel by bus from Kathmandu to Sauhara.
The village of Sauhara is located on the banks of the Rapti River, which borders Chitwan National Park. For those on a really tight budget, you can enjoy much of the flora and fauna of the Terai by enjoying activities available outside the national park, thus avoiding the park fee, and higher fees for activities such as jeep or walking safaris within the park.
Just outside our guest house we joined a local birder on a 2‑hour walk along the banks of the Rapti River at dawn. We saw and heard over 20 species of birds, including peacocks and several species of kingfishers, egrets, and bee eaters. Their calls resonated in the morning mist, mingling with the mahouts (elephant handlers) giving verbal instruction to the domesticated elephants in the river.
Elephants, both wild and domesticated, have been part of the life of the Terai from time immemorial. Trained for logging and transport, these beautiful animals are still cared for, bathed, and employed in daily life. Each morning they walk with their mahout and several tourists on their backs into the silent jungle on the border of Chitwan NP. The wild boars, deer and even rhino are unafraid of the elephants, and by riding them you get a unique view of the wildlife and habitat of the Terai. In the afternoon in Sauhara, you'll see a small parade of elephants making their way to the river for a bath, where you can, for a few dollars, bathe and swim with them.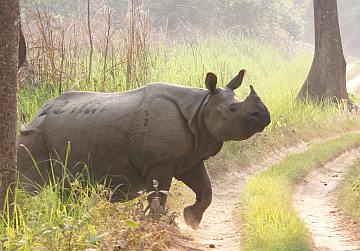 Asian rhino inside Chitwan NP
You can walk from town to the Elephant Breeding Center to learn more about the domesticated animals and their care. Feeding a baby elephant is a highlight!
You can also take a 2‑hour canoe ride on the river for up close experiences with birds and crocodiles. Egrets and wading birds brightened the water lilies and lavender water hyacinths. The villagers come to the river to bathe, swim and do laundry, hopefully keeping an eye out for the crocodiles lazing on river banks. Evening performances of local dances and a cultural show by the Tharu people are also available for a small entrance fee.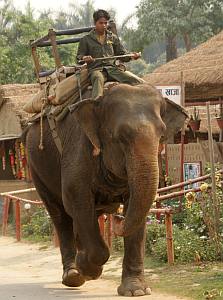 Make way for elephants
We did take an all day jeep ride into Chitwan NP, which was about US$40pp including the entrance fee to the National Park. This trip begins with a 5‑minute paddle across the Rapti River. The world is misty and damp in the early hours, and the bright sal forest is alive with bird song. When a rhino appeared on the road in front of us, we slowed to a stop and waited for it to amble across and back into the forest. We ate lunch on a platform high above the river where we could watch for birds, elephants and crocodiles.
How to Get There? First, to distinguish: There is Chitwan National Park and there is Sauhara, a village on the border of the park. All travelers have to go through Sauhara even if they are staying in the upscale lodges within the park. There are local buses daily from Pokhara (4‑6 hours), or Kathmandu (8 hours) for a few dollars. We "splurged" on the Tourist Bus that leaves from Kantipath, Kathmandu each morning, and costs under $10 each. This includes a stop for lunch (buy your own) en route. On the outskirts of Sauhara, jeeps await the tourist bus to take you to your lodgings. It's a bit of a zoo, with all the jeep drivers vying for your business. If you've booked ahead you'll likely be met. Otherwise, ask for lodging in the middle of town and then walk around to find accommodation. You can also fly to Bharatpur and be met by your lodge or take a local bus to Sauhara, which is less than 10 km away.
Where to Stay? Since the early 1970's the region has been associated with Tiger Tops, a luxury safari lodge set deep within the Chitwan National Park. With prices akin to lodges in Africa, it may be far above the budget of most travelers and flash‑packers coming to Nepal. But no worries, in the village of Sauhara you can find accommodation to suit any budget. We stayed at the modest Chitwan Resort Camp in 2010 for less than $7/night with private bath and fans. Prices have gone up, but as of 2018 it is still possible to find rooms for under $20. Lodge owners will be happy to arrange wildlife safaris by elephant, jeep, canoe or on foot, whether in the park or outside in the surrounding forest. Small restaurants abound, and the food is fresh, plentiful, and very affordable, mostly under $5 for a meal. Small grocery stores allow you to self‑cater lunches or snacks for your outings.
When to Go? The climate of the Terai is either hot and dry, or hot and wet. For wildlife viewing (and basic comfort) the hot dry season is the best, basically October through March. We traveled to Sauhara in early April. While the air was dusty, the rivers were still low, so the waterholes attracted animals, and we had no rain.
Visiting Chitwan gives you a whole new perspective on Nepal, and its incredible ethnic‑ and bio‑diversity!
| | | |
| --- | --- | --- |
| Eagle in Chitwan | Rice paddy, Sauhara, Nepal | Chital deer bucks sparing, Chitwan |
To see a MAP and read more about our Chitwan Adventure, see our Chitwan Newsletter, 2010
---
Nepal Pages: Up | Kanchenjunga | Chitwan
Related Pages: Overview Map | Chitwan Map | Langtang Map | Khumbu Map | Destination Nepal | Nepal Newsletters | SE Asia Flora & Fauna
Indian Ocean: Indonesia | Singapore | Malaysia | Thailand | Nepal | India | Sri Lanka | Maldives | Chagos | Seychelles | Madagascar | Mayotte
Top Level: Home | Destinations | Cruising Info | Underwater | Boat Guests | Ocelot | Sue | Jon | Amanda | Chris | Site Map | Make a Comment
---
Lifetime
Commodores
of the
Seven Seas
Cruising
Association

If our information is useful,
you can help by making a donation
Copyright © 2000‑ Contact: Jon and Sue Hacking -- HackingFamily.com, svOcelot.com. All rights reserved.