Chitwan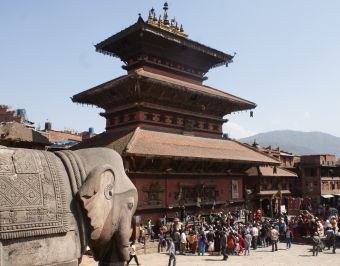 The ancient Bhaktapur main square
4 April 2010, Chitwan National Park
Dear Friends and Family,
Our first few days in Nepal were spent walking around Kathmandu, setting up a slow CDMA internet connection that should work even in the Himalayas, and waiting for the rest of our party to arrive - Scott and Sonia who are ex‑cruisers from Vancouver Island, and our kids, Christopher and Amanda. Chris has just finished his Computer Science and Engineering degree but is taking a break before starting at Microsoft, and Amanda is taking a quarter out of her Oceanography studies to join us.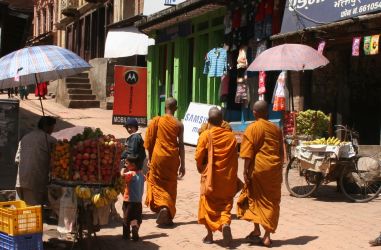 Monks on cobbled streets walking past fruit vendors
Kathmandu has grown up tremendously in the 30 years since Jon was last here. Then, the Ring Road was well outside the city and surrounded by farmlands. Now, Kathmandu extends well past the Ring Road all around. This rampant and uncontrolled growth has brought some unfortunate consequences. Below about 6,000' (2,000m) is severe air pollution. We usually wear face-masks to avoid sore throats. We can see dust particles in the beams from our flashlights. Real air pollution. Visibility is seldom more than a few miles and often much less, but it should be better when we get up higher. Only bottled water is drinkable and city water no longer has enough pressure to get to Pema's house.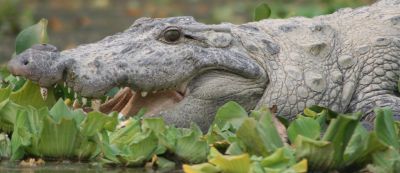 Up close and personal with a crocodile on our river trip
Electricity is only available about half the time (mostly while we're asleep) and only sporadically. Traffic in the city is unbelievable, and pedestrians take their lives in their hands as size is what determines right of way. Horns are theoretically only used to say 4 things: "Stop/Go", "I want to pass", "I love/hate you", or "This vehicle is equipped with a horn".

Horns get a LOT of use. But we haven't let any of this stop us from having fun!
As I write this we're down in the lowlands of the Nepalese Jungles, at only 1,000' (300m) elevation and only a few miles north of the Indian border. We had an ethnic 8-hour bus ride down from Kathmandu (4,400' or 1,350m elevation) during which we saw about 20 vehicles disabled enough that they couldn't get off the road, so they were blocking a lane. Not that anybody cares much about blocking lanes here - busses, trucks, and cars all stop where and when they want, even in the cities, and only move under severe horn provocation.

Click to view Chitwan in a larger map. Our lunch spot was at the far left, but all other points of interest are clustered on the right. These maps are very detailed, so you can zoom way in.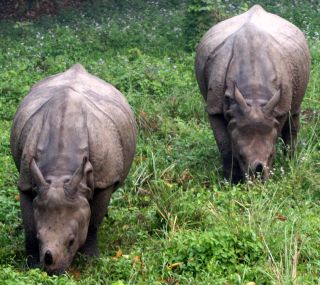 Mother and baby Rhino from elephant-back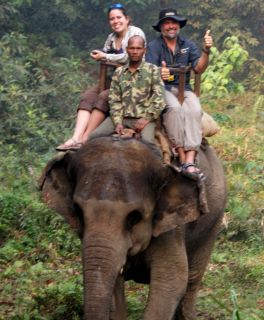 Jon and Amanda on elephant safari
The whole of the green area south of the river is the actual Chitwan National Park, but most tourist activities are handled in the small area where our markers are clustered.
Yesterday we were up before the sun to wolf down a quick breakfast (eggs, spicy fried potatoes and veggies, toast, jam, and sweet tea) then took a dugout canoe ride across the river to a small Suzuki-sized 4-wheel-drive pickup (bakkie to the South Africans, Ute to those Down Under) with hard bench seats along the sides at the back. All 7 of us plus guide and driver piled into this thing for 11 hours of game watching through the National Park forest. Our guide had an amazing ability to see birds and animals on the fly. To Sue's delight we saw lots of birds (peacocks, eagles, bee-eaters, kingfishers, storks, hornbills, parakeets, etc) plus Asian 1‑horned rhinos, rhesus macaque monkeys, spotted deer, hog deer, barking deer, mugger crocodiles, Asian bison, etc. Luckily most of it was under the cool canopy of the Sal forest as it got very hot in the direct sun. Our picnic lunch was in a viewing tower above a curve of the Rapti River watching crocodiles and a bathing elephant. Awesome.
This morning we again got up early for tea and juice and then drove to the "Community Forest" where we hopped onto 4 elephants(!) for more game viewing. We got very close to a mother and baby rhino, which essentially ignored us as camera shutters clicked continuously. We also added Sambar Deer and a wild boar family (including a cute striped piglet) to our list. But the most fun was just cruising silently through the jungle, 15' (5m) above the ground. We could usually see over the ground cover, but we also had tree cover for shade. Mornings here are beautifully misty and ethereal. Our early start meant that we saw no other groups and had the forest to ourselves for the first hour. All Very cool!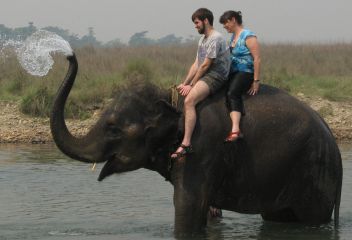 Chris and Sonia about to get very wet
Noon found us at the river playing with the elephants as they were brought down for their baths. About 20 elephants get their baths there and $1.50 gets you permission to ride on them as they spray water all over themselves (and you) and roll in the river. This afternoon we went on a dugout canoe ride down the river for an hour or so. No hippos, of course, but lots of crocodiles on the banks here and there. They seem a bit smaller than African crocs, but still bigger than me and with longer teeth. No swimming.
Tomorrow we head back up to Kathmandu for a day of preparation and then a long (10 hour?) 4WD trip into the Himalayas to start our first trek. Pema will be going with us (as our guest) but she didn't want to organize things so we've hired a nephew of hers as our guide, and his wife as 1 of our 3 porters. This first trek will be about 2 weeks and we hope to do 2 others. We'll send updates as we can...
Fair winds and lots of animals -- Jon, Sue, Chris and Amanda Hacking
Nepal Newsletters: Up | Chitwan | Langtang | Gosainkund | Pokhara | Into the Khumbu | Thangboche | To Everest | High Passes | Mani Rimdu | Last Leg
Related Pages: Overview Map | Chitwan Map | Langtang Map | Khumbu Map | Destination Nepal | Nepal Newsletters | SE Asia Flora & Fauna
Indian Ocean Newsletters: Laos Letters | Vietnam Letters | India Letters | Nepal Letters | Indonesia Letters | Malaysia Letters | Thailand Letters | Sri Lanka Letters | Maldives Letters | Chagos Letters | Seychelles Letters | Madagascar Letters | Mayotte Letters | Africa Letters
Top Level: Home | Destinations | Cruising Info | Underwater | Boat Guests | Ocelot | Sue | Jon | Amanda | Chris | Site Map | Make a Comment
---
Lifetime
Commodores
of the
Seven Seas
Cruising
Association

If our information is useful,
you can help by making a donation
Copyright © 2000‑ Contact: Jon and Sue Hacking -- HackingFamily.com, svOcelot.com. All rights reserved.