Langtang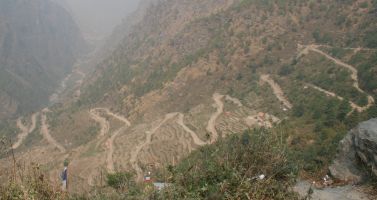 Our road to the trail-head for our Langtang trek
16 April 2010, Shin Gompa, 10,800 feet (3,300 meters)
Dear Friends and Family,
The map below shows where we went on our Langtang / Gosainkund / Helambu Trek. This newsletter covers the entire Langtang portion of our trek (the top of the "T") and our start towards Gosainkund.
These Google maps are incredibly detailed with excellent satellite imagery, so you can pan around and zoom way in. Click here (or in the upper right corner of the map) for a larger map of this trek. The Markers are either points of interest, passes, or where we spent the night. Clicking on a marker or trail segment will display text telling something about it. The box in the upper left brings up a list of all the markers. At the bottom of the list is a box that will switch in and out of Satellite View. Click the box in the upper left again to get rid of the list. Enjoy...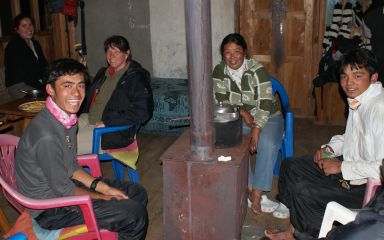 Amanda, Sonia, & our porters around the lodge fireplace
We're currently in a little "guesthouse" at 10,800' (3,300m). There are clouds in the remarkably steep valleys below us but the mountains are poking out now and then. This building is mostly hand-set rocks on the outside (NO mortar) with wood trim on the inside. Downstairs has a large but antique kitchen at one end next to a big 25-person dining room with a big stove/heater in the middle with couches around it - snug and cozy on this cold night. Upstairs are 10 double rooms with a toilet and solar-heated shower at one end and a glass enclosed sun-room at the other. This is one of 4 guest-houses here where 2 trails join (can't really call this a village, even with the small cheese factory here).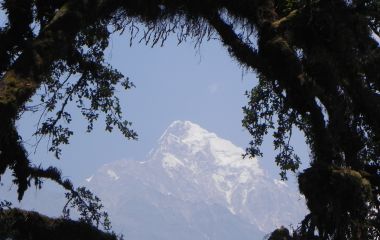 Mountain view framed by the forest
We left you last in the lowlands of Chitwan. We took the public bus back to Kathmandu, ran a couple of errands, and then packed all 9 of us (4 Hackings, cruising friends Scott and Sonia, our Sherpa friend Pema, our sirdar Tenzing and his wife Phu Doma) into a Land Cruiser for a grueling 10-hour trip to our trail-head at 4,700' (1,400m). Traffic here is unbelievable, as are the drivers, and the roads are often pretty small. Our last few hours the road was dirt and only single lane. Happy 55th Birthday, Jon...
Then we headed up the rambunctious Langtang river as it fell over huge, sculpted boulders - my real Birthday present! On a typical day we'd be up at 6 to pack up, so the porters could get an early start. Breakfast would have been ordered the night before and would be served at about 6:45 so we could be on the trail by about 7:30, before it got too hot. Guesthouses are usually only an hour apart so we'd stop for tea or hot lemon about 9:30. Sodas and even beer are available but expensive (everything has to come up on somebody's back) and all water we drink has to be treated or boiled, so we usually opt for hot drinks. We'd stop for lunch about 11:30, but it usually took them an hour or more to prepare it for us.
Meals are ... interesting. While the names might be familiar, the food usually doesn't match what we eat in the west. Virtually all guesthouses use the same 4 page menu, with higher prices at higher elevations:
| | |
| --- | --- |
| Heading | Specifics |
| Hot drinks: | Teas, coffees, chocolate, hot lemon, etc |
| Porridge: | Oat, Tsampa (barley), Muesli, rice pudding, curd (yogurt), etc |
| Eggs: | Boiled, fried, omelets, scrambled, 1-2 eggs, etc |
| Breads and Chipatis: | Tibetan, with jam or Yak cheese, etc |
| Fresh Soups: | Garlic, cheese, egg drop, potato, onion, veggie, Sherpa Stew, mixed |
| Packet Soup: | Chicken, tomato, mushroom, noodle, etc |
| Potatoes: | Boiled, roast, fried, mashed, with cheese, etc |
| Momos (pot stickers): | Potato, veggie, cheese, mixed, Snicker(!), apple, tuna |
| Chowmein / Spaghetti: | Veg, egg, cheese, mixed, mushroom |
| Pasta: | Veg, egg, cheese, mixed, as either pasta or macaroni |
| Rice: | Plain, veg fried, egg fried, egg veg, mixed fried, dal bhat, veg curry |
| Pizza and sandwiches: | Veg, tuna, egg, mixed |
| Salad: | Dressing(?), tuna, macaroni, mixed, pop-corn, local cheese plate |
| Pancakes: | Plain, topped, egg, cheese, potato, apple, American, chocolate |
| Cakes and Pies: | Chocolate cake, coffee cake, apple pie |
| Cold drinks: | Coke, Fanta, Sprite, mineral water, fresh apple, orange |
| Beer: | Tuborg, San Miguel, Everest (big bottles, $5), Langtang Coffee |
| Fruits: | Pineapple, cocktail, mango (all canned, $3.50) |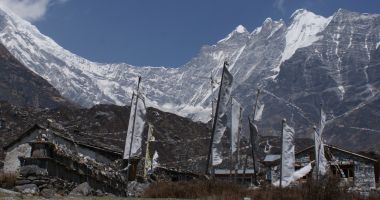 Prayer flags and mani walls under the towering peaks
For some strange reason, the Sherpa staple of dal bhat (rice and lentils) is usually the most expensive item on the menu (perhaps because it's all you can eat) but since everything is under $5, it's no real problem. Nepali's get charged much less than us, so the guesthouses make their money on the food. Rooms are only $3-4!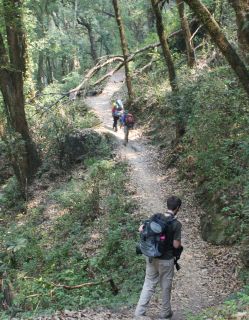 Thick forest below tree line
We usually arrive at our day's destination about 3pm. We'd move into our room in the guesthouse, use the solar-heated shower to wash the trail off, maybe do a bit of laundry, then look around a bit, catch up on our journals or chat with some of the other travelers (they're from all nations). Dinner usually comes about when the sun sets and we usually turn in pretty early.
Our trail up the Langtang valley started off in thick forest, with blooming rhododendrons for much of days 2 and 3. Surprisingly we found lots of cannabis growing on the sides of the trail down low, apparently as a weed. The trail is usually UP, sometimes steeply so, but there are down stretches often enough. It seems that Sherpas don't like to build a level trail.

As we got higher the vegetation got much smaller, although it was still quite high on the other side of the river. Not sure if this is due to humans (much cooking is still done over a wood fire) or some climactic condition of the valley (we're on the north side, so we get a warmer southern exposure). Up high there was only shrubs, which made for excellent visibility on those rare occasions when we had enough breath to look around.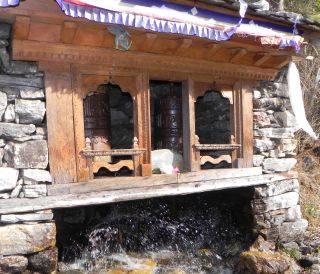 Water powered prayer wheels
Near Langtang we started running into Mani Walls - LONG lines of rocks that have prayers carved on them. They're left in the trail and we always keep them on our right. When we come back down the trail we will have circled the wall clockwise, thereby sending all the prayers off. The Sherpas are all Buddhists, and they're big into prayer automation. If they want to harness the power of a stream, the first thing they'll do is put in a prayer wheel (a wooden cylinder filled with prayers, turned by a jet of water). Next might come a water-powered grain-grinder. Electricity is a distant third. This is the same prioritization we noticed when we were here in 1980.
The air can be very thin up here. We started at 4,700' and slept on subsequent nights at 6,500', 10,000', and 12,500' (1400, 2000, 3000, and 3800 meters, respectively). This was actually much too fast, as we shouldn't have slept at more than 1,000' (300m) above where we slept the previous night, especially up high. This would come to haunt us...
The first day was easy enough, but subsequent days were pretty hot and sweaty as we slogged our way up the valley. We actually did considerably more vertical feet than our end-points indicate, as the trails went up and down quite a bit. But to encourage us the snow-covered peaks kept showing themselves more and more, calling to us and welcoming us to their domain. At Kanjin Gomba (12,500' or 3,800m) they entirely surrounded us in their majestic glory.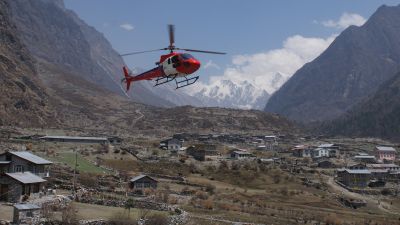 Rescue copter arriving to evacuate Chris from Langtang
Unfortunately this was where our fast climb caught up with us, and Chris started shivering uncontrollably and his temperature would actually drop well below normal. We could warm him up with hot water bottles under his arms and between his legs, but the shakes would start up again unpredictably several hours later. A pulmonologist from another trekking group said he wouldn't get better without treatment and the local "medical officer" agreed. We were afraid that Chris might have picked up malaria from Chitwan or India. We put Chris on a horse and took him down to the town of Langtang (10,000' or 3,000m) but the shakes continued. So we ordered a helicopter evacuation (only $1,800 because they also delivered supplies to some villages). Sue and Pema accompanied Chris and 3 Nepalis jumped on board as well, without even a thank you or a thought of paying for their trip!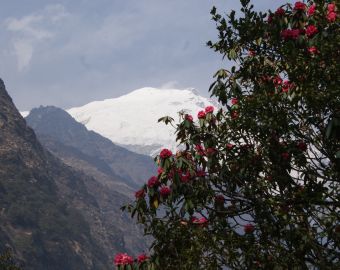 Blooming rhododendron under high peaks
Meanwhile the rest of us made our way back down the valley, moving somewhat faster than we had on the way up. But before we got to the end we turned south and went straight up the side of the mountain - and believe me, they know how to make trails going up the sides of sheer mountains! We stopped half way up last night and today we did the final 3,000' (1,000m) to our current 10,800' or 3,300m. Today's hike started off pretty brutally, switch-backing up through terraced fields until we got to the ridge-top. The ridge brought us stunning views north into Tibet, as well as phone contact with Sue and Chris. The rest of that day we had a delightful walk through a forest of firs and blooming rhododendrons on an almost level trail.
We're heading for a double pass at Gosainkund Lakes (15,000' or 4,600m) and then down the Helambu trek. When we end in about a week we should be quite close to Kathmandu. Chris is weak and on medication but seems to be OK so we've installed him in a hotel in Kathmandu that has internet. He's in fair spirits, but of course is sorry to be missing the trek. Sue and Pema should be joining us tomorrow, hiking up 4,000' (1200m) from the closest road access.
This is the first time we've had internet access since we left and it's pretty spotty, but we'll answer what questions we can. Even finding electricity to charge our computer and cameras can be tough, especially given the number of pictures we're taking. But the snowy mountain peaks keep calling to us and we're reveling in the glory of hiking in this wonderful area.
Fair trails and lots of oxygen -- Jon, Sue, Chris and Amanda Hacking
Nepal Newsletters: Up | Chitwan | Langtang | Gosainkund | Pokhara | Into the Khumbu | Thangboche | To Everest | High Passes | Mani Rimdu | Last Leg
Related Pages: Overview Map | Chitwan Map | Langtang Map | Khumbu Map | Destination Nepal | Nepal Newsletters | SE Asia Flora & Fauna
Indian Ocean Newsletters: Laos Letters | Vietnam Letters | India Letters | Nepal Letters | Indonesia Letters | Malaysia Letters | Thailand Letters | Sri Lanka Letters | Maldives Letters | Chagos Letters | Seychelles Letters | Madagascar Letters | Mayotte Letters | Africa Letters
Top Level: Home | Destinations | Cruising Info | Underwater | Boat Guests | Ocelot | Sue | Jon | Amanda | Chris | Site Map | Make a Comment
---
Lifetime
Commodores
of the
Seven Seas
Cruising
Association

If our information is useful,
you can help by making a donation
Copyright © 2000‑ Contact: Jon and Sue Hacking -- HackingFamily.com, svOcelot.com. All rights reserved.