Gosainkund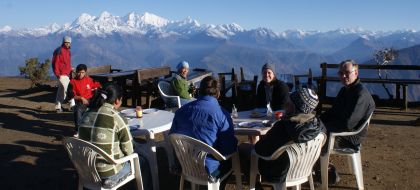 Breakfast looking north at fresh mountain snow
25 April 2010, Kathmandu
Dear Friends and Family,
The map below shows where we went on our Langtang / Gosainkund / Helambu Trek. This newsletter covers the Gosainkund and Helambu portions of our trek (the bottom of the "T").
These Google maps are incredibly detailed with excellent satellite imagery, so you can pan around and zoom way in. Click here (or in the upper right corner of the map) for a larger map of this trek. The Markers are either points of interest, passes, or where we spent the night. Clicking on a marker or trail segment will display text telling something about it. The box in the upper left brings up a list of all the markers. At the bottom of the list is a box that will switch in and out of Satellite View. Click the box in the upper left again to get rid of the list. Enjoy...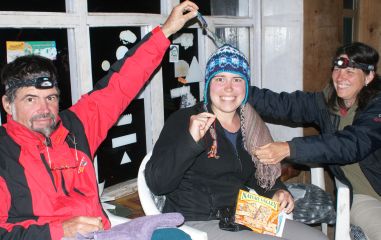 Amanda's 21st birthday party at Laruabinayak
We left you last at the tiny village of Shin Gompa, on the way up to Gosainkund Pass, with Chris, Sue and Pema in Kathmandu. It turns out that Chris did not have malaria (thank goodness) but they don't really know what the problem was except that it seemed to be an altitude-complicated gastrointestinal issue. He's fine now and itching to go on our next trek (and thank you to all of you who asked about him).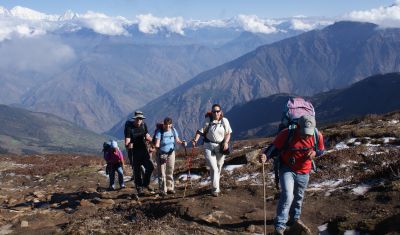 Beautiful views above Laurabinayak
Shin Gompa is at 10,800' (3,300m) and for the next several days we were always above that altitude. While Chris stayed in Kathmandu to recuperate, Sue and Pema took a 4WD from Kathmandu to Dhunche (6,400' or 1,960m) and then slogged up 4,000 vertical feet (1,200m) to join us. We all had a slow but beautiful walk to Laurabinayak at 12,800' (3,900m) up a gently sloped trail through blooming rhododendrons. There were 25 other trekkers at our guesthouse that night so we had a fun evening talking to other folks. One of them even had a guitar so Amanda played while the rest of us sang - a pleasure we've missed this last year.
The next day was Amanda's 21st birthday, so we declared a lay-day. This also let us acclimatize to the altitude and let the hordes pass us by, so we had the whole guesthouse to ourselves. Turned out the guesthouse had an oven (a rarity up here) so we had apple strudel and cinnamon rolls for breakfast out on their front deck, with rugged snow-capped mountains around us. For fun we took a short acclimatization hike up to a stupa (like a shrine) about 1,000' (300m) above the guesthouse. On the way down the clouds closed in - it started raining and then hailing shortly after we got back inside. We had a hot soup lunch and sat around the wood-burning stove chatting for much of the afternoon. For dessert that night we had an apple birthday cake, hot out of the oven! (Jon and Sue had actually each ordered a cake separately, and we had to rush back into the kitchen to cancel one order when we realized our mistake.

)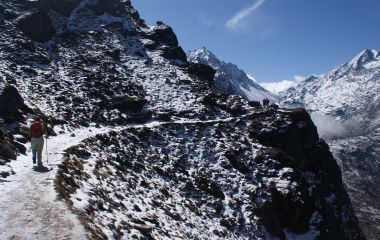 Stunning views on the steep & icy trail to Gosainkund
In the morning the sky was beautifully clear with new snow just above us! Now, the books say NOT to do this particular bit of the trail if it has snowed recently, or if you suffer from vertigo. Well, only one of us is very acrophobic and the snow wasn't that deep... Once we got past the stupa the trail character changed dramatically and we found ourselves hugging the side of a cliff, above a steep and deep drop, with long icy sections on the trail where the sun hadn't warmed it up yet. Since we didn't have crampons, we had to kick hard to break through the ice and get down to the better footing of dirt and rock.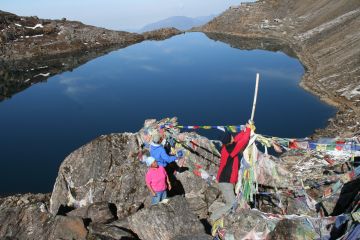 Hanging prayer flags above Gosainkund Lake
But the scenery was stunning! There were steep cliffs with deep valleys hiding green summer yak pastures far below us, new snow on the steep ridge across from us, long waterfalls with piles of snow below them - and then the lakes started appearing! Gosainkund Lake is considered a holy site by both Hindus and Buddhists, and men especially are supposed to make a pilgrimage here at least once in their lifetime. There are actually about 10 lakes but apparently only the main one, just below our guesthouse at 14,400' (4,380m) is considered holy. We walked around the lake (clockwise, of course) in the afternoon. Then the clouds again closed in and we had more thunder, lightening, rain and snow while we sipped hot lemon and watched the lake vista changing below us.
The morning again brought bright blue skies and stunning views. The weather here is really very convenient, waiting until we're safely warm and cozy before doing its nastiness, then giving us well-scrubbed vistas with a bright new dusting of snow the next morning. Sue hung prayer flags and scattered some ashes from both her parents at a holy site above the lake. Our trail continued up to a high plateau at 15,100' (4,600m) and then wandered between more lakes, still frozen at this high elevation. Jon climbed a small hill for some pictures and noticed new prints in the snow as he came down. They appeared to be from a young snow leopard(!) and they were obviously made that very morning. They paralleled the trail for perhaps a mile or two. We imagined the snow leopard watching us from his lair - and laughing at us!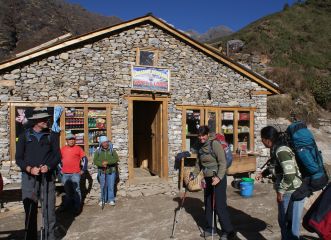 The Phedi guesthouse (Dawa Baby Red Panda)
Once we crossed over the Laurabina La (Pass) our trail dropped precipitously, going through rocky fields covered in (still dormant) dwarf rhododendron. We spent the night at Phedi at 12,200' (3,700m) just at the tree-line. The next day our trail went up and down a LOT, winding its way over ridges and valleys through rhododendron and fir forest, ending up at the same elevation on a ridge at Thadepati. We had great views all around, especially back along our trail to the pass and our Phedi guesthouse, as well as our lunch stop.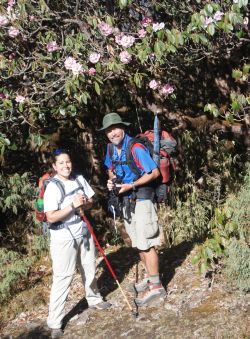 Back in blooming Rhododendrons!
At Thadepati we joined the Helambu trail. The next few days were long, in that we covered a lot of miles, but the trail was often beautiful, running along ridges with great views of neatly terraced fields beneath towering snow-covered peaks. We were walking through forests of cedar, fir, and blooming rhododendrons in red, pink, lavender and white. As we went further south the prices for food and accommodation got better, as did the services (hot water, electricity, etc). We did a lot of climbing and descending (sometimes in deeply eroded, dry stream beds) but overall the trail stayed pretty high until the very end, when we descended what seemed like a million steps to get down to the valley so we could get a bus back to Kathmandu.
If you want to follow our trail on Google Earth, Langtang is at about 28°13'N 85°30'E. The Langtang valley runs basically east/west, dipping a bit to the south at the west end. We came in from the west and went about 4 miles past Langtang to mountain-surrounded Kyanjin Gompa before turning around.
Gosainkund Lake is at about 28°05'N 85°25'E and is worth a look. We came in from the NW and walked SE and then south after Thadepati as we joined the Helambu trail, but this trek would be much harder to follow with Google Earth as we were mostly running along (or crossing) ridges, not valleys.
All in all, our altimeter says we did about 40,000 vertical feet (12,000m) up(!) - and another 40,000' vertical feet down, of course. The trek took us 17 days, including 2 lay-days, so we averaged about 1 mile(!) vertically every day. Gads! We'll be exploring a bit of Pokhara (Nepal's only other city) for a few days until Scott flies out at the end of the month, then we'll fly into the Khumbu (Everest) region for a month or so of trekking starting in early May.
Sunny Skies and Level Trails -- Jon, Sue, Chris and Amanda
Nepal Newsletters: Up | Chitwan | Langtang | Gosainkund | Pokhara | Into the Khumbu | Thangboche | To Everest | High Passes | Mani Rimdu | Last Leg
Related Pages: Overview Map | Chitwan Map | Langtang Map | Khumbu Map | Destination Nepal | Nepal Newsletters | SE Asia Flora & Fauna
Indian Ocean Newsletters: Laos Letters | Vietnam Letters | India Letters | Nepal Letters | Indonesia Letters | Malaysia Letters | Thailand Letters | Sri Lanka Letters | Maldives Letters | Chagos Letters | Seychelles Letters | Madagascar Letters | Mayotte Letters | Africa Letters
Top Level: Home | Destinations | Cruising Info | Underwater | Boat Guests | Ocelot | Sue | Jon | Amanda | Chris | Site Map | Make a Comment
---
Lifetime
Commodores
of the
Seven Seas
Cruising
Association

If our information is useful,
you can help by making a donation
Copyright © 2000‑ Contact: Jon and Sue Hacking -- HackingFamily.com, svOcelot.com. All rights reserved.